Are you experiencing the Amazon Kindle PC app not opening issue? There are several factors that can cause this such as missing device drivers, USB port problem, or even a corrupted software. To fix this you will need to perform several troubleshooting steps.
The Kindle app for PC is a free to download software that allows you to access all of your Kindle titles without an Amazon Kindle device. This PC desktop app can be downloaded to your Windows PC from the Amazon website. Once installed, all you need to do is to sign in to your Amazon account and you are ready to go.
Why is Kindle not opening on my PC?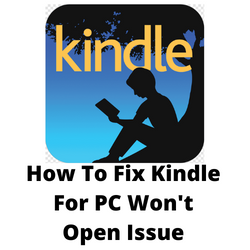 One of the issues that you might experience when reading eBooks on your desktop computer using the Kindle application is when the app does not open. This can be a frustrating experience especially if you just want to relax and read books on your computer.
Here's what you need to do to fix Kindle PC desktop app not working issue.
Solution 1: Restart your Windows PC
If your Amazon Kindle app is frozen, crashing, or won't open then the first thing you should do is to reboot your Windows PC. This not only refreshes its operating system but it also removes any corrupted temporary files in the Kindle app that could be causing this problem.
Rebooting Windows PC
Click the Start button.
Click the Power button icon.
Click Restart.
After your Windows computer has fully booted up try opening the Amazon Kindle app and check if the issue still occurs.
Solution 2: Install the Kindle driver
Are you trying to connect your Kindle device to your Windows computer and you can't seem to get it to work? This might be because you don't have the correct driver software installed. While most devices work immediately when plugged to the USB ports of Windows, the Kindle is different as it needs a driver software to be installed.
Install Kindle Driver
Right Click the Start button.
Select Device Manager.
Expand the list of Portable devices.
Find Kindle or MTP device and right click it.
Click on Update driver software.
Select browse my computer for driver software.
Select Let me pick from a list of device drivers on my computer.
Select Show compatible hardware.
Select MTP USB device.
Follow the on-screen instructions to install the Kindle driver.
After getting the driver try checking if your Kindle device can be connected to your PC.
Solution 3: Try to use a different USB port
If your Kindle device is still not detected even if you have already installed its drivers using the device manager then try connecting it to a different USB port in your computer. USB ports tend to fail working so its best to check if this is what's causing the problem.
You should also try using a different USB cable as the one you are using might be damaged.
Solution 4: Change Kindle app folder location
The Kindle app will usually store files locally in your computer. These Kindle files however can get corrupted and when they do you will be experiencing PC issues when using the app. To fix this you should try to change the Kindle folder location.
Changing location
Navigate to the folder structure C:\Users\username\Documents where username is your account username.
Locate and delete the My Kindle Content folder inside.
Launch the Kindle app.
Go to Tools > Options > Content and click on Change Folder button.
Select a different location.
Try checking if this fix Kindle issue you are experiencing.
Solution 5: Corrupt PDF file
If you downloaded a PDF eBook from the internet and it does not open using the Kindle for PC app then the PDF file might be corrupted. Try opening a different eBook to check if this is what's causing the problem.
Solution 6: Reinstall the Kindle for PC desktop app
Sometimes the problem can already be caused by a corrupted Kindle app. In order to fix this you should uninstall Kindle then install the latest version available on the Amazon website.
Uninstall Kindle
Click on the Start button.
Locate the Kindle app (you may have to click All apps in the upper-right corner).
Right-click on the app and select Uninstall.
Installing Kindle for PC desktop app
Go to the Amazon website and download then Kindle for PC application.
Frequently Asked Questions
Is it possible to copy text from kindle to paste in other documents?


Yes. All of the bookmarks, highlights, notes, and clippings you have made while reading content on Kindle are available to read later or to copy to your computer.

Can I re-read a kindle book at a later time?

Yes you can. All Kindle book purchases are tied to your Amazon.com account. Even if you delete the book you can always download it again.

Can I read the same book on multiple devices at the same time?

Yes, you can. Most books can be read on as many as 7 devices simultaneously.

How to download books on Kindle app?


Open the Kindle app.
Go to your Library.
If you're on a computer, double-click on the book cover.
A progress bar updates as the book downloads.

How to remove books from the Kindle desktop app?

Open the Kindle app.
Right-click on the book cover.
Select Remove from Device.