Cleaning your home can be quite a chore. Between wiping down shelving, cleaning cushions, sweeping and vacuuming, it can take a substantial amount of time to properly clean up your home, but thankfully, technology has made it possible to speed that process up, at least a little bit. Tech certainly hasn't reached the point where it can clean your entire house for you, but it has at least come to a point where it can take over one task: vacuuming.

---
At A Glance:

iRobot Roomba 980 Vs Neato Botvac D7 Comparison Best Smart Vacuum 2020
---
* If you buy through links on our site, we may earn an affiliate commission. For more details, please visit our Privacy policy page.
Through automated means, you can have a robot vacuum run around your house keeping your floors clean, whether they're wood or carpeted. These robots are able to clean up most debris — food, dust, paper, crumbs, etc. Today, we'll show you two of the best robot vacuums on the market — the Roomba 980 by iRobot and the Botvac D7 by Neato. Follow along below, and we'll pit them against each other and show you which one is better.
iRobot Roomba 980 Vs Neato Botvac D7 Comparison Best Smart Vacuum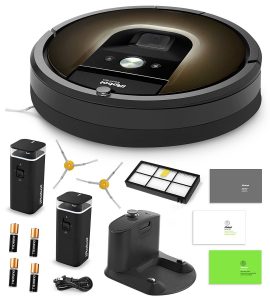 iRobot might be one of the most familiar brands with the Roomba vacuum, as they've been around for quite some time. The Roomba 980, however, is a fairly recent model, improving upon the technology of past options. This particular automated vacuum is nice because it has virtually no problem cleaning, as it transitions nicely between wood and carpeted floors. A more refined design means it can get in harder to reach places, although it still has some difficulty with that because of its circular profile.
What's nice about this robot is that it's connected, so you can control almost everything about the Roomba 980 through the iRobot HOME application. Here, you can tell your robot to clean, schedule when it cleans, and even customize your cleaning preferences, all from your smartphone. This sort of connectivity between your phone and robot vacuum makes cleaning a breeze.
A charge is able to last around 120 minutes, and with its array of sensors, it's able to effortlessly clean around furniture, avoid drops (i.e. falling down the stairs), and when it's low on battery, it'll automatically run back to its docking station and charge up for the next scheduled cleaning.
Check it out for yourself at the link below.

Buy on Amazon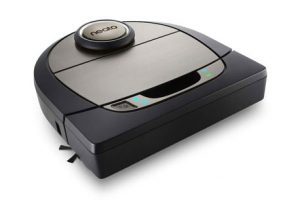 The Botvac D7 by Neato is a relatively new robot vacuum. In fact, it's not available on the market yet, but it has some serious advantages worth waiting for. One of those advantages is its D-shaped design, allowing it to vacuum in difficult to reach places. Due to this design, it's able to clean a lot more efficiently, unlike many circular shaped vacuum robots.
The Botvac D7 is a pretty advanced system, keeping your floors clean of dirt, fur, food and other allergens. In fact, it's able to navigate up to 5000 sq ft of floor with ease. Of course, it's dubbed a "Connected" robot, which means it can do a few more things than the Roomba 980. With the Botvac D7, you can control it through your Google Home, Amazon Echo devices (these are nice because you can simply tell your Google Home to start a clean with your voice), Neato Chatbot on Facebook or through an app on your smartphone. You can tell it to clean, schedule cleanings, tell it stop or pause cleanings and so on. What's really neat is that you can use your smartphone to view a map of what your Botvac D7 has already cleaned and what it has left to do. And as long as you have a good Wi-Fi connection (the Botvac D7 supports 5GHz WiFi), you'll never have a problem with smartphone connectivity.
It's not available just yet, but as you can see, the Botvac D7 is definitely worth waiting for because of the sheer amount of technology packed in it. You can read more about it at the link below.

Buy on Amazon

iRobot Roomba 980 Vs Neato Botvac D7 Comparison Verdict
So, which one should you pick up? The Neato Botvac D7 might be the best choice for tech enthusiasts, simple because of its D-shaped design. It's able to clean more efficiently in corners because of this. If you're not a tech enthusiast and don't have something like a Google Home or Amazon Echo, it may not be worth the extra cash it'll cost. You'd be better off going with the iRobot Roomba 980, as it'll be a little cheaper and is more simple, as it's almost entirely controlled by your smartphone if you haven't automated it.
So for those that own all the latest gadgets — like the Google Home and Amazon Echo — we'd recommend waiting around for the Botvac D7 to become available. But if you don't, and you just want a simple vacuuming solution, the choice is easy with the Roomba 980.

* If you buy through links on our site, we may earn an affiliate commission. For more details, please visit our Privacy policy page.