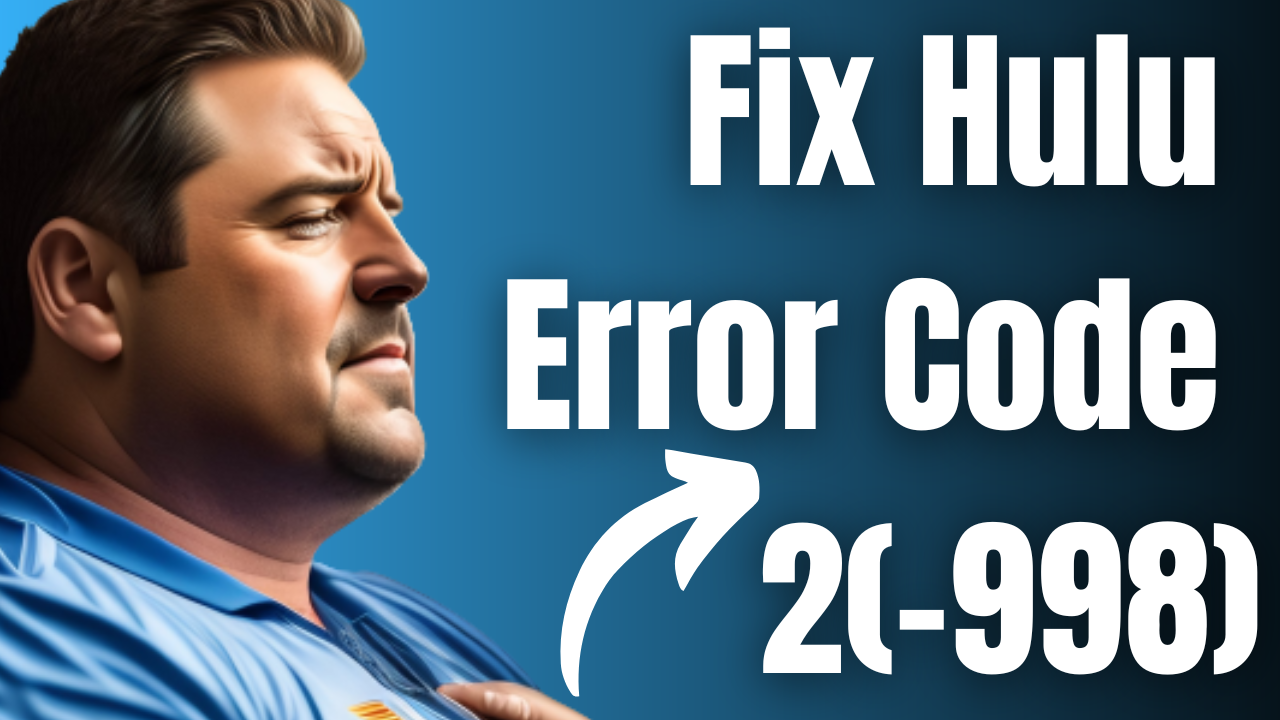 Are you getting the Hulu error code 2(-998)? There are various factors that can cause this problem including a poor internet connection, Hulu app cache data problem, or even a server problem. To fix this you will need to perform a series of troubleshooting stpes.
Hulu is a popular streaming service launched in 2007 that offers an extensive collection of TV shows, movies, and original programming. With Hulu, you can watch your favorite content anytime, anywhere, on various devices such as smartphones, tablets, smart TVs, and gaming consoles. It offers multiple subscription options, including a no-ads plan, live TV streaming, and access to premium channels like HBO Max and Showtime.
What to do when you get the Hulu error 2 (-998) on your streaming device?
On of the issues that you might experience when using the Hulu app on your Android device or any streaming device is getting a Hulu error code. One error you will be seeing is 2(-998).
The error presents itself with a short message "Sorry, we encountered an error playing this video. Please try restarting the video or select something else to watch. Error Code: 2(-998)"
Ths Hulu error code can be caused by various factors including:
Network connectivity issues: If your device has weak or no internet connection, you may experience this error while streaming content on Hulu.
Outdated app version: If you are using an outdated version of the Hulu app, it can cause this error to occur.
Cache and data issues: Accumulated cache and data on your device can cause the Hulu app to malfunction and result in error 2 (-998).
Device compatibility: Some devices may not be compatible with the Hulu app, which can cause this error to occur.
Hulu server issues: Occasionally, Hulu may experience server problems or maintenance, which can cause the error 2 (-998) to appear.
Expired Subscription: If you encounter the error message, it is likely due to an expired subscription. Therefore, it is recommended that you check your subscription status when faced with this issue.
Here's what you need to do to fix error code 2(-998)
Solution 1: Check your internet connection
When using Hulu, a stable and reliable internet connection is crucial to ensure a smooth streaming experience.
Here are some troubleshooting steps to to fix unstable internet connection.
Check your device's network connectivity: Make sure that your Android TV, Android phone, or streaming device is connected to the internet and that your Wi-Fi or cellular signal is strong enough to support streaming.
Run a speed test: You can use a speed testing website or app to check your internet speed. Ensure that your internet speed is at least 3 Mbps for a standard definition stream and 5 Mbps for high definition.
Restart your router and modem: Sometimes, resetting your network hardware can help fix connection issues.
Move closer to your router: If you're using Wi-Fi, try moving closer to your router to ensure a stronger signal.
Limit other internet usage: Other devices or programs using your internet connection can cause streaming issues. Try limiting other internet usage when streaming Hulu.
Contact your internet service provider (ISP): If you continue to experience connection issues, contact your ISP to ensure there are no underlying issues with your internet service.
Solution 2: Check Hulu's server status
If you encounter error code 2 (-998) while using Hulu, it could be due to issues with the Hulu servers. Checking the Hulu server status is an essential step to troubleshoot this issue.
To check Hulu server status visit the Downdetector website or heading to Hulu's official Twitter page and checking the status.
If there is an issue with the Hulu servers, wait for the issue to be resolved before trying to access Hulu again.
Solution 3: Force stop Hulu app
Force stopping the Hulu app is a troubleshooting step that can help resolve the error code 2 (-998) on the Hulu app as it clears the app's temporary data, and when you reopen it, the app reloads fresh data from the server.
Force stop Hulu app on Android devices
Open the "Settings" app on your device.
Scroll down and tap on "Apps & notifications" or "Application Manager".
Find the Hulu app and tap on it.
Tap "Force Stop" to stop the app.
Open the Hulu app again and see if the issue is resolved.
Force stop Hulu app on iOS devices
Double-click the home button to open the app switcher.
Swipe up on the Hulu app to close it.
Open the Hulu app again and see if the issue is resolved.
Solution 4: Reinstall Hulu app
If you're experiencing error 2 (-998) while using the Hulu application, it may be due to an outdated app version or corrupted stored cache files. The best solution to fix this issue is to uninstall the outdated Hulu app and reinstall it with the latest version available
Clear the stored cache files for the Hulu application.
Delete the Hulu app from your device.
Reinstall Hulu and log in to your account.
Solution 5: Check your Hulu subscription
If you've recently encountered an error message while trying to stream Hulu content on one of your streaming devices, it may be due to the expiration of your subscription. When your Hulu subscription ends, you won't be able to stream any videos, and you may receive an error code on your playback screen.
To resolve this issue, the first step is to check your membership status on the account page. If you find that your subscription has indeed ended, you'll need to renew it by signing up for a new monthly or yearly subscription. By doing so, you'll regain access to all of the content that Hulu has to offer.
Solution 6: Contact Hulu support team
If after performing the troubleshooting step listed above you are still experiencing the error code 2 (-998) on your Hulu app then it's time to contact Hulu's support team.
The Hulu support team can help you diagnose the issue and provide you with specific steps to resolve it. In some cases, this may require resetting your device or providing updated account information. Hulu's support team is available 24/7, so you can reach out to them at any time for help. To contact Hulu's support team, simply visit their website and look for the support options.
Frequently Asked Questions
How much does Hulu cost?

Hulu offers a range of subscription plans, with prices starting at $5.99 per month for the basic plan with ads. The ad-free plan costs $11.99 per month, while the Hulu + Live TV plan is priced at $64.99 per month.

What devices can I use to stream Hulu?

Hulu can be streamed on a variety of devices, including smart TVs, streaming devices like Roku and Apple TV, gaming consoles like Xbox and PlayStation, Android TV, and mobile devices such as smartphones and tablets.

What channels are included in Hulu + Live TV?

Hulu + Live TV offers access to over 65 live channels, including ABC, NBC, CBS, Fox, ESPN, and many more. The exact channel lineup may vary depending on your location and subscription plan.

Can I download shows and movies on Hulu to watch offline?

Yes, Hulu allows you to download select shows and movies to watch offline. However, this feature is only available to subscribers with the Hulu (No Ads) or Hulu (No Ads) + Live TV plans.

How do I cancel my Hulu subscription?

To cancel your Hulu subscription, log in to your account and go to the "Account" page. Under the "Cancel Your Subscription" section, select the option to cancel your subscription. Follow the on-screen prompts to complete the cancellation process. Note that if you cancel your subscription mid-cycle, you'll still have access to Hulu until the end of the billing cycle.