You've arrived home after a long, hard day of work. You've got your coffee or tea warmed and ready, and maybe a small snack. You go to pop-in your DVD, ready to spend the next two to two and half hours relaxing and watching your favorite movie, but after couple of minutes, you get an unfortunate "DVD cannot play" error, or something similar. What do you possibly do?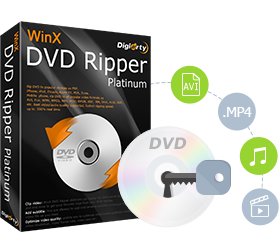 Editor's Choice
If your DVD will not play, try converting it into a MP4 file with WinX DVD Ripper Platinum. Once converted to MP4 file, you will be able to play the video directly from your computer.
MORE INFORMATION
DVD not playing on Windows 10 errors are quite common, and can happen for a number of different reasons. The DVD could be scratched, it could be corrupted, or there could be a problem with the codec library that you have installed in Windows 10, not allowing you to decode the DVD. Those are some common errors, but there are countless other errors.
What do you do now? Well, there are a few things that you can do to fix the problem. If you follow along with us below, we'll show you how you can fix the ever so common DVD not decoding problem.
What causes a DVD to not decode?
DVD or video not decoding problems happen quite often. One of the most common issues is with codec issues within the Windows 10 operating system. You can try reinstalling the Windows 10 video codec to fix that.
Alternatively, decoding issues can sometimes arise from bad or outdated display drivers. By updating your display driver, you could potentially remedy the problem. It's actually quite easy to update your Display driver:
Press Windows Key + X simultaneously. Click on Device Manager.
Next, you'll want to click on the Display Adapter, and expand it.
Then, right-click on the adapter, and press the button that says Update.
If it doesn't happen automatically, follow the install wizard that appears to update your Display driver.
Once complete, you can try playing your DVD again, and hope that the update to the Display adapter fixed the problem.
Another reason is that your current codec could simply just not support the DVD being played. An easy solution to that would be to simply download an alternative codec, ideally with the media format that you're trying to play. With new and better formats launching and being adopted all the time, downloading a new codec pack could easily be the solution to your problem.
Finally, a DVD not decoding could simply be the player that you're trying to use. If you're trying to use something old and outdated like Windows Media Player, you might want to try downloading and using something else. Changing your player can often fix decoding problems, getting you back into your movie straight away.
Unfortunately, these methods listed above won't always work. That said, there are a few more options available to us, options that can get us back into that movie as quickly as possible. Let's get started.
Convert the DVD
If the above doesn't work, we can actually convert the DVD to an ISO for playback, or into a more common format like MP4, which 100% can be played on Windows 10, along with countless other devices. Converting into either format is probably the quickest and easiest method, and also makes your DVD more versatile as to the platforms you can watch it on.
If that sounds nice, we can easily convert the DVD using a program called WinX DVD Ripper Platinum. You can download it for Windows 10 here.
Once you have the program downloaded and setup, we can start the process. Make sure that the DVD you want to rip is inserted into your laptop or PC's DVD tray.
Now, with WinX DVD open, we'll need to choose a DVD that we want to convert within the program. Click or tap on the DVD button — this can be found in the Tools area near the top of the interface. After you click that button, the DVD that you have in your PC or laptop is loaded into WinX DVD Ripper, ready for conversion.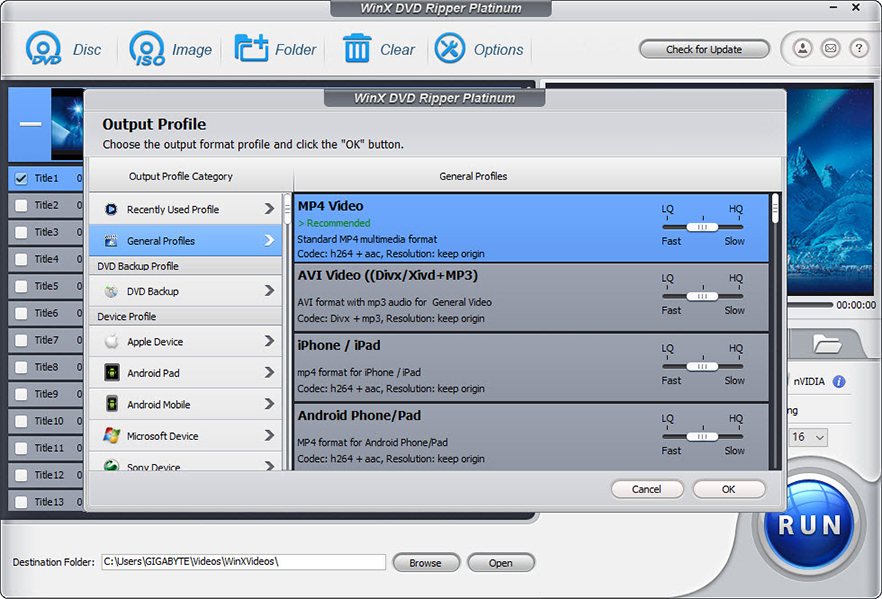 Now that we've loaded the DVD in, we need to select the format that we want to convert it to. This is what is called an Output Profile — WinX DVD Ripper Platinum has a lot of options for that, allowing you to convert your DVD into most popular formats today, including ISO and MP4, as discussed earlier.
Select the format that you think would work best. ISO often has to be "loaded" into a player for playback, whereas MP4 can be played on almost any device, including Windows 10 and popular devices like the iPhone XS and Samsung Galaxy S10. The possibilities are endless.
Once you've chosen an Output Profile, you can simply press OK at the bottom of the window. Now, that is the official format the DVD will be converted into.
Now we need to select a destination folder. This is where the converted DVD file will end up after the conversion is finished. That said, press Browse. This opens the File Explorer, and allows you to select a file path for where the file will end up. Once you've chosen your file path, press OK.
Next, we can adjust the quality of our Output Profile. There's a slider that allows you to adjust quality and processing speed. You can adjust to have a Higher quality and slower processing speed, or a Lower quality and faster processing speed. The choice is up to you and the amount of time that you have for the conversion process.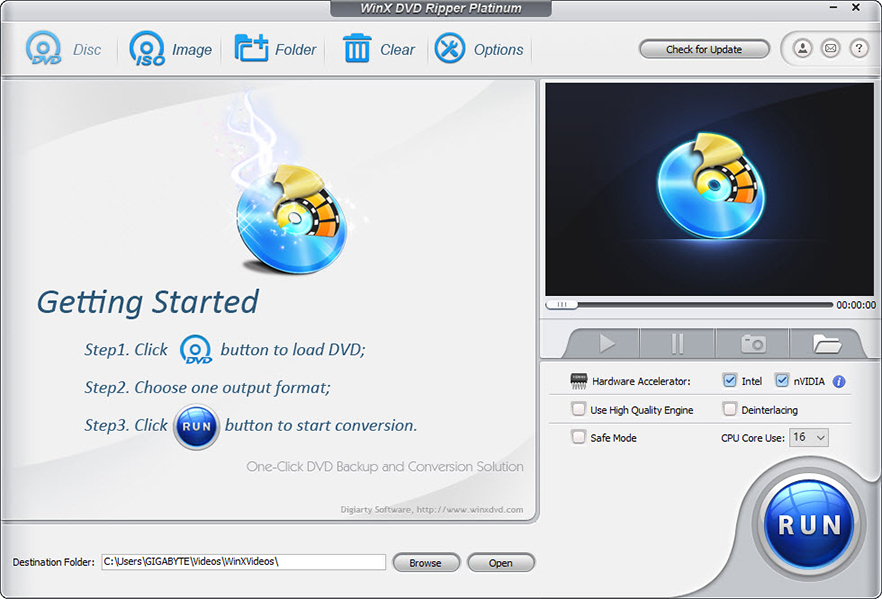 Now, we can select the High Quality Engine, otherwise known as GPU Acceleration (more on this later). This feature is a box that can be checked, which sits right next to the RUN button. This speeds the conversion process up substantially, but does tax your system quite a bit. Once you've selected all of your options, you can press the RUN button.
The conversion process now starts. Simply sit back, relax, and wait until finished. The program will prompt you when it's finished, and you'll be able to find your converted file in your destination folder. Once it's finished, you can open the file in your video player of choice, and enjoy uninterrupted video that doesn't experience the problems of physical DVDs.
Playing should be fairly easy. You should be able to simply double-click the file, and then the movie should start playing in your default media play; however, you can also right-click on it, press Open With, and then Browse to select your most ideal media player. Generally, that's the process you have to follow if you just downloaded a new media player and want to play it in that.
Features, explained
The above steps should help you successfully convert your DVD into an ISO or MP4 format; however, we wanted to expand upon some of the awesome features that WinX DVD Ripper Platinum has.
GPU Acceleration is one of the nicer features, speeding up the conversion process:
"…level-3 hardware acceleration can fully utilize Intel Core i5/i7 processors, GeForce GTX 1080 Ti, etc for efficient DVD video processing. It can reach 32x real-time faster conversion speed, with up to 500 Max FPS….together with Multi-core CPU, Super Encode Engine and Hyper-threading tech, ripping a feature-length DVD movie only takes about 5 minutes."
WinX DVD Ripper Platinum also, to go with the GPU Acceleration, has something called High Quality Engine. The program uses a demuxing/remuxing process to make sure that you get the highest quality conversion possible, keeping original DVD quality intact as much as possible. While no DVD ripper out there is able to get 100% of the DVD quality, WinX DVD Ripper Platinum is able to get you up to 98% of original DVD quality.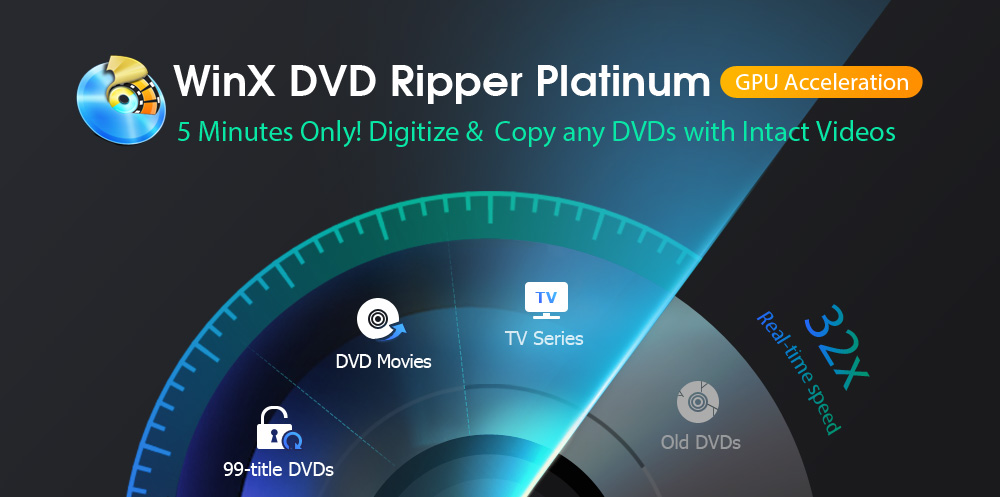 Additionally, WinX DVD Ripper Platinum has support for all sorts of DVD types. You can rip protected DVDs, non-Universal Disk Formats, "99 title" DVDs, workout DVDs, TV series, and even DVDs that are region locked to Japan. This allows you to convert almost any DVD out there to a widely adopted format on your Windows 10 PC.
If you choose to convert to something like MP4, you'll be able to watch almost anything on any device, such as on your iPhone XR, iPhone XS, iPhone XS Max, Galaxy S10, Galaxy S10 Plus, and any computer or laptop. DVDs that you convert can even be played on Mac, all depending on the player that you have.
Verdict
DVD decoding problems are extremely frustrating, especially when you're just sitting down for the evening. However, with a little know-how, and by following the steps above, you can easily fix your decoding problems to enjoy your movie for the night. WinX DVD Ripper Platinum has a lot of features to get your move quickly working again by using a quick conversion process. Instead of using a physical DVD, you can be playing your new movie fairly quickly.
WinX DVD Ripper Platinum is pretty much your best choice. There are few other rippers out there that have the capabilities that this one does, let alone with the ability to quickly convert a DVD into a desired format.
Have you been able to fix video decoding problems before? Let us know what method you used in the comments section below.