4K video can look absolutely beautiful, especially if you have a screen or display that can support the resolution. However, one of the downsides to 4K video is that it's so large in size. So, you may be wondering how you can compress it, and possibly even convert it to a format more widely supported.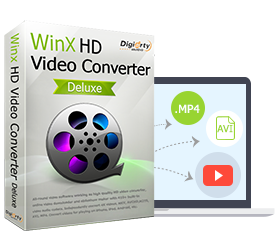 Editor's Choice
Need to compress and convert your 4k video? We recommend the WinX HD Video Converter Deluxe, it will convert from just about any video format.
MORE INFORMATION
Unfortunately, for the layman, compressing and converting video isn't always easy. So if you follow along with us below, we'll show you some reasons why you should compress and convert your video, as well as how to do it, step-by-step. Let's get started!
Why should you compress or convert 4K video?
4K video sounds great up front, but there are still a lot of problems that come with it. If you're trying to play 4K video on an Android device — or even an iPhone — you may run into some problems in playback.
For example, you might experience choppy 4K playback with VLC on Windows, or iMovie on iPhone. You could see frames drop, possibly even sound and video out of sync. Or worse, you could see no sound on video, blurry playback quality, format issues, and more.
The larger headache might be how much space 4K videos take. If you thought high definition took a lot of space, 4K video is double or more, depending on the device you were filming with.
That said, there are countless reasons as to why it's best to compress and convert your 4K video into a format like MP4. There are a lot of tools that can you there, but many of them expensive and hard to use. That's why we suggest WinX HD Video Converter Deluxe for your video conversion needs.
WinX HD Converter can help you out
WinX HD Video Converter Deluxe actually has a lot going for it. One of the things that we really like is how many formats it supports. It is able to convert most 4K formats — MKV, HEVC, H.265, and M2TS — to a variety of other formats, such as MP4, H.264, HEVC, MOV, AVI, MKV, WMV, and even MP3.
Of course, those formats can sound pretty confusing upfront. Essentially, WinX HD Converter allows you to easily convert 4K and 1080p video into formats that works with the iPhone XS/X phones, the iPad, as well as Samsung, Huawei, Sony, and Xbox devices. You can use the program to convert a video file into any video or audio file for any device.
WinX HD Converter Deluxe has some excellent compression features as well. You can easily compress your large size 4K file formats to something a little easier on file sizes, such as 1080p or 720p.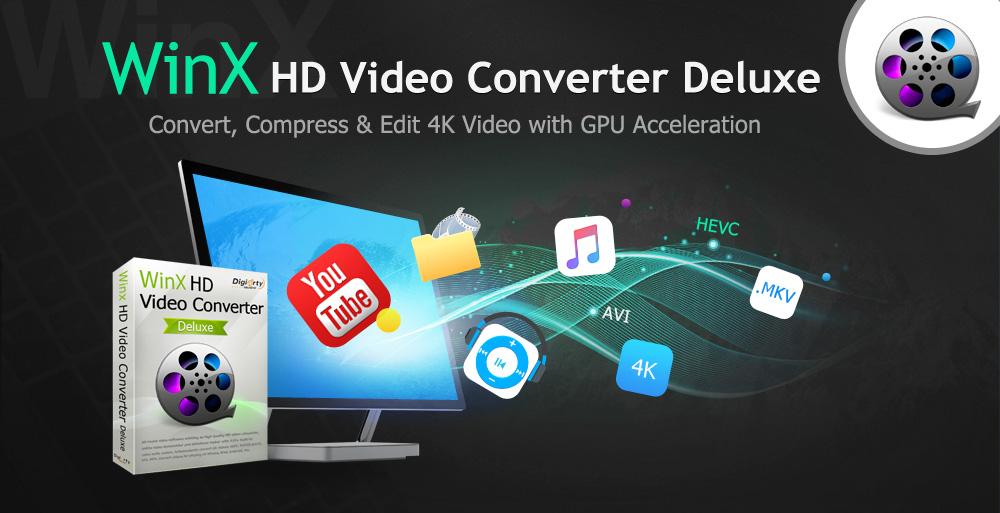 The program isn't exclusive to converting and compressing video either. You can easily use the program to edit, trim, crop, split, and even merge videos. There are varying parameters that you can adjust as well, and even add subtitles to your video.
Conversion speeds
One of the more harrowing parts of video converters is that they can take so long to process your video. It's not easy converting a massive 4K video file into something that's easier on your hard drive. A lot of conversions, depending on the hardware in your computer, can take hours at a time. But not with WinX HD Converter Deluxe.
WinX HD Converter Deluxe actually uses something called Level 3 GPU acceleration. With this enabled, you can actually convert, compress, and process that 4K video extremely quick.
That said, almost anyone can use WinX HD Converter Deluxe to convert their 4K video — you don't have to have any technical know-how whatsoever. If you follow along with us, we'll show you how:
How to convert and compress video
First, you'll want to download the 4K video converter and get it installed on your computer. It costs around $30 – $50, depending on current sales, but you can also get a downgraded or trial version of the 4k video converter for free here. It's available for Winds and Mac alike.
Once you've got it installed, you'll want to run WinX HD Video Converter Deluxe. Once you're in, select the "Video" button. From there, you'll want to select the 4K video file that you want to convert. Like we mentioned earlier, this program supports a wide variety of 4K file formats, including those from GoPro.
Next, we want to select the Output Profile that we're using. This is essentially the file format that we're choosing to compress our 4K video into. We'll want to select the Mp4 Option, since MP4 is a widely used format for flawless playback on nearly all devices on the market, including iPhone and Android devices. You can use the program to convert file formats like HEVC to MP4 as well.
MP4 is also an excellent format for uploading your video to popular social media platforms like YouTube, Facebook, and others.
Once you've setup the Output Profile, press the OK button to confirm your choices. Now we're almost ready to start compressing and converting our video. We just need to select an output folder.
You can setup your destination folder by pressing the Browse button. Go ahead and select the folder that you want your converted video to end up in. Now that everything is ready to roll, you can just click on the Run button to start processing the video. After just a few minutes, you should have a successfully converted and compressed 4K Ultra HD video.
Verdict
That's all there is to it! As you can see, converting your video is a really easy process. In just a few steps, you can have your heavy 4K video converted over into a more efficient file format.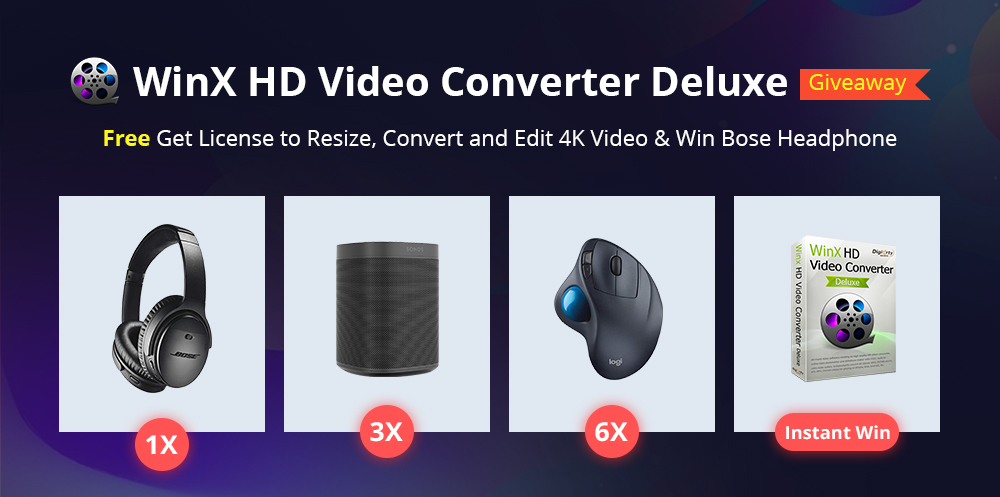 We showed you that you can download a free trial version of WinX HD Video Converter. However, if you want the Deluxe edition, they are running a limited time giveaway. You can enter your contact information here, and instantly win a free license. Not only that, but you'll be entered to win some sweet hardware as well — like a Sonos One, or the Bose QuietComfort II headphones, and even a Logitech M570 mouse! The sweepstakes is open until June 14, so you'll want to be sure that you act fast!