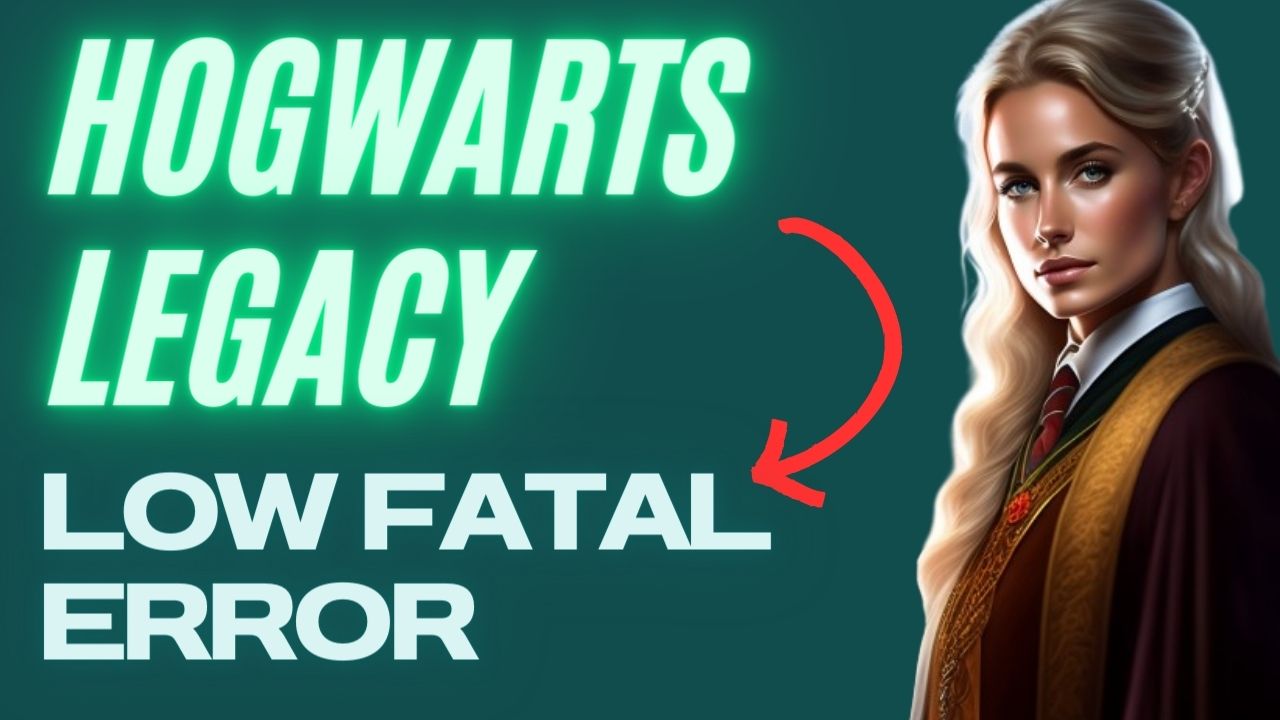 Have you been encountering a low fatal error issue related to Hogwarts Legacy on your computer? There are various factors that can contribute to this issue, including hardware incompatibility, outdated drivers, and corrupted files. To resolve Hogwarts Legacy low fatal error, you will need to follow a series of troubleshooting steps.
Hogwarts Legacy delivers an immersive and captivating gaming experience, where players are enrolled in Hogwarts School of Witchcraft and Wizardry and explore the vast open world of the Harry Potter franchise. Developed by Avalanche Software, the game's diverse range of activities, players can interact with a variety of creatures, customize their character's abilities, brew potions, cast spells, and leave a lasting legacy. The game's central character holds a dangerous secret that could potentially jeopardize the wizarding world, making alliances, confronting dark wizards, and shaping the fate of the wizarding community critical gameplay elements. Players have substantial influence in the game, wielding significant power as they progress through the story.
Fixing Hogwarts Legacy Low Fatal Error
Encountering Hogwarts Legacy low fatal error is one of the potential issues you may face. This error can occur either when launching the game or in the midst of gameplay, and can be a source of frustration, particularly if you are eager to continue playing.
Here's how to fix Hogwarts Legacy low fatal error issue and in game errors.
Fix #1 Update Graphics Driver
It's important to verify whether your graphics card drivers are up to date. Outdated graphics card drivers are a common cause of fatal errors, including lowlevelfatalerror Hogwarts Legacy issue. Installing the latest version of drivers for your graphics card can help ensure that the game runs more smoothly and prevent issues from arising.
Updating Graphics Card Driver
Step 1: Simply type Device Manager in the search bar on your desktop and then click the Device Manager icon that appears in the results. This will open the device manager.
Step 2: Click the Display adapters icon. The list of display adapters will be expanded.
Step 3: Right-click the dedicated graphics card you are using to play the game and then select Update driver. This will allow you to update your dedicated graphics card driver.
Step 4: Choose Search automatically for graphics driver. This will search online for any new drivers, automatically download it and install it on your computer.
Try to check if you still encounter performance issues after you have updated GPU drivers.
Fix #2 Close Background Programs
Running too many background programs while playing Hogwarts Legacy can lead to various issues. To ensure optimal performance, it's important to close any unnecessary programs running on your PC. By freeing up CPU, GPU, and RAM resources, you can improve the game's overall performance. You can use the task manager to terminate any background processes, which will result in reduced memory and disk usage, as well as a lighter load on your GPU.
Closing background process
Step 1: Right click on the Start button. This can be found on the left pane of the screen.
Step 2: Select Task Manager. This will open Task Manager.
Step 3: On the pop up window, Click processes tab. This will allow you to show the running program.
Step 4: Right-click on the running program then select end task. This will allow you to close unused program.
Fix #3 Disable Overlay Applications
While overlay programs can be beneficial, they can also contribute to low fatal errors in Hogwarts Legacy. This is because they use system resources and operate in the background, potentially interfering with the game's performance. Disabling overlay programs such as Steam overlays, third-party overlays, and game bars like the Xbox game bar and NVIDIA overlay may resolve fatal error issues in the game.
Disable Steam overlay apps
Step 1: Open Steam client.
Step 2: Click on Steam found on the upper left side of the client.
Step 3: Click Settings.
Step 4: Click In-Game.
Step 5: Uncheck Enable the Steam Overlay while in-game box.
Step 6: Click OK.
Disable Xbox game bar
Step 1: Click the Start button.
Step 2: Click Settings.
Step 3: Click Gaming.
Step 4: Turn off the switch for Xbox Game Bar.
Disable NVIDIA GeForce Experience overlay
Step 1: Open NVIDIA GeForce Experience.
Step 2: Click Settings or the gear icon.
Step 3: Turn off In-game overlay.
Disable Discord overlay
Step 1: Open Discord.
Step 2: Click on the gear icon at the bottom.
Step 3: Click on Game Overlay under User Settings.
Fix #4 Verify Game Files or Check Corrupted Game Files
Low fatal errors in Hogwarts Legacy can occur if game files in the installation folder are either corrupted or have missing game files. To fix this issue, you can use the Steam client to verify the integrity of the game files. This feature will attempt to repair the game by downloading, installing, and replacing any missing or corrupted files. Once you have finished verifying the files, Steam will take care of the rest.
Repair game files
Step 1: Open Steam .
Step 2: In your Steam launcher, click Library.
Step 3: Find the game then right-click the game in your Library and select Properties.
Step 4: Choose the Local Files tab and click Verify integrity of game files.
Fix #5 Game Update Hogwarts Legacy
You should update Hogwarts Legacy when encountering a low fatal error because the game's developers may have released a patch that addresses the issue. Updating the game to the latest version can often fix bugs, glitches, and other technical problems, including low fatal errors. Therefore, it's essential to keep the game updated to ensure that it runs smoothly and without errors.
Updating Game
Step 1: Launch Steam launcher.
Step 2: On your Steam launcher, click the Library tab.
Step 3: Right-click PUBG in your Library, then click Properties.
Step 4: Click the Updates tab and select Always keep this game updated.
Fix #6 Reinstall Hogwarts Legacy
If none of the above fixes are successful in resolving the low fatal error issue in Hogwarts Legacy, reinstalling the game may be necessary. A corrupted installation of the game can cause issues, and reinstalling the game will provide a fresh installation of the game on your computer. This may resolve any issues related to corrupted game files or other installation-related problems.
Reinstalling
Step 1: Run Steam launcher to load steam.
Step 2: Go to the Library
Step 3: Right click Paladins then click on Manage then uninstall.
Step 4: Click Uninstall.
Step 5: Right click Hogwarts Legacy then click on install.
Step 6: Click next to proceed with the installation. This will take several minutes to install.