Do you want to control notifications that appear on the lock screen of your Samsung Galaxy Z Flip 4? You can manage lock screen notifications by turning it off or choose which app can display notifications on your device.
The Samsung Galaxy Z Flip 4 is one of the latest Android smartphone models available in the market that uses the foldable display form factor. It can be used just like any other smartphone however its main feature is that it can be folded to easily fit in a pocket. Some of its best features include a Snapdragon 8 Plus Gen 1 chip and a battery capacity of 3700 mAh.
How do I hide notification content on Samsung Galaxy Z Flip 4 Lock screen?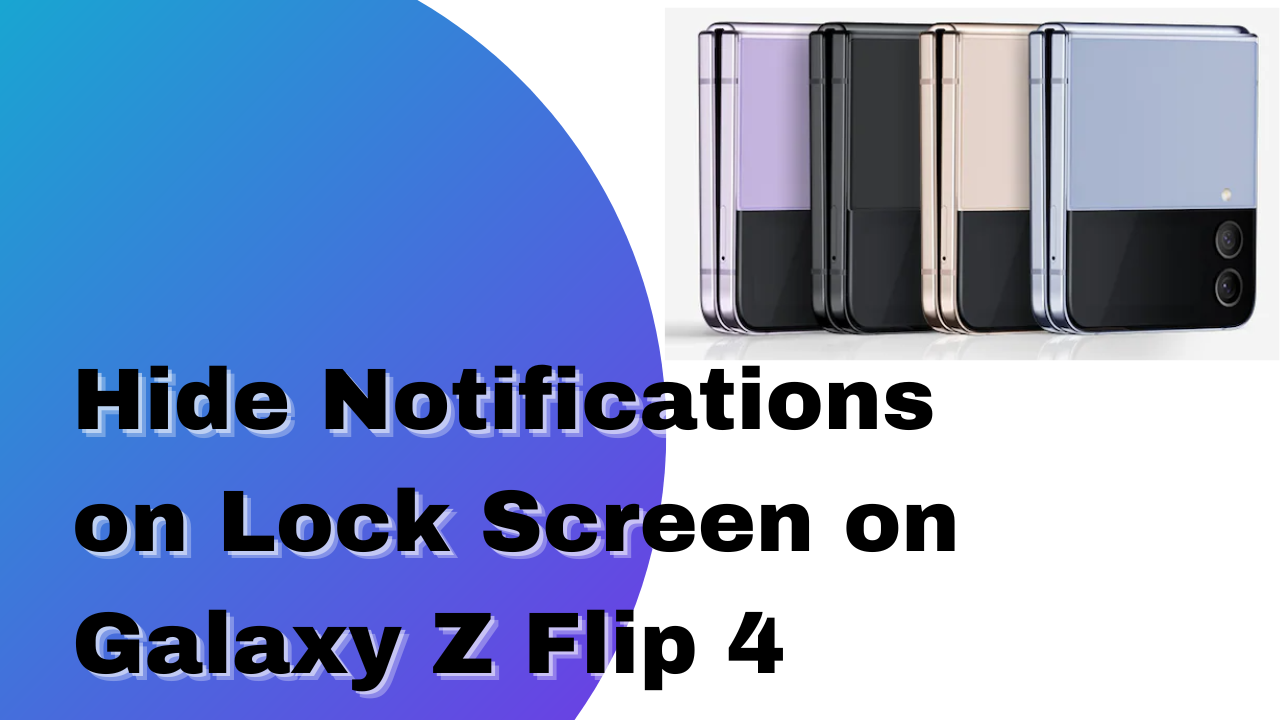 If you want to keep your lock screen notifications hidden so that other people can't see it, then you can either turn off the notification from being displayed in the lock screen or just show the app icon that's making the notification without showing the details.
Here's how to manage your phone lock screen notifications.
Turn off all lock screen notifications
Tap the Settings icon on your phone.
Tap Lock Screen.
Tap Notifications.
Turn off the switch found on the upper right side. Take note that this switch is only available if a screen lock is enabled.
Show icons only notifications
To show only the app that has a new notification and not the detailed content, then you should choose the icon only option.
Tap the Settings icon on your phone.
Tap Lock Screen.
Tap Notifications and make sure that the notification switch is on.
Select icon only.
Other lock screen notification settings that you can manage are as follows.
Transparency: Adjust the slider to see more of your Lock screen wallpaper.
Auto-reverse text color: Automatically adjusts the color of the notification text to make it more readable.
Hide content: Hide notification content in the Notification panel.
Notifications to show: Enable either Alert and silent notifications, or Alert notifications only.
Show on Always On Display: Show or hide notifications when Always On Display is enabled.
Snooze notifications on Samsung galaxy phones
Sometimes you don't want to be bothered by notifications on your phone. If you are in a meeting, in school, or watching a movie you definitely don't want to be bothered. Aside from turning on the airplane mode of your Galaxy Z Flip 4 you can simply set the snooze feature.
To snooze a notification from the Lock screen, tap the down arrow to fully open the notification.
Tap the Snooze icon (it looks like a bell), select your desired amount of time, and then tap Save.
Blocking app notifications
Tired of getting too many notifications from a certain app? Just block the app form sending you notifications.
From Settings, tap Notifications then tap More under Recently sent.
Tap the drop-down menu at the top.
Tap All.
Tap the switch(es) next to the app(s) that you would like to block notifications for.
To view what apps you've blocked, tap the drop-down menu, and then tap Notifications turned off.
Troubleshooting notification issues on your Samsung Galaxy Z Flip 4
If you are experiencing notification settings issues on your Galaxy Z Flip 4 then here's what you need to do.
Restart your Galaxy Z Flip 4
Restarting your phone refreshes your phone's operating system and will fix any notification issues caused by a software glitch.
Simultaneously press and hold the Power key and Volume down button on the right edge for approximately 15 seconds.
Release the buttons when the Samsung logo appears.
Check for software updates
You need to manually check for any new software updates available for your Samsung device and apply them immediately. It's best to manually check for major Android updates regularly as sometimes the automatic update feature is delayed.
Go to your phone Settings.
Scroll down and tap on Software update.
Simply tap Download and install.
Perform a Factory Reset
This procedure will erase your phone data and bring it back to its original condition. Any corrupted data stored in the operating system which could be causing this problem will be completely removed.
Before proceeding with this procedure, it is recommended that you backup your Galaxy Flip 4 data.
Turn off your Samsung Galaxy device.
Simultaneously press and hold the Volume up and side buttons until the device vibrates and the Android Recovery screen appears then release all buttons. Allow up to 30 seconds for the recovery screen to appear.
From the Android Recovery screen, select Wipe data/factory reset. You can use the volume buttons to cycle through the available options and the side key to select.
Select Factory data reset. Allow several seconds for the factory data reset to complete.
Select Reboot system now. Allow several minutes for the reboot process to complete.
Set up your Android phone.
Frequently Asked Questions
Will getting constant notifications affect my phone battery life?

Getting notifications will have a minimal effect on your Samsung Galaxy Z Flip 4 battery life unless you have set your device to vibrate for every notification received.

Why am I not getting notifications on my lock screen?

You should make sure your phone has a good reception. You should also make sure that the lock screen notifications of your phone is turned on.

How do I dismiss lock screen notifications?

You can dismiss notifications straight from the lock screen. Swipe left or swipe right on the notification until it disappears.

How do I block messages in my phone?

From the home screen, select the messages app. Select the desired message thread. Select the Drop-down icon, then select the Info icon. Select More, then select Block contact. Select Block to block the contact.

How do I unblock messages in my phone?

To remove a number from the Blocked numbers list, from the Messages app, select the Menu icon then select Settings. Select Block numbers and spam. Select Block numbers. Select the Remove icon next to the desired number to unblock.