Google skipped a year before releasing the Pixel 6 and Pixel 6 Pro, which is a good thing as the new lineups have noticeable differences from the previous models in both physical design and what's under the hood.
Google launched the Pixel 6 on October 19 and started shipping on October 28, 2021. The devices received good overall reviews making them two of the most popular devices that year and even in 2022.
The selling points of the Pixel 6 is apparently its camera, the new Google Tensor chipset and the new features.
Design-wise, Pixel phones are known to have minimalist yet elegant designs and that's what you can expect from the Pixel 6 with its new camera strip at the back.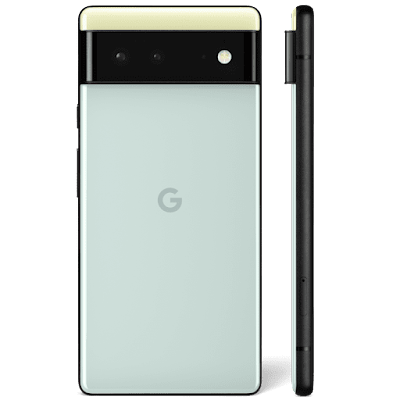 Features
Magic Eraser
Face Unblur
Motion camera features
Real Tone
Live Translate
Instant and smarter voice typing
HDRnet for videos
Digital car key
UWB in Nearby Share
Direct My Call and Wait Times
Color Temperature Slider and Selfie Speech Enhancements
Specs
Full-screen 6.4-inch (163 mm)1 display
FHD+ (1080 x 2400) OLED at 411 ppi
128 GB / 256 GB UFS 3.1 storage
8 GB LPDDR5 RAM
Google Tensor
Titan M2™ security coprocessor
50 MP Octa PD Quad Bayer wide camera Super Res Zoom up to 7x
12 MP ultrawide camera LDAF (laser detect auto focus) sensor
8 MP 1.12 μm pixel width 84° wide field of view
Li-Ion 4614 mAh, non-removable
Should you buy a Pixel 6?
The Google Pixel 6 is a high-end device and competes in the same market as with the iPhone 13 and Galaxy S22. Needless to say, it's not cheap and buying it might need some careful thinking, especially if you're on a tight budget.
But is it worth the price? Absolutely! The Pixel 6 is apparently cheaper than the Pixel 6 Pro but if you're an owner of a mid-range device and want to upgrade to a premium one, then you will definitely notice the difference in performance while using it.
Pixel phones are known to be devices that don't have a lot of bloatware (useless pre-installed apps) so you will have more storage space even if you decide to buy the base variant with 128GB of storage.
In the end, it's all about what catches your eyes because people tend to buy devices that reflect their personalities no matter the price range. But the fact is Google Pixel 6 is worth its price.
Pixel 6 Overview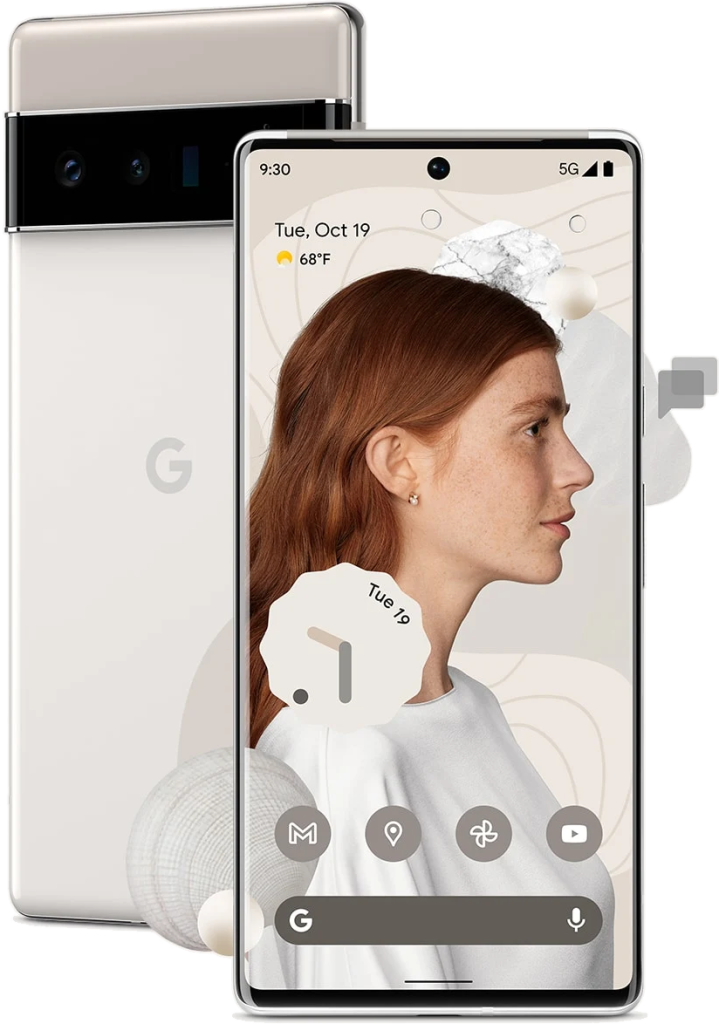 The Google Pixel 6 was launched on October 19, 2021 and was released on October 28 of the same year. Google has been out of the smartphone competition for more than a year so a lot of tech enthusiasts have been anticipating what it can offer for its next release.
As expected, the Pixel 6 and its big brother, the Pixel 6 Pro, have received good reviews for its design and performance.
The device is a tad thicker than its competitors at 158.6 x 74.8 x 8.9 mm and weighs around 207 grams. It has an aluminum frame with glass front and back sides protected by Gorilla Glass Victus and Gorilla Glass 6, respectively. It has an IP68 certification, which makes it water-resistant but that also means it has a non-removable battery.
It's Google's first device to run on its new Tensor (5 nm) chipset with Octa-core (2×2.80 GHz Cortex-X1 & 2×2.25 GHz Cortex-A76 & 4×1.80 GHz Cortex-A55) processor. It's offered in two storage capacities; 128GB and 256GB. Both have 8GB of RAM, while all the Pixel 6 Pro variants have 12GB.
Its camera is one of the selling points of the Pixel 6. It has two modules at the back and one in front. The main camera has a 50 MP sensor (f/1.9, 25mm (wide), 1/1.31″, 1.2µm, Dual Pixel PDAF, Laser AF, OIS) and the ultra wide is a 12 MP sensor (f/2.2, 17mm, 114˚, 1.25µm). You will be able to record 4K videos at 30/60fps, and Full HD videos at 30/60/120/240fps.
The front facing camera has an 8 MP sensor (f/2.0, 24mm, 1.12µm) and can only record Full HD videos at 30fps.
It has a 4614 mAh Li-Ion non-removable battery capable of up to 35 watts of fast charging and advertised to reach 50% in just 30 minutes. It's also capable of 21 watts of fast wireless charging.
Pixel 6 Price and Availability
The Google Pixel 6 is marketed at $599, which is $300 cheaper than the Pixel 6 Pro. It's also cheaper than its Galaxy and iPhone competitors.
We know that the Pixel phones will always be among the first ones to get the latest Android versions in the future and with 5-year support from Google, at least, you will have 4 more years of security patches and firmware updates to enjoy.
Pixel 6 Reviews
The Pixel 6 have received quite a lot of good reviews from tech enthusiasts and vloggers. Tom's Guide gave it a review rating of 4 out of 5 citing the Tensor chip, Android 12 and the new design as the important factors why the phone is worth the price, although, things like slow fingerprint sensor and shorter battery life over 5G are the factors that prevents it from being a perfect device.
CNet rated the phone 8.8 out of 10 saying that the "combination of price, design, cameras, processor and software make the Google Pixel 6 one of the best value phones you can buy" and it even got the CNet Editor's Choice award in November last. It's evidence that the Pixel 6 is actually a head-turner.
The Pixel 6 also earn the same reputation with Android Authority being the Editor's Choice awardee saying that "It is the most well-rounded smartphone Google has ever produced. The upgraded cameras perform well (and are long overdue), the software experience is unmatched, and performance from the Tensor chipset is solid enough (for now)." It garnered 9 stars out of 10.
And if that's not enough, Android Police gave it 9.5 out of 10, which is already very close to perfection. While it's already high enough, it's understandable that there are reservations considering the fact that the Pixel 6 Pro should get even higher scores. After all, all reviewers cite the fingerprint sensor as being slow, the front camera as unimpressive and lower charging speed.
Pixel 6 Issues
Battery issues
Among the most common battery issues you might experience if you own a Pixel 6 is that it charges slowly. We know for a fact that the phone is capable of really fast charging that it can replenish its battery half-full in just 30 minutes, so if it doesn't do that, the first thing you need to do is do the forced restart.
To do that, press and hold the Power key and the Volume Down button for 8 seconds. Doing that will trigger your phone to shut down and power back up.
When the Google logo shows, release both keys and allow the device to continue the boot process.
Once the reboot is finished, charge it again and it should charge faster after that.
Black screen, won't turn on
The black screen of death issue is often due to a firmware crash, provided that there aren't visible signs of physical damage on the phone.
Most of the time, you can fix such a problem by simply pressing and holding the Power key and the Volume Down button for 10 seconds or more.
When the Google logo shows, that's a sign that the problem is already fixed. So let go of the keys and the phone should continue booting up.
Performance issues
Performance-related problems are often due to apps that are left running in the background and continue to use your phone's RAM and CPU. Well, at least, that's the first thing you have to do look into. So try closing the apps first and then try to see if the problem is fixed.
The next thing you need to do if the problem persists is the forced restart to refresh the memory and reload all services.
Then you can do the reset should the issue continue to bug you even after doing the previous procedures.
Connection issues
Connectivity problems are also among the most common issues you might encounter here and there. However, most of the time, it's just due to a minor problem with the router, if you're getting your connection from a Wi-Fi network, or the network itself where your phone is connected to, if you're on mobile data.
For users on Wi-Fi, try restarting the router and then do the forced restart. This will refresh both devices. For mobile data users, just reboot your phone and that should do it.
However, if that doesn't fix the problem, then try resetting the network settings as that will fix the problem that affects your phone's wireless capability.
You also have an option to do the Factory reset should the problem continue to bug you.
App crashes
App crashes and other related problems are the easiest to fix. Most of the time, you will encounter problems with third party apps and if that's the case, then you can simply try clearing the app's cache and data, which will reset it. If that won't fix the problem, then uninstall the app and reinstall it.
For pre-installed apps, you can try doing the forced restart or you can simply reset the phone if the problem is really bugging you. Of course, make sure to create a backup of your important files and data.
Design
If you've been following Google's devices, you'll notice immediately that the front design of the Pixel 6 has noticeable differences from the Pixel 5 variants. The former has sharper corners while the latter are rounded.
But what's more eye-catching is the back design and that's due to the camera strip that stretches across the back. We know that the downside of having a camera island is that it makes the device wobbly when placed on the table without a case. But the Pixel 6 doesn't do that, although the upper side will be angled slightly.
The Pixel phones always have this distinct look on them and the same is true with the Pixel 6. You will easily recognize it when placed side-by-side with other devices in the same category.
Size
The Pixel 6 has a dimension of 158.6 x 74.8 x 8.9 mm or 6.24 x 2.94 x 0.35 inches. It sure is thicker than the Pixel 5 and the Galaxy S21and weighs heavier at 207 grams, but it's because the front and back sides are glass and protected by Gorilla Glass Victus and Gorilla Glass 6, respectively.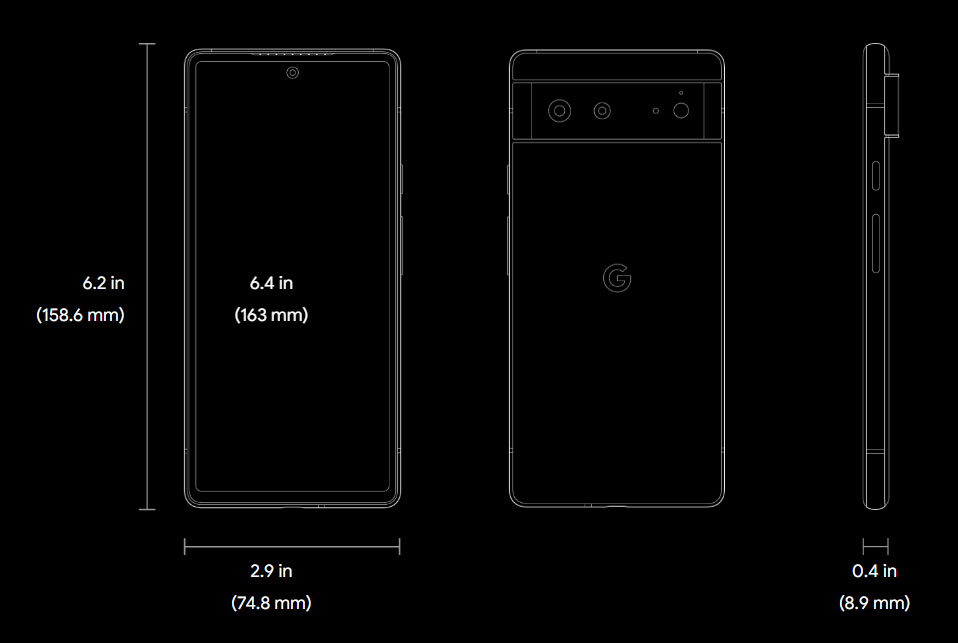 The USB-C charging port is conveniently situated at the bottom center of the frame, in between the down-firing speaker slots, while the Power key and the Volume rocker is at the right side of the screen.
Color options
The Pixel 6 is available in 3 colors, namely: Sorta Seafoam, Kinda Coral and Stormy Black.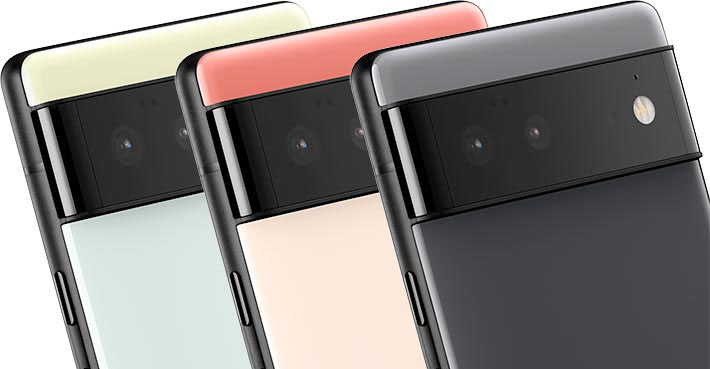 Each of the color variant have a two-tone look separated by the camera strip. The Sorta Seafoam's main back panel is kind of greenish with yellowish accent above the camera strip. The Kinda Coral is bit pinkish light and a darker hue at the top, while the Stormy Black is darker gray with lighter accent above the camera strip.
Water resistance
It also has the IP68 certification, which means that no dust is permitted to mess with the components inside and it's water-resistant for up to 1.5 meters for 30 minutes. But we all know that it can actually go a little deeper and longer than that.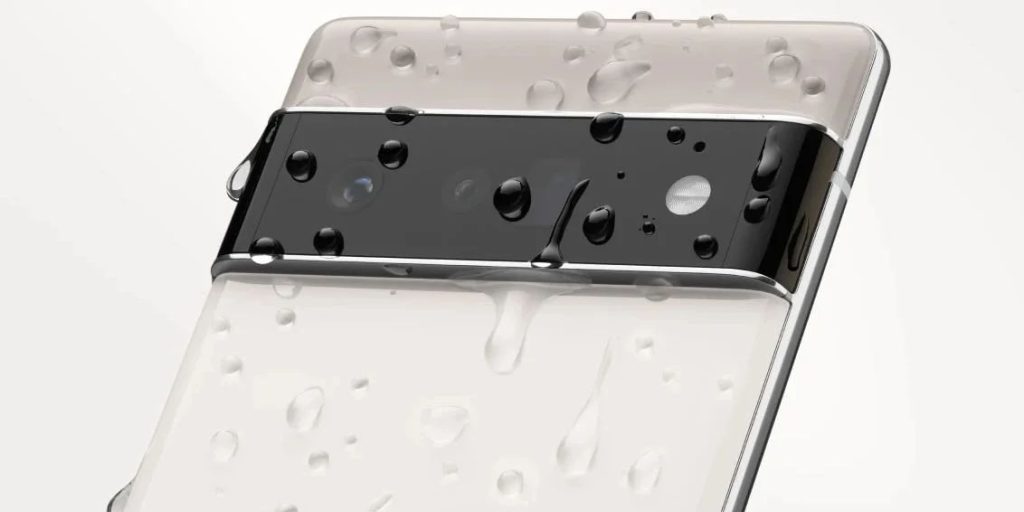 But you should know that the water- and dust-proofing will deteriorate over time as the glue that holds the front and back covers to the frame will fade, especially if the device is often placed in a hot place or submerged in water.
Display
The Pixel 6 sports an AMOLED display panel capable of 90Hz refresh rate and HDR10+. It's a 6.4-inch screen that gives you around 83.4% screen-to-body ratio.
It's resolution is at 1080 x 2400 pixels, 20:9 ratio stretched over 6.4 inches and that gives you around 411 ppi density.
The screen is, of course, well-protected with Corning Gorilla Glass Victus. So even if you don't install a third-party screen protector, the screen won't easily get scratched.
Platform & Memory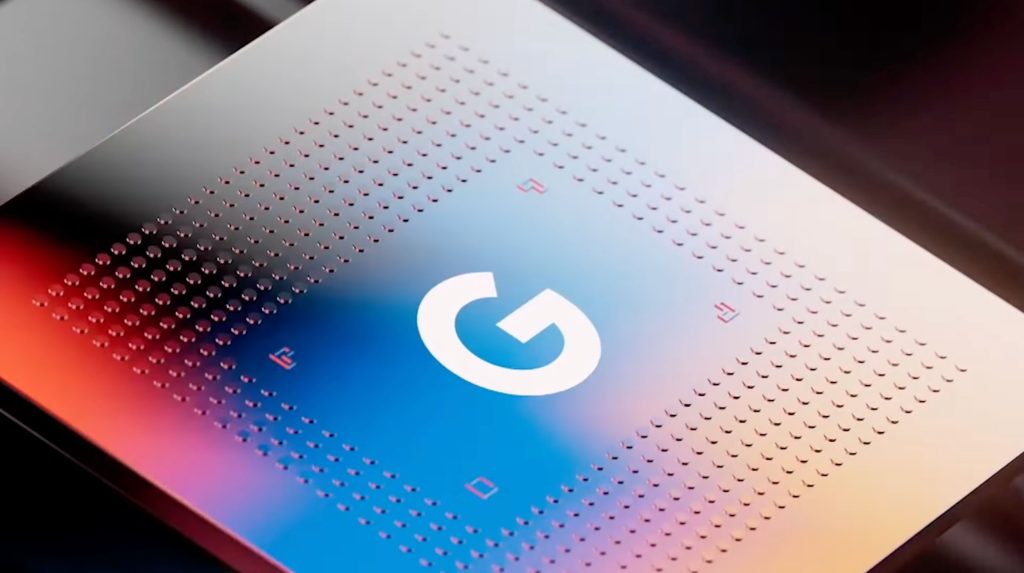 The Pixel 6 was released with Android 12; probably the first phone to sport Google's latest mobile operating system. It will also be the first to get the Android 13 this year, for sure.
It is a true Google flagship running on the company's Tensor chip with 5 nm technology. It has an Octa-core (2×2.80 GHz Cortex-X1 & 2×2.25 GHz Cortex-A76 & 4×1.80 GHz Cortex-A55) CPU couple with Mali-G78 MP20 graphics processor.
Just like most of the smartphones nowadays, the Pixel 6 doesn't have an SD card slot but you have two options. You can either get a unit with 128GB storage and 8GB RAM or 256GB storage with the same RAM capacity.
Cameras
The Pixel 6 doesn't have a telephoto but its camera is good enough or even better than other competition.
It has a 50-megapixel Octa PD Quad Bayer wide camera and 12-megapixel ultrawide camera modules at the back. It can record 4K videos at 30/60fps and Full HD videos at 30/60/120/240fps, and has the following features:
LDAF (laser detect auto focus) sensor
OIS (optical image stabilization)
Spectral and flicker sensor
Fast camera launcher
The front-facing camera has an 8-megapixel, 1.12 μm pixel width, ƒ/2.0 aperture and 84° wide field of view module. It's mostly enough for selfies and video recordings with close subjects.
Battery life
The Pixel 6 has a 4614 mAh Li-Ion, non-removable battery with an 86-hour endurance rating by GSM Arena. That gives you roughly 21 hours of talk time over 3G, 12 hours of web browsing and 20 hours of video playback.
Its battery is capable of up to 35 watts of fast charging and advertised to reach 50% in just 30 minutes. It's also capable of 21 watts of fast wireless charging.
5G Connectivity & Wi-Fi
The phone is built for global market so it can be used anywhere in the world. But just like its competitors, it's already capable of 5G connectivity, which gives users faster download and upload speeds. It means that web pages will loaded in a flash, less video buffering while streaming and quick file downloads.
It also still supports 2G, 3G and 4G technologies.
Frequently Asked Questions
Is the Google Pixel 6 waterproof?

It is water-resistant and have an IP68 certification. It means that you can actually submerge the phone in water down to 1.5 meters deep for 30 minutes.

My Pixel 6 isn't responding, what should I do?

As long as it doesn't exhibit signs of physical damage, you can just press and hold the Power key and the Volume Down button to force it to boot up.

How much is the Google Pixel 6?

Google sells it at $599 but you can get it with a plan with your service provider so that you won't have to pay the price all at once.
Latest posts
Sorry, no posts were found.