Do you love playing FIFA 23 but cannot enjoy it right now because it's stuck in a black screen? In this guide, we'll show you what you need to do to fix this problem.
How to fix FIFA 23 black screen on startup or in-game?
Here are the fixes that you can try if FIFA 23 won't load or getting stuck in black screen during startup. The issue is common among Origin players but also among Steam users. Origin users report that a small black window appears but after a few seconds, and even after enabling secure boot in BIOS, the same window closes and the game fails to start at all.
If this is what you're experiencing right now, these are the solutions that you must do.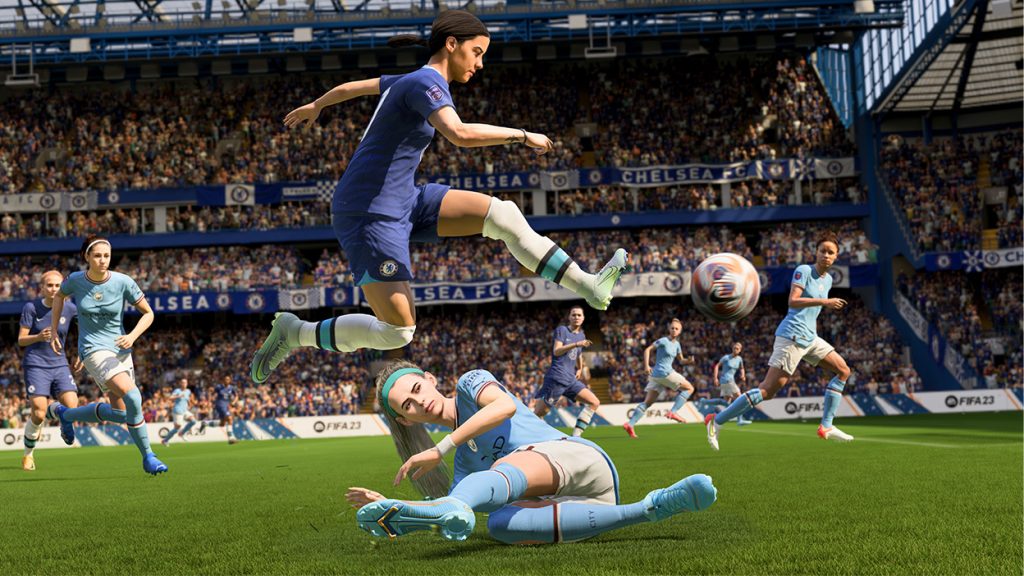 Fix #1: Force close the game.
If the game appears stuck in a black screen and not responding, try closing it using the Task Manager by pressing the CTRL + SHIFT + ESC buttons.
Fix #2: Reboot your device.
If force closing FIFA 23 did not change anything, then rebooting your PC is the next solution to try. Sometimes, simply refreshing your gaming computer is enough to eliminate minor bugs.
Fix #3: Install game updates.
Another simple step is to ensure that the game is always up-to-date.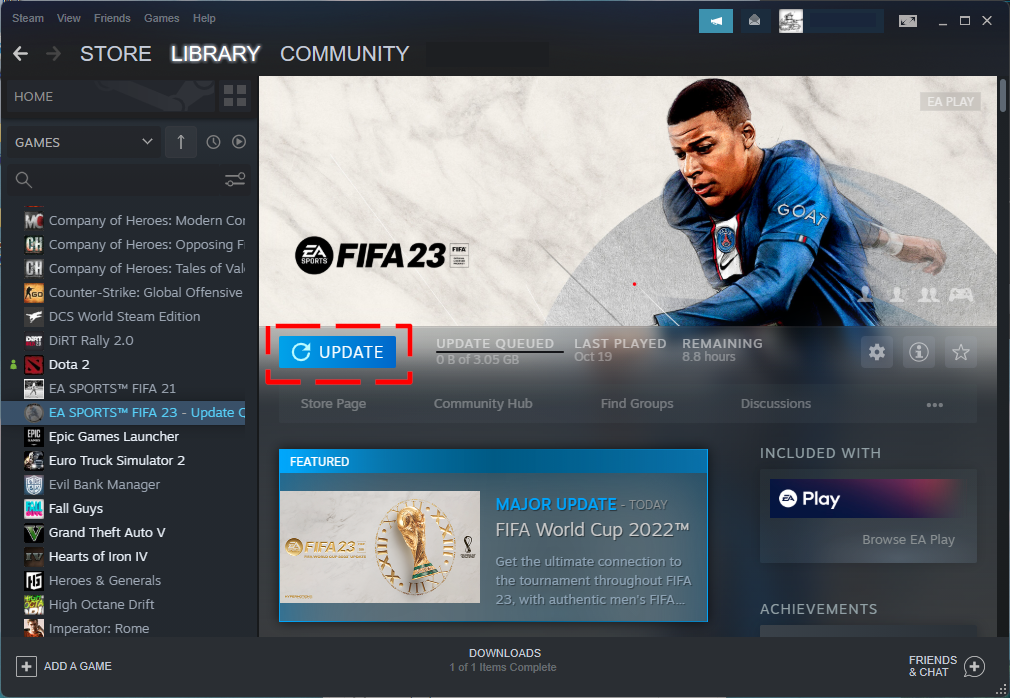 If there is an update for the game but it wasn't installed beforehand, the game can fail to begin or become stuck in the loading screen.
Fix #4: Check the game system requirements.
In this situation, the hardware may be to blame for FIFA 23's inability to launch, since it has crashed and is now stuck on a black screen.
Upon starting the game, your computer may stutter if it was not specifically designed to play games. It's possible this is what caused the launch failure or quiet crash.
Look at the minimum and recommended system requirements and update your PC if needed.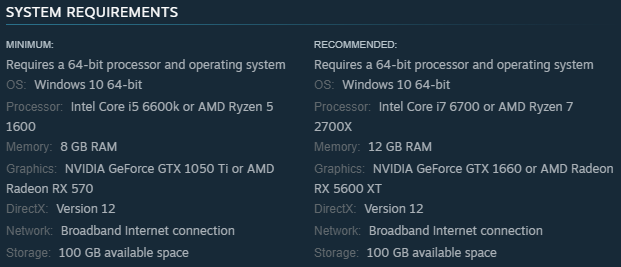 MINIMUM System Requirements:
OS: Windows 10 64-bit
CPU: Intel Core i5 6600k or AMD Ryzen 5 1600
RAM: 8 GB
GPU: NVIDIA GeForce GTX 1050 Ti or AMD Radeon RX 570
DirectX: Version 12
Hard Drive Space: 100 GB available space
RECOMMENDED System Requirements:
OS: Windows 10 64-bit
CPU: Intel Core i7 6700 or AMD Ryzen 7 2700X
RAM: 12 GB
GPU: NVIDIA GeForce GTX 1660 or AMD Radeon RX 5600 XT
DirectX: Version 12
Hard Drive Space: 100 GB available space
You should at least ensure that your PC can handle the minimum system requirements. If your computer is too outdated or doesn't have sufficient hardware, FIFA 23 won't load, will crash, or will perform poorly.
Fix #5: Turn off full-screen mode.
Disabling the full-screen optimization feature is one other simple fix that you can try. Here's how: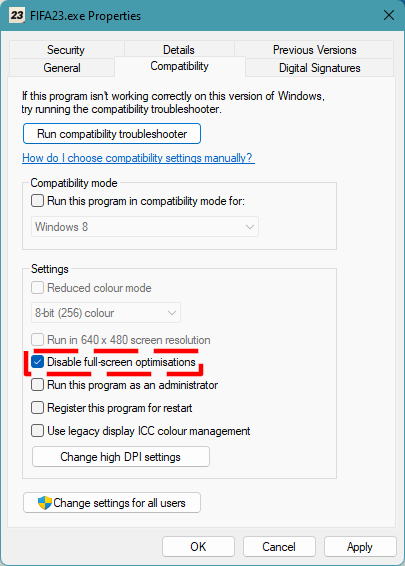 Locate the installation folder of FIFA 23. The default is usually C:\Program Files (x86)\Steam\steamapps\common\FIFA 23\Binaries\Win64 directory but it could be located differently in your system.
Right-click on the FIFA 23.exe file and click on Properties.
Navigate to the Compatibility tab.
Select the box for Disable Fullscreen Optimizations.
Click on Apply and then OK.
If you're playing FIFA 23 in fullscreen all the time, try to see at this time if playing it in Windowed mode right now will make a difference.
If you're playing FIFA 23 on Steam, here's what you must do: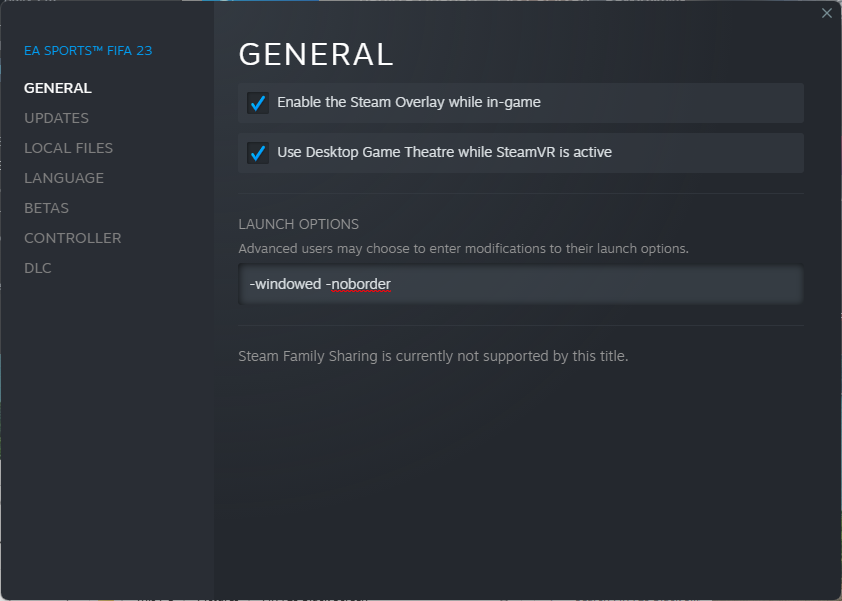 Open the Steam app.
Go to your Game Library.
Right-click on FIFA 23 and select Properties.
In the General tab, select Set Launch Options.
Copy & paste the following command-line argument: -windowed -noborder
Save the changes and run the game again to check if that will fix FIFA 23 crashing issue.
Fix #6: Update the graphics drivers.
If you're still getting the FIFA 23 black screen issue, the next fix to try at this point is to install the latest GPU drivers.
Outdated drivers can cause game problems, performance difficulties, crashes, stuttering, low FPS, and even a crash at startup. Make sure the device drivers are always up-to-date to prevent any glitches.
The latest drivers and software for the graphics card are essential for playing video games, which have specific graphical requirements.
Press the Windows key + X buttons on your keyboard.
Open the Device Manager from there.
Expand the Display adapters category.
Right-click on the graphics card that you're using and select Update Driver.
Select Search automatically for drivers.
Once you've updated the graphics drivers to their latest version, check to see if it helps to fix FIFA 23 crashing issue.
Fix #7: Run the game as Admin.
If you're having trouble with the game because of permissions, you need to execute the exe file as an administrator. The Steam client should be started with administrative privileges. Here's what you must do: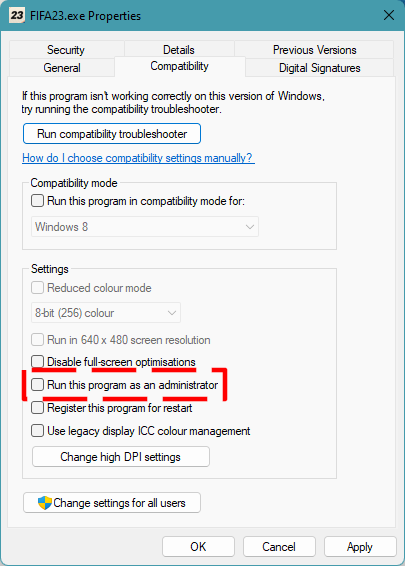 Press the WIN + S buttons and type in "task manager." Then, press enter to launch Task Manager.
Under the Processes tab, find all Steam related processes. To end a process, right click on the item and click on End Task.
Open the installation directory of FIFA 23.
Find the FIFA 23 executable file.
Right click on Steam.exe and select Properties.
Under the Compatibility tab, find Run this program as an administrator and check the box beside it.
Afterwards, click Apply.
After doing the steps above, launch the game again and see if you're still getting the FIFA 23 black screen issue.
Fix #8: Check for corrupted game files.
Corrupted or damaged game files can cause crashes and other problems. You can use the Steam utility to reload the files if the FIFA 23 black screen issue remains at this moment. To fix possible corrupt game files, follow these steps: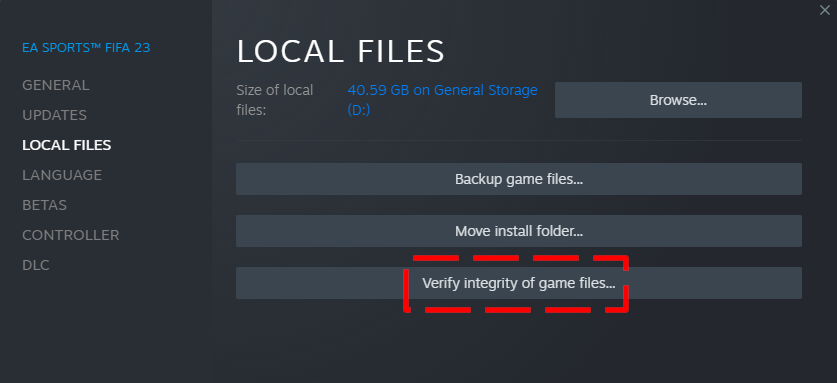 On the Steam application, select the Library tab.
Right click the game you want.
Select Properties.
Choose the Local Files tab.
Select Verify Integrity of Game Files to begin the repair process.
Run the game to check if the black screen issue has been eliminated.
Fix #9: Troubleshoot your internet connection.
If the black screen issue appears in the middle of a game, or when trying to join a match, it's possible that there's an issue with your internet connection. Try restarting your router and running a speed test to know the download and upload speed in your PC.
If your internet keeps disconnecting or slower than 10 Mbps, it may cause connection issues when you play online.
Also, try connecting your PC to the router with an Ethernet cable instead of using wifi
Fix #10: Turn off other apps.
It's possible that certain software will prevent others from installing or operating. If you're having trouble starting FIFA 23, try closing all other apps first. This includes disabling any security apps like your antivirus program.
Disabling your antivirus program may resolve the problem, as it is known to prevent certain apps from functioning properly.
Just make sure not to forget to turn back any security software that you might disabled after doing the troubleshooting.
Fix #11: Run the game in lower graphics settings.
High graphics settings might also be contributing to the black screen issues in FIFA 23. If you've adjusted graphical settings beyond the limits of your system, returning to lower settings may help.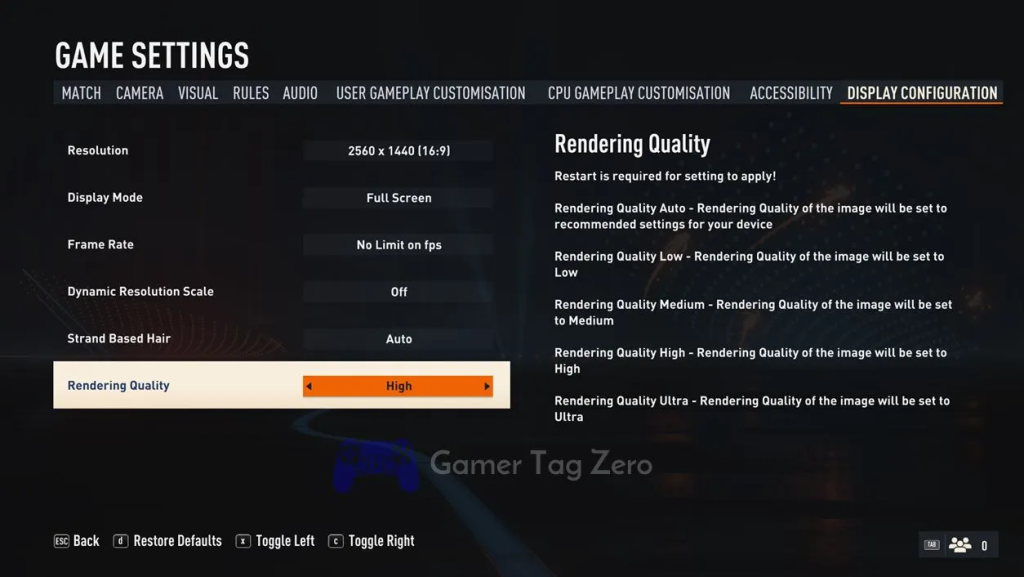 What you need to do is to first end your current match, and then proceed to the graphics settings. Head to the main menu and select the settings cog in the upper right. Select Graphics from the menu that appears and try lowering the graphics settings from there.
Fix #12: Set your PC to run in Performance Mode.
In Windows, prioritizing performance over quality might potentially increase the system's speed during gameplay. Here's what you must do:
Press the Windows key on your keyboard. Alternatively, you can also click on the Windows button on the lower left corner of the taskbar.
Type in "Performance."
Select Adjust the appearance and performance of Windows.
Select Adjust for best performance option.
Click Apply.
Click OK.
Fix #13: Delete and reinstall FIFA 23.
If the preceding solutions fail to resolve the issue, or if you continue to receive the same error messages, you may want to uninstall FIFA 23 and reinstall it.
FAQs
Why does FIFA 23 keeps showing a black screen when I play?

Why does FIFA 23 keeps showing a black screen when I play?


How do I fix the black screen issue on FIFA 23?

You must do a series of troubleshooting steps to identify and eventually fix the black screen issue you're experiencing on FIFA 23. Check out the solutions above on what to do.