Want to watch your favorite MLB teams at home, but tired of experiencing the MLB.TV blackouts so frequently? Then you might want to consider accessing MLB.TV blackout workaround through a VPN (Virtual Private Network) service.
Tip: Our Choice for best VPN is ExpressVPN. We have verified MLB TV works with ExpressVPN, just be sure to use Host name "Los Angeles 1". Get 35% off ExpressVPN here.
Our VPN method 100% works in 2023.  Just check out the screenshot of me watching my favorite team, the Padres, as I'm typing this.
And guess what, I am currently located in Asia of all places. Definitely a MLB blackout restriction area. But with a little VPN help, I can change my IP address to with a server location within the USA and access MLB TV (aka MLB At Bat).
This MLB TV blackout restriction workaround currently works for me as I access MLB local channels via Youtube TV and MLB.tv streaming service directly.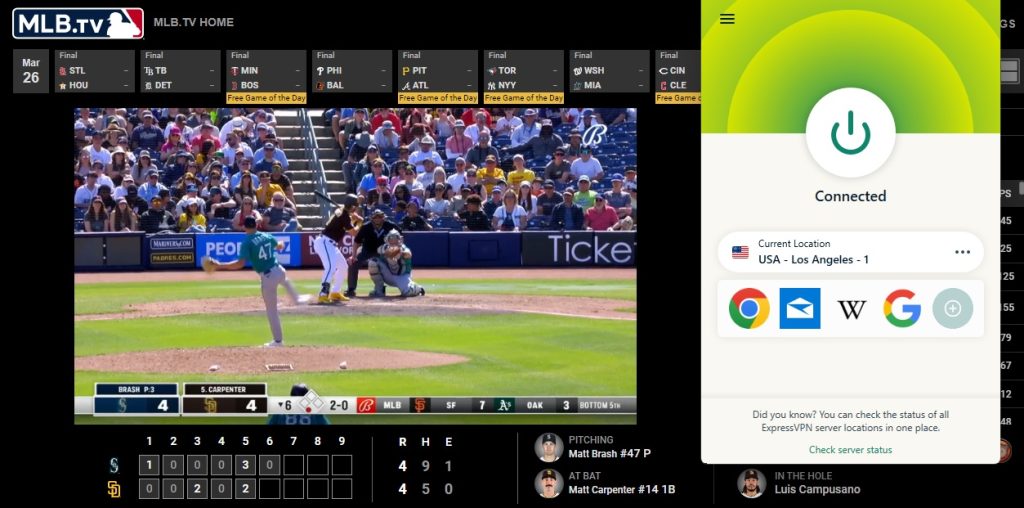 So above is the example of me using ExpressVPN to watch on MLB.tv.
Unblock MLB Blackout Restriction Via Youtube TV
And here is an example of me watching another MLB game today on ESPN, also with the help of ExpressVPN. (By the way, you can watch all channels on Youtube TV using ExpressVPN, so it is a great way to catch up on all the great shows you love back home on live streaming TV).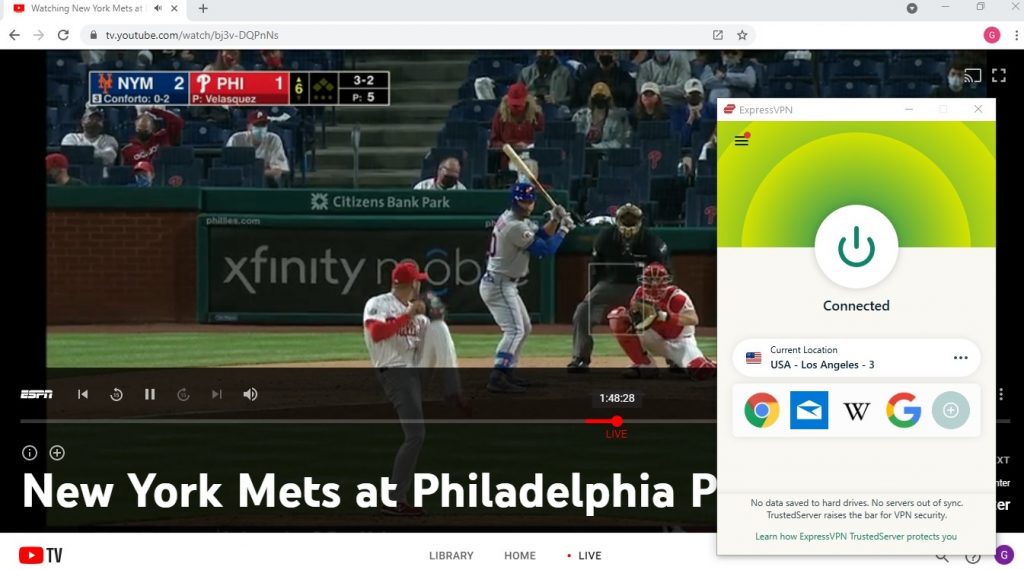 How to Access MLB streaming using ExpressVPN
By routing your traffic through a VPN, you should be able to access MLB.TV with complete freedom. With a VPN, you won't have to worry about experiencing MLB TV Blackouts.
If you're not sure what VPN to get or which VPN can help you here, be sure to check out our list. We show you the five best VPNs you can pick up for watching MLB TV.
But the best way by far is ExpressVPN, and it is the only VPN I use to watch my Padres during the season. Take a look at the image above, all you have to do is connect to the VPN, make sure to select a VPN server that works with MLB, I personally use "Los Angeles 3" server, and works great.
---
Watch MLB outside US from abroad
For you expats, it's hard to watch your favorite team while living abroad. I know first hand, I've been living in Asia for the last couple years, but I have not had any issue following my Padres! All you need is a VPN to get through the blackout problem. There's 2 services that I personally use.
Yes, that's a live MLB regular season game while I'm living in Asia! Currently watching the Dodgers game my computer and watching the Padres on my phone. Yes, you can even watch MLB games on the MLB app on your iPhone with this VPN It's definitely possible to get past the MLB TV Blackout issue.
ExpressVPN is the service I personally use will help you get past these two common issues:
watching MLB.tv from outside the US: MLB.TV by default does not allow streaming their service from outside the U.S., but not anymore! check out our method below.
watch your local blackout games: for example, if you live in Los Angeles, and the Time Warner fiasco is still blocking your Dodgers from showing locally, then you will want to to use a VPN to get pass this issue.
---

ExpressVPN is my primary option for accessing MLB from outside the U.S. and also avoid blackouts. You have 1,000 servers spread out through 94 countries, as well as a bunch within the United States itself. That said, there are a ton of options for location masking, giving you the freedom to access any sort of MLB content, including live TV.
In addition, you get 256-bit AES encryption, SHA256 authentication, support for various security protocols, and then DNS and IPv6 leak protection. ExpressVPN is particularly nice for accessing MLB content, as their servers are optimized for high-speed streaming.
**IMPORTANT** we should note that not every server in ExpressVPN will get you access to MLB TV games.
The best thing you can do after getting ExpressVPN is to call their customer service or contact them via their responsive and friendly live chat, ask them for a working server that suits you best. They will find a server location that will change your ip address that will help with blackout restrictions and will be able to watch all the games as long as you have a mlb.tv subscription.
For me, the best server to use to watch the Padres is "Los Angeles 1", this server also gets me access to Youtube TV and Netflix!  So I have ZERO restrictions to watch all the programming I want while I live abroad.  
ExpressVPN also offers money back guarantee if you cannot get the blackout restrictions lifted.
Get our discount for ExpressVPN here
---

Second on our list is service called Unlocator. Unlocator is not exactly a VPN, but it will get the job done. It's a smart DNS, which is a great way to unblock streaming services around the 'net, giving you unhindered freedom to watch your favorite shows.
Unlocator is particularly great for watching Major League Baseball because it masks your location and allows you to watch your favorite baseball teams with unhindered access. One of the neat benefits about Unlocator is that it's free to try. They want you to check out their service before you start paying for it, so you get a 7-day trial with no credit card information required.
Get it here: Unlocator
---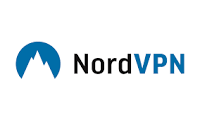 NordVPN is also a great way to access Major League Baseball content. With NordVPN, you're easily able to change or mask your location, because they have servers all the over the world and all over the US. Pick your location, and you should be able to access MLB without any sort of hindrance. In addition to that, NordVPN provides you with a lot of great security — 256-bit AES encryption, SHA256 authentication, a bunch of security protocols, and a whole lot more. Check it out at the link below.
Get it now: Here
---
Next up, you might want to consider using StrongVPN for your favorite Major League Baseball content. StrongVPN has servers all over the world as well as the US, so you'll be able to very easily mask your location to meet MLB location requirements. Another reason that you might want to consider StrongVPN is the sheer amount of security it has. One of its huge benefits is that it sports 2048-bit encryption, which is more than what any other VPN service offers. StrongVPN is virtually unhackable, so you know that you're safe from hackers and pesky advertisers will connected to StrongVPN's servers.
In addition, StrongVPN has support for various security protocols, DNS and IPv6 leak protection, an automatic kill switch in the event that the VPN drops, and so much more. StrongVPN is also fairly affordable, so it won't be too much cost in addition to your cable or MLB subscription.
Get it here: Google Play
---
Last, but certainly not least on our list is VyprVPN. VyprVPN will give you unhindered access to your favorite MLB content by masking your location in one of their servers. They'll provide you with ample security to watch your favorite streaming content, as well as keep you protected on the Web against hackers and pesky advertisers. You can get VyprVPN on most platforms — Android, iOS, Windows, and even Mac. In some cases, you can even get VyprVPN on some of your TV boxes, such as the Apple TV or an Android TV. Get started with it at the link below.
Get it here: Google Play
---
Verdict
So, which VPN should you use for accessing MLB without any blackouts? We recommend using ExpressVPN — it seems to be the best option with the most success rate for accessing MLB without hindrance. Not only that, but you can try it free with free trial.
If you don't like it, it's not a problem to try NordVPN and Unlocator, which are also surefire ways to access MLB content.  You might actually find that NordVPN and Unlocator give you a super fast connection for bringing down streaming content — NordVPN has a ton of servers, which give better speeds the closer you are to your connected server.
And as for ExpressVPN, their servers are optimized for high-speed streaming, so you should experience seamless MLB TV with that as well.
---
Tip: Our Choice for best VPN is ExpressVPN. We have verified MLB TV works with ExpressVPN, just be sure to use Host name "Los Angeles 1". Get 35% off ExpressVPN here.