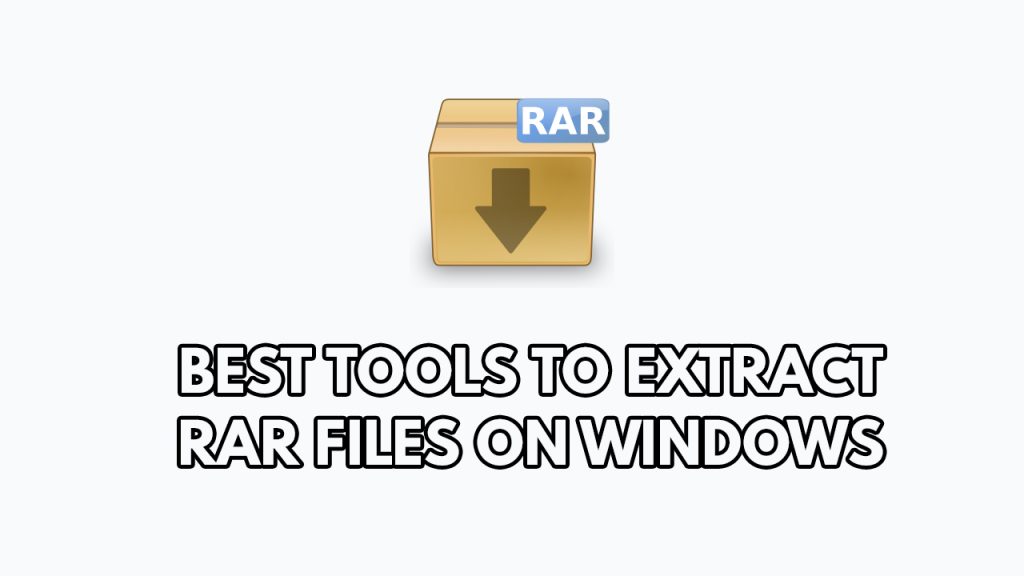 There are numerous tools that can extract RAR file format on Microsoft Windows. These tools provide the same core functionality to extract and allow you to explore more options for RAR files. In this article, We will present you with our best tools to Extract RAR files on Microsoft Windows computer in 2023.
RAR stands for Roshal Archive Compressed File and is a compressed archive created by WinRAR. You'll need to extract the files from the archive in order to use them. The archive usually contains numerous files, though it can be only one. RAR is a proprietary archive file format that allows for file spanning, data compression, and error recovery.
What are RAR File format use for?
Have you come across a RAR file that needs to be opened? Have you been asked to send someone a RAR file? When transferring files for commercial purposes, you may come across the RAR file extension sooner or later. If you've never used one before, you're probably wondering what it is, but don't worry; it's not complicated.
You might be wondering why RAR files are utilized instead of ZIP files, which are instantly accessible on a computer. RAR, on the other hand, offers error recovery and multi-volume archives, making it considerably easier to transfer and download large networks of files and folders.
When would you use a RAR file, then? To begin, compressing a large number of data, such as photographs or audio files, into a single downloadable RAR file will reduce the time it takes for a friend or colleague to receive and download the file.
Another example would be if you needed to deliver a confidential contract or document to a coworker. RAR files, like Zip files, can be password-protected to ensure that only the people who need to see it can do so, even if the computer is shared.
Best tools to open RAR files
So here are the best tools to extract RAR file on Windows you can try out in 2023. So without waiting any further, let's have a look at the best tools to extract RAR files.
1.) WinRAR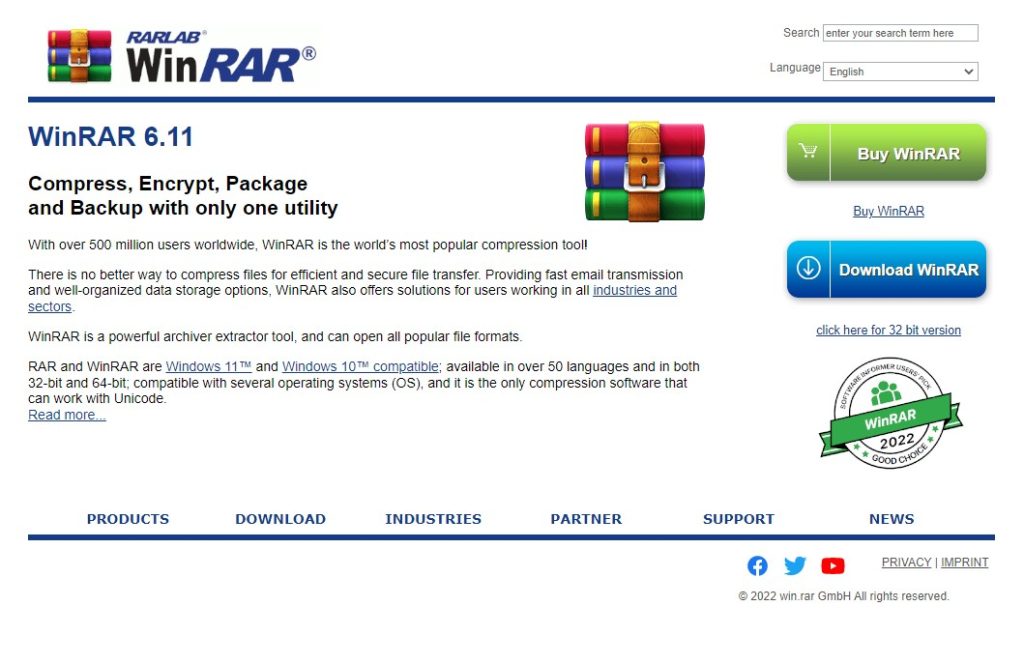 WinRAR is a Windows file archiver program created by Eugene Roshal of win.rar GmbH. It can build and browse RAR and ZIP archives, as well as unpack a variety of archive file formats. WinRAR embeds CRC32 or BLAKE2 checksums for each file in each archive to allow the user to verify the integrity of the archive. WinRAR can create self-extracting, encrypted, multi-part archives.
WinRAR is only available for Windows. There is also an Android application called RAR for Android that is available for download on Google Play Store. The command-line tools "RAR" and "UNRAR," as well as versions for macOS, Linux, FreeBSD, Windows CE, and MS-DOS, are related programs.
2.) 7-ZIP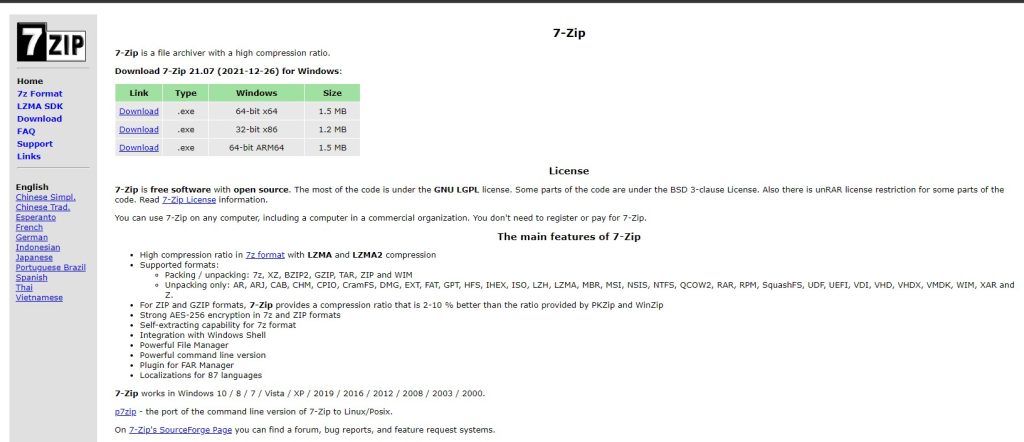 7-Zip is a free and open-source file archiver, a program that compresses files and stores them in compressed containers called archives. Igor Pavlov created it, and it was initially released in 1999. 7-Zip has its own archive format, 7z, but it can also read and write a variety of other formats such as RAR archive and zip file.
The program is accessible via a Windows graphical user interface with shell integration, a Windows command-line interface with the command 7za.exe, and POSIX systems with the command p7zip. The majority of the 7-Zip source code is released under the LGPL-2.1-or-later license; however, the unRAR code is released under the LGPL-2.1-or-later license with a "unRAR restriction," which prohibits developers from using the code to reverse-engineer the RAR compression technique.
7-Zip creates 7z-format compressed files with the .7z file extension by default but you can also create RAR files and open RAR files. Multiple directories and files can be found in each archive. Security and space reduction are achieved as a container format by looking for similarities throughout the data using a layered collection of filters. Pre-processors, compression algorithms, and encryption filters are examples of these.
3.) WinZip app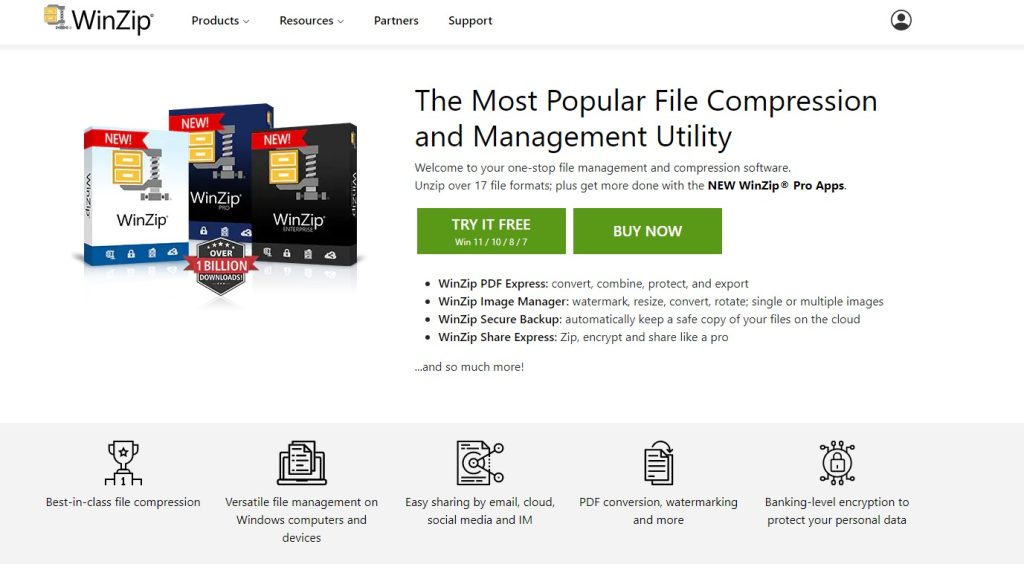 For Windows, macOS, iOS, and Android, WinZip is a file archiver and compressor. WinZip Computing (previously Nico Mak Computing), which is acquired by Corel Corporation, created it. The application can build Zip files, unpack several other archive file types, and includes a variety of system integration features.
WinZip is a program that opens ZIP files, as its name suggests. It can, however, open a variety of additional file types, including RAR, 7z, CAB, and ISO. WinZip's intuitive interface allows you to quickly open RAR files.
4.) Archive Extractor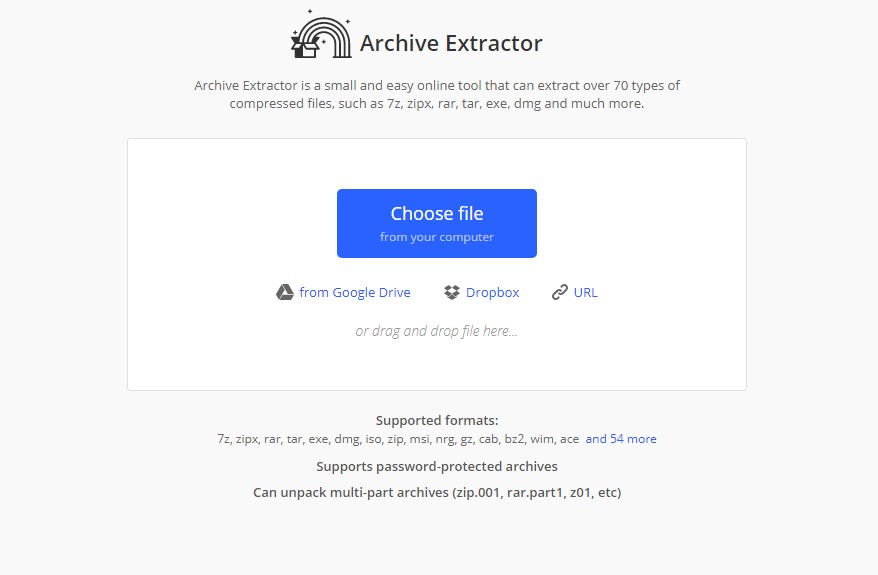 Archive Extractor, unlike the other utilities mentioned above, is an online-only extraction tool. It allows you to upload RAR files and re-download them in extracted form, which makes it ideal for one-time use.
Select the Choose File option after visiting Archive Extractor to upload files from your PC or the Google Drive and Dropbox cloud storage services. It also accepts URLs, so you can paste any downloaded link into a RAR archive and immediately get it in its extracted form.
5.) ExtractNow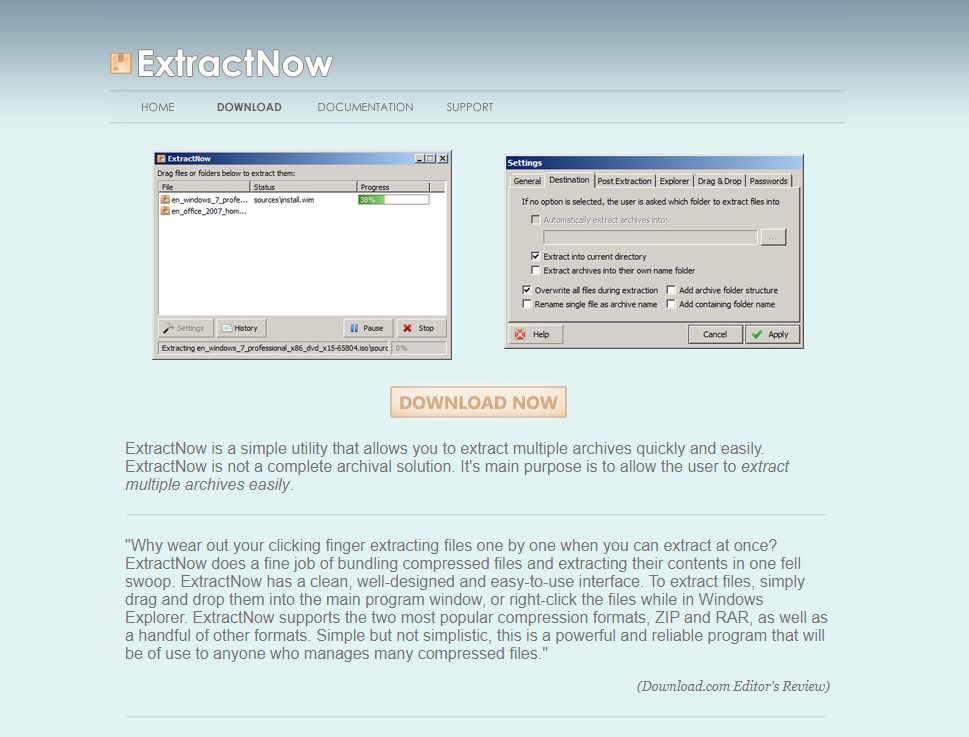 ExtractNow is a simple program that allows you to quickly and easily extract numerous files. ExtractNow isn't a full archiving solution. Its major goal is to make it simple for the user to extract multiple RAR files.
Consider ExtractNow if you don't need the extra functionality of WinRAR or 7-Zip. It's a little program that lets you easily extract numerous RAR files at the same time. Other formats supported by the application include ZIP, 7Z, CAB, and more.
After you've downloaded and installed the tool, you can begin preparing numerous RAR files for extraction by dragging and dropping them into the ExtractNow window.
6.) B1 Free Archiver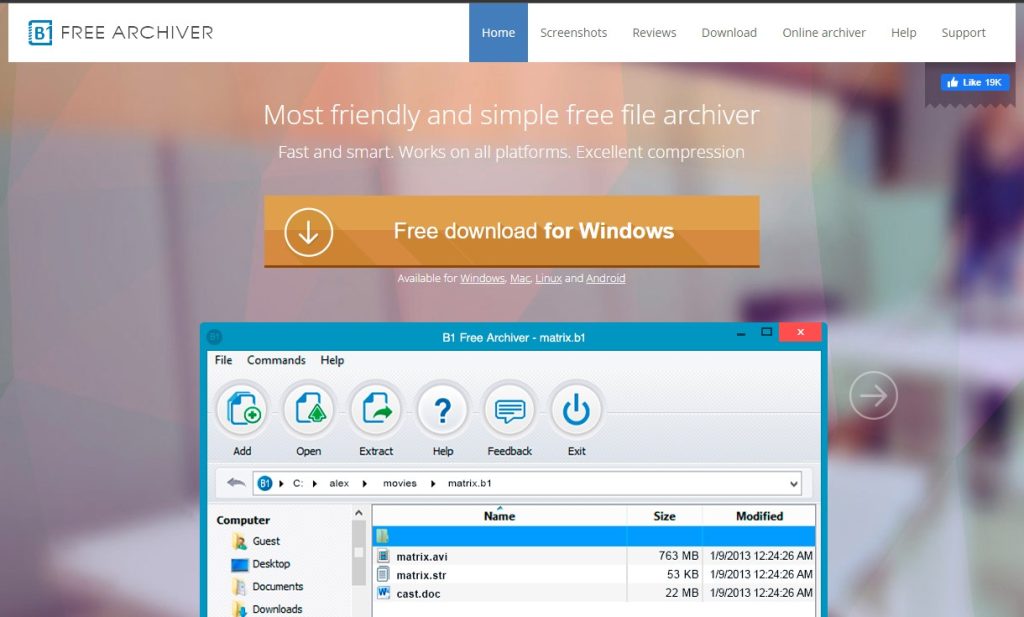 B1 Free Archiver is a multi-platform file archiver and manager that is available as freeware. Microsoft Windows, Linux, Mac OS X, and Android are all supported by B1 Archiver. It supports ZIP and its native B1 format in its entirety (compression, unpacking, and encryption). More than 20 prominent archive formats are decompressed by the application.
Among listed here, B1 Free Archiver has the most up-to-date appearance. It supports more than 20 major archive formats in addition to its native B1 format compression.
Over 30 languages have been translated into B1 Free Archiver. The Crowdin localization management platform allows volunteers to contribute translations. The program is accessible via a graphical user interface or a command line interface.
7.) PeaZip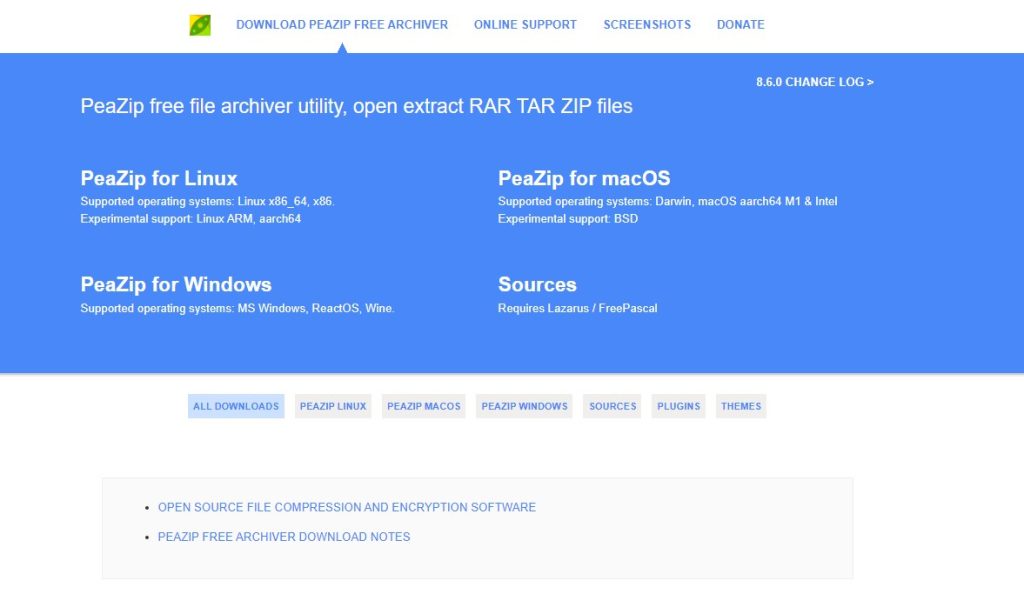 Giorgio Tani created PeaZip, a free and open-source file manager and archiver for Microsoft Windows, ReactOS Linux, MacOS, and BSD. It supports its own PEA archive format as well as other popular formats, with an emphasis on open formats. It can open 226 different file types.
The program includes an archive browser interface with search and history features for intuitive navigation through the archive's content, as well as the ability to apply fine-grained multiple exclusion and inclusion filter rules to the archive; an alternative archive browsing method is flat browsing.
PeaZip allows users to automate extraction and archiving activities by exporting the task set in the GUI front-end through command-line. It may also construct, change, and restore an archive's layout to help speed up the definition of archiving or backup operations.
System benchmarking, random passwords keyfiles generation, archive conversion, file splitting and joining, secure file deletion, checksum/hash files, find duplicate files, batch renaming, byte-to-byte file comparison, encryption, view image thumbnails, and integration with the Windows Explorer context menu are some of the other notable features of the program. The user interface of the software can also be altered.
Open RAR files on windows?
Have you ever downloaded a file only to find it is a strange .rar file extension? RAR is a compressed file format, below is how you open these RAR files.
Opening compressed file and extract RAR files
Step 1: Double-click on the .rar file you want to open on your computer. This will launch WinRar and show you the file.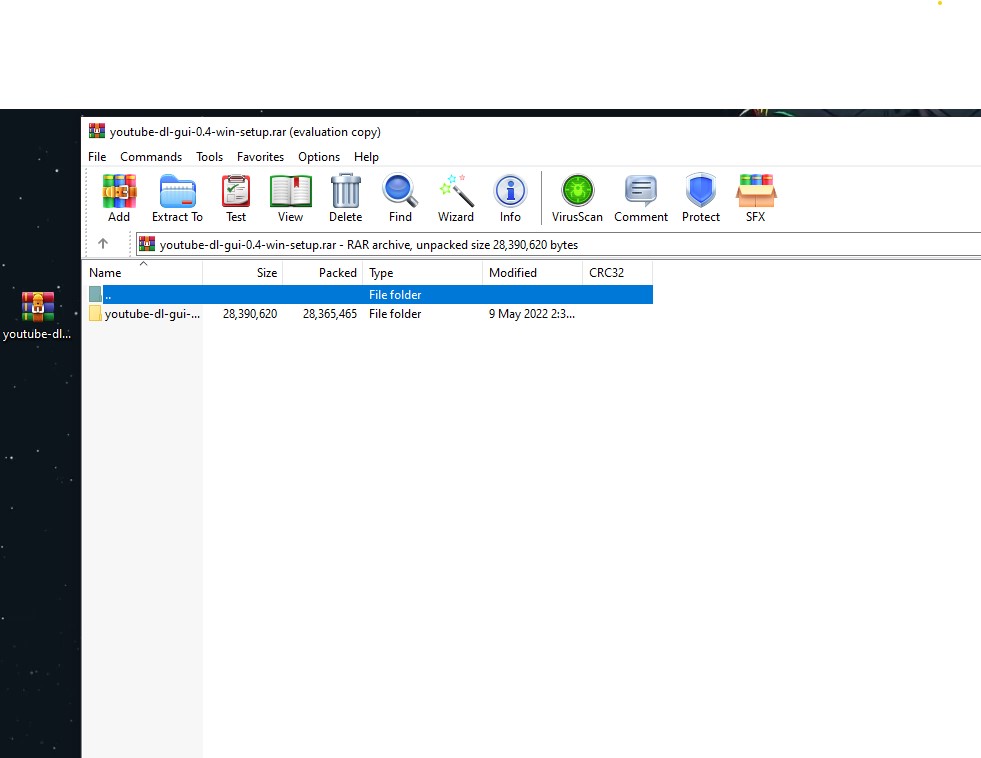 Step 2: Click Extract to and select a location to save your file, such as the desktop or an external hard drive and click OK.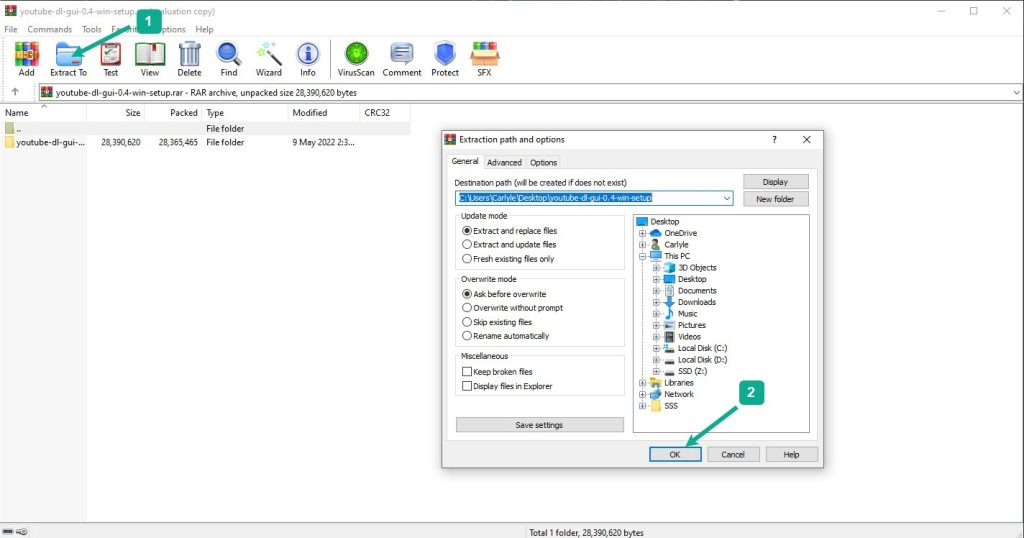 Step 3: The files included in the RAR file will be available to view and use in the location you specified in a few moments.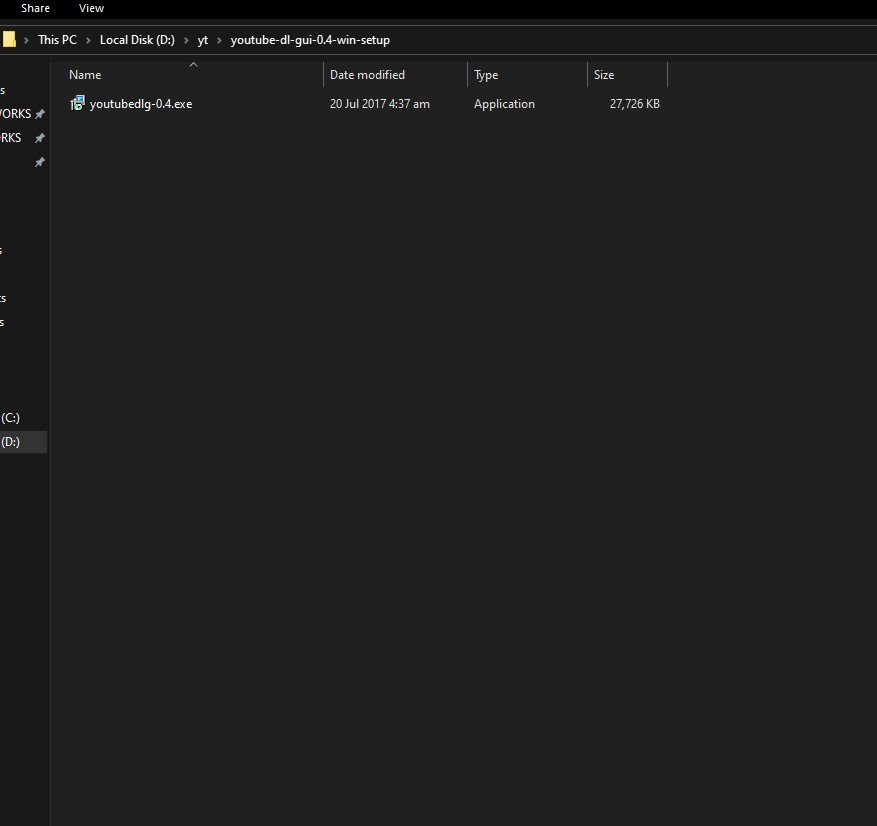 Frequently Asked Questions
How do I extract RAR files for free?

Download the apps we have listed in our article, they are all free tools.

How can I extract RAR files without WinRAR?

Use the other tools in the guide we have listed the tools.

How do I extract RAR files online?

You can use Archive Extractor site to extract RAR files online.

Can Windows 10 extract RAR files?

Yes.

Can VLC extract RAR file?

It can open and play the video that has been compressed to RAR file.