Emulators are a great way to expand the horizons of the types of games that are available to you on Android, which is why you want to get the best SNES emulator. If you've ever wished your old SNES games reached across more platforms, well, now that's possible. Now you can play them on your mobile device, where playing your favorites is most convenient for you. Today we're sharing the 5 best SNES emulators for Android in 2023. Some are free, while others you may need to pay a few bucks for, but one thing is for certain: those old SNES games won't need to be just collecting dust in your closet anymore.
Emulators and ROMs
Before we get started, there is a very important distinction to be made between emulators and ROMs, because, simply downloading an emulator doesn't mean that you're immediately ready to play SNES games. That's because an emulator is essentially the vehicle or console to play SNES games. The ROM itself is the actual game — you could picture it as the "disc", but is actually a file.
That said, you will need one of the below emulators to even play a game, because it is, well, the console. But after that, you'll need to find a ROM that you can load into one of the emulators — you can generally find those all around the 'net. Since the console is so old, most of the time, you can get those for free.
But first, you really do need an emulator for your Android device. Here are a few of our favorites.
Best SNES Emulators For Android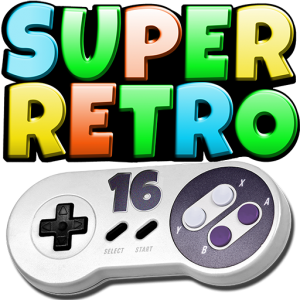 1. SuperRetro16
By far, one of the best SNES emulators out there for SNES, SuperRetro16 won't disappoint any longtime SNES fan. There's a an entire array of features, and on top of that, the interface is truly simplistic and easy to use. You'll have no trouble installing and getting started with this awesome emulator.
Another neat thing about this is that you can also Chromecast it and use the app on your Android TV. This opens up a whole new way to play, giving you more and more options. It so syncs with your account, so you can move from one device to another without losing your game progress. You can also utilize turbo mode to fast forward through certain gameplay, and some of the games will even offer mouse support.
Download it now: Google Play
This great emulator, SNES 9x EX+, will be compatible with nearly any SNES game you have. That means it should support all of your favorites. And, another great thing about it is that it's completely free, and there are zero ads. That's right, a free app with no ads, which is very much a rarity!
While you've got to bring you own ROMs to the table, SNES9x EX+ includes a free, open-source game, called Bio Worm. When you transfer games to your phone, they'll show up in the app for you to check out, browse through, and see if they'll work with the app.
3. Emulator for SNES Free
The really cool thing about Emulator for SNES Free is that it's going to play all of those classics in the most updated, modern of ways. The UI is really fit and designed for great gameplay that looks just as great as it is. It also has stunning graphics for an SNES emulator, and no matter the theme, the sound is crisp and crystal clear.
This amazing app also supports cheats so that you can really discover the ins and outs of the game, and it also supports a bluetooth controller. This will allow you to, as we kind of mentioned before, play those awesome SNES games, but in such an updated way it won't feel like you're really going back in time. You'll be able to customize the game pad and your game settings for a whole new way to play.
4. John SNES
John SNES is another one of the best SNES emulators out there. It's just so simple to use, but also has controls that are designed very aesthetically for a clean look and feel. While this does cost a couple of dollars, there is a "lite" version that you can get for free and check out before purchasing this one.
Not only will you get to enjoy things like great picture and amazing sound quality with John SNES, but you'll also have access to Game Genie, or a whole database of cheat codes, have external/bluetooth controller support, customizable keys, and no ads! While that's for this version (paid), it really is a great deal for everything you get.
5. 2P NES Emulator
With 2P NES Emulator, you'll be able to play all your favorite classics that you've kept around for the years. It supports .nes files and zip files, so whatever you have converted into a file, you can play on 2P NES Emulator. It's a very smooth app, and a lot of the kinks have already been worked out, so you can expect the best gameplay experience.
Another neat thing about 2P NES Emulator is that it supports 2 players over WiFi, so you can play with a friend, there's save and load states, and more. We're pretty sure you're going to love just how efficient this app is, because you'll be up and running with all of your favorites in no time.
Best SNES Emulators For Android Verdict
These are all great SNES apps for Android, and no matter which one you choose, you'll be on track to pulling out all of your old SNES games and getting them on your mobile device in no time. Have you used any of these emulators before? Which one is your favorite?