Roku has been providing consumers with an affordable and accessible way to access all of their favorite TV shows and movies on even the oldest TVs for years now, but today there are amazing Roku alternatives. That experience has gotten a whole lot better over the years, especially with the launch of hardware like the Roku Express and the Roku Ultra. However, not everyone is a big fan of the Roku experience.
It can be a little cluttered, with having to download "Channels" In order to access your favorite content. Sure, it's a unique way of doing things, and it works well for Roku, but some might not enjoy the "disorganization" that they might feels when first launching their Roku product. That said, there are plenty of cleaner and sleeker-looking alternatives out on the market for those people. If you follow along below, we'll show you the Best Roku Ultra Alternative. Here are our top picks.
* If you buy through links on our site, we may earn an affiliate commission. For more details, please visit our Privacy policy page.
Best Roku Ultra Alternative
The Fire TV Pendant might be last on our Roku alternatives list, but it's not worth skipping over just yet. You get that same great Amazon Fire TV experience packed in the Fire TV Stick — movies and TV shows are super accessible, and it's easy to download apps for more content.
The biggest difference between the Fire TV Pendant and Fire TV stick is in design and hardware. Design-wise, it is in the form of a pendant and plugs into the HDMI port of your TV like normal. When it comes to hardware, you can actually stream 4K content with the Pendant.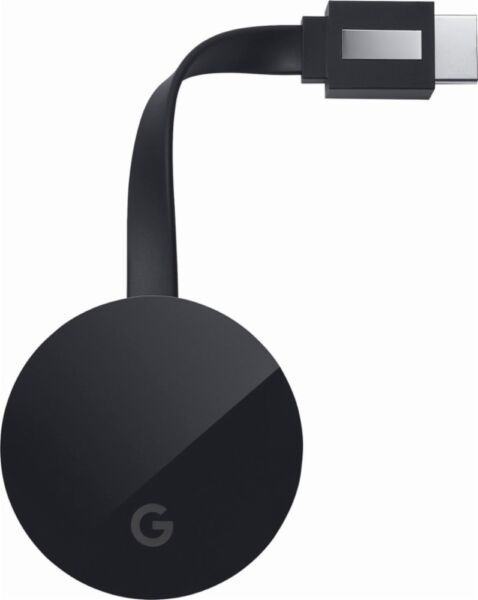 2. Chromecast Ultra
You might also want to consider what Google is offering in the Chromecast Ultra. It's not quite a streaming platform like the Apple TV or Fire TV software is, but it does enable you to send content that you're watching on your phone or computer to the big screen. Plug the Chromecast Ultra into your TV's HDMI port, connect it up with your phone and/or computer, and you can "cast" content like YouTube and Netflix to your TV. You could even "cast" your whole screen if you'd like, allowing you to browse the Web with more real estate.
Buy it now: Google Store
It really doesn't get much better than the Apple TV, especially if you already have Apple devices in your home. With the Apple TV, you have access to a wide range of content available in the iTunes Store — they make it easy to rent and purchase movies, sometimes even before those movies and TV shows hit store shelves.
On top of that, Apple TV offers access to a wide range of apps, such as Netflix, Hulu, Prime Video, and so much more. With this latest 4th Generation of Apple TV, you can even stream content in 4K. If you've got an iPhone or iPad in your home, you can even transform that into a remote or a quick way to browse content on the Apple TV before loading it up on your actual TV screen. The Apple TV really is the creme of the crop here, one of the best Roku alternatives.
Amazon's Fire Cube is pretty new to the market, being dubbed as one of the first devices to offer a hands-free streaming experience. Yes, that's right: no remote needed. The Fire Cube has Alexa built-in, so you can simply use your voice to tell your Fire Cube which content to access and start streaming. It supports 4K video as well, so it'll work with any 4K TV you have in your home. The Fire Cube is even able to connect with and control a bunch of other devices in your home. You can even tell the Fire Cube to turn down the lights when it's time to watch a movie!
Streaming devices can get pretty expensive, especially if you want to watch your favorite movies and TV shows in 4K resolution. However, there are even options out there for those on the budget. Plug the Fire TV stick into your TV's HDMI port, and you can be watching Netflix in minutes. This device is a low profile and simply sticks out of your HDMI port. The Fire Stick has a wide range of apps that you can download, including Netflix, Hulu, and its own Prime Video.
Best Roku Ultra Alternative Verdict
Don't like the Roku experience? No problem! There's plenty of other Roku alternatives for you out there on the market. If you're having trouble choosing, you really can't go wrong with the Apple TV, which provides you with one of the best media experiences on the market.
* If you buy through links on our site, we may earn an affiliate commission. For more details, please visit our Privacy policy page.