Are you planning on traveling out to Asia? Maybe for work or personal reasons? Either way, you want to make sure that you stay connected to friends and family while you're abroad; however, roaming charges can be insanely expensive. If you bring your phone with you just using your current carrier, it's not unheard of to come back home to hundreds, if not thousands of dollars in roaming charges.
Traveling to Asia and looking for phone and data connections? We recommend the Three prepaid international Sim card. Works in several of the largest countries in Asia.
That's why it's always good to swap out your primary SIM card with one of the best prepaid SIM cards for traveling to Asia. These will usually only cost you a few dollars, in comparison to the thousands in roaming charges. Talk about savings!
* If you buy through links on our site, we may earn an affiliate commission. For more details, please visit our Privacy policy page.
So if you're wondering what the best prepaid SIM cards are for your travels to Asia, here they are:
Best Prepaid SIM Cards For Traveling To Asia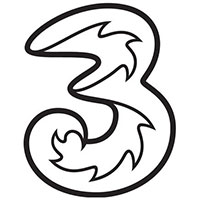 One of the best SIM cards that will work with any GSM phone is the ThreeUK Smart Silver. If you're looking for a more affordable option for traveling to Asia — ThreeUK's Smart Silver will work in almost any Asian country.
With the SIM card inserted — and once activated — you will get 5GB of data to use. Smart Silver will use 4G speeds wherever it is available, but will revert to 3G speeds in areas where the 4G infrastructure just isn't there.
This one comes with a UK number, but will allow you to receive calls and text messages in any of ThreeUK's "Go Roam" areas within Asia. However, you won't be able to make or send text messages with this one.
It's worth noting that you'll need to use your data sparingly here. You only get 5GB, and since you can't make any outgoing calls or texts, you're likely going to rely on data-heavy communication apps instead, such as Facebook Messenger, WhatsApp, etc. We should also note that your data only lasts for thirty days — the minute you insert it into your device is when the timer starts counting down.
Activation is easy — you don't actually have to call up ThreeUK to activate at all. Once you insert the SIM card into your device and power your phone back on, it is automatically activated.
Unfortunately, ThreeUK's Smart Silver doesn't have any top-up options — once you use up your 5GB, you'll need to pick up another new Smart Silver SIM card.
Get it here (ThreeUK Smart Silver)
Asia-Pacific Plus is another excellent SIM card. This one is another one of our favorites, working in most countries and areas throughout Asia. Activation is easy — just insert the SIM card into your device and it is immediately activated.
This one actually has Unlimited data, which you don't see too often. You actually get 4.5GB of high-speed data, but once you use that up, you're reduced down to just 128Kbps of unlimited data.
It's worth noting that, much like ThreeUK's Smart Silver, this data is only valid for a certain amount of time. With this card specifically, you actually only get 15 days of data use from the time that you insert the card into your phone.
The Asia-Pacific Plus card actually have option for either 9 or 15 days of data, with pricing obviously varying there.
It's a tri-cut SIM, which means that you can use this SIM card with GSM phones that support Normal, Mini, or Nano SIM cards.
There is, however, no hotspot or tethering abilities in the Asia-Pacific Plus SIM cards. There are also no refills in this card, and there are no calling or texting abilities here either. You'll have to rely on apps like WhatsApp and Facebook Messenger for those things.
And next up, we have the AIS Unlimited Travel SIM. This one is a data-only SIM card, so it won't offer you calling and texting abilities, but will allow you to stay connected while traveling abroad.
There are twenty Asian countries where you can use this SIM card, including China, Tibet, Japan, Hong Kong, and plenty of others.
Activation is pretty easy — just insert your SIM card into the phone, and then it's immediately ready for use. It's worth noting that once the SIM card is inserted, it is immediately activated. Once you do that, the data only lasts 8 days, whether you used the 4GB that they give you or not.
Speeds are pretty fast, however. Just like the last SIM card, it uses 4G speeds wherever possibly, and will fallback onto 3G speeds where 4G infrastructure is not available.
It's a tri-cut SIM card, so you can choose to use this with phones that support Normal, Mini, or Nano sizes.
Last up, we're looking at the GMYLE Refillable SIM Card. This one is a lot different than the others in that it gives you 12GB of Internet data to use for 28 days in the Asia Pacific, but it allows you to easily top off. You won't have to buy another SIM card when you're running low on data, or for when you need to go on another SIM card. This is the only one you need!
There are actually support for over 15 different countries in the Asia Pacific without using a new SIM card. GMYLE actually works with a number of operators all over the region to provide you with fast and reliable speeds.
This will work with Normal, Micro, and Nano SIM card phones, as well as any Unlocked GSM phone. GMYLE does offer a variety of different types of SIM cards, allowing you to purchase less data and a quicker expiry date, as needed.
Verdict on Prepaid SIM Cards For Traveling To Asia
As you can see, there is a handful of different Prepaid SIM Cards For Traveling To Asia to choose from. We think the option from ThreeUK — the Smart Silver card — will probably treat you the best. This is because you not only have 5GB of data that you can use, but data that will last up to 30 days. That's different from the other cards that offer you similar data, but cut you off sooner. Not only that, but it's one of the few cards that allow you to at least receive phone calls and text messages.