Large-screen tablets and alternatives running on the Android operating system are just as perfect for multimedia consumption as they are for general computing. What you sacrifice regarding portability is outweighed by excellent multitasking capabilities that you simply don't get with traditional tablets or smartphones.
* If you buy through links on our site, we may earn an affiliate commission. For more details, please visit our Privacy policy page.
Not sure what's out there for you? Here are a few of our favorites that you can't go wrong with.
Samsung Galaxy Tab S6
You cannot go wrong with the Samsung Galaxy Tab S6. Coming in at 10.5-inches, you'll have plenty of real estate for watching movies, TV shows, and video. It has excellent detail and clarity in it, so you'll have no problem enjoying the content.
Since this is a two-in-one tablet, you can use this in tablet mode, or you can quickly transform it into a personal computer to take your work on the go. However, you will need to purchase the keyboard case with it to enable that personal computer mode.
Battery life in Samsung's tablets is only getting better and better. The Galaxy Tab S6 actually comes with up to 15 hours of straight video playback before you need to charge it up again.
Samsung Galaxy Tab S5e
Not everyone needs a powerhouse like the Samsung Galaxy Tab S6. And that's why Samsung also has the Galaxy Tab S5e here.
Samsung designed this one for on the go use. It's lighter than a pound, making it one of Samsung's slimmest tablets yet. And you still get a captivating display with the 10.5-inches of screen real estate. And paired with the Super AMOLED panel, you'll get plenty of detail here, too. Stream, browse, and more!
You can use this one with a keyboard case as well, which makes it easy to take work on the go. And like the Galaxy Tab S6, this one comes with a whole 15 hours of video playback before needing to charge up again.
Samsung Galaxy View
This 18.4-inch monster tablet from Samsung features a vibrant full HD display that is guaranteed to immerse you into the action no matter where you are. The tablet has been designed with multimedia consumption in mind, and its custom user interface looks more like an interface of an HDTV rather than an Android tablet.
The Exynos 7580 Octa chipset with Mali-T720MP2 GPU and 2 GB of memory easily handles even high-bitrate video content, and the stereo speakers make for a great viewing experience even if you and your friends forget to bring headphones.
Given how enormous the screen is, it's quite a surprise how long the tablet lasts on a single charge. Depending on your usage habits, you may get as much as 8 hours of usage out of it before the battery reaches zero.
It might sound strange at first, but the Galaxy View tablet also makes for a fantastic second monitor. All you need is a USB cable and the Twomon USB app from the Play Store. The app will automatically turn the tablet into an external monitor with support for video playback up to 40 frames per second.
Next up, we're looking at the Samsung Galaxy Tab S4. It's a whole lot smaller than the Galaxy View, but it is still one of the larger screens that you can get at 10.5-inches. Not only that, but it has an excellently detailed resolution, as well as a Super AMOLED panel that makes all types of media beautiful. You really cannot go wrong here as far as tablets go.
App and games play well on the Galaxy Tab S4 as well, since high-end hardware is included. It actually comes with an Octa-core CPU, ad plenty of RAM, which makes memory-intense games like Terraria play well.
The Samsung Galaxy Tab S4 is pretty unique — it comes its own stylus — the S-Pen. That's a huge advantage over Apple's iPad Pro, where you have to buy the Apple Pencil separately. That said, you have access to a ton of extra productivity features with the Tab S4.
Buy it now: Amazon
Pixel Slate
Next, we're looking at the latest Android addition from Google — the Pixel Slate. We actually haven't seen an Android tablet from Google in a really long time, which makes the Pixel Slate even more exciting. This one is a tablet, but can be used as a laptop replacement if you pick up a type cover keyboard for it.
That said, the Pixel Slate has a big display at 12.3-inches. That's plenty of room for watching full-screen content, and it's super crisp and clear with a high-end resolution. That makes it ideal for work as well, keeping text sharp.
There are some excellent hardware options here, allowing you to choose what's going to meet the demands that you need it for — Google actually will enable you to select from a Core M3, Core i5, or Core i7 processor. The price is affected based on what CPU you decide to equip it with.
Buy it now: Amazon
Onyx BOOX MAX e-Book Reader
Those of you who spend long hours reading text documents know how easy it is to develop a serious eye strain. The E Ink display technology solves this problem by closely mimicking the characteristics of paper. The problem is that most devices that use the technology are very small, suitable only for reading plaintext documents and not large PDF files. Most, not all.
The Onyx BOOX MAX e-book reader has a 13.3-inch E Ink display with a resolution of 1600×1200 pixels. It runs a modified version of the Android operating system, giving you full, unrestricted access to the Play Store. Its 4,100mAh battery can keep it running for up to 4 weeks, depending on how much time you spend on Wi-Fi and the apps you use.
The reader is only 7.5mm thick, and it comes with a high-quality stylus for very accurate touch-based input. Whether the Onyx BOOX MAX is worth, the steep price depends on you. We think that it makes sense to spend extra money if that's what you need to do to protect your eyesight.
Acer Chromebook R13 Convertible
Chromebooks have always been tremendous machines for people who spend most time inside a web browser, maybe occasionally switching to a word processor. But since Google has enabled the Play Store, its value has increased tenfold.
The Acer Chromebook R13 was one of the first Chromebooks to include support for the Play Store, and it's still our favorite convertible running Chrome OS. It features a very sharp LED-backlit touchscreen display with the Full HD resolution, 4 GB of memory, 12-hour long battery life, and the MediaTek MT8173C chipset.
Thanks to the 360-degree hinge, you can quickly turn the laptop into a tablet. The R13 stays quiet and serene even if you push it to its limits, making it perfect both for college students and business users. And with the wide-angle, high-definition webcam, you'll be able to accommodate more participants in video chats without missing any details.
Motorola Moto Z
Motorola is the only company that has managed to find success with modular smartphones. Where others have failed, Motorola created a thriving ecosystem of smart accessories, called Moto Mods, that turn ordinary Android smartphones into movie projectors, portable boom boxes, power banks, and other things.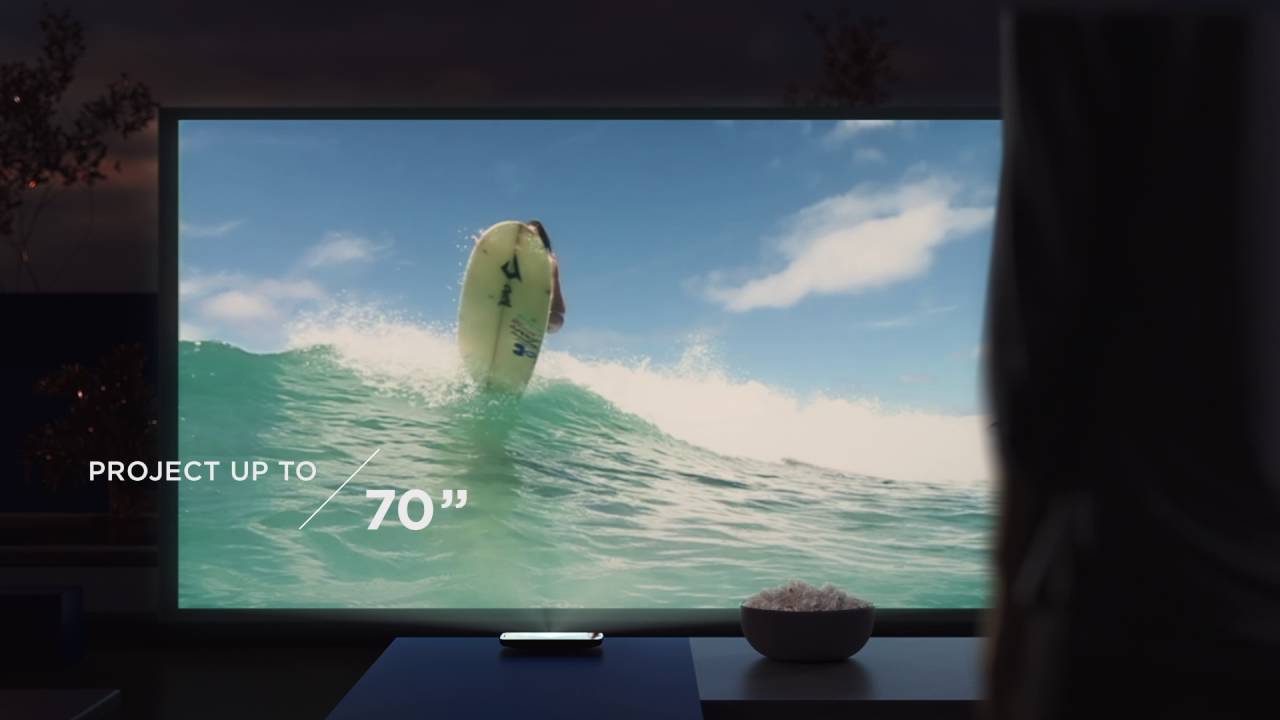 With the Qualcomm Snapdragon 820 chipset and 1440p AMOLED capacitive touchscreen, the Moto Z is one of the more impressive Moto Mods-compatible smartphones available. Even without a Moto Mod attached to it, this flagship smartphone leaves very little to be desired. But connect the Moto Insta-Share Projector on the back of the smartphone, and you're suddenly looking at a portable projector that can project up to a 70-inch screen on any surface.
The projector comes with its own 1,110mAh battery so you can project longer without using your phone's battery. Given how tiny it is, its brightness of 50 lumens and the resolution of 854×480 pixels are very respectable. While it probably won't replace the expensive projector in your conference room anytime soon, it's perfect for giving small presentations on-the-go as well as regular multimedia consumption.
ERISAN Android Projector
Not everyone wants to purchase an expensive Motorola smartphone to project content on walls. If you're happy with the phone you have, it makes sense to buy a dedicated Android-powered projector instead. The ERISAN portable projector is relatively inexpensive, especially when you take into consideration its fantastic brightness of 1,200 lumens and respectable resolution of 800×480 pixels.
The projector runs on a multimedia-friendly version of the Android 4.4 system, and it supports all popular video streaming apps, such as Netflix, YouTube, Hulu, Kodi, and others. The projector has 1 GB of memory and 8 GB of internal storage space.
It also comes with an SD card slot, allowing you to increase the storage space according to your needs. Best of all, the projector has both the HDMI and VGA input interface as well as support for Miracast, Airplay, and DLNA.
* If you buy through links on our site, we may earn an affiliate commission. For more details, please visit our Privacy policy page.
Verdict
Large screen tablets are pretty big, but if you're someone that works a lot of likes to watch media on the go, these large screens can be so useful. They can also be easier on the eyes if you spend a lot of time on it.
What's your favorite large screen tablet or Android alternative?