Google launched its Home smart home speaker alongside the Google Pixel a couple of years ago, and since then, it has managed to catch on like wildfire. With Google's Assistant software built inside the hardware, you can give it tons of different commands — you can ask it what the weather looks like, what's up next on your calendar, joke around with it (yes, Assistant is even capable of humor), and even use it for hands-free calling. The Google Home is extremely versatile, but there's many folks that don't like Google's virtual assistant software. If you're one of those folks, it might not be best to purchase the Google Home and instead look for an alternative. If you follow along below, we'll show you the best alternatives to the Google Home. Here are our top picks!
---
At A Glance:

5 Best Google Home Alternative In 2020
---
* If you buy through links on our site, we may earn an affiliate commission. For more details, please visit our Privacy policy page.
Best Google Home Alternative
The Amazon Echo is a great replacement for the Google Home as well. It was actually one of the first smart home speakers on the market, so it has had a ton of time to develop over the years. The Amazon Echo with Alexa inside is able to answer to almost any command. You can ask it how the weather is, what's next on your calendar, use it for hands-free calling, and even use the Amazon Echo to control thousands of smart home devices. You can set your home up with lights, locks, blinders, and garage door openers. With the Amazon Echo, you can ask Alexa to operate all of these, telling her to turn the lights off, to lock the doors, or to even open the garage.
The Amazon Echo Show is another great Google Home alternative. In fact, it can do a whole lot more than the Echo and Echo Dot even. The Echo Show actually comes with a display, so in addition to all of your standard Alexa commands, you ask the Echo Show to do things like pull up the baby monitor camera or the front door security camera. You can even pull up hands-free video calling with the Show. Since it has the display, the Echo Show can "show" you the weather on the display, upcoming calendar events, day and time, and even pull up lyrics when you're listening to music.
If you're looking to get unique, you might want to pick yourself up a Sonos One. The Sonos One can be used almost similarly to Amazon's Echo speaker. Sonos has built Alexa Skills into the One, allowing you to use the Sonos One to control various devices around your home. Not only that, but the Sonos One has some of the best speakers packed in a smart home speaker. Tell the Sonos One to play your favorite tracks and you'll get great sound quality and booming, rich bass. For a Google Home replacement, you can't go wrong with Sonos One.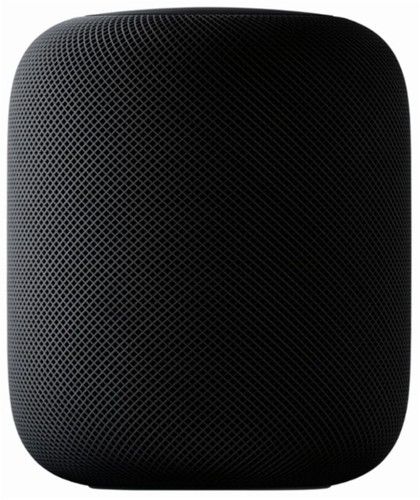 If you're an Apple guy, there's a smart home speaker system for you, too. The Apple HomePod will put Siri in your home, allowing you to give it all the commands that you would normally ask it. For example, you can ask it how the weather is, what's up next on your calendar, and even ask it to call someone (the HomePod supports hands-free calling). The HomePod has great speakers for playing music, too. You can even control various aspects of your home with the HomePod and Apple's HomeKit software.
5. Amazon Echo Dot
With the Amazon Echo it's difficult to purchase the smart home speaker for all of the rooms in your home. If you have four rooms you'd like to have an Echo in, not everyone wants to spend that on smart home speakers. That's why Amazon has come up with a more affordable solution — the Echo Dot. The Echo Dot is around the size of a hockey puck and can do everything that the Echo can do, only in a smaller package. The only real difference between the Echo and the Echo Dot is obviously the size, but also price you can get package deals for less per unit. The audio quality isn't nearly as good as the Echo either, but the Echo Dot is still able to play some good music.
Best Google Home Alternative Verdict
The Google Home might be a great device, but it's certainly not for everyone, especially if folks aren't a big fan of the Google ecosystem already. What's your favorite smart home speaker? Let us know in the comments section below.
* If you buy through links on our site, we may earn an affiliate commission. For more details, please visit our Privacy policy page.
We will receive sales commission if you purchase items using our links.
Learn More
.