Is there an important birthday coming up for that special someone? Whether you are searching for gift ideas for your father, boyfriend or brother, they all likely have one thing in common, they will love techie gifts! There are many ways to come up with birthday gift ideas for that special dude in your life, and we got a few technology related that would be great gift ideas for birthdays. Lets check them out below.
---
At A Glance:

6 Best Birthday Tech Gadget Gift Ideas For Boyfriend, Father or Brother in 2022
---
* If you buy through links on our site, we may earn an affiliate commission. For more details, please visit our Privacy policy page.
Best Birthday Tech Gadget Gift Ideas For Boyfriend, Father or Brother
AI powered devices has never been more popular. The Amazon Echo Show is powered by Alexa, one of the most popular home voice assistants on the market today. Aside from the typical Alexa features like checking the weather, the Echo Show is a great device for the kitchen or office to make video calls. You can also setup your smart home to run off of the Echo Show. Imagine turning on and changing channels on the TV or closing the blinds for all the windows via voice command. How cool does that sound?
Does he enjoy exercising? If so, then he will surely appreciate this fitness tracker that will help track his health data. The Fitbit Versa is extremely lightweight and comfortable on your wrist. The tracking function is pretty accurate, such as counting steps and measuring heart rate. For a smartwatch, this device has a long list of available apps and a very long battery life. Fitbit is the leader in fitness trackers and with the Versa they have created a dynamic fitness tracker that works well both as a smartwatch and as a fitness tracker.
The DJI Mavic Pro is the perfect gadget for your techie dad, brother, or boyfriend. Who needs a selfie stick or gimbal to create adventure videos. This highend drone has the new Follow Me Technology that will hover above your and detect all your movements to follow you and keep the camera on you. This sucker will follow you around for up to 39 MPH! You won't outrun or zoom down the ski slopes past this drone.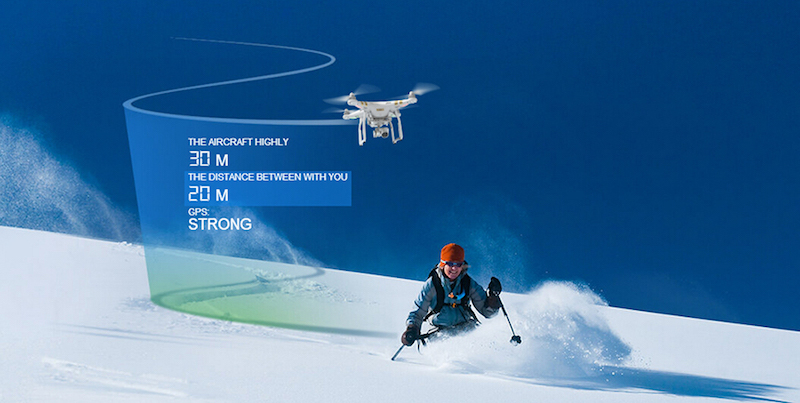 The DJI Mavic Pro has a whopping 4 mile range and 27 minute flight time. The camera is 12 MP with 4K Video.
That's 6 spectacular gift ideas that will blow him away. Show him how much you appreciate him with one of these cool gadgets. We got everything covered, from home appliances to gadgets that help enjoy the great outdoors.
Do you think he will enjoy a succulent and juicy steak? How about preparing a delicious meal for his birthday? Just throw your high grade meat in a bag and let it simmer in a pot with this digital sous vide cooker and let it sit for a few hours.
When it's done cooking, sear the steak on both sides to get that restaurant style color. You will get one of the most tender and juiciest steak you've ever had, all made from home. The sous vide cooker can also cook other food such as fish and veggies.
He will feel like a boss every morning sipping cappuccino made by this De'Longhi Magnifica Smart Espresso & Cappuccino Maker. You can make just about all types of popular coffee simply with a press of one button.
What else would The Droid Guy recommend besides Android phones? BeerDroid of course! This isn't just a beautiful looking machine that sits on your countertop, the BeerDroid is actually a highly functional beer brewing machine. Follow the instructions provided with the ingredients that's provided. Then follow the progress of your own brew on your mobile phone. After about 2 weeks of fermentation, just add carbonation and you can start enjoying your own brew at home.
* If you buy through links on our site, we may earn an affiliate commission. For more details, please visit our Privacy policy page.