Android TV boxes work with all modern televisions, providing access to millions of apps, games, and endless hours of audio and video entertainment. But not all Android TV boxes are made equal because not all can run Kodi—our favorite media player software. We have selected the top seven best Android TV boxes that work with Kodi, so you can pick the one you like the most, grab your favorite snack, and kick back and relax.
* If you buy through links on our site, we may earn an affiliate commission. For more details, please visit our Privacy policy page.
What Is Kodi?
Kodi is a fantastic free and open-source media player software capable of turning any device running Linux, OS X, Windows, iOS, and Android into a multimedia powerhouse. Using Kodi, you can play all commonly used audio and video file formats, including H.264, HEVC, WEBM, MP3, FLAC, OGG, WAV, and countless others. You can also stream content directly from the internet, create stunning TV show collections complete with posters, banners, episode descriptions, or smart tags. If there's still something the stock version of Kodi can't do, there's a good chance that the vast repository of add-ons will contain exactly what you're looking for.
NVIDIA SHIELD TV Pro
NVIDIA SHIELD TV Pro and Kodi are a match made in heaven. For starters, The SHIELD offers an unprecedented performance thanks to its Tegra X1 processor. With its 256 GPU cores, multi-core 64-bit CPUs, and unbeatable 4K video capabilities, it's the most advanced mobile processor ever created, delivering 34x better performance than Apple TV, and 8x better performance than Amazon Fire TV. It's one only a handful of Android TV boxes that can display 4K H.265 and VP9 video content at 60 frames per second and do it without even breaking a sweat.
Besides its beastly specifications, NVIDIA SHIELD TV Pro is also an audiophile's dream. According to NVIDIA, the TV box lets you pass-through Dolby Digital Plus (5.1 and 7.1) to a receiver, placing you right in the center of the action. Many lesser Android TV boxes use the same audio processing chip as your smartphone does. That might be okay for a pair of headphones, but your living room loudspeakers deserve something better.
Perhaps the best thing about NVIDIA SHIELD TV Pro is the pair of included controllers. They both feature Google's revolutionary voice search technology, and they are both equally amazing. One is meant for gaming, while the other one is compact and optimized for multimedia consumption.
Amazon Fire TV
NVIDIA SHIELD will undeniably appeal to enthusiasts who seek maximum performance with no regard to the cost of the device. But for most people, Amazon Fire TV is a better option. Despite costing much less than the SHIELD, this streaming media player supports 4K, voice control, and our favorite media player software—Kodi.
But even without Kodi installed, the Fire TV can still do a lot. You can watch over 300,000 TV episodes and movies, enjoy more than 7,000 apps, games, and Alexa skills, and listen to millions of songs are available to stream on Amazon Fire TV through Pandora, Amazon Music, and iHeartRadio. All Amazon Prime subscribers get free storage in Amazon Drive, where they can store their entire photo collections and easily share them on the big screen.
Installing Kodi onto an Amazon Fire TV is slightly more involved than just opening the Play Store and clicking on the Install button, but it isn't exactly rocket science either. Even though Amazon encourages users to stick with apps downloaded from their store, all Fire TV products allow sideloading. For detailed, easy-to-follow instructions on how to install Kodi onto an Amazon Fire TV, head over to Kodi's official wiki.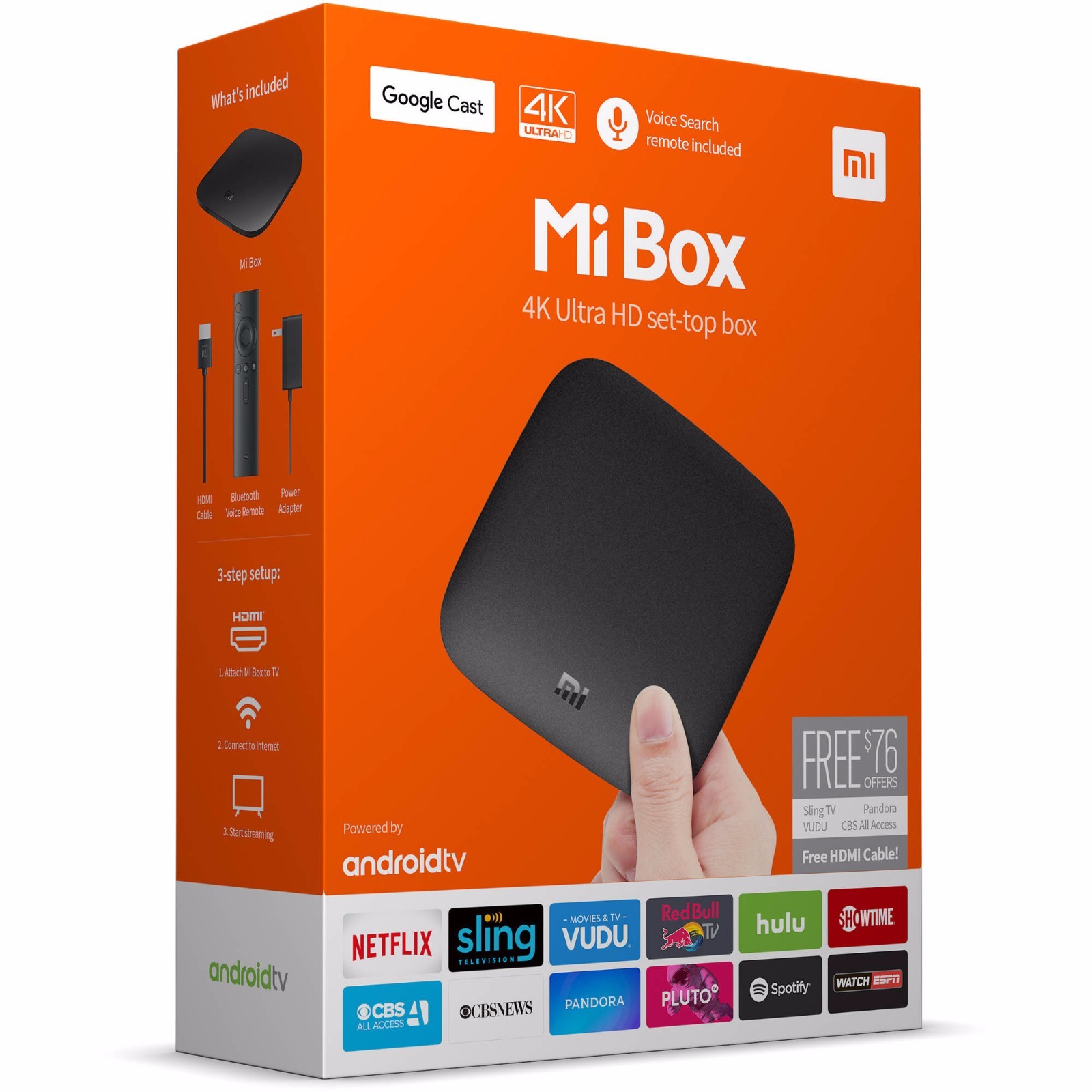 Xiaomi Mi Box
From air conditioners to smartwatches, smartphones, laptops, tablets, power banks, cameras, to Android TV boxes—Xiaomi has something for everyone, and all their products are ingenious in design and remarkable in value.
The Mi Box is a recipient of both Red Dot and Good Design awards, and it even beats the Fire TV with its incredible price. But make no mistake—this Android TV box you might want from it and more. It supports 4K and HDR video playback, comes with a compact Bluetooth voice remote, support for Google Cast, and compatibility with other Xiaomi products, including their Bluetooth gamepad.
Inside the sleek body of this TV box is a quad-core processor with 2 GB of DDR3 memory, 8 GB of flash storage, an audio chip with support for Dolby Digital Plus and DTS multichannel HD audio encoding, and fast Wi-Fi module. Because Xiaomi Mi Box comes with Android 6.0, you can download the official Kodi app from the Play Store and use it within minutes of turning the box on.
J-Deal W1
Coming up next, we're looking at the off-brand J-Deal W1. This one is your average Android TV box — plug it into your TV, and you're ready to roll.
It comes with a quad-core ARM Cortex-A53 CPU, which brings you some rapid processing and computing. This fast processing power is significant here because the J-Deal W1 allows you to do 4K playback. That means you'll be able to watch 4K movies off of Kodi or Netflix without any slowdowns!
It has a USB slot, which can you can plug a flash drive into to load the Kodi software from.
EasyTone T95Z
Next up, we're looking at EasyTone's T95Z. This one is a pretty unique Android TV box, actually almost coming in a hexagon style, instead of the traditional square or circle that other boxes do. It comes with some cool RGB lighting on it and actually runs Android 7.1. That said, the EasyTone is bringing you the latest and most significant features available.
It comes with 3GB of RAM, 32GB of internal storage, and there's an Octa-core ARM Cortex-A53 CPU inside. This gives the Android TV box the processing power it needs to do 4K video playback. Naturally, there's a USB port, which can be used for loading Kodi onto the Android box.
MINIX NEO U1
The NEO U1 Android TV box from MINIX comes with Kodi pre-installed, making it perfect for those who want something they can plug in and use right out of the box. Its main feature is an external, upgradable Wi-Fi antenna, which provides an excellent signal reception even if your home router happens to be on the other side of your house.
Other pros of this affordable media player include its support of the 10-bit color format, 4K video playback at 60 frames per second, significantly increased dynamic range and impeccable performance. MINIX may not be a big brand name like NVIDIA, Amazon, and Xiaomi, but their products, and especially this TV box, can undoubtedly compete with the big boys.
Matricom G-Box Q²
The G-Box Q2 from Matricom builds upon the success of the Q1 with a faster processor, better GPU, and more memory and storage space. The combination of the S812 CPU paired with the powerful Mali-450 GPU makes it possible to play 4K content at 60 frames per second and play all the latest Android games without lags. Thanks to 16 GB of internal storage space, you'll be able to download as many games and apps as you want and still have room to spare for other content.
According to the manufacturer, the box was developed with Kodi in mind, featuring tons of tweaks and optimizations to make it run as smoothly as possible. Matricom provides an excellent worry-free warranty which covers your device unconditionally for 1 year from purchase. If something goes wrong, you can send it back to them directly, and they'll refund you—no questions asked.
* If you buy through links on our site, we may earn an affiliate commission. For more details, please visit our Privacy policy page.
Verdict
Here we've shown you the best Android TV boxes that will work with the Kodi third-party software. You can pick up any one of these, and then right when you get home, load the software onto your Android TV box, and then you're ready to start watching all of the free movies, and TV shows that you like!
What's your favorite Android TV box for Kodi? Let us know in the comments section below.