If you're looking to up your headphone game, whether for casual music listening or needing something for a professional studio-like experiences, you may want to consider the Solo3 by Beats or the Bose QuietComfort 35. However, it can still be a difficult decision deciding on which pair you want, as both can run you a couple of hundred dollars. With that in mind, it's important to make the most well informed decision that'll bring the most value to you.
* If you buy through links on our site, we may earn an affiliate commission. For more details, please visit our Privacy policy page.
Follow along below, and we'll go through the pros and cons of both and show you which one is the best out of these two.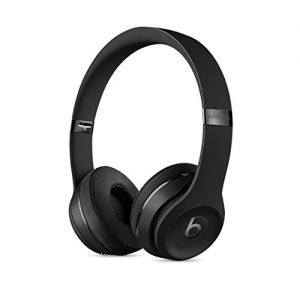 Beats, a brand owned by Apple, has been around a long time, providing professional and luxury audio equipment to the masses.
One of the highlights of the Beats Solo3 is its battery power. Depending on your listening habits, a pair of wireless Beats Solo3 can last you up to 40 hours on a single charge.
The downside is that they're not noise cancelling, so you'll be able to hear a lot of outside ambiance if you're not in a quiet environment. As for the sound itself, Beats' products offer high-end sound quality, meaning any music you listen to is going to be clear, and breadth and balance is going to be maximized.
Another downside is that they may not be entirely comfortable. They don't have an over-the-ear form, so they don't fit over year as seamlessly as they should. We'll compare this to a much better option in this area, the Bose QuietComfort 35 in just a minute.
All in all, the Beats Solo3's offer sheer quality that you'll love. However, they may not be the best choice if you plan on wearing them for extended periods of time, at least as far as comfort goes.
You can pick them up on Amazon for just $220 below.
Buy it now: Amazon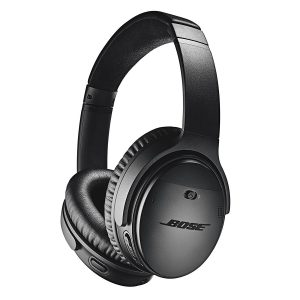 Almost anyone will love a pair of Bose's QuietComfort 35's. Not only are they a practical pair of headphones, but they're great for casual and in-studio work, too. On the practical side of things, the QuietComfort 35 headphones come with dual-microphones, making them a formidable pair of headphones for making calls and the like.
For casual use, the QuietComfort 35 excels, too. Wirelessly, you can get up to 20 hours of listening time, and if you hook that up to a wire, you can double that, getting up to a whopping 40 hours of listening time out of a single charge.
Professionally, these are a great pair, too. Not only can you choose between wireless and wired (as implied above), but you also have noise-cancelling options with the headphones from Bose. The noise-cancelling works extremely well, but if you need to adjust it for the environment you're in, like a recording situation, the QuietComfort 35 will let you adjust that to different levels. Additionally, the Bose QuietComfort 35 has an over-the-ear form, making them comfortable for hours upon hours of constant wear.
Sound with the QuietComfort 35 will always be clear and of high quality, even if you decide to raise or lower the volume. With automatic volume-optimized EQ settings, you can ensure you're getting a clear and high quality experience at any volume level, making these perfect for use on an airplane or even in an office, too. The icing on the cake might be the ability to connect through Bluetooth and NFC; there's even voice prompts that'll guide you through the process of getting these connected wirelessly in just seconds.
You can pick up a pair of Bose QuietComfort 35's on Amazon for $350, about $130 more than the Beats Solo3's.
Buy it now: Amazon
Verdict
So, you have two excellent pairs of headphones here, but which should you buy? While a little pricier, the answer is — hands down — the Bose QuietComfort 35's, thanks to their flexibility in almost everything. You get more comfort, as well as extreme noise-cancelling, but if it's too much, you can always adjust those settings to adapt to your environment (i.e. if you need to hear colleagues in an office environment or if you need all noise cancelled out in a studio environment).
Sound quality is a little better in the Bose QuietComfort 35's, too. This makes them the ideal pair of headphones in a professional studio environment, too. On top of that, and on the practical side, you get two pairs of high-end microphones, making these the perfect pair for calls from your phone, Skype video calls and so on.
If you've got the cash in hand, the Bose QuietComfort 35 will serve you the best.
* If you buy through links on our site, we may earn an affiliate commission. For more details, please visit our Privacy policy page.