Add friend function on Steam enables users to connect with others, resulting in a lively and more interactive gaming experience when you play Steam Games. Users of Steam are urged to add people to their friends list so they can play games together virtually on Steam Community. In this article we will show you how to add friends on your Steam Deck.
The Steam Deck is a portable gaming hardware developed by Valve. The newly released Steam Deck will allow for either portable play or a monitor connection. You can play any game on this device if you purchase it from the Steam library, including Windows PC titles. This is made possible by the Linux-based Proton compatibility layer. Because Steam Deck is an open platform, users can install the required software, including fresh non-Steam game or various operating systems.
Steam Deck Technical Specifications
Processor:
AMD APU
CPU: Zen 2 4c/8t, 2.4-3.5GHz (up to 448 GFlops FP32)
GPU: 8 RDNA 2 CUs, 1.0-1.6GHz (up to 1.6 TFlops FP32)
APU power: 4-15W
RAM: 16 GB LPDDR5 on-board RAM (5500 MT/s quad 32-bit channels)
Storage:
64 GB eMMC (PCIe Gen 2 x1)
256 GB NVMe SSD (PCIe Gen 3 x4 or PCIe Gen 3 x2*)
512 GB high-speed NVMe SSD (PCIe Gen 3 x4 or PCIe Gen 3 x2*)
Resolution: 1280 x 800px (16:10 aspect ratio)
Display size: 7″ diagonal
Brightness: 400 nits typical
Refresh rate: 60Hz
Touch enabled: Yes
Sensors: Ambient light sensor
Bluetooth: Bluetooth 5.0 (support for controllers, accessories and audio)
Wi-Fi: Dual-band Wi-Fi radio, 2.4GHz and 5GHz, 2 x 2 MIMO, IEEE 802.11a/b/g/n/ac
Channels: Stereo with embedded DSP for an immersive listening experience
Microphones: Dual microphone array
Headphone / mic jack: 3.5mm stereo headphone / headset jack
Digital: Multichannel audio via DisplayPort over USB-C, standard USB-C, or Bluetooth 5.0
Input: 45W USB Type-C PD3.0 power supply
Battery: 40Whr battery. 2 – 8 hours of gameplay
microSD: UHS-I supports SD, SDXC and SDHC
External connectivity for controllers & displays: USB-C with DisplayPort 1.4 Alt-mode support; up to 8K @60Hz or 4K @120Hz, USB 3.2 Gen 2
Adding Steam Friend in your Steam Account Using the Steam Deck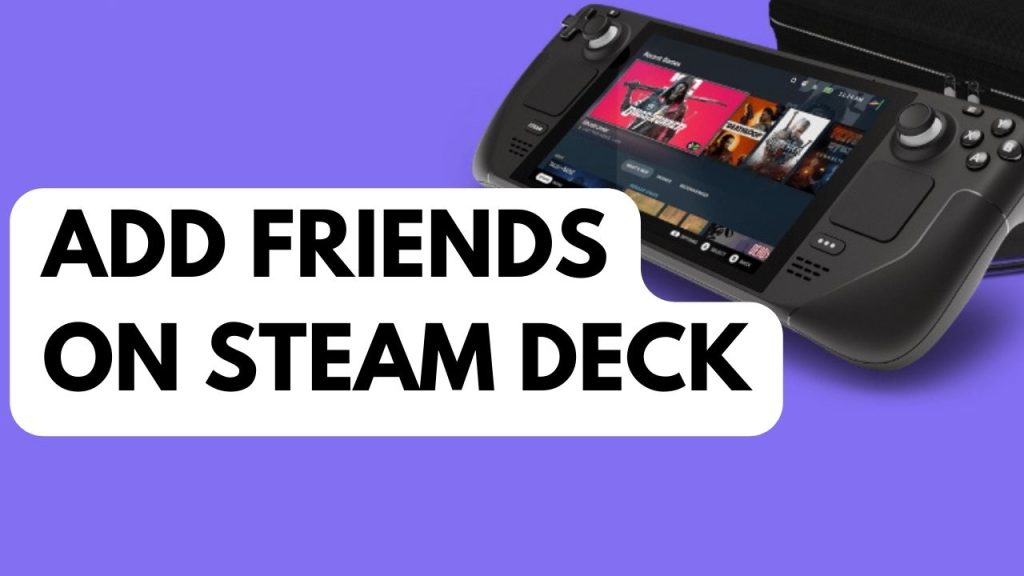 Even though adding friends on Steam Deck is fairly simple, occasionally there may be a problem for Steam users. Since you can't send friend requests to others if you have limited accounts, banned, or suspended, here are a few things to bear in mind before adding a friend or someone on Steam.
Next, confirm that you are aware of the individual's correct Steam profile name. You won't be able to search for someone on Steam or add them if you don't know their actual Steam profile name.
Adding Friends with Friend Code using Steam Deck
Step 1: On your Steam Deck, Tap your Profile picture on the upper right corner.
Step 2: Scroll down and tap add friends.
Step 3: Input the Steam friend code or accept the invite link.
Adding Friend on Steam Using Desktop App or Steam App on your PC
To add friends on Steam using a friend code, follow these steps:
Open the Steam app.
Login to your account if you have not logged in already.
On Steam window, select the Friends tab on the upper left.
Once you're in the Friends window, click the Add a friend icon.
Click on the COPY button to copy your own Friend Code.
Send it to your friend so that they can enter them into their Steam application.
Sending quick invite link friend request on your pc
Giving the person your invite link is a need for the next method. They can use whatever chat app they are using, an email, a text message, or both to send it. You may send another invitation if they don't use it after one use by them, and it expires automatically after 30 days if it isn't.
Open the Steam application.
Login to your account if you have not logged in already.
On Steam window, select the Friends tab on the upper left.
Once you're in the Friends window, click the Add friend icon.
In the Or send a Quick Invite section, click on the COPY button to copy the quick invite link.
If you need a new quick invite link, simply click on Generate new link button.
Send invite link to the person you want to add friend on their email, chat or as text.