Smartphone Gimbal stabilizers will become vital for smartphone photography and videos. Gone is the time when you needed a video camera to record good video footage. Yes, professional video cameras will always deliver the best video quality, but smartphone technology is also not far behind. Nowadays, smartphones are equipped with the high-resolution cameras that are equivalent to the resolution of DSLRs.

* If you buy through links on our site, we may earn an affiliate commission. For more details, please visit our Privacy policy page.
Although the resolution of the smartphone camera has improved drastically, it is very difficult to record unshakable perfect video sequences because of human inaccuracy and instability.
And, nothing is more annoying than having the best camera quality phone and still getting blurry and shaky videos. So, if you want to record a video for YouTube or while you're on the go, you just need a good gimbal stabilizer to get smooth shorts, fancy transitions, and features, and what not! A stabilizer will help you capture perfect shots and videos, making you look like a professional photographer. With these devices, you can take your phone-based photography and videos to the next level.
But, how do you buy a one that suits your needs and budget? There are a wide variety of gimbal stabilizers available in the market based on the smartphone type, performance, reliability and quality, design, and battery life. We understand, it is difficult to find the right one to suit your needs with so many options.
Well, worry not! We have done all the hard work for you to help you find the right device.
Here, in this article, we've rendered a list of best smartphone gimbal stabilizers to help you choose a gimbal that you need. But, first, let's see what a smartphone gimbal is and what you should know before buying one.
Smartphone Gimbal Stabilizers Buying Guide
Gimbal, a handheld stabilizer, put the brushless motors, sensor, and physics together to give you the fabulous shot without vibration.
If you want to capture high-quality videos and stunning photos from your smartphone, you need smartphone gimbal stabilizers. Apart from keeping your phone steady, gimbals have many built-in features such as Bluetooth capabilities and utility software that can connect to your smartphone elevating its functionality.
However, there are certain factors you should watch out before buying a smartphone gimbal to minimize all the shaking and movements while capturing.
The very first and single most important feature to look for in a stabilizer is its stabilization power, i.e. the ability to keep the camera steady. If it doesn't stabilize your video, it's not much of a gimbal.
Ideally, you'll have to look for a gimbal that offers left/right (roll), up/down (tilt) and panning stabilization.
Basically, there are two types of gimbals, namely two-axis stabilizers and three-axis stabilizers. Two-axis stabilizer will stabilize your Roll and Tilt whereas three-axis gimbals stabilize your Pan.
Two-axis stabilizers are quite affordable while three-axis stabilizers are great for shooting moving footage.
Weight is yet another feature you can't ignore while choosing smartphone Gimbal stabilizers. While most gimbals weigh just a couple of pounds, they still can get quite heavy if held on for a long time.
So, think about how much weight you can hold out and for how long.
If you shoot long videos, you must be aware of the importance of good battery life.
Also, smartphone Gimbal stabilizers feature two types of batteries – standard alkaline batteries and lithium-ion batteries. While the standard alkaline batteries have to be replaced after regular intervals, lithium-ion batteries are rechargeable. However, these batteries have shorter running times.
It is impossible to tell about the battery life of the gimbal by just looking at it. So, you need to read the reviews and specifications of the device before you decide if it suits your particular purposes.
Before buying a gimbal, you need to make sure that it is compatible with your smartphone. Not every gimbal is compatible with every smartphone as some are designed just for iPhones while others are designed for Android devices.
Also, some of the gimbals work with specific phone models regardless of their compatibility with the operating system.
To get the most out of your stabilizer, you need to make sure that your gimbal and smartphone can communicate with each other. Most of the gimbals allow you to control your smartphone camera using the controls on the gimbal handle.
So, check the specifications to know what type of control that software provides.
Your budget will decide the type of gimbal stabilizer you'd be buying. More the features of the gimbal higher will be its price. So, decide your budget before choosing the one.
Besides this, you should also to see the warranty period of the stabilizer.
* If you buy through links on our site, we may earn an affiliate commission. For more details, please visit our Privacy policy page.
The Best Smartphone Gimbal Stabilizers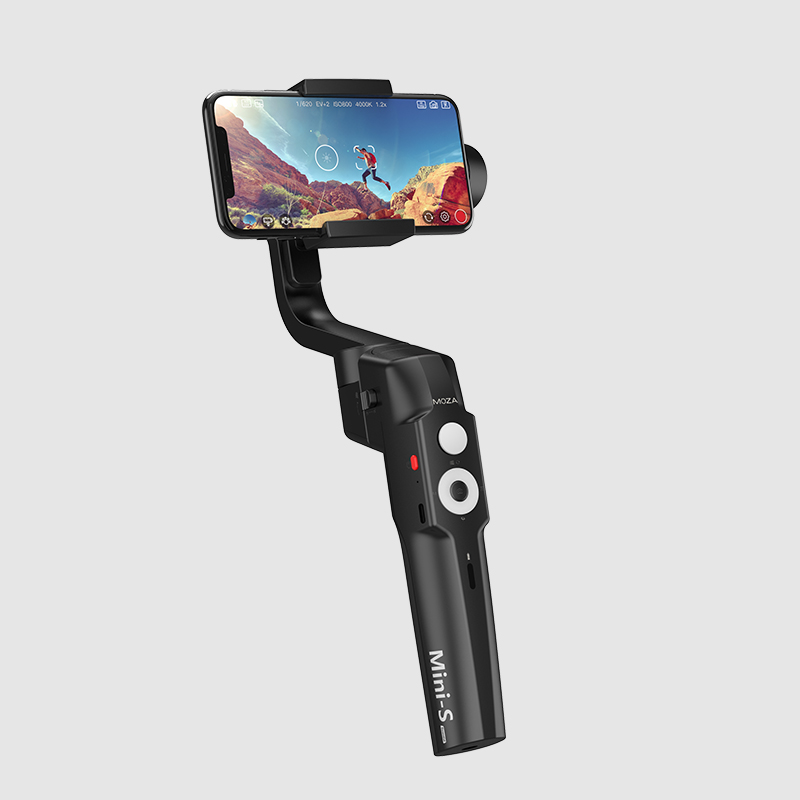 With the current pricing plus worldwide free shipping, MOZA Mini-S is one of the most affordable 3-axis smartphone gimbal around. It is also compact and foldable, could fit in your pocket and in your life.
Apart from the price and size, MOZA Mini-S is very user-friendly. Just mount your smartphone on, the gimbal will take care of everything else. MOZA Mini-S could also control phone camera, swiftly switch between landscape mode to portrait mode for live streaming. Other useful features include one-button zoom, focus control, quick playback etc. All this will help make your filming experience simpler and enjoyable.
MOZA Mini-S also boasts many follow modes and shooting modes: hyper-lapse, slow motion, time-lapse, sport gear, vertigo, inception; plus object tracking. These functions offer abundant possibilities to users and help them shoot dramatic, cool videos.There is also a customized MOZA Genie APP to lend a hand and let you control every aspect of the shot.
With all these nice features and affordable price, MOZA Mini-S surely stands out among various competitors.
Capture moments with incredible ease and cinematic movement!
Featuring a lightweight design, intelligent functions, and enduring battery, this DJI OSMO three-axis stabilizer lets you shoot smooth and stable videos. With a great selection of shooting modes and a comfortable handle with a few buttons, this gimbal stabilizer is pretty easy to use.
Crafted with high-strength composite material, this device is compact that is easy to carry around.
The ActiveTrack feature of this gimbal automatically tracks a moving object. It can even help you make a time-lapse and keep the camera steady while you zoom or film in slow motion. The motion lapse and hyper-lapse combined with time lapse makes the shots more stunning.
The rounded handle of the product is quite comfortable, and all the buttons are within easy reach of your thumb. The OSMO Mobile comes with a joystick, two buttons, and a slider, which are comparatively few than other gimbals out there. Fewer buttons contribute to the shorter learning curve that makes it easy to use for beginners.
The first button allows you to turn on the gimbal and once on, you can press it one, two or three times to select different modes of the camera. By pressing the other button, the camera takes a picture or starts recording. The joystick moves the gimbal to direct the camera to the left, right, up or down. The slider helps you to zoom in or out without touching the phone. You can perform other tasks by manually moving the gimbal or navigating in the DJI Go application.
Furthermore, this handheld smartphone gimbal is compatible with several smartphone models. Also, this product comes with a one-year warranty.
Features
Includes dolly zoom and time-lapse effects
Weight: 485 grams
Battery: 15 hours that also charges the smartphone
Compatibility: Apple (iPhone SE – iPhone XR) and Android phones (requires Android 4.1.2 or later)
Pros
Light in weight
Versatile and affordable
Stunning quality
Can be attached to any standard tripod
Includes many accessories
Cons
Panoramas are not the best suit
Bobbling effect is common
Shuddering can be observed
With excellent balance, exceptional battery life and great features, Zhiyun Smooth 4 is an excellent tool with a slick design. Made of high-quality aluminum for robustness and lightness, the quality of this product is worth mentioning.
However, the light weight of this device has no consequence on the weight it can carry. You can easily support phones up to 0.57 lbs, which is pretty impressive for such a lightweight product.
For the quality, this gimbal can deliver a smooth and stabilized image. The 3-axis handheld stabilizer is perfect for fast moves and won't disappoint you. Also, the motors react to every single move correctly.
Along with the improved reliability, quality, and stability, this product has some enhanced and interesting features, which makes it better than other Zhiyun Smooth variants. The device has a little wheel on the side on the grip that helps you to modify the exposure. Besides, you can even modify the white balance, ISO, focus or the shutter speed.
With Zhiyun Smooth 4, you can shoot both vertically and horizontally. Just unscrew the little wheel, turn in 90 degrees on the side, and you're good to go. The device has all the usual functions such as time lapses, panoramic mode, long exposure and more. The panoramic mode is exceptionally good because of the 3 brushless motors.
Another great feature is the Follow Mode. With this, you can ask your phone to follow an object or a face just like DJI OSMO gimbal stabilizer. Also, the follow is fast and efficient. Lastly, this product is water resistant. Although it is not waterproof, it can definitely work under splashes or light rain.
The software of this device is just as amazing. With its Bluetooth technology, it instantly connects with the mobile app, so you can have control over exposure compensation and apply various filters to the camera.
Features
Lightweight construction
Water-resistant
Button for record and photo
Weight: 547 grams
Battery: 12 hours
Compatibility: smartphones within 6 inches
Pros
Reliable
Amazing battery life
Tracking mode
Good stabilization
Rotation on the pan axis
Cons
Are you looking for smartphone gimbal stabilizers to transform your phone into the smart motion cameras? DJI OSMO gimbal is what you need.
Packed with innovative and useful features, the DJI OSMO is one the slickest and easiest gimbals to use. You just need to slide your phone in, secure the device with the clamp, connect with Bluetooth and this gimbal stabilizer does the rest.
Featuring a professional design, this device captures smooth videos making every shot look professional. It also allows you to shoot motion time-lapse or live stream a moment around the globe. The gimbal stabilizer has a joystick enabling you to pan up and down and side to side. With the trigger on the front, you can quickly lock the camera on the specific object or scene. Double tap the trigger to enter the selfie mode.
With its intelligent processing technology and automatic identification, you can polish your videos and photos to boost a professional sheen. You can even record slow-motion video, and the results will be, as expected, exceptional.
Another great feature of this gimbal stabilizer is that it automatically keeps your smartphone facing you, letting you be at the moment. So, there is no need to set it to have a recording moment or taking part in it. The intelligent sensors of this device know what's best in every scene.
Furthermore, the three-axis stabilization of this stabilizer keeps your phone extremely stable for stunning captures, which you can share with the world. Lastly, you can even take detailed panoramas that automatically blend nine separate photos.
Features
Possesses features like Active Track adjustment and Time Lapse
Adjustable settings process the photos and videos
Can blends photos to create panoramic images
Weight: 453 grams
Compatibility: Apple (iPhone SE – iPhone XR) and Android phones (requires Android 4.1.2 or later)
Pros
The tracking mode
Sleek and lightweight
Eliminates shaking and bouncing camera footage
Cons
Does not offer the best stability in the market
Records all the videos onto the OSMO mobile app
An amazing three-axis gimbal to transform your smartphone into a high-quality video camera!
Featuring 4-way joystick and 2-way bi-directional mounting, this gimbal stabilizer is one of the best value devices that makes sure you always capture pro-quality videos while shooting both professional and smooth videos.
Also, it features built-in threaded handle that allows you to shift it to any monopod, tripod or similar mount to produce a variety of shots.
The device features panorama, object tracking and time-lapse giving you access to various high-quality shooting modes. It allows you to adjust settings such as shutter speed, ISO, Exposure, WB and even focus.
The EVO Shift 3 gimbal allows full control of the cameras zoom and record functions right from the handle. The device comes with three easy-to-use stabilization modes that give you the freedom of motion. With its touch-sensitive 4-way joystick, you can fine-tune the shooting angle on the fly.
The modes of this device include:
Pan Follow Mode – The Tilt & Roll axes are locked. The pan axis turns smoothly with the wrist turn. Use the joystick up and down to control the tilt angle of the camera.
Lock Mode – The Tilt, Roll and Pan axes are locked. Use the touch-sensitive joystick to control pan and tilt manually.
Full Follow Mode – With roll axis locked, the pan and tilt axes gently follow the handle. Use the joystick left and right to change the horizon angle.
Selfie Mode – Flip the camera around from front facing to rear facing. This is ideal for vlogging.
More amazing functionalities of this device include panorama, object tracking, and time lapse. With intelligent control features such as smart track feature and point to point motion time-lapses, this gimbal stabilizer can drastically improve the quality of images and video you are taking.
Furthermore, the EVA Shift comes with a 1-year warranty. The only shortcoming is that it comes with a built-in battery that can't be removed and charged separately. You have to use the USB cable to the charge this gimbal.
Features
3 different stabilization modes
Full control from the handle
Weight: 450 grams
Battery: 10 hours
Compatibility: All smartphones under 220 grams
Pros
Easy to install and use
Can control the phone with 4 way joystick
Exceptionally good stable video
Cons
A little heavy
Built-in battery
A solid, reliable and smooth smartphone gimbal with different clamps and counterweights!
If you are a videographer or own a heavy smartphone, LanParte is the best gimbal for you. With the most comfortable gimbal handle out there, this device adjusts automatically to your wrist movement keeping the footage smooth.
With precise brushless motors, an LCD battery displays to warn you about the low battery, and counterweights to perfect balance before shooting, this device is one of the most attractive and useful gimbals in the market. Crafted with shock-resistant plastic and aluminum holding arms, the quality of this product is to swear by.
Further, the stabilizer has a comfortable handle made of silica gel that makes it easy to use. Apart from this, the device has a powerful, removable lithium-ion battery with a charger for extended run-time.
With a list of features, you have to pay a little more for this device as it's not just a simple mechanical model but a device with high-class advanced abilities. Featuring auto collaboration ability, this gimbal takes only a few seconds to set up with the rechargeable battery.
Furthermore, the device comes with two clamps, one for the phone ranging between widths between 2.2 inches and 3 inches and another for phones between 2.5 inches and 3.6 inches.
Talking about drawbacks, it has just one that it doesn't come with a joystick. But, that is not a significant problem because of its ability to adjust automatically to the user's wrist movement. Most smartphone gimbal stabilizers users also complain about its price. But, it has nothing to do with its functionality, and this is the best gimbal stabilizer you can get for your smartphone.
Features
3 axis active stabilization
Superior gesture control
Left, right, up and down panning control
Built-in counterweight for additional image stability
Brushless motors
Weight: 907 grams
Compatibility: All smartphones ranging between widths 2.2 inches to 2.5 inches
Pros
Sturdy and solid design
Silica gel grip offers a secure handhold
Comes with a nylon carrying case
Smooth panning
Motion is usually very smooth
Cons
Battery life is not up to the mark
Expensive
A perfect solution to capture stunning handheld footage with a smartphone! With various unbeatable features, it has earned a great reputation and is perfect for smooth, steady and noiseless videos.
Among the lightest gimbals out there, this product is designed for added stability and precise video shooting. Also, it is pretty easy to get it started, which makes it the perfect option for beginners.
The device has a powerful motor that produces great torque eliminating the need for counterweights with heavy loads. The three brushless motors enhance three axes up to rotation of 360 degrees.
The Smooth Q 3 gimbal stabilizer comes with face-tracking, time-lapse and panoramic modes. With its ergonomic design, you can quickly switch mounting direction either vertically or horizontally. With highly functional controls, you can change modes, zoom in and out, capture video or photo, change selfie and rear mode and likewise.
The 4-way joystick is used to change the shooting angle that makes Zhiyun gimbal stabilizer comfortable to use.
Featuring a built-in lithium-ion battery, this gimbal stabilizer offers a run-time of 12 hours. Also, it is compatible with a wide range of smartphones. It even has a micro USB charging port for fast charging.
With a 1/4″-20 tripod screw on the bottom, you can mount it on a tripod or a monopod.
Features
Easy to install
Easy to make adjustments
Various camera enhanced functions
Weight: 440 grams
Battery: 12 hours on full charge
Compatibility: iPhone SE – iPhone X and Android smartphones requiring Android 5.0 or more
Pros
Low price
Wide compatibility
Can be charged during use
Cons
Doesn't offer the best reliability and quality
Good stabilization but not the best
The battery cannot be replaced
* If you buy through links on our site, we may earn an affiliate commission. For more details, please visit our Privacy policy page.
Looking for a gimbal for your Samsung or Galaxy? Or, perhaps you want one for iPhone 7 and iPhone 7 Plus. This gimbal stabilizer right here by X-CAM will perfectly cater to all your needs.
With high-tech features, the gimbal stabilizer by X-CAM is the best in its category for professional looking results. The two-axis stabilizer let the user take steady and smooth videos or pictures. The screen angle can easily be adjusted during recording.
Boasting high connectivity with Bluetooth 4.0, this product can be used for both iPhones and Android with versions above 4.1 with just a single touch.
For design, it has an ergonomic design that makes the device portable. Besides, it is compatible with all smartphone measuring 6 inches and less. Moreover, the advanced tech features of this gimbal such as face detection and time lapse functions can be used for professional video editing. It even comes with the multi-angles smart system.
The operating modes of X-CAM include lifting mode, standard mode, standing mode, and handing mode. You can use the remote control of this device once you download the X-CAM's application. This apps empowers you with various functions such as face detection, time-lapse recording and professional video editing.
The smartphone gimbal stabilizers face detection feature of this product can auto focus and efficiently track the moving object. Just place this device in a fixed spot and watch your smartphone move according to your movements.
Features
Anti-shake technology
Weight: 408 grams
Battery: Works constantly for 2 to 5 hours (depending on the smartphone weight)
Compatibility: All smartphones sized below 5.5 inches
Pros
Low price
Comes with a soft carry case
Compact size
Easy to set up
Cons
Doesn't offer the best stability
A strong, sturdy and highly durable stabilizer with a great deal for the money! Also, this is the best smartphone gimbal stabilizer on Amazon.
So, if you're looking for a gimbal that will serve you longer, you might want to consider RetiCAM as your option. Boasting a steel bolt locking mechanism, this stabilizer comes with an aluminum hand grip that has a soft rubber cover and a lanyard for added security. Designed for versatility, this stabilizer can be used as a hand-held stabilizer or a tripod. Also, the handle is detachable to fix the tripod configuration.
The solid aluminum makes this device rust and scratch resistant, and the rubber pads are 3M that protects the edges of the smartphone. Also, the product is crafted with a V-shaped groove to make space for the edge buttons of the phone.
This gimbal stabilizer is ideal for all types of smartphones up to 3.6 inches wide. You can use it with Samsung Note, Samsung Galaxy, Google Nexus, Lumia, Nokia, HTC, iPhones, LG, Motorola and other mobile phones and phablets.
Features
All metal construction
Soft rubber cover grip
Weight: 153 grams
Compatibility: All smartphones up to 3.6" wide
Pros
Durable and easy to use
Low price
Strongly built
Wide compatibility
Rust and scratch resistant
Cons
Entry-level stabilization
Cannot be used for portrait view
No button for photo capturing
Requires one hand to take a photo
Are you looking for a budget-friendly stabilizer? Or, want a one to use occasionally or for stationary camera angles. If so, you might like ChargerCity Pistol Grip Stabilizer.
Although this stabilizer doesn't offer many advanced features, it still has several features that'd be perfect for non-professional photographers. The stabilizer boasts a pistol-like design that makes it easy to hold and move while recording the videos. In handheld mode, the device can be turned 90 degrees to capture portrait shots. In tripod mode, however, it is restricted to landscape images.
Nonetheless, the transition between pistol mode and tripod mode makes it easy to use it in more than one way without disrupting your shoot. Further, this pistol by ChargerCity is both a tripod and a handheld stabilizer pistol, which makes it easy to carry it around while keeping the shot steady.
The next worth-mentioning feature of this device is it comes with a micro USB card reader that allows you to store all the videos on the card for easy transfer to the PC.
Furthermore, the device comes with a replacement warranty from the direct manufacturer.
Features
Weight:52 ounces
Compatibility: Fits Up To all smartphones of 3.25 inches or smaller
Pros
Easy to install
Adjustable joints to turn the handheld pistol grip into a mini tripod
Portrait and landscape shots in handheld mode
Cons
No advanced apps or software
Complaints about the smell of the product
Conclusion on the Best Smartphone Gimbal Stabilizers
If you have got the latest smartphone with the best camera specifications, you might want to buy a gimbal stabilizer that will not only allow you to take smooth and clear videos but also act as a selfie stick.
However, finding the perfect one for pro-quality photos can be a little tricky given the many options and choices available out there. The options may vary based on the best-selling, top-rated, affordable ones, reliable and best quality, but there is always a one product that will stand out for you.
So, to make things easy for you, these are the top 9 smartphone gimbal stabilizers in 2022 you don't want to miss. As you must have noticed, they all are ergonomically designed to support various latest smartphones and operating system. Also, all the stabilizers mentioned here ensure exceptional video quality and also provide you with top-notch functionalities.
No matter what device you have, be it a Go Pro camera or just a built-in camera, you can capture the best and stunning shots. With these gimbal stabilizers, you can experience target tracking, panoramic shooting, time-lapse photos and videos along with various other incredible features. Go through this list of products, and we're sure you'll find the right gimbal stabilizer to improve your videos in an affordable and excellent way.

* If you buy through links on our site, we may earn an affiliate commission. For more details, please visit our Privacy policy page.