Whether it is running, swimming or other regular activities, music finds its place in every scenario, thanks to the best running watches with music for listening on the go. It energizes the body, keeps it active and even reduces its stress level. But you can't always rely on your smartphone for it.
The one-stop solution to this problem is a smartwatch with music. This advance gadget gives you many additional options like online streaming, offline storage, navigation and calling, along with music playback.
* If you buy through links on our site, we may earn an affiliate commission. For more details, please visit our Privacy policy page.
However, there are a lot of these watches available in the market. Most of them are excellent options for everyday usage, but some models are exceptionally good and budget-friendly. Here are five such models of smartwatches that you must consider.
Best Running Watches With Music
LG watch sport is the perfect combination of style and technology.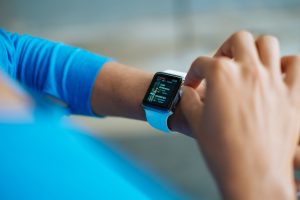 The watch consists of a stainless steel casing that comes with a durable Thermoplastic Polyurethane band. It has a 1.38 inch OLED screen that is perfectly visible, even under bright sunlight.

This watch has a 430 mAH embedded battery that lasts up to 1.45 days in standby mode and 2 hours with 3G. Further, it has wireless charging, pattern lock, 15 languages, airplane mode and a lot more.
The gadget has 4 GB storage space for songs and LTE connectivity for online streaming. It can download music from Google play for on to go music without a smartphone. Moreover, the LTE makes it an excellent option for card-less payment and various other applications.
Pros
SIM card and phone-less calling support
Large screen size as compared to other watches
Google application support
Cons
Water-resistant up to 1.5 meters only
Short battery life
Heavier than normal watches
Apple is the most preferred brand due to its innovative designs and high-performance devices, including watches.
The Series 3 of this brand is the best option for music and style. The smartwatch is fabricated with an aluminum casing and a secure link for bands that offers a very sleek look to it. It is also compatible with silicone, steel, mesh and many other loops from third-party dealers. It has 1.65inch retina display OLED screen made from Ion-x glass and support force touch.
The watch has cellular support and 8 GB memory for music playback, along with a lithium-ion battery that lasts up to 18 hours with 90 minutes of charging. The watch also comes with an improved version of Siri for easy and efficient support.
It provides you a flexible solution for tons of different activities and uses a very accurate 3 activity ring system to produce their reading. Moreover, it is water resistant for up to 50 meters and has swim mode that locks the screen in water.
The device also has barometric altimeters, optical sensors, accelerometer, gyroscope, GLONASS, and ambient light sensors that produce accurate reading and support all kinds of fitness applications.
Pros
Cellular support
Online music streaming
Screen lock for swims
Easy payment with apple pay
Cons
Short battery life
No option for pre-made playlist
Garmin Fenix Series is among the most well-known GPS watches with music support. The watch is perfect for every condition and activity due to stainless steel bezel, buttons, casing, and water resistance qualities.
It offers battery backup of over 20 days without GPS and 13 hours with it. This watch also can store up to 500 songs and sync with your Spotify playlist.
The watch also has a 240*240 display that supports TOPO maps and multiple sports mode to facilitate your workouts.
The best running watches with music device offers advanced GPS and GLONASS that measures pace, distance, speed, and many other metrics, while running, biking and climbing. Moreover, it has a 3- axis compass, gyroscope barometric altimeter, and a very accurate, optical heart rate sensor.
The gadget has 16 GB storage with preloaded maps, and allows you to add more whenever you need.
Pros
Built-in maps and GPS support
Improved WiFi and Bluetooth connectivity
Spotify support
Contactless payment
Water resistance up to 100 meters
Cons
Extra amount for additional maps
Expensive piece of equipment
4) Fitbit Ionic
The Fitbit Ionic watch is the best choice for both Android and iOS users. It has a sleek design with battery backup of up to 4 days with normal usage and about 10 hours with GPS usage.
It is fabricated from with light, aerospace grade aluminum casing and Corning Gorilla Glass-3 screen that provides high durability, and a better life. The nano-molded, uni-body watch packs over eight sensors and a color screen, with 1000 Nits amplified brightness.
The device has 2.5 GB of inbuilt memory that can store up to 300 songs for offline playback. Moreover, it can stream from apps like Pandora and Deezer in offline mode without your phone, if you have a paid subscription.
The smart device also supports multiple sports mode and automatic recording for most of these activities. It uses its inbuilt GPS and optical heart rate sensor that can measure your pace, traveled distance, routes, pure pulse and more. The gadget is water resistant up to 50 meters and has full support for swim tracking.
Pros
PurePulse technology
Inbuilt NFC chip
Damage resistant screen
Cons
Take 2 hours for full charging
Use a proprietary charger
CLICK HERE to check the price
Amazfit is the ultimate sports watch with GPS and VO2 level indicators. The watch has rugged quality carbon fiber casing accompanied by a polished ceramic bezel, stainless steel buttons, and a 22mm replaceable silicone band.
The watch has 4GB of music storage memory for on to go music playback without your phone. It has a water resistance certification for 5 ATM and handles up to 50-meter water depth. Moreover, the watch has GPS, GLONASS and heart rate monitoring support that makes it an ideal choice for all kinds of sports activities.
Pros
Five days of battery life
Sleep tracking
Sync notification from the phone
12 different sport modes
Cons
No support for streaming apps
Lack of brand history
Summary of the Best Running Watches With Music
These are the watches that provide you best alternative against smartphones. These wearables not only present a source of music but also give essential data about your everyday activity and cardiac stress, your body face.
They are tailored for every aspect of fitness and make a perfect companion for every lifestyle. There are many options to match your style, physical requirement, and budget.
Smartwatch is a must for anyone who wants to lead a healthy, organized and stress-free life, in a stylish way.
* If you buy through links on our site, we may earn an affiliate commission. For more details, please visit our Privacy policy page.