Traveling takes quite a bit of planning. Considering how important mobile devices are for our daily survival, it makes sense to invest in a decent SIM card that can keep your family and friends informed about your whereabouts. But considering the kind of options available out there, making the choice can be somewhat intimidating for new travelers. Not to mention the fact that pricing can play a crucial part in your decision making. So it's imperative that you don't spend too much, especially on something as basic as a SIM card, get the best prepaid sim card for traveling to London.
Editor's Choice
Looking for a prepaid sim card for your European vacation?
:ook no further than the Orange Holiday Europe Sim Card MORE INFORMATION
Keeping this in mind, we've decided to compile a list of the best prepaid SIM cards that you can carry with you while traveling abroad, especially to London or in the UK. Some of these options may look familiar too, while we've made sure to include a couple of surprises as well.
So without waiting any further here are some of the best prepaid SIM cards and other alternatives for your travel to London.
* If you buy through links on our site, we may earn an affiliate commission. For more details, please visit our Privacy policy page.
Best Prepaid Sim Card for Traveling to London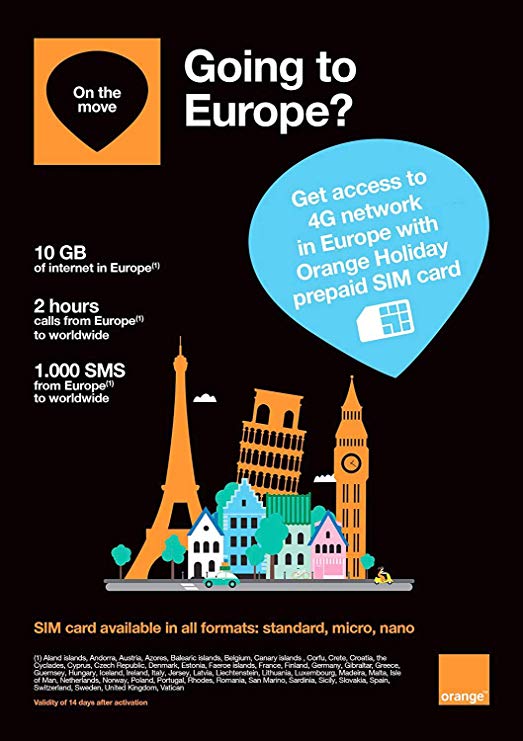 This is an ideal SIM card for customers who want to have ample data as well as voice minutes for their travel throughout Europe. The initial credit is valid for a period of 14 days but can be expanded further through Orange's online portal using your credit card. This can be handy if you extend your trip beyond the planned timeline. This is a 3-in-1 SIM card, fitting micro, nano, and standard SIM card slots. In terms of SIM features, there's plenty on offer here. Customers get 10GB of 4G/3G data, 2 hours of calling and 1000 texts from Europe to anywhere in the world. If you're wondering, the SIM also allows hotspot or tethering, so you can use this as a dedicated portable hotspot SIM card.
Orange mentions that this SIM card covers 30 countries of Europe, so you're well covered regardless of which European country you go to. While the 2 hour calling limit may not be sufficient, customers are recommended to use Wi-Fi wherever possible and rely on cellular calling apps like Google Duo or WhatsApp, Skype, etc. You can get the SIM card directly from Orange UK's website, making this one of the most attractive options on our list.
---
Three UK is one of the UK's most popular carriers, and it's only fair that you choose this carrier for your travel to London. The best part about this SIM card is that it covers pretty much the entire Europe and also includes a bunch of Asian countries like Hong Kong and Singapore, offering great flexibility during your travels around the world. Three UK offers this prepaid SIM card with 12GB of data, 3000 minutes and 3000 texts for a period of 30 days, making it a very attractive proposition for month long trips to the UK and Europe.
Unfortunately, Three UK doesn't allow using this SIM card for portable hotspots or streaming, so you're limited to merely browsing the internet and making calls, which should suffice in a foreign land. On the other hand, activation is relatively easy and doesn't take too much time, so you're good to go as soon as you get the SIM. For a SIM card that covers 71 destinations, this offering by Three UK is fairly decent.
Buy it now on Amazon
---
This isn't a SIM card, technically, but much better. GlocalMe G3 is a proper device that can be used as a hotspot using your own SIM card or with GlocalMe's cost effective data plans that are available across the world. Using something known as cloud SIM technology, GlocalMe ensures that the device can have a functioning internet connection no matter where you travel. However, you are required to purchase a subscription from GlocalMe. Prices can be low per day using the Daypass option, giving a full-time internet connection for all your Wi-Fi devices.
With download and upload speeds of 150 Mbps and 50 Mbps respectively, the device can offer high-speed data almost anywhere. Since this also allows you to add your own SIM card, you're free to do so thanks to the 2 SIM slots available on the device. This device also has a display, which means you can get all the details on your usage, connected devices and more. The G3 allows connection of up to 5 devices at a time, which is fairly decent although we would've liked more. The connection is secure and password protected, thus keeping your precious data safe from theft.
It resembles a small touchscreen phone, which makes it easier to carry. It comes with a 5,350 mAh battery on board, allowing you to charge up your devices on it. The onboard battery can last for up to 15 hours of non-stop hotspot usage, which is pretty impressive for a small device like this. The GlocalMe G3 is available in Black and Gold variants.
Buy it now on Amazon
---
Mobal is a well known carrier in Asia and has recently made its way to the rest of the world as well. This carrier offers an exciting prepaid SIM card for travelers to London, although it's slightly expensive compared to standard prepaid travel SIM cards. It lasts for 30 days, but customers can add months on top as they see fit. It only comes with 1GB of usable data, which isn't really enough, but should be enough to get you started for a day or two. Calls/minutes are not exactly free here, but are quite cheap, helping you save quite a bit on calls to the U.S. and Canada.
Incoming calls and texts are free from the start, so you're not going to spend on roaming charges. The carrier promises excellent coverage across Europe, so you have nothing to worry about as far as network feasibility is concerned.
Buy it now on Amazon
---
By far the most exciting option on this list comes from O2. With a massive data plan and exciting voice and text options, this prepaid SIM card gives you plenty of freedom on your travel to London. O2 offers 5000 minutes of calls, 5000 texts and a whopping 20GB of data for 30 days. This SIM card is valid across any European country. The network pairs with local carriers in Europe to give you the best data coverage regardless of where you travel.
The best part with this SIM card is that you can also use the data for hotspot so that your other devices can also connect to the internet while on the go. However, the carrier claims that the data cannot be used for video streaming, which is a bit of a letdown. O2 is a well known carrier in and around the UK. If you're traveling primarily to London, it makes sense to go with the carrier thanks to its strong network coverage around the UK.
Buy it now on Amazon
---
This is an excellent option to have if you travel abroad frequently, regardless of where it is on the map. Keepgo covers a total of 105 countries around the world, covering every famous tourist destination you can think of. It's a comprehensive package that comes with all the tools and adapters you require.
Once setup, the SIM card is activated immediately and you're good to go. To start, the user is offered 1GB of free data, and a validity of 1 year. You can top up data and validity each year thus staying with you for life. A travel SIM can always come in handy as a one time purchase, especially since it can be reused practically anywhere in the world.
However, users have to pay more for this convenience, which somewhat takes the sheen off of Keepgo's offering. The best part is that Keepgo has a 24/7 customer support team to help you through any small or big queries you have about the SIM card or top ups. As you can check out from Amazon, this isn't the cheapest SIM card out there.
Buy it now on Amazon
---
EE is a popular UK carrier that is known for its cost effective plans for prepaid customers. This is a SIM card that you can order to your American address so that you don't have to invest in an expensive SIM card when you reach London. This data SIM card is valid for a period of 90 days, which gives you plenty of time till it expires. Also, this SIM can be used practically anywhere in Europe and not just London, so if you're planning to travel outside the UK, this SIM will still come in handy for you.
EE offers 6GB of 4G data with this product, although data can be capped to 3G wherever networks are weak. EE claims that there's no elaborate registration process here, so you're good to go as soon as you put this SIM into your phone. There's no calling or texting involved here as this is a data only offering. This means you can use this on your portable hotspot device to offer data coverage to the entire family while traveling. Check it out.
Buy it now on Amazon
---
* If you buy through links on our site, we may earn an affiliate commission. For more details, please visit our Privacy policy page.