Sleep is one of the most important parts of our lives, and without the best smart mattresses bed, this is so hard to achieve. It's no secret that if you're not sleeping well, you're going to be cranky and irritable almost the entire day. Luckily, sleep technology has improved significantly, allowing us to get sleep products that are designed to offer better sleep. Prominent among these are smart mattresses that can track your sleep patterns and even sometimes measure your heart and pulse rate.
* If you buy through links on our site, we may earn an affiliate commission. For more details, please visit our Privacy policy page.
A smart tracker may not have all these attributes, and this is why it makes sense to also look at smart mattress covers that can be used in existing mattresses. This is handy if you don't want to invest in a full blown mattress. While smart mattresses are still a relatively new trend, we managed to find quite a bit of offerings out there. Most of these also offer heating or cooling by default, which is a common feature among most smart mattresses. So without waiting any further, let's have a look at some of the best smart mattresses bed for better sleep in 2023.
Best Smart Mattresses Bed for Sleep Better
1) Serta Smart Heated Waterproof Mattress Pad
This is a heated smart mattresses bed that is suitable for those who do not want to invest in an expensive mattress. Think of this as a cover for your existing mattress, but with a water resistant coating as well as evenly distributed heating thanks to 5X thinner wires compared to standard heated beds, which means you will barely notice there's a heating element within the pad. The wires are barely detectable by the users, so you won't even know it's there. The pad uses a low voltage heating mechanism that keeps all components as well as pets around you safe from any harmful radiations or even heat.
As you would expect, this mattress cover comes with its own heating control as well, although there aren't too many controls to begin with. Once set, the heating shuts off automatically in 10 hours. The control unit also has a LCD panel which lets you adjust the settings even at night.
This smart mattresses bed pad can be washed in your machine, and may require extra care. Be sure to checkout the product listing for more details on this mattress pad. There are multiple sizes to choose from here, so make sure it matches with the size of your bed for the best fit.
2) SoftHeat Smart Heated Electric Mattress Pad
This is a pretty similar product compared to the one we mentioned above, and even comes with most of the same features. First and foremost, this is a mattress pad and not a standalone mattress. The best part with components like these is that you can instantly turn any standard mattress into a smart mattress. The controller comes with 10 customizable settings, allowing you to adjust the heating as per your convenience. The display on the control unit can dim automatically at night, allowing you to modify its settings even with no lights on.
Heating coils are placed conveniently through the mattress pad and are not felt by the user. It comes with extra fabric layering to properly cushion the wires while also providing enough heating on all sides of the bed. This smart mattresses bed can be machine washed and dried with no fears of shrinking or damage. Thanks to the low voltage current it uses, you can be assured that this will not make a dent on your wallets, even with monthly electric bills. Much like the other mattress pad we spoke about, this one comes in multiple sizes as well. At the current price, this isn't exactly a cost effective offering.
3) Eight Sleep Tracker
This is a fairly modern sleep tracker that can turn any standard mattress into a smart mattress. The package consists of a mattress cover, accompanied by a hub which supplies power to the cover and also has a built-in Wi-Fi chip to communicate with your devices, including smartphones and Alexa enabled products.
The company claims that this smart cover fits almost any mattress, although they also offer choices with regards to size. Thanks to the smartphone app by the company, you get detailed insights on your sleep like deep sleep, light sleep, heart rate, as well as respiratory rate, letting you make the necessary changes in your sleep patterns.
You can also control the temperature of the mattress cover using the app, with 10 settings to choose from. Heating occurs on both sides of the bed, thus distributing heat evenly throughout the night. In addition to Alexa devices, the Eight Sleep Tracker is also compatible with Nest and Philips Hue using your smartphones to sync data.
Each morning, the user gets detailed sleep reports to understand how you slept the previous night. The combination of a comfortable heated smart mattresses bed cover and all the sleep tracking features make this a pretty amazing offer.
4) Emfit QS+Active
This is an extremely easy to use sleep tracker and monitor that is compatible with practically any mattress available in the market. This isn't a mattress cover or a pad, however, but a small device that rests nicely beneath your mattress. It also comes with a Wi-Fi sensor on board, allowing it to pass on data to your smartphone. You will then have access to all your sleep data and metrics using the company's dedicated app. This sensor can also be crucial to athletes who want to track their sleep as well as recovery.
This device can also measure heart and breathing rate down to the last detail and also includes other features like heart rate variability, sleep cycle, movement activity, time in sleep and in bed. You can access all the data through the smartphone app or on a PC browser, allowing you to view your stats practically anywhere.
The best part here is that you're not required to turn the device on or off as it can automatically switch on when you keep it under the mattress. Since this smart mattresses bed uses power from the adaptor directly, there are no batteries on board here. Needless to say, sleep enhancing or measuring devices are not usually portable.
5) Beddit 3 Sleep Tracker
This is yet another under the mattress sleep tracker that is non cumbersome and provides you with all the necessary insights on your previous night's sleep. In addition to measuring sleep, this tracker can also heart rate, breathing, snoring and bedroom environment including temperature and humidity, thus making necessary suggestions to improve or enhance your sleep quality. You simply have to plug this into the USB adapter, place it under your mattress and you're good to go. There's no button to push to begin recording data as it starts automatically as soon as you get on the bed.
While accuracy might differ from person to person, the company claims that Beddit 3 can accurately track how long you've slept and even what time you fell asleep. These sleep insights can be crucial in understanding how to change your sleep cycle, if necessary. A device like this is instrumental in helping you find the sweet spot with regards to sleep.
Perhaps it's the smart mattresses bed you're sleeping in or the temperature in your room that needs adjusting, Beddit 3 has a solution for every sleep woes. The non obtrusive design of the sleeve means that it can barely be felt by the user on the bed. At the current price, this sleep tracker is an excellent option for those who aren't looking to get a full smart mattress.
6 Beautyrest
This is a mattress pad, which basically goes on top of your existing mattress. There are a total of five heating controls with the option of preheating the mattress pad just as you prepare to go to sleep. The mattress also comes with a 10 hour auto shutoff feature to save power. Mattress pads don't consume a lot of power and are hence safe to use even with pets and children around. The mattress is also safe to use with washing machines, so you'll have no trouble in maintaining this unit.
The mattress pad is available in multiple sizes, while King and Queen sized units get two control units whereas twin and full sized mattresses come with one controller on board. As far as fit is concerned, the company claims that this fits a 17-inch mattress perfectly, although we recommend you to check the size of your before you order.
The precise measurements of the mattress pad are 60-by-80-inch. Given the fact that the company is used to making quality products, it's no surprise that they offer 5 years of warranty with the product. The price tag is pretty aggressive considering the competition in the market.
7 Sleep Number i7
This is the first proper mattress on our list, which comes with a slew of smart features on board. Speaking of technical features, this mattress comes with a 5-inch thick memory foam cushion that contours and adjusts to your body shape, thus offering a relaxed and refreshed sleep. The mattress also comes with a remote control which allows you to control its features. Moreover, the mattress is compatible with the company's SleepIQ app, allowing you to get detailed metrics and readings on your sleep patterns.
The best part is that the company offers a 100 night sleep trial, which is the case with most of Sleep Number's mattresses. Moreover, orders placed within the U.S. are eligible for the manufacturer's free Comfort Service Home Delivery. This also includes assembly of the new mattress and removal of your old mattress if requested.
This is an excellent mattress with enough back support for those suffering from back ailments and those who prefer sleeping on their backs or the side. At the current price, this is one of the most expensive mattresses you can buy on this list. If you're looking for nothing more than a good night's sleep, this is definitely the mattress to get. Of course, the smart features help greatly as well.
8) Sunbeam Heated Mattress Pad
This is more in line with other products on this list, as it acts as a cover for your existing mattress. Sunbeam's ThermoFine technology makes sure that the heat is distributed evenly across all parts of the mattress. Much like other mattress pads, the company offers a 10 hour auto shutdown feature to conserve energy.
It comes with a total of two controllers on either side, allowing both people on the bed to control the heating. Smaller sized mattress pads like Twin and Full only come with a single controller, however. The controller features 10 adjustable heat settings, which can also be completely turned off, of course. This queen sized mattress pad is completely machine washable, so maintaining it should not be a big concern.
The company uses a combination of cotton and polyester for this mattress pad, offering optimum comfort for the customers. Sunbeam categorizes this as an "Ultra Soft" mattress, so this might be the ideal heated pad for your orthopedic mattresses. It is advised to pick the correct size for your mattress. Luckily, the seller offers the mattress pads in multiple sizes, including King, Queen, Twin XL, Full etc. Sunbeam is also known for its heated blankets which is definitely worth checking out as well. Priced well under a hundred, this offering by Sunbeam will surely manage to grab your attention.
9) ReST Bed
This is perhaps one of the few smart beds out there. While there are several companies that make this claim, we feel ReST Bed one of the best equipped to handle that tag. In terms of smart features, this bed offers the ability to track your sleep through a tablet (included with the product), or any other mobile device.
The bed is capable of monitoring around 2,000 pressure points across your body, allowing you to get the best input and data about your sleep. The bed also comes with features like position detection, which basically means the mattress will adjust to your sleeping positions accordingly.
The company has clearly considered the future here, as the Wi-Fi chip on board can help enable future technologies that aren't present today. This means the ReST Bed is made to last. Not to mention the company's 90 night risk free trial as well as 10 years of warranty coverage.
The manufacturer has a wide collection of sizes as well as designs for your ideal mattress, so be sure to choose carefully. It also goes without saying that this is one of the most expensive mattresses on this list. Considering the features and technology it has on board, we're not really surprised.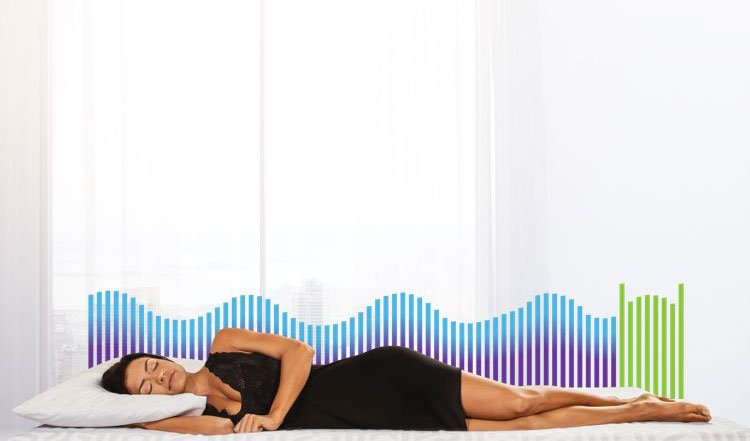 10 NordicTrack
This is a feature filled smart mattress that can be your personal sleep coach and improve your sleep quality overtime. It has an array of sensors to track your heart rate, sleep quality, respiratory rate and so on. It also comes with Bluetooth syncing, so all the sleep and respiration data should be available on your phone when you wake up in the morning.
This needs the company's dedicated app to sync with the mattress, which frankly only takes a few seconds. Coming to the quality of the mattress, the company offers two variants – Plush and Firm. In terms of sizing, there are three to choose from – Twin XL, Queen and King, which are the conventional mattress sizes. However, we're slightly surprised that NordicTrack doesn't have more customizable mattress options.
It goes without saying that the materials used in the making of this particular mattress will definitely be on par with high-end offerings we've discussed above. It comes with a 3-Zone design which helps alleviate key pressure points of the body. Given NordicTrack's history in the fitness department, you don't have to think twice before buying this smart mattress. Pricing differs between each size, but the cheapest NordicTrack mattress will currently set you back a discounted price over the usual steeper for the Twin XL variant.
11) Sleep Smart Air
This is an exceptionally smart mattress that can easily challenge most competitors out there. Sleep Smart Air uses a combination of electronics and fabric that regulates temperature, giving you maximum comfort as well as control over your bed. At the heart of the mattress is the IntelliMax controller, which allows you to set independent lumbar settings on the mattress. There are a total of three support zones on each side of the mattress, providing high quality sleep to the user.
As you would imagine, the mattress also comes with its own app to help you track your sleep patterns and improve on it overtime if the need arises. Speaking of the app, this is perhaps the most important tool of all as it can also control the mattress and set customized bed settings that you prefer. You can create multiple settings to use whenever convenient, while it also supports controlling both sides of the bed individually. As you can probably see, this mattress is packed with features that could significantly enhance your sleep cycle.
In terms of the warranty, the company mentions that it will offer 10 years of warranty for the mattress and 5 years of warranty for the electronics underneath. As of now, the mattress cannot be purchased from third party retailers, so you are recommended to check out the company's website if you're looking to get this product. The website doesn't provide details on the pricing of this mattress.
12) Purple Mattress
This is perhaps the only mattress on this list that doesn't have any electronic features on board. No, there's no smartphone app or sleep tracking here, but it's one of the highly rated mattresses that provide superior comfort compared to standard memory foam mattresses. Thanks to its open grid design, there's enough room for airflow, making this a breathable mattress. Further, motion isolation features make sure the bed doesn't move even if your partner on the other end is constantly moving.
As you would expect, the mattress is also capable of dynamically adapting to your body's shape, thus relieving key pressure points in your body. For those still on the fence, the makers of Purple Mattress even offer a 100 night free trial for the product. This, on top of the 10 year manufacturer warranty speaks volumes about the quality of this product. The company offers free shipping throughout the U.S. (barring HI and AK) with free old mattress removal on request.
This is a significantly upgraded version of the previous Purple Mattress, so if you've heard of the company before, expect this mattress to sweep you off your feet. The only downside to a mattress like this is that it may be slightly uncomfortable for tall or bulky people as your movement could be impacted by the cushioning. The Purple Mattress is available in multiple variants and pricing ranges.
13) Sleep Number C2
Well, we're saving the best for last, and this happens to be the second mattress by Sleep Number on this list. Known as the c2 smart bed with Flexfit 2, this offering by Sleep Number provides comprehensive customization options for the customers along with the ability to lift up both ends of the bed to watch TV, read books or simply feel zero gravity.
Naturally, you also get access to comprehensive sleep metrics courtesy of the Sleep IQ app on the Google Play Store. This app also helps you control the bed to some extent, although the company also sells a remote for the bed to control it without a connected smart device.
As is the norm in the smart mattress industry, Sleep Number offers a generous 100 night free trial of the mattress. If you purchase the mattress directly through the company's site, you can also have some individual add-ons that protect your mattress from any stain for a certain period of time.
As far as the pricing is concerned, customers will have to shell outa decent amount for the Flexfit 2 model, which is one of the most popular in the company's lineup. The company doesn't offer any color options for the c2 mattresses, however, so you are going to stick with the gold/copper color variant here.
* If you buy through links on our site, we may earn an affiliate commission. For more details, please visit our Privacy policy page.