Shooting games are all the rage right now, but many for PC, other consoles, and apps require internet connection to get the best experience. If you're tired of mediocre offline shooter games and are looking for some real action, then look no further. Today we're sharing our top 10 picks for some pretty awesome shooter games that will allow you to play offline. Some are more cartoon and story focused, while others more closely resemble classic favorites like Call of Duty. However you like to play, these are worth checking out.

Cover Fire
Cover Fire is an extremely immersive shooting game app that gives you the ability to fight against the bad guys and destroy enemy camps. Throughout the game, you're going to build a special forces squad with teammates who have different skills, including hacking. As you progress, you'll also have the opportunity to unlock special characters (and apparently inflatable dinosaurs).
In this game, you'll be able to not only take down the bad guys, but also save the good ones. You're going to do away with terrorists and evil of all kind so that others can live free. Upgrade your skills and equipment to be even more effective, and eventually save the world.
Download it now: Google Play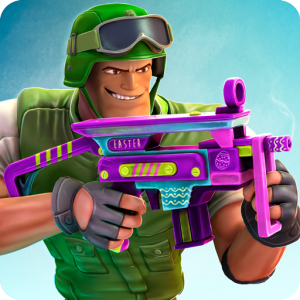 Respawnables
This is a really fun game and definitely less hard-core than the last. It's cartoon-like graphics add to that, as well as the epic storyline. There's both offline and online stories to play by, and your options are really endless. Respawnables has enough content to keep you coming back to it again and again.
In the offline missions, there's more than 185 tasks and quests, including a whole host of different shooters to choose from. This is a great way to practice and hone your skills for online tournaments or 1-v-1 challenges later with Facebook friends or other players from around the globe.
Download it now: Google Play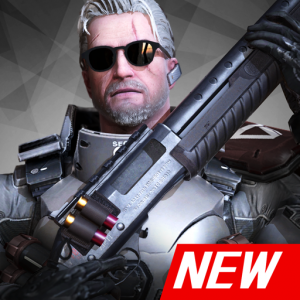 Gun War
If you're looking for a shooter game that's easy to get started on, without a bunch of hard-to-understand instructions, Gun War may be just the one for you. In Gun War, you'll have well over 100 different shooter tasks to complete, and more than 6 special missions. While it's easy to play, the content itself is really expansive with more than 50 maps and scenes, and plenty of weapons and equipment to earn and choose from.
If you do want to play online, you can fight to the top of the championship leaderboards and compete against your friends. And, the neat thing is, none of the ways to play are the same. Each enemy and boss is completely different, so you'll be thrown a new curveball all the time.
Download it now: Google Play

Major Mayhem
Major Mayhem is another game with fun, cartoon-like graphics. Your goal in this 3D game is to save your girlfriend who was kidnapped and is currently in the clutches of the enemy. There's 45 action-packed levels, 100 achievements, and a ton of awesome weapons like quadzookas and miniguns.
In Major Mayhem, you'll play in three different challenging places: the Desert, Tropics, and Metropolis. There's also 4 different game modes so that you can practice and ensure that your girlfriend will be saved most efficiently and without recourse on the entire world. If you think you have what it takes, be sure to download Major Mayhem today.
Download it now: Google Play

Swamp Attack
In Swamp Attack, you've got to defend your home and livelihood from the zombie critters that have mutated from your swamp. It's up to you to save your land from the evil animals that are dead set on taking over all that you own.
While the plot to this game is simple, the content is plenty, with over 300 different single player missions. You're never going to grow bored of defending your land with all of that variety, including 8 episodes and special missions. There's also a ton of awesome ways to defend your home, whether that be a classic shotgun or an atomic bomb. On top of that, there's 35 different species of evil critters, and they all have a different strategy to try and take you down. Will you be able to prevail and save your land?
Download it now: Google Play

Dead Trigger 2
Looking for a next level shooting game? Then Dead Trigger 2 might be right up your alley. The core idea of the game is to take the fight to the zombie hordes invading your city. You go through and kill all of these zombies, separating their limbs and letting blood spray all over the place. It's violent, but this shooting game offerings you an amazing amount of different weapons available, allowing you to destroy zombies in different ways. With over 33 different environments available, and hundreds more combat scenarios, you'll having fun mowing down all sorts of zombies.
Download it now: Google Play

Elite Killer: SWAT
Want to see what SWAT life is all about? Then Elite Killer: SWAT might be right up your alley. Games and movies tend to dramatize it extremely, so you won't be able to here, but Elite Killer: SWAT does give you a police-themed experience in this thrilling adventure game. You'll play as a SWAT team member, traveling all around the globe eradicating it from evil with your choice of weapons.
Download it now: Google Play
The Walking Dead
You've no doubt heard of Telltale Games' The Walking Dead. If you're looking for an adventure and shooting game cross, this is without a doubt one of the most best games on the market right now. You get up close and personal with zombies, seeing every little detail of them. In the game, you can of course, kill them, and as you know in The Walking Dead, you almost always have to go for the head, which is a fairly gruesome sight.
Download it now: Google Play

Into The Dead 2
Looking for a shooting game where you can take the fight to the undead? Maybe something with a little more mindless shooting than Dead Trigger 2? Then Into The Dead 2 will be right up your alley. The premise is that — naturally — a zombie apocalypse is afoot, and you'll have to fight through it in order to save your family. You'll battle through endless amounts of zombies with exotic super weapons.
Download it now: Google Play
1941: Frozen Front
And finally, we're taking a look at 1941: Frozen Front. If you're looking for a shooting game, but with a strategy style, 1941: Frozen Front will keep you occupied for weeks to come. You can choose to play as the Germans, taking the fight to Russia, or you can play the Russians and defend against invading Nazi forces. You'll be able to create supply lines, bases, raise up an army and create calculated moves to win the war, on whichever side you choose. Download it today at the link below.
Download it now: Google Play
Verdict
Whether you enjoy the cartoon-oriented shooter games or the more hardcore military-esque kind, there's something here for everyone and we hope you check them out. You really can't go wrong defending the entire free world, your humble home, or saving your girlfriend from the evil clutches of the enemy.
Have you tried any of these? Which was your favorite? Let us know it in the comments section.