There are a lot of great Xbox sports games that you can play now on your Xbox Series X or Xbox Series X. There's a lot of sports game titles available to choose from ranging from basketball, football, hockey, soccer, American football and much more. You will be able to build your own dream team, create an entire basketball universe, or make new friends in online multiplayer mode.
* If you buy through links on our site, we may earn an affiliate commission. For more details, please visit our Privacy policy page.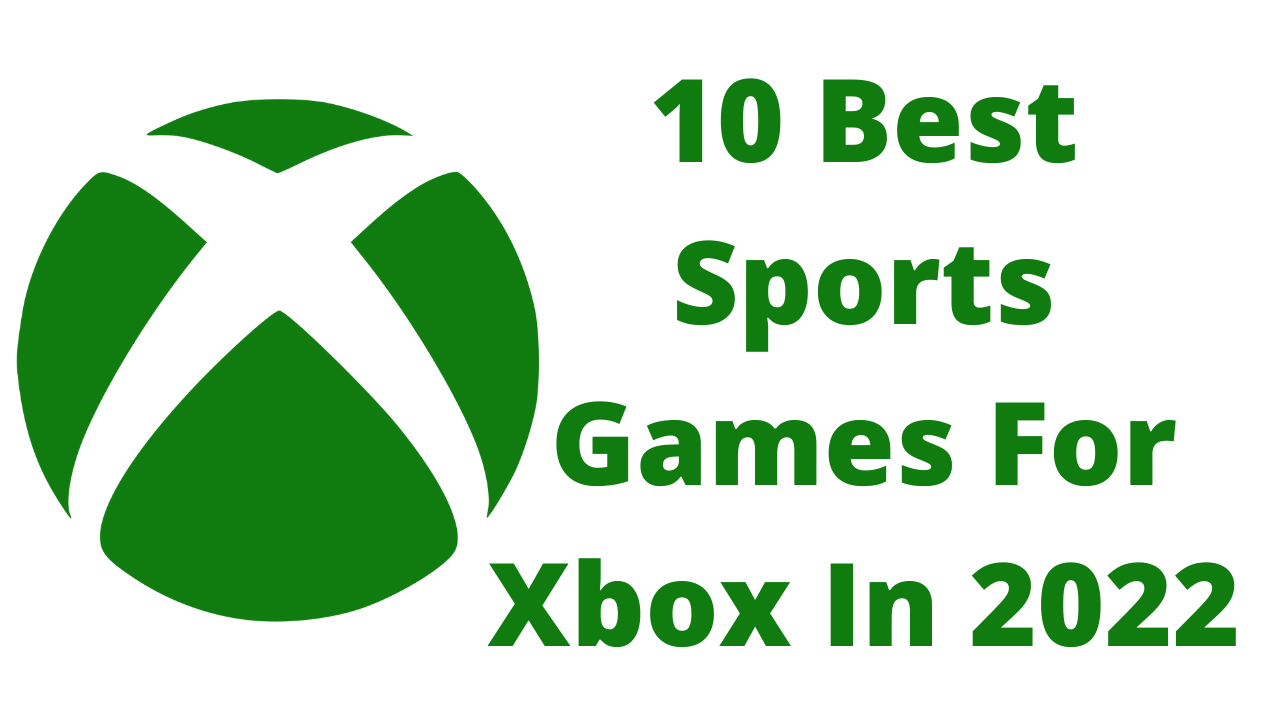 Best Sports Games For Xbox
Playing sports games is highly recommended on the new Xbox Series X console as it allows you to enjoy the gameplay in 4K resolution at up to 120 FPS. If you have a 50 inch 4K TV that has HDMI 2.1 support then you will enjoy a higher frame rate at 4K resolution while ranking up in career mode in your favorite sports games.
You can subscribe to the Xbox Game Pass service to gain access to hundreds of gaming titles, which includes sports titles or you can simply purchase the physical disc.
Here are some of the best sports games that you can play on your Xbox.
NBA 2K22 is the latest basketball videogame developed and published by 2K Games. Not only will you be able to play in the NBA but also the WNBA environments. You can build you own ultimate team in the MyTEAM mode where you can fill the roster with yesterday's legends and today's stars of the sports. You can even embark on your own pro journey as you rise up in the ranks of the NBA and become famous.
This title now feels more real than the previous titles as it now has several new features that make the action more realistic. You will notice the stamina loss your player will have when sprinting or dribbling the ball. Aside form the gameplay you will also enjoy better visuals as the graphics has been improved and is noticeable if you are going to play it on the Xbox Series X.
Why you should get NBA 2k22
The game puts the basketball universe in your hands.
You can play against real NBA teams and players.
You can build your own personalized team.
You can flex your management skills as a powerful Executive in MyGM and MyLEAGUE.
Can be played in single player mode or online PvP.
Buy it now on Amazon
---
One of the best golf sports games that you can play on your Xbox is the PGA Tour 2K21. It provides a more authentic golfing experience and even offers real life courses. It's physics mechanics are actually quite good with the game leaning more on the simulation side rather than the arcade side.
If this is your first time playing with a golf club then you can set the difficulty to match your skill level. If you are a beginner then just set the swing timing off or if you are a pro and want to compete in online matches then you will have to increase the difficulty level.
You can play the game in career mode and aim to become the FedExCup champion, or play against the top pros in the league.
The graphics of the game is excellent with official courses readily accessible and looking quite real. The game also includes a course designer mode where you can design your own course.
Why you should get PGA Tour 2K21
Enjoy the new PGA TOUR CAREER MODE
Play against Justin Thomas and 11 top pros on stunning, real-life courses.
Create and personalize your own character in MyPLAYER.
Design your ultimate course with 1,000s of custom options.
Rookies can take advantage of real-time tutorials, tips and shot suggestions.
Master your game with Pro Vision, Distance Control, Putt Preview, and other innovations.
Buy it now on Amazon
---
Madden NFL 22 is an American football videogame that offers several new features when compared to its predecessor. In this latest release you can now enjoy a homefield advantage which can be viewed form the momentum meter. If you score or make a good play then the momentum will lean toward you team which can unlock several advantages such as stamina. You can now play face of the franchise on defense. Previously, you can only play this on offense. In Career mode you can also hire offensive and defensive coordinators. There's also a new campaign mode in The Yard with unique stages, challenges, and bonuses. The Madden Ultimate Team has been updated to handle team chemistry better.
Why you should get Madden NFL 22
Can be played in single player or online PvP.
All-new features include staff management, an enhanced seasons engine, and weekly strategy.
Share avatar progress and player class between Face of The Franchise and The Yard.
Adjust Superstar X-Factors at halftime.
Buy it Madden NFL 22 now on Amazon
---
Hunting Simulator 2 allows you to enjoy the plains of Colorado, desert of Texas, and the forests of Eastern Europe as you partner with your dog in hunting down various animal species. You can choose from three different dog breeds, the Labrador Retriever, German Shorthaired Pointer, or the Beagle to help you track your prey. There are around 33 different animal species which you can hunt with over 160 different weapons to choose from.
This hunting simulation offers a challenge to anyone as the prey has a realistic behavior and advanced AI. You will need to use your hinting skills and knowledge to take down animals as they can usually hear you approach.
Why you should get Hunting Simulator 2
It's single player game that's relaxing to play.
Uses realistic mechanics.
Hunt in some of the most stunning environments in the world.
Buy it now on Amazon
---
Tony Hawk's Pro Skater 1+2 is a skateboarding video game that has been remastered for the Xbox. It is played in the third person view with gameplay oriented towards classic arcade games. The goals is to usually get the highest points or to collect certain items. While the game does not have a story mode there is a single player campaign which will bring you to different locations and complete a challenge. You can even free skate every level by ignoring the objectives and collectibles and just simply skate for fun. This game has several editions available ranging from the Standard edition, Collector's Edition, Cross-Gen Deluxe Bundle, and the Digital Deluxe Edition.
Why you should get Tony Hawk's Pro Skater 1+2
You can skate as the legendary Tony hawk and the other original Pro roster as well as new pros.
Perform trick combos with the iconic handling of the Tony hawk's Pro skater series
Play all the original game modes and go head-to-head with local 2-player modes
Buy it now on Amazon
---
WWE 2K Battlegrounds allows you to control your favorite wrestlers such as Stone Cold Steve Austin or The Rock and battle it on on several outlandish environments around the world. You can definitely raise some hell or lay the smack down in your favorite match types as your favorite characters can perform exaggerated maneuvers and have special abilities.
Why you should get WWE 2K Battlegrounds
Choose from over 70 WWE Superstars and Legends each with their own unique abilities and skills.
Play the new story mode nd help lead the charge to find the next WWE Superstars.
Able to customize and create your own characters and battlegrounds.
Various match types including Steel Cage, Royal Rumble, Fatal Four Way and the all-new Battlegrounds Challenge.
Compete in online tournament or play in local multiplayer mode.
Buy it now on Amazon
---
Do you fancy becoming one of the greatest boxing champions in the world but don't really have the chance or time for it? You can live your fantasy by playing Big Rumble Boxing: Creed Champions as you can step into the ring and show off your boxing skills. You can take down several world class opponents in different locations or challenge your friends in a player versus player match. This game is designed for the Xbox One however that's not stopping you from enjoying it on your latest Xbox console.
Why you should get Big Rumble Boxing: Creed Champions
Intuitive, pick-up-and-play controls
Robust boxing mechanics
Dynamic boxing styles and combos
Fighter-specific super finishers for cinematic knockouts
Legendary tales of 20 iconic and unique characters
Unlockable characters and outfits
Classic Creed and Rocky training moments in thematic mini games
13 Classic and original boxing arenas
Various champs to choose from such as Adonis Creed, Rocky Balboa, Apollo Creed, Clubber Lang, Ivan Drago, Viktor Drago, and much more.
Buy it now on Amazon
---
FIFA 22 is the latest football game brought to you by EA which is the most realistic way to play the game. The game is available in the Standard Edition as well as the Ultimate Edition. The latter comes with 4600 FIFA Points as well as Dual Entitlement. This is one of the best Xbox One sports games that you can play as it has authentic teams as well as real players.
Why you should get FIFA 22
Career Mode – You can live out your dreams as both a manager and a player in FIFA 22. AS a manager you will be able to create a club in FIFA, design your kits, style your stadium, and compete with the elite or rise up from the lower divisions. As a player you can test your skills and rise up to the rank of the pros.
VOLTA FOOTBALL – Play street football as you build a player, pick your gear, and express your style on the streets alone or with your squad in football playgrounds all around the world.
FIFA Ultimate Team – Create your own FIFA Ultimate Team. Build your dream squad from thousands of players from across the world of football.
Play in some of the best leagues such as the iconic UEFA Champions League, UEFA Europa League, brand new UEFA Europa Conference League, CONMEBOL Libertadores, CONMEBOL Sudamericana, Premier League, Bundesliga, La Liga Santander, and many more!
Buy it now on Amazon
---
WWE 2K22 is the latest professional wrestling video game released by 2K Sports. This game is a vast improvement over the lackluster performance of its predecessor. You will immediately notice that this is a better game as it handles faster and has better graphics.
2k Showcase is back and this time around you get to play the biggest moments of Rey Mysterio's career.
The MyGM mode allows you to call the shots as a WWE general manager. You can draft your ultimate roster of WWE Superstars and Legends then compete against rival GM's to build the biggest brand in the WWE Universe.
You can go on two MyRISE adventures as you choose the journey for your male and female character.
There are several versions of this game available such as Standard, Deluxe, Cross-Gen Digital Bundle.
Why you should get WWE 2K22
You can play the game in single player mode, online player versus player, or online coop.
You can build you very own wrestler and step into the ring or choose form the various WWE superstars and legends.
Redesigned to have realistic graphics and a smooth as well as fast controls.
Buy it now on Amazon
---
NHL 22 is an ice hockey simulation game published by EA Sports that uses the new Frostbite engine to deliver stunning visuals. If you love playing hockey then you shouldn't miss out on this title as it allows you to play the different teams or live your dream hockey career and become a pro.
Why you should get NHL 22
Unlock and choose all-new synergies to plan your team building and maximize how your HUT squad performs on the ice.
Quickly access game modes, player customization, clubs, rewards, challenges, and stats in a completely new and redesigned hub.
New World of Chel Social Widget allowing you to easily invite friends, hang out, and enjoy hockey your own way.
Live your dream hockey career in new ways with fresh multi-season storylines and challenges.
Build a new team from the ground up, and you can choose either the Seattle Kraken or add a 33rd team to the league and draft with them.
Buy it now on Amazon
---
* If you buy through links on our site, we may earn an affiliate commission. For more details, please visit our Privacy policy page.