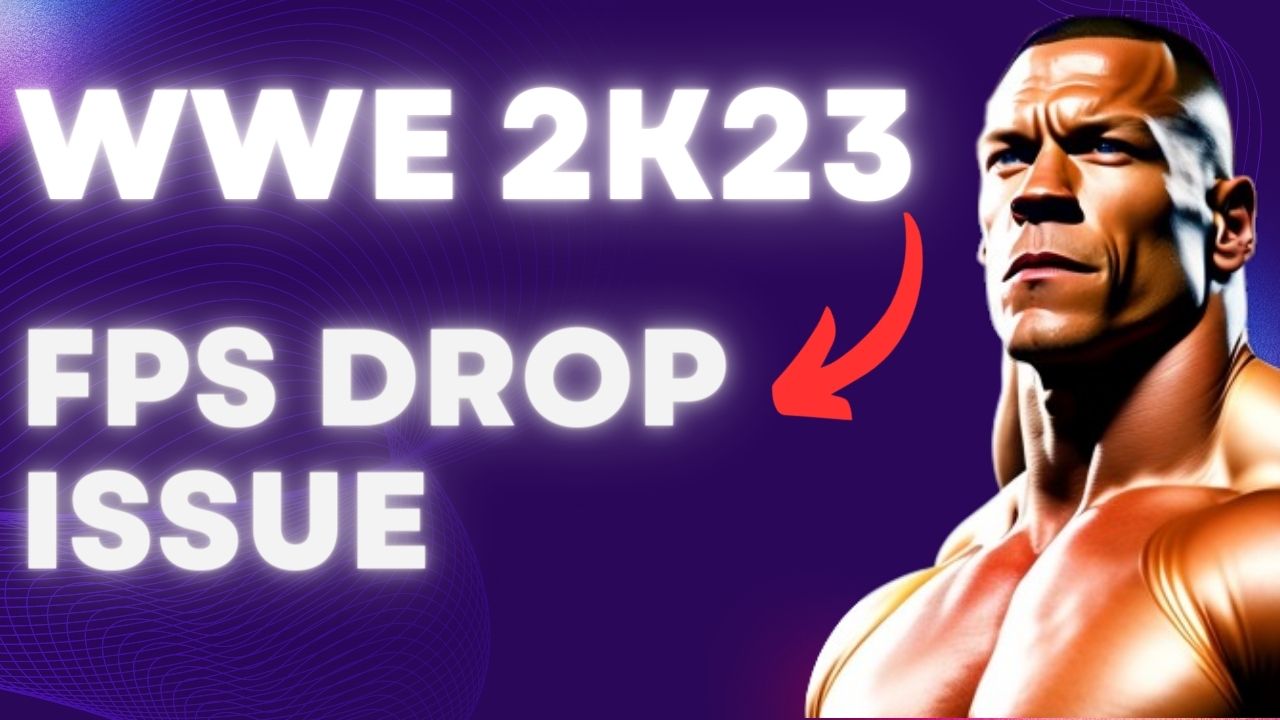 There are several factors that may cause FPS drops in WWE 2K23, such as not meeting hardware requirements, graphic or video settings problems, or game file issues. To fix this problem, you will need to try several troubleshooting steps.
WWE 2K23 is a video game that boasts impressive graphics and an extensive lineup of WWE Superstars and Legends. It features the highly anticipated 2K Showcase, which takes players on an interactive journey through John Cena's 20-year career. Players can assume the roles of Cena's most notable opponents and strive to defeat the legendary wrestler. Additionally, the game introduces the exciting WarGames mode, which allows multiplayer battles with 3v3 and 4v4 teams in two enclosed rings with a double-steel cage. In the MyGM mode, players take charge of a weekly show and compete against rival general managers for brand supremacy, complete with multiple seasons, extended match cards, and new match styles for up to four players. The MyFACTION mode allows players to collect and upgrade cards of WWE Superstars and Legends, build their ultimate faction, and compete online for global domination. With the new storylines, The Lock and The Legacy, players can shape their careers as WWE Superstars by making decisions that affect their future. Finally, the WWE Universe Mode gives players complete control over WWE, including Superstar rosters, feuds, champions, and weekly shows.
Fixing WWE 2K23 Frame Rate Drops and Performance Issues
Encountering fps drop is a common issue that may occur while playing WWE 2K23. There are various factors that could lead to a drop in FPS, such as your computer specifications, graphics settings, and drivers. It's recommended to check these factors to identify any issues that could be affecting your gameplay.
Here's how to fix WWE 2K23 performance issues and fps drops issue.
Fix #1 Check Game's System Requirements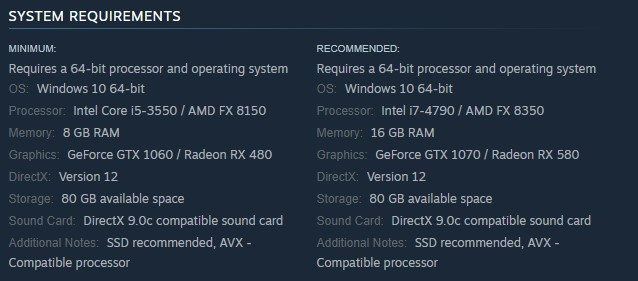 To begin resolving the low frame rate issue in WWE 2K23, the first step is to verify that your computer meets the hardware system requirements for the game. It's important to have at least the minimum requirements to play the game smoothly without any FPS drops.
Minimum Requirements
Operating System (OS): Windows 10 64-bit
Processor: Intel Core i5-3550 / AMD FX 8150
Memory: 8 GB RAM
Graphics: GeForce GTX 1060 / Radeon RX 480
DirectX: Version 12
Storage: 80 GB available space
Sound Card: DirectX 9.0c compatible sound card
Additional Notes: SSD recommended, AVX – Compatible processor
Recommended System Requirements
Operating System (OS): Windows 10 64-bit
Processor: Intel i7-4790 / AMD FX 8350
Memory: 16 GB RAM
Graphics: GeForce GTX 1070 / Radeon RX 580
DirectX: Version 12
Storage: 80 GB available space
Sound Card: DirectX 9.0c compatible sound card
Additional Notes: SSD recommended, AVX – Compatible processor
Fix #2 Update GPU Driver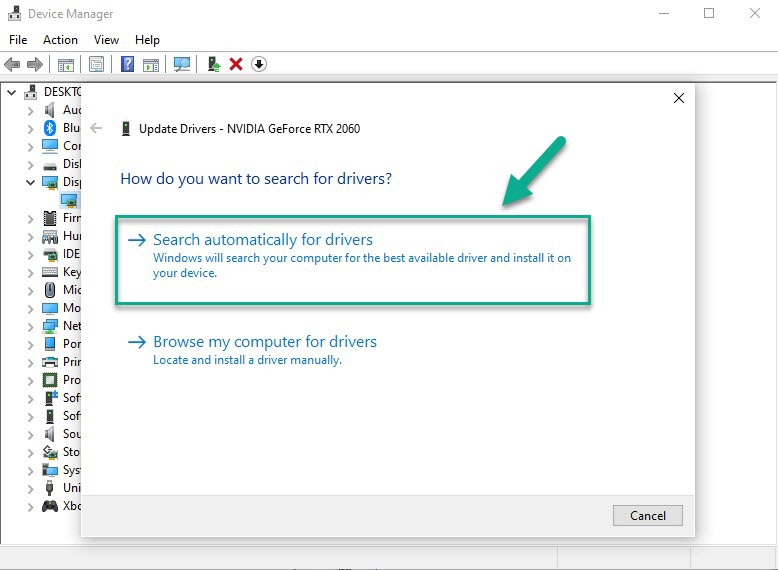 One of the causes of FPS drops and performance issues in WWE 2K23 could be an outdated graphics driver. It's essential to ensure that your computer's GPU driver is up to date, as this will include numerous updates from the video card manufacturer that optimize your gameplay.
Updating Graphics Card Driver
Step 1: Simply type Device Manager in the search bar on your desktop and then click the Device Manager icon that appears in the results.
Step 2: Click the Display adapters icon.
Step 3: Right-click the dedicated graphics card you are using to play the game and then select Update driver.
Step 4: Choose Search automatically download drivers to update drivers to the latest version.
Fix #3 Close Unnecessary Tasks in Task Manager
It's important to ensure that no other programs are running while playing WWE 2K23 as these applications can consume system resources, leaving less CPU, GPU, and RAM for the game to use. Occasionally, a background application may interfere with the game, leading to FPS drops.
Closing Background Programs
Step 1: Right click on the Start button. This can be found on the left pane of the screen.
Step 2: Select Task Manager.
Step 3: On the pop up window, Click processes tab. This will allow you to show the running program.
Step 4: Right-click on the running program then select end task.
Fix #4 Adjust WWE 2k23 Graphics Settings
If you're experiencing frame drops and slow movement while playing WWE 2K23, it may be helpful to lower the graphics settings. This is because your graphics card may not be capable of handling the game at higher settings, resulting in reduced FPS. Although the video quality of the game will be lowered, reducing the graphics settings can help improve FPS.
Adjusting Graphics Settings
Step 1: Launch the game and go to the "Options" or "Settings" menu.
Step 2: Look for the "Graphics" or "Video" section.
Step 3: Locate the graphics settings options, such as resolution, texture quality, anti-aliasing, ray tracing reflections, graphical fidelity, video scaling, and screen resolution.
Step 4: Adjust the settings to a lower level to reduce the game's resource requirements or disable ray tracing.
Step 5: Experiment with different settings to find the optimal balance between performance and visual quality.
Step 6: Save the changes and restart the game.
Nvidia Users Program settings
Right-click on desktop
Click Nvidia control panel
Click Manage 3D Settings
Click Program Settings
Find the Game.
Monitor Tech: G-Sync (If available)
Maximum Pre-rendered frames: 2
Threaded optimization: On
Power Management: Maximum Performance
Texture Filtering – Quality: Performance
Low Latency Mode: Low
AMD Users Program settings
Open the AMD Software.
Anti-Aliasing Mode: Use Application settings
Anti-aliasing Method: Multisampling
Morphological Filtering: Off
Anisotropic Filtering Mode: Use application settings
Texture Filtering Quality: Performance
Surface Format Optimization: On
Wait for V-sync: Off
OpenGL Triple Buffering: Off
Shader Cache: AMD optimized
Tessellation Mode: Override application settings
Maximum Tessellation Level: Off
GPU Workload: Graphic
Chill: Off
Frame Rate Target Control: Disabled
Fix #5 High Performance Mode
Checking the power options settings on your computer is crucial while playing WWE 2K23 on PC. It's important to ensure that your system is set to high power performance or balanced mode. If the system is not set to high power performance mode, it may affect the game's performance and cause FPS drops. To ensure optimal results, it's recommended to set your computer to high power performance mode in the power options settings. This will ensure that the system is running at its maximum capacity, providing the best possible FPS while playing the game.
Setting High Performance Mode
Step 1: On the search bar on your desktop, type Power & Sleep Settings and click it from the search result.
Step 2: Click Additional Power Setting.
Step 3: Choose High Performance.
Fix #6 Check Verify Integrity of Game Files in the Local Files Tab
If you're experiencing FPS drops in WWE 2K23, it could be due to corrupted or missing game file. To fix this issue, you can use the Steam client to verify the integrity of the game file. This process will replace the corrupted or missing files by downloading new files from the servers.
Verifying Game Files
Step 1: Open Steam client.
Step 2: In your Steam launcher, click Library.
Step 3: Find the game then right-click the game in your Library and select Properties.
Step 4: Choose the Local Files tab and click Verify integrity of game files.