Meet Kayla Itsines: A 31-Year-Old Australian Personal Trainer, Author, and Entrepreneur.
Kayla Itsines was born in Adelaide, South Australia in 1991. She was always interested in fitness, playing basketball and other sports as a child.
After graduating from the Australian Institute of Fitness at 18, she found work at a women's gym in Adelaide.
She noticed that most women wanted to achieve the same goals: smaller inner thighs, flatter abdomens, and more toned arms. She began training her sister's friends and started using Instagram to organize their progress photos.
Kayla Itsines: 5 Fast Facts
Kayla Itsines is the creator of a series of fitness ebooks and a meal-planning and workout app, Sweat.
She started her entrepreneurship journey being active on Instagram, now she has almost 16M followers. She was named one of the 30 most influential people on the Internet by Time magazine.
Her program is based on 28-minute high-intensity workouts to be completed three times per week.
Kayla Itsines and Tobi Pearce sold their popular workout platform, Sweat, to fitness-tech company iFit for a reported AU$400 million back in July 2021.
The Sweat app was downloaded more than 30 million times and made nearly AU$100 million in 2020 alone, with about half the revenue coming from the US.
Starting Fitness Company With Her Ex
Kayla Itsines was always an ambitious entrepreneur. Kayla and her business partner and former fiancé, Tobi Pearce started SWEAT in 2014. Together, they had the goal of creating a fitness app that would revolutionize the way people worked out.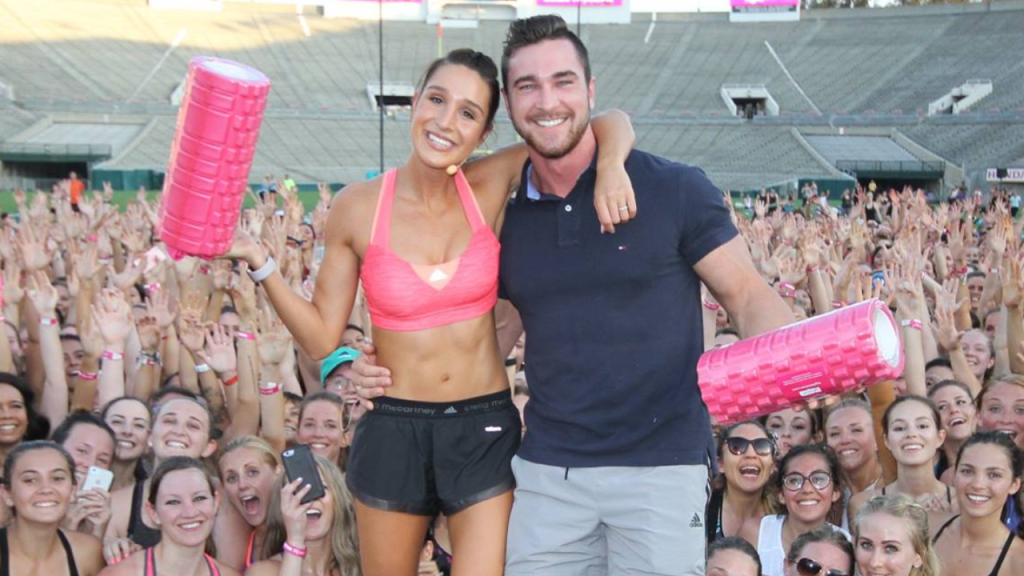 After years of hard work, dedication, and determination, Kayla was able to turn her vision into a reality.
A Tale of Sweat and Success
The journey to success was not easy for Kayla. She faced many obstacles and challenges along the way.
She had to make difficult decisions and take risks in order to make her dream a reality. She had to put in long hours and work hard to make sure SWEAT was successful. She also had to make sure she was able to keep up with the ever-changing technology landscape.
In 2013, Kayla and Tobi founded the Bikini Body Training Company.
They published the first two Bikini Body Guides, with Kayla's workouts in one volume and nutrition information in the other.
The guides became popular and were downloaded over one million times by October. Kayla's program was based on 28-minute high-intensity workouts to be completed three times per week. The meal plans provided 1,600 to 1,800 calories per day.
In 2015, Kayla embarked on a world tour, leading free group fitness classes in Australia's capital cities, New York City, Los Angeles, and London. Apple featured Kayla in an advertisement for the Apple Watch that same year.
In November 2016, Pan Macmillan published Kayla's first print book, The Bikini Body 28-Day Eating and Lifestyle Guide.
In August 2017, she announced the upcoming publication of her second book, The Bikini Body Motivation & Habits Guide.
A Big Payday
The app charges $19.99 for a monthly subscription and generated about AU$100M in revenue in 2020.
Kayla was able to make a deal with the US software company iFIT to sell SWEAT for an incredible AU$400 million in 2021. About AU$120M in the deal was upfront cash, and remaining amount in shares and earnouts.
It was a perfectly timed exit. The fitness app likely had a boost in subscribers during COVID lockdowns in 2020. A year since the sale, the company reported AU$85M in losses.
Kayla Itsines' Networth
Kayla credits her social media success to keeping the focus on her followers and their fitness journeys rather than on herself and her journey.
Her large following allows her to charge up to $150,000 per Instagram post.
After selling SWEAT for AU$400M, which she reportedly owned 50% of the business. The sale netted Kayla a whopping AU$200M.
According to The Australian Financial Review, she now has a net worth of AU$165M. Due to the recent downturn in the economy, and the losses suffered by the company over the past year, the value of her shares likely took a hit.
Kayla Itsines' story is an inspiring one. She was able to take a dream and turn it into reality. She faced many obstacles and challenges along the way, but she was able to persevere and make her dream a reality. Her story is a testament to the power of hard work, dedication, and determination.