Do you own a Microsoft Surface Pro 9? If so, then this post is for you. If you have an issue with your Microsoft Surface Pro 9, you may consider doing a hard reset or factory reset to fix it.
* If you buy through links on our site, we may earn an affiliate commission. For more details, please visit our Privacy policy page.
Hey Guys! Welcome to The Droid Guy! Today we are going to teach your how to factory reset Surface 9 pro.
Microsoft's most recent 2-in-1 detachable tablet computer, the Surface Pro 9, replaces the Surface Pro 8 and Surface Pro X and combines both names. The device runs the new Windows 11 operating system with the 2022 H2 upgrade in addition to 12th generation Intel Core processors (Microsoft SQ3/Qualcomm Snapdragon CPUs for 5G variants).
Now, there are some instances that you will encounter issues with your Surface Pro 9, and you may need to restart or perform a hard reset.
Surface Pro 9 issues affect both new and long-time users of these products. If you are interested to learn how to factory reset Surface 9 Pro, then scroll down and continue reading.
Surface Pro 9 Hard Reset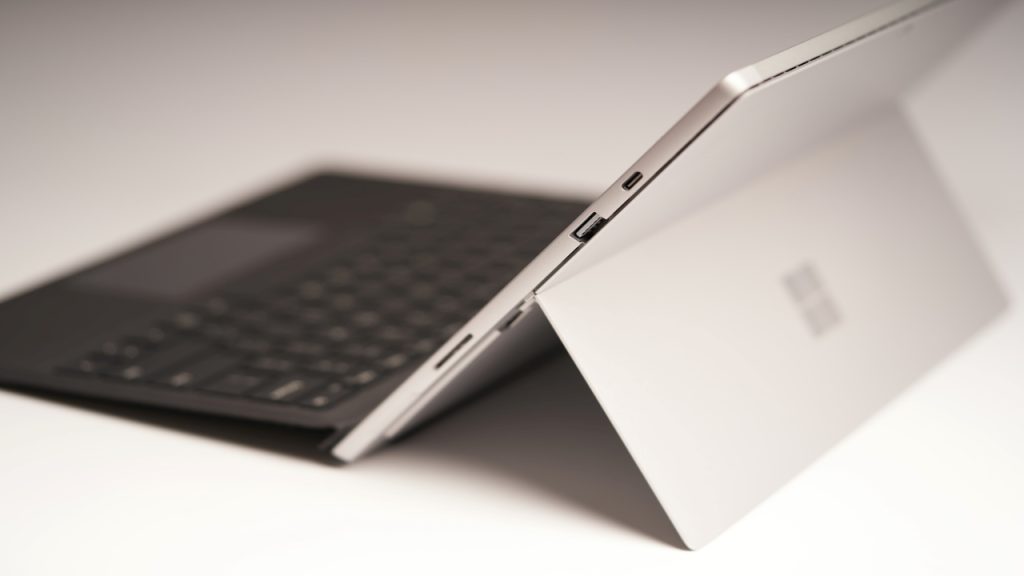 You might need to restore or reset your Surface Pro 9 if you've done the most basic troubleshooting steps.
Surface Pro 9 Not Functioning Properly
If your Surface Pro 9 isn't functioning properly and you haven't installed anything new in a while, reset your Surface.
You have the option of keeping or deleting your files before you reset your device and install Windows. Before doing a reset, try getting your password back if you're having trouble signing into Windows.
Here's How To Hard Reset Your Surface Pro 9:
The first thing you need to do is to press the power icon of your Microsoft Surface pro to turn it on.
Then, tap on the Ease of Access button, and select On-screen keyboard from the Menu.
Next, launch the Power menu, and while holding down Shift, press Restart.
After some time, you'll be able to see a few choices; in this event, you select Troubleshoot.
And then, plug your device into the charger and select Reset this pc.
Then, select the Remove everything option.
Factory Reset Surface Pro Without A Password
Through The Windows Sign In Screen
Open the Surface Pro tablet. Hold down the Shift key on your keyboard while clicking the Power symbol in the lower right corner of the Windows login screen, then select Restart.If your Surface device lacks a physical keyboard, you can use the On-Screen Keyboard utility by pressing the SHIFT key while tapping the Ease of Access icon at the login screen.
Wait for a few seconds for your Surface Pro to restart. Then, select Troubleshoot on the following screen.
Select the Reset your PC button on the following screen. You can decide whether to factory reset your Surface Pro while maintaining all of your apps and content.
Through Surface Pro USB Recovery Drive
With the help of the Surface Pro recovery image, you may reset the device to factory settings. You only require a USB flash drive with at least 8GB of storage capacity.
Visit the Surface support website to obtain the recovery image for the Surface Pro. Then, choose the Surface device and enter the serial number of your Surface pro. Next, hit continue button. The serial number was initially printed on the tablet's back. Additionally, it is contained in the UEFI firmware.
A ZIP file containing the recovery image is provided. It's crucial that you save it to your local computer rather than directly onto a USB drive.
Then, format your flash drive with FAT32. After formatting, extract the ZIP file's contents to the drive's root directory. Your USB drive ought to have files and directories like bootmgr, Boot, and EFI after extraction.
Shut down your Surface Pro 9, and then insert the recovery USB device. To start your tablet, simultaneously press and hold the Volume-Down (-) button and the Power button. Release the Volume-Down button when the Surface logo appears.
Surface will now boot into the recovery environment. Select your language and keyboard layout, and then select Troubleshoot, followed by Reset your PC, on the Choose an option screen.
To finish the factory reset process, follow the on screen instructions.
Check out some of the products below from Amazon.
Brand: Microsoft
Series: Surface Pro
Screen Size: 13 Inches
Color: Forest
CPU Model: I7-2640M
Ram Memory Installed Size: 16 GB
Operating System: Windows 11 Home
Card Description: Integrated
Graphics Coprocessor: Intel Iris Xe Graphics
CPU Speed: 4.7
This device has Up to 15.5hours of battery life. You also have the option to adjust the angle with its built-in Kickstand.
Developed using 12th generation Intel Core CPUs and the Intel Evo platform.
Thunderbolt 4 ports are ideal for local gaming and full desktop productivity.
Available in vibrant colors, now in new Sapphire and Forest,[ to mix and match with Surface Pro Signature Keyboard.
Accessories and the Surface Pro Signature Keyboard are sold separately and are not included.
If you are interested in this product, simply click on Amazon.
Brand: INFILAND
Compatible Devices: For Microsoft Surface Pro 9 (2022) 13-inch Tablet only
Special Feature: Kickstand
Color: 01-Mysterious Black
Material: Polycarbonate
The finest protection is provided by INFILAND Crystal clear Series Cases, which don't significantly increase bulk while maintaining the full flexibility of the Surface Pro keyboard. Take note that none of the previous Surface tablets will fit, and only the Microsoft Surface Pro 9 13″ 2022 Tablet will. It works with or without the Surface Pro Signature Keyboard and the Surface Slim Pen 2.
The INFILAND case uses German-imported Rohs materials and has passed rigorous MIL-STD-810H military standard drop tests. The back of the case is four times greater than the back of a typical clear case. No need to worry about back resistance from any hit. It safeguards the Surface Pro 9 tablet while also looking out for the environment and your health. Additionally, it displays the tablet's natural features and gives you the option to add your own stickers to the rear.
Enables the built-in Kickstand on the surface to be tilted at various angles for improved viewing or typing without taking off the case. Additionally, add a layer of protection to the built-in kickstand so you won't have to worry about it harming the surface.
The surface pro 9 case from INFILAND's Crystal clear Series is easier to put into a bag or backpack because to its ultra-thin design and TPU soft Frame and PC hard back construction. Additionally, the reinforced soft frame offers higher resistance to daily impact and enables the removal of the Surface Pro 9 tablet without worrying about chipped edges.
If you want to purchase this product, simply click on Amazon
That's it. I hope this simple guide has been able to help you one way or the other. Thanks for reading this post.
* If you buy through links on our site, we may earn an affiliate commission. For more details, please visit our Privacy policy page.