Choosing a headset with a reliable and clear microphone is crucial to ensure your voice comes across clearly during Skype calls. Similarly, headsets with noise-cancellation features can help block out background noise, making your conversations more focused and enjoyable. Additionally, consider the headset's overall design, fit, and comfort to avoid fatigue during long calls or extended use.
After considering these factors, I immersed myself in researching and testing various Skype headsets to bring you the top options that ensure uncompromised sound quality, comfort, and functionality for all of your communication needs.
* If you buy through links on our site, we may earn an affiliate commission. For more details, please visit our Privacy policy page.
I highly recommend the Plantronics Voyager 5200 UC for professionals seeking a reliable and comfortable headset for on-the-go communication.
Pros
Crystal clear audio quality
Comfortable and versatile design
Impressive roaming range
Cons
Shorter talk time battery life than advertised
Inconsistent charging experience
Durability concerns
I recently started using the Plantronics Voyager 5200 UC and found it to be an excellent single-ear headset for work calls and virtual meetings. The audio quality is impressive, offering clear sound with its triple-mic active Digital Signal Processing (DSP) and wind canceling feature. It is perfect for those needing to connect to a PC or Mac through USB-A, as well as mobile phone users.
The design of the Voyager 5200 UC is both comfortable and versatile, fitting snugly in my ear and easily switching between either ear. Its roaming range is generous, allowing me to move up to 98 feet (30 meters) away from my device without losing connectivity. This makes multitasking a breeze during long conference calls.
However, I have noticed a few drawbacks worth mentioning. Firstly, the talk time battery life is advertised as up to 7 hours, but I've only managed to get around 6 hours of use. This is still a decent amount of time for most workdays, but it's worth noting that it does fall short of the claim.
Furthermore, the charging experience has been inconsistent. I've stored the headset in its case for a few days and found the battery to be low upon returning. It can also be difficult to tell when the headset is fully charged, which leads to varying talk time experiences.
Lastly, there have been some durability concerns with the construction of the headset. Although I haven't experienced any issues with the headset myself, other users have reported problems with the support structure.
Despite these drawbacks, I believe the Plantronics Voyager 5200 UC remains a great headset for mobile and office professionals. Its superior audio quality, comfort, and roaming range make it an option worth considering.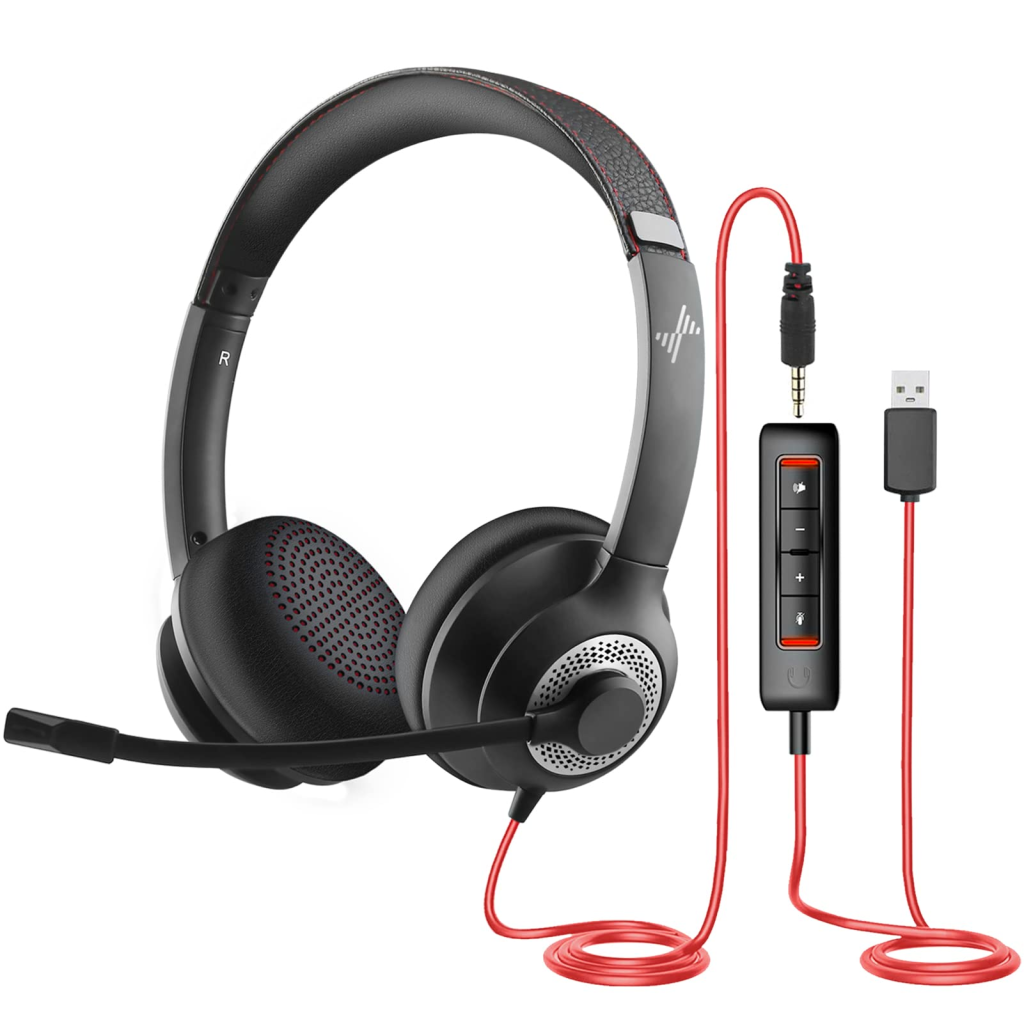 I found this EAGLEND headset to be an excellent choice for anyone in need of a comfortable, noise-canceling Skype headset.
Pros
Outstanding noise-canceling microphone
Comfortable for all head shapes
Enhanced sound performance with 40mm audio driver
Cons
May cause discomfort during extended use
Occasional static interference with the plug
Sensitive mute button
The EAGLEND USB Headset quickly became an essential companion for my Skype calls and online meetings. Its unidirectional boom microphone allows for clear communication without background noise disturbance, offering a more professional experience in all of my calls.
I found the headset remarkably comfortable to wear, even for prolonged periods of time. Its adjustable headband and soft protein memory foam earpads made it a delightful fit for my adult head, and I believe it would suit children's head shapes just as well. I also appreciated the environmental-friendly materials, as they kept my ears cool and sweat-free throughout the day.
Equipped with a 40mm audio driver and built-in audio sound card, the headset's sound performance greatly enriched my daily conversations. Whether I was speaking with coworkers or connecting with friends and family, this headset ensured a pleasant audio experience for both music and conversations.
The USB/3.5mm connection made the headset versatile and functional, offering compatibility with a wide range of devices. However, a slight drawback was the occasional static interference with the plug when moving. Additionally, I noticed the mute button on the controller was sensitive, so extra care is needed not to trigger it accidentally.
Despite these minor limitations, the EAGLEND USB Headset is an excellent all-around choice for Skype users, online courses, call centers, webinars, and more. I can confidently recommend it to anyone seeking an affordable and reliable headset solution for their daily communication needs.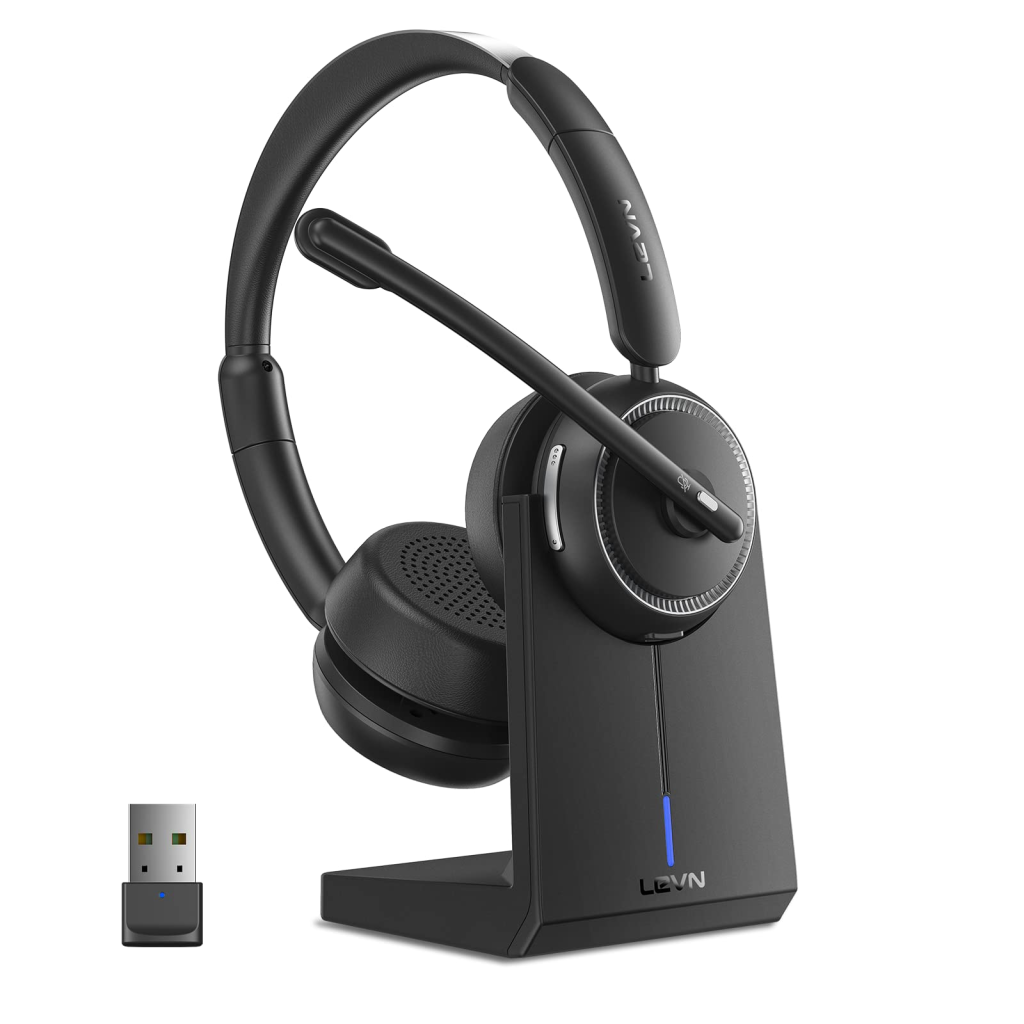 This headset offers an excellent combination of noise cancellation, comfort, and long battery life, making it a top choice for remote workers.
Pros
Advanced AI noise cancellation
Impressive 65-hour battery life with charging base
Versatile connectivity with Bluetooth V5.2 and 2.4G USB dongle
Cons
Microphone may not function with all devices
Background noise may still be audible during calls
Not suitable for individuals with larger heads
Having used the LEVN Wireless Headset LE-HS013 Superior recently, I found the AI noise cancellation feature to be quite impressive. It helped to eliminate most background noises, such as crying children or barking dogs, allowing my voice to be heard loud and clear during my calls. The mute button also provides convenient privacy control during meetings.
What I truly loved about this headset was the 65-hour battery life, which is made even more convenient by the inclusion of the charging base. Charging only once a week easily covers my 8-hour remote work days. Plus, the base has a slot for the USB dongle, so I never have to worry about losing it.
The Bluetooth V5.2 and 2.4G USB dongle ensure stable, fast connections whether working remotely or gaming. Speaking of gaming, the high-performance wireless headset ensures audio and video synchronization, providing a seamless and enjoyable gaming experience.
The headset quality extends to music listening, providing clear audio and immersive high and low tones. I found the lightweight and adjustable headband comfortable, even during extended periods of use. The 270° rotatable microphone is a bonus for left-handed users, and the headband's sling design works well for people with long hair.
However, there were a few drawbacks. The microphone was not compatible with all devices, and some background noise still managed to break through during calls. Also, the headset may not be ideal for individuals with larger heads, as it might feel too tight.
I highly recommend the LEVN Wireless Headset LE-HS013 Superior for remote workers, gamers, and music enthusiasts alike, as long as your device is compatible with it.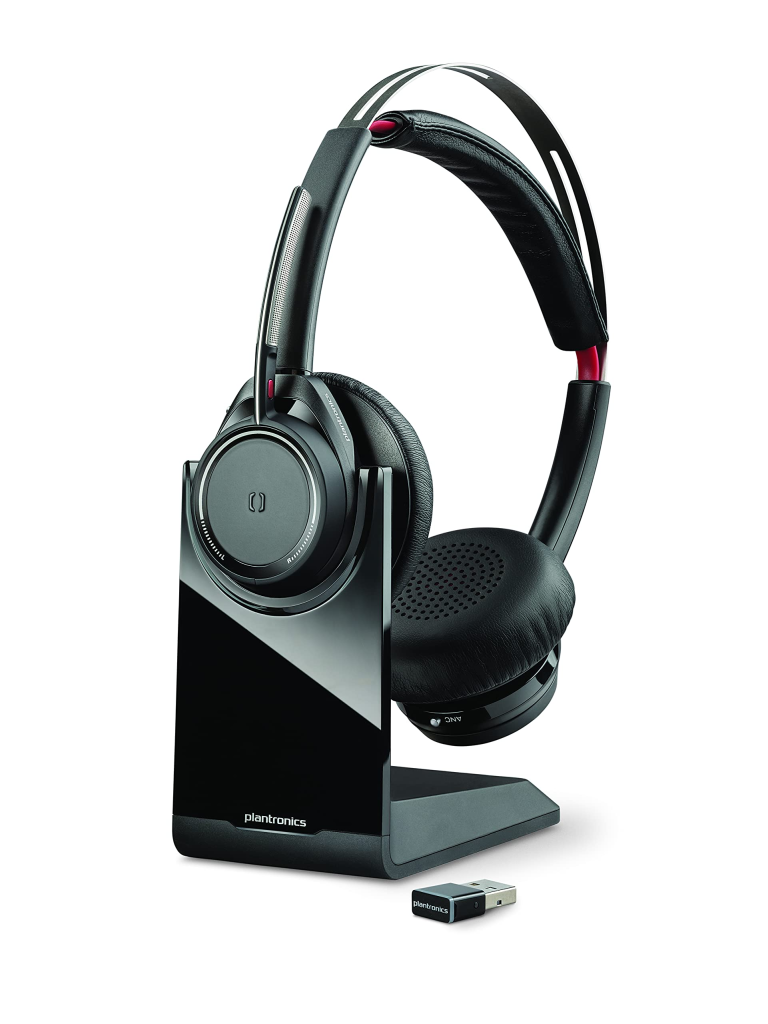 If you need a versatile and high-quality headset for work or entertainment, the Plantronics Voyager Focus UC is a great choice.
Pros
Effective active noise canceling
Seamless PC and smartphone connectivity
Comfortable for long hours of use
Cons
Software glitches can affect battery life
Ear pads can get warm during summer
Slightly on the expensive side
I recently started using the Plantronics Voyager Focus UC headset, and it's made a significant difference in my communication capabilities. The active noise-canceling feature is quite impressive, allowing me to focus entirely on my conversations while tuning out any background noises. This is particularly useful when I work from home or take calls in noisy environments.
Connecting the headset to my PC and smartphone is a breeze, thanks to the included USB-A Bluetooth adapter. I can seamlessly switch between work and personal calls, as well as enjoy my favorite music and videos with rich, immersive stereo sound. The headset feels comfortable during long hours of use, with plush ear cushions that almost make me forget I'm wearing it.
The software that comes with the headset can be a bit buggy at times, causing some minor battery drain issues. However, after several updates, it seems to have improved. Another drawback is that the ear pads can get warm during hot summer days, but this isn't a deal-breaker for me.
Despite being slightly more expensive than some other options on the market, the Plantronics Voyager Focus UC headset offers a great balance of quality, comfort, and utility. Whether you're a busy professional who spends hours on calls or just someone looking for a reliable Bluetooth headset, this model is definitely worth considering.
The Soothielec Bluetooth Headset V5.1 is a reliable choice for anyone looking for effective noise cancellation and comfort during long Skype calls.
Pros
Excellent AI noise cancellation
Long battery life with charging base
Stable and wide Bluetooth connectivity
Cons
Headset disconnects while charging
MFB button not functional for calls with computers
Requires USB dongle to be unplugged when not in use
I had the opportunity to use the Soothielec Bluetooth Headset V5.1 recently, and it has significantly improved my work-from-home experience. The AI noise cancellation feature in this headset does a fantastic job of blocking out background noises, allowing my colleagues to hear me clearly, which came in especially handy during important Skype meetings.
The battery life exceeded my expectations, as I can use it for over 37 hours of continuous work without having to charge it constantly. The charging base is an added bonus, allowing me to keep my headset charged and ready for use at all times. However, the headset does disconnect while charging, so make sure not to charge it during meetings.
One of the standout features of this headset is its stable and wide Bluetooth connectivity. It supports an impressive range of up to 33 feet, allowing me to move freely around my workspace without losing connection. However, it's worth noting that the MFB button doesn't function for calls when connected to a computer, which can be a slight inconvenience.
Comfort-wise, the adjustable headband and soft earpads make it perfect for all-day use. The microphone stalk is flexible, allowing me to adjust it to the ideal angle for capturing my voice.
The Soothielec Bluetooth Headset V5.1 is a solid option for anyone in need of a reliable Skype headset. The AI noise cancellation, long battery life, and comfortable design make it a worthy investment. The few minor drawbacks are easy to look past when considering the overall quality and performance of this headset.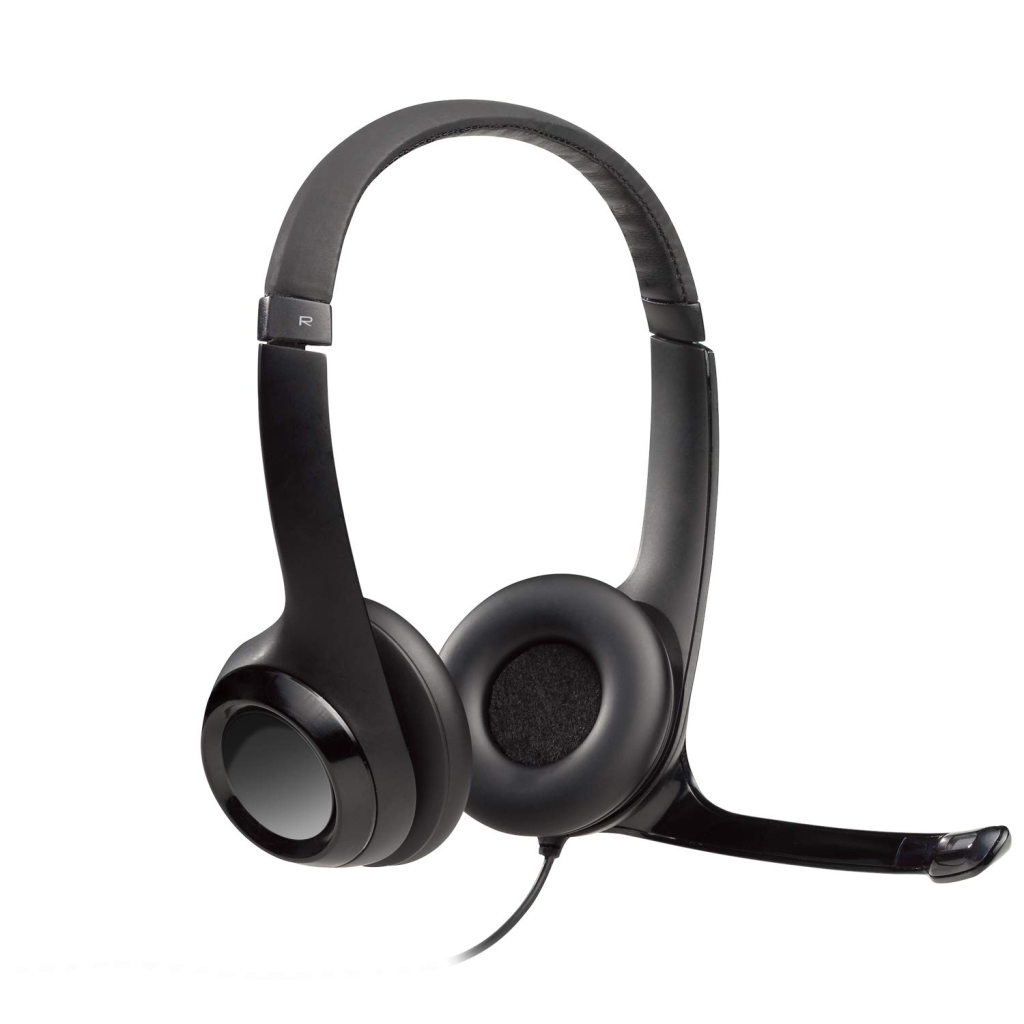 The Logitech H390 is a dependable choice for those seeking clear calls and high-quality audio during their Skype sessions.
Pros
Optimum comfort with padded headband and earcups
Enhanced audio with laser-tuned drivers
Noise-canceling microphone reduces background noise
Cons
Wired connection limits mobility
USB-A connection may require an adapter for some devices
Rigid mic boom may not suit everyone's preference
After using the Logitech H390 headset for several Skype calls, I can confidently say it exceeded my expectations. The padded headband and earcups offered impressive comfort during extended calls, allowing me to focus on my conversations without distraction.
The audio quality was equally impressive, as the laser-tuned drivers provided enhanced sound clarity not only for calls but also for music and games. Listening to my favorite tracks was a delight, and this headset truly delivered on its promise of premium sound.
However, the wired connection does limit mobility, so if you're someone who likes to move around while talking, this might not be the best fit for you. Additionally, the USB-A connectivity may require an adapter for some devices, so it's essential to check compatibility before purchasing.
Another potential drawback is the rigid mic boom; while it's moveable and can be tucked away when not in use, some people may not find this design comfortable or convenient. Nevertheless, the noise-canceling microphone effectively minimized background noise during my calls, resulting in clear communication.
The in-line controls made volume adjustments and muting seamless during my conversations. Overall, I am impressed with the Logitech H390 headset's performance and would recommend it to those seeking an affordable, comfortable, and feature-packed headset for their Skype needs.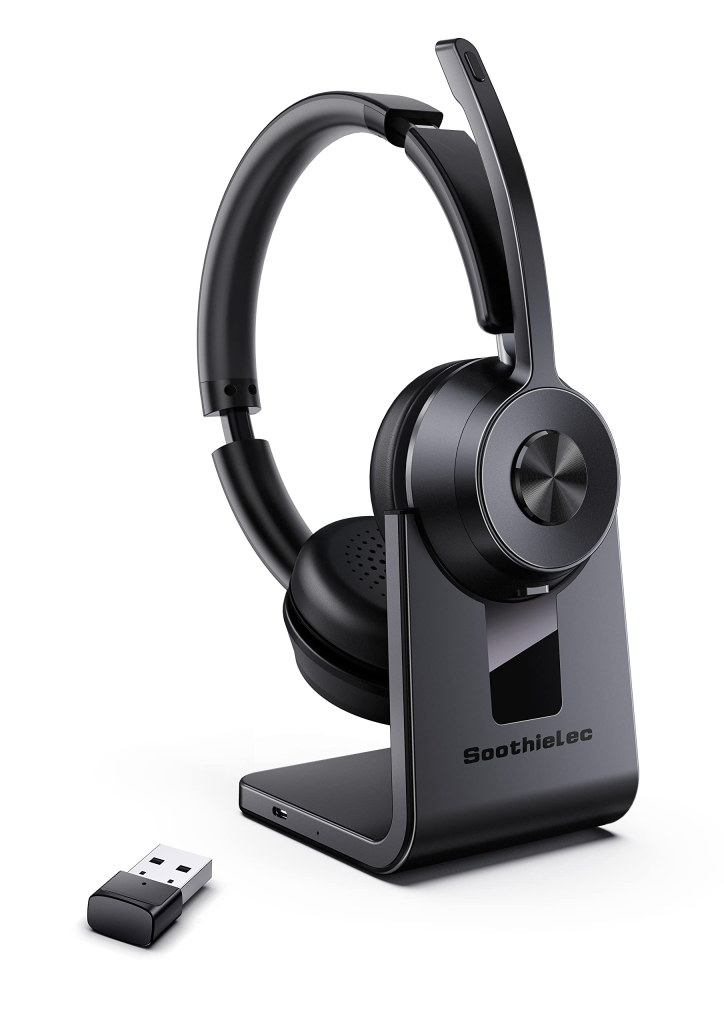 I highly recommend the Soothielec Bluetooth Headset V5.1 for those seeking a comfortable, high-quality Skype headset for both work and personal use.
Pros
Advanced AI noise cancellation
Impressive battery life with a convenient charging base
Wide compatibility and stable connectivity
Cons
Headset disconnects while charging
MFB button not functional for calls on the computer
Microphone sensitivity might require adjustment
I've been using the Soothielec Bluetooth Headset V5.1 for a few weeks now and am genuinely impressed with its features. The AI noise cancellation works wonders during my calls as it effectively blocks out background noise, ensuring that the people I'm conversing with can hear me clearly. Moreover, the mute button on the microphone boom is easy to access and handy during meetings.
The battery life is remarkable – a single charge lasts me over 37 hours of work time, which is more than enough for my daily use. Charging the headset is a breeze with the provided charging base, though it's worth noting that the headset disconnects while charging to protect it, so you can't use it simultaneously.
Connectivity is another strong point of this headset. Equipped with a QCC3040 Bluetooth chip, the headset seamlessly connects to my devices and offers stable audio. The aptX HD technology provides excellent audio quality, and there's even a Bluetooth dongle included for computers without built-in Bluetooth capabilities. However, the MFB button doesn't support answering or rejecting calls when using my computer, so I need to manage calls directly from the device.
On the comfort side, the soft ear pads and adjustable headband make wearing the headset all day effortless. The microphone is flexible, allowing me to find the perfect angle for capturing my voice. Just a heads up – you might need to adjust the microphone's sensitivity manually to get the best results.
The Soothielec Bluetooth Headset V5.1 is a great choice for those needing a reliable and comfortable Skype headset.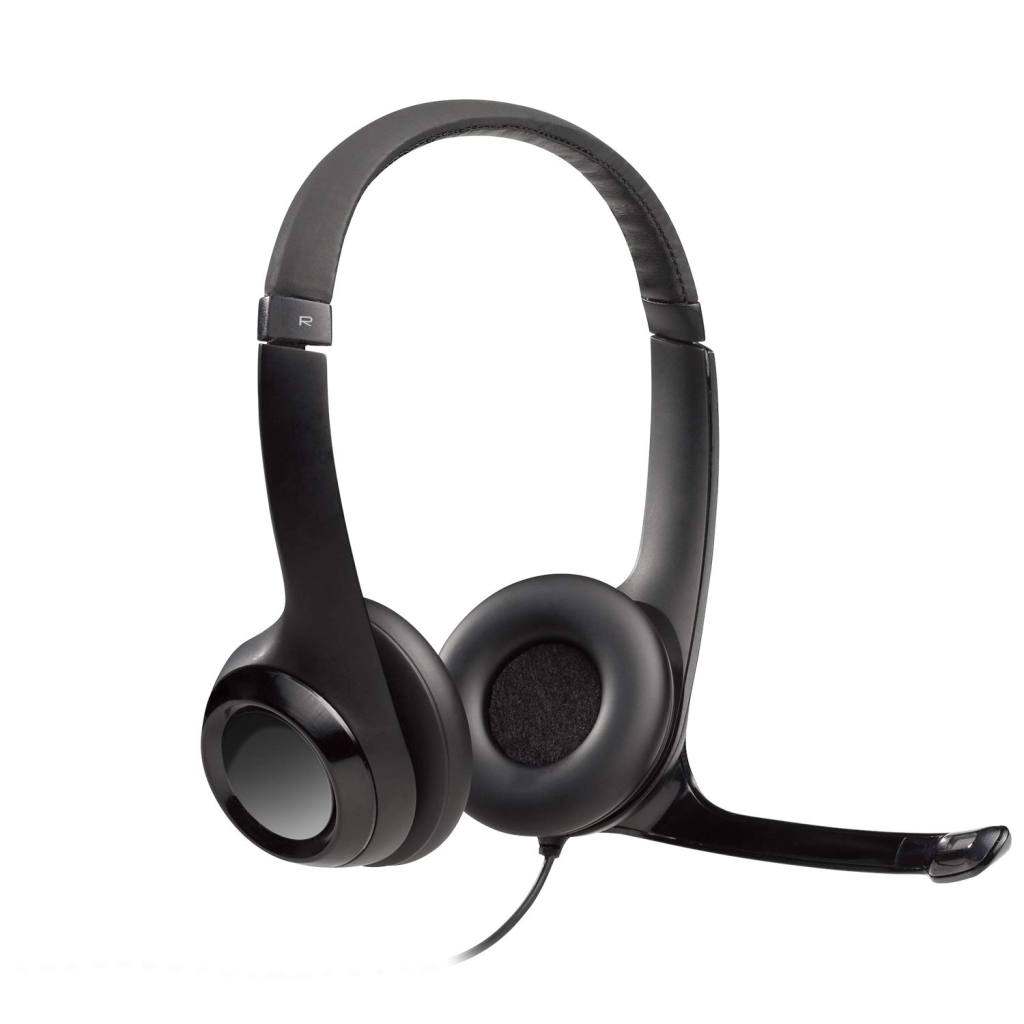 I recommend the Logitech ClearChat Comfort/USB Headset H390 for those seeking a comfortable and reliable headset for online communication or language learning.
Pros
Comfortable padding
Clear audio quality
Adjustable noise-canceling microphone
Cons
May feel tight initially
'Leather' parts wear down over time
Higher frequencies emphasized in microphone
I recently started using the Logitech ClearChat Comfort/USB Headset H390 and was immediately impressed by its comfortable fit. The plush, padded headband, and ear pads provide long-lasting comfort, even during lengthy virtual meetings or language learning sessions. Initially, I did find the fit to be a bit tight, but after gently stretching the headband to expand it, the fit was perfect for me.
The audio quality is clear and rich, making it ideal for anyone who needs to hear voices accurately. I've used it for multiple virtual meetings and online language classes and haven't encountered any issues. The adjustable noise-canceling microphone ensures my voice is heard clearly by others, even in noisy environments. The only downside I've experienced with the microphone is that it tends to emphasize higher frequencies, which may be a concern for some users.
The convenient in-line volume and mute controls are a helpful addition, and the LED mute indicator adds to the headset's user-friendly design, which is compatible with both Windows and Linux operating systems. However, after several months of use, I did notice that the 'leather' parts began wearing down, which is disappointing considering the headset's otherwise outstanding quality.
The Logitech ClearChat Comfort/USB Headset H390 offers a comfortable and reliable option for those in need of a Skype headset. Its few drawbacks are outweighed by its reasonable price and high-quality audio and microphone performance. As someone who has personally benefited from using this headset, I believe it is worth considering for your online communication needs.
* If you buy through links on our site, we may earn an affiliate commission. For more details, please visit our Privacy policy page.