Setting up the Secure Folder feature on your Samsung Galaxy Z Flip 4 allows you to keep the data in your phone such as photos or apps hidden and private by using a special passcode. This prevents other people who from accessing your private information or know that certain apps are installed in your phone's internal storage.
The Samsung Galaxy Z Flip 4 is one of the latest premium Android smartphone models in the market that uses a foldable display. At first glance it just looks like any other smartphone however when using it you will find out that its display can be folded allowing the device to easily fit in your pocket. Some of its best features include a Snapdragon 8 Plus Gen 1 chip and a battery capacity of 3700 mAh.
Use the Secure Folder on your Galaxy Z Flip 4 phone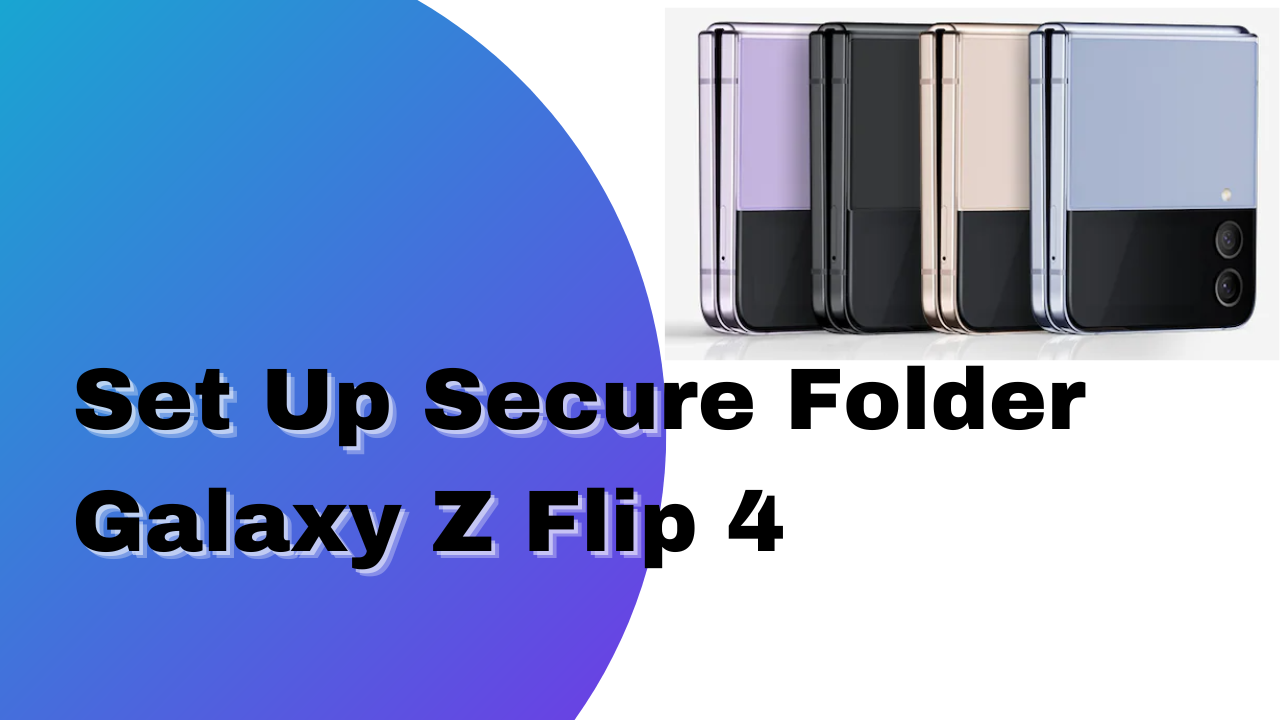 One of the best things about owning a Samsung Galaxy Z Flip 4 device is that it has a Secure Folder feature. If you don't know what it is yet, the Secure Folder app is one of the advanced security features that allows you to create a private encrypted space on your smartphone by using the Samsung Knox security platform.
Data that is commonly used by native apps can be moved to the Secure Folder simply by selecting the Add to Secure folder option on their menu.
Here's everything you need to know to use Secure Folder on Galaxy device.
Create a Secure Folder on Galaxy Z Flip 4
If it's the first time that you will be using Secure Folder, then you will have to create it first by following these steps.
Open the Settings app.
Tap Biometrics and security.
Tap Secure Folder.
You will need to sign into or create a Samsung Account. Tap Sign in, Continue or Agree.
Enter your Samsung Account details, then tap Sign in or OK
Tap Continue.
Choose the lock method you wish to use, then tap Next.
Enter the lock method, then choose Continue
Enter the lock method again, then choose Confirm.
A shortcut to the Secure Folder will be added to your Home and Apps screen.
Add files to Samsung Secure Folder app
Now that you have set up Secure Folder on your phone you can start to add files to it.
Tap Secure Folder icon to open it.
Tap Add files or tap the three dots and tap Add files.
Choose the type of file that you want to add.
Select the files you want to add and tap Done.
Choose whether you want to copy or move the files.
You can also move files directly from where they are saved in your phone. This can only be done with apps made by Samsung such as the My Files, Gallery and Voice Recorder apps.
Open an official Samsung app such as Gallery
Select the files that you want to move.
Tap the options icon which is usually the three dots icon on the bottom right corner.
Tap Move to Secure Folder.
Move apps to the Secure Folder
You can move a desired app to the Secure Folder. This creates a copy of the app which you can log in using a different account. If you want to have the app only in your Secure Folder, then you will need to uninstall it from your apps screen.
Open your Secure Folder app.
Tap Add Apps or the + symbol.
Select the apps you want to add. You can also download apps directly into the Secure Folder by tapping Download from Play Store or Download from Galaxy Store.
Tap Add.
Access Secure Folder files
Here's how to access the files that you have moved to the secure folder.
Open your Secure Folder.
To access your images, tap Gallery.
To access your files, tap My Files then tap the location from which you moved the file. For example, if you moved a file from Downloads, tap Downloads.
Hide Secure Folder app from Home or Apps screen
If you don' want people from finding out that you are using the Secure Folder app than you can hide Secure Folder icon, so it does not appear on your phone screen.
Open the Settings app.
Tap Biometrics and security.
Tap Secure Folder.
Toggle Show icon on Apps screen.
Tap Hide to confirm.
To access Secure Folder after you have hidden it here's what you need to do.
Open the Quick Panel settings by swiping down from the top screen with two fingers.
Swipe right and tap +.
Swipe right and drag and drop the Secure Folder onto the Quick Panel.
You can then tap the Secure Folder icon to hide or reveal the secure folder.
Removing the Secure Folder from your phone
If you want to remove the secure folder, then here's how it is done.
Open the Settings app.
Tap Biometrics and security.
Tap Secure Folder.
Choose Menu or the three dots in the top right corner.
Tap More settings.
Tap Uninstall.
Tap Uninstall again to confirm.
Frequently Asked Questions
What do I do if I forgot the Secure Folder passcode information?

If you can't access Secure Folder, then you will need to reset the lock code using your Samsung account.
Open your Secure Folder.
Enter what you think is the unlock code or pattern.
If your code is incorrect, tap Forgot PIN.
Tap Reset.
Enter the password for your Samsung account.
Choose another unlock code or pattern and tap Continue.

What do when the Secure Folder is crashing, freezing, or if add apps is not working?

You should try to delete the folder data and cache. Take note that data stored in the Secure Folder will be deleted.
Go to Settings.
Tap Apps.
Tap on the search icon in the right corner of your screen.
Search for Secure folder and open the app.
Tap Storage.
Tap Clear data.
A warning message will be displayed. Tap OK.

What do I do if I forgot my registered Samsung account?

You will need to contact Samsung support to help you retrieve your account information.

Can I use a tempered glass on my Galaxy Z Flip 4?

Since you are using a flip phone then it is not advisable to use a tempered glass as this is a thick kind of screen protector that might damage your phone display when it is folded.

Why does my phone keep glitching out of apps?

This might be due to a corrupted software. Try to do a factory reset to fix this issue.