Samsung recently announced the latest iterations of its popular Galaxy Watch lineup – the Galaxy Watch 6 and Galaxy Watch 6 Classic. The new smartwatches feature several upgrades over previous models, most notably larger display screens and the return of the rotating bezel navigation on the Classic model.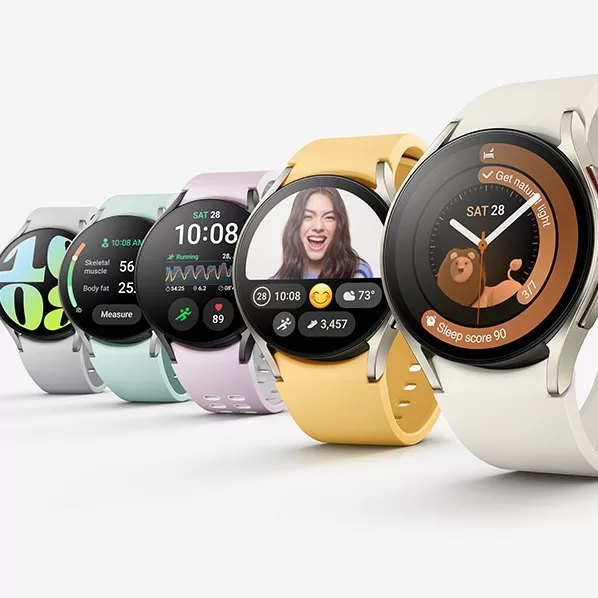 Bigger and Brighter Displays
Both the Galaxy Watch 6 and Watch 6 Classic now sport larger displays compared to their predecessors, with slimmer bezels all around. This allows for 20% more screen real estate without increasing the overall case sizes.
The displays are also brighter – up to 2000 nits maximum brightness, double that of the Galaxy Watch 5 series. This should make the screens more visible and readable in sunny outdoor conditions.
The Rotating Bezel Makes a Comeback
One of the most welcomed returns in the Galaxy Watch 6 series is the rotating bezel on the Classic model. This handy physical navigation feature lets users easily scroll through menus and widgets by twisting the bezel around the screen.
The rotating bezel had been a signature part of Samsung's smartwatches until it was dropped last year. Its return is likely to please loyal Galaxy Watch fans who missed having the tactile rotating control.
Refined Design with New Chips and Software
Aside from the larger displays and rotating bezel, the overall design of the Galaxy Watch 6 series stays similar to previous models with a few refinements.
The watches are powered by the new Exynos W920 chipset promising better performance. They also come with the latest Wear OS 4 operating system and One UI Watch 5 interface.
Several new health and convenience features have been added, like irregular heart rhythm notifications, customizable heart rate zones for workouts, and better integration with Samsung's ecosystem of devices.
Pricing and Availability
The Galaxy Watch 6 starts at $299 for 40mm and $329 for 44mm sizes. The high-end Galaxy Watch 6 Classic starts at $399 for 43mm and $429 for 47mm.
Both watches are available for pre-order now on Samsung's website and will launch on August 11. Those who pre-order can get a free additional band.
The new Galaxy Watch series promises refinements and upgrades that make them compelling options for Android smartphone users looking for a smartwatch. The larger displays, rotating bezel return, and software updates help the Watch 6 series stand out in the competitive wearables market.