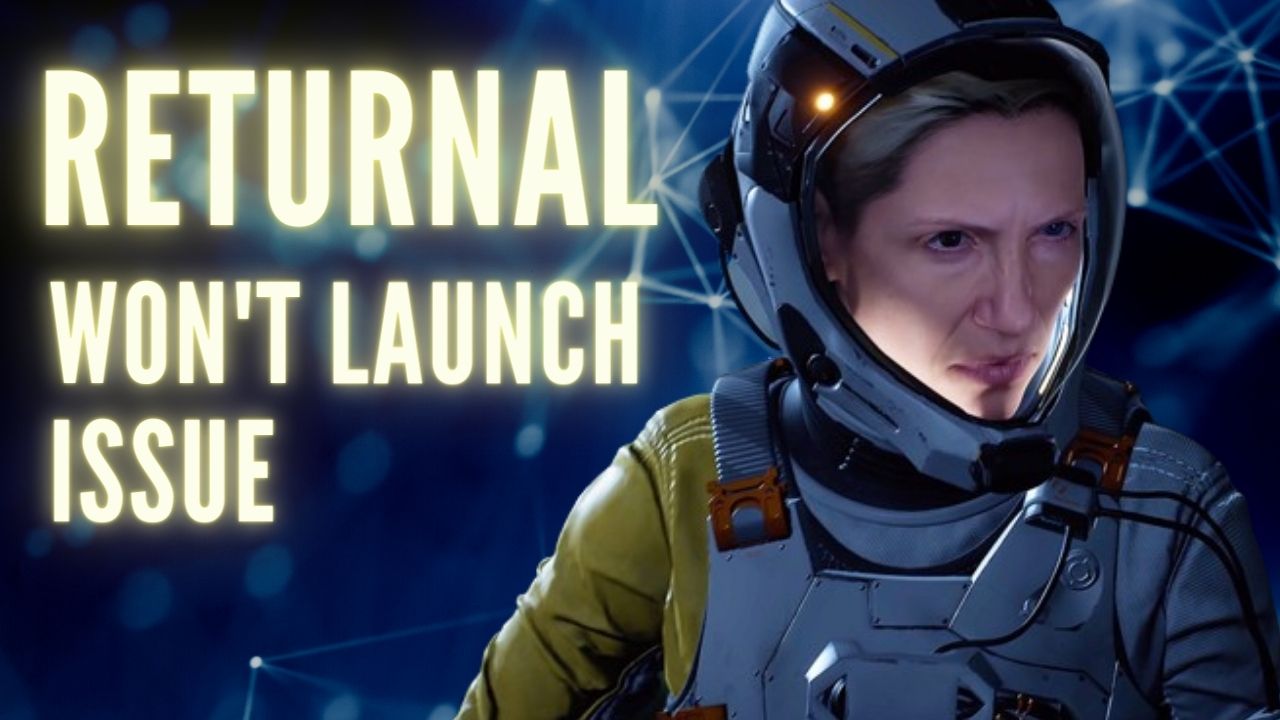 There are various reasons why you may encounter Returnal launching issue on Steam, such as corrupt game files, hardware malfunctions, or outdated graphics drivers, among others. To address this issue, multiple troubleshooting steps will be required.
Returnal is a third-person shooter game from the PlayStation platform which is a bullet hell fueled combat game. Developed by Housemarque and published by Sony Interactive Entertainment, it has now been released on the PC platform with enhanced graphics and improved performance, offering players an unforgettable gaming experience. The game features bullet hell action, Suspend Cycle, Photo and Co-op modes, and the Tower of Sisyphus from the very beginning. As Selene, players are stranded on an always changing alien planet, and their mission is to escape. The abandoned ruins of an ancient civilization become the battlefield where players must fight for survival, with each death resulting in a restart of the journey. The fast-paced gameplay constantly has evolving challenges, introducing new items and abilities in each cycle, enabling players to approach combat in unique ways especially when firing visceral alien weapons to unseen foes creeping. The game's stunning visual effects bring the decaying world and stark and contrasting environments to life, with explosive surprises around every corner. The challenging and high-stakes bullet hell-fueled combat takes place in striking and contrasting environments, filled with mystery and challenges. Returnal has been designed for extreme replayability, offering a procedural environment that evolves with every rebirth. Players must face unforgiving challenges and evolving gameplay, dust themselves off in the face of defeat, and take on new challenges to succeed from the ruthless enemies.
Fixing Returnal Won't Launch Issue
If you are playing Returnal, you may encounter an issue where the game fails to launch. Windows PC players can attempt to launch the game via the desktop shortcut or the Steam Launcher, but no response will be observed.
Fix #1 Check System Requirements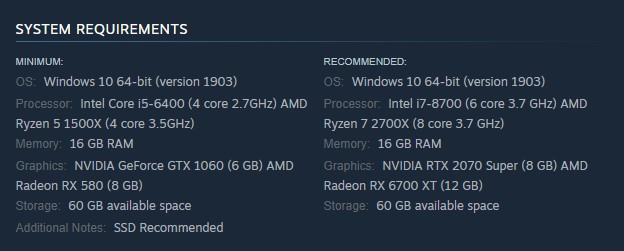 The first step is to confirm that your PC meets the system requirements for running Returnal. The game's developer has listed both the minimum and recommended system requirements, which must be met for the game to run properly. Your computer must meet at least the minimum requirements to provide a satisfactory gaming experience.
Minimum Requirements
OS: Windows 10 64-bit (version 1903)
Processor: Intel Core i5-6400 (4 core 2.7GHz) AMD Ryzen 5 1500X (4 core 3.5GHz)
Memory: 16 GB RAM
Graphics: NVIDIA GeForce GTX 1060 (6 GB) AMD Radeon RX 580 (8 GB)
Storage: 60 GB available space
Additional Notes: SSD Recommended
Recommended Requirements
OS: Windows 10 64-bit (version 1903)
Processor: Intel i7-8700 (6 core 3.7 GHz) AMD Ryzen 7 2700X (8 core 3.7 GHz)
Memory: 16 GB RAM
Graphics: NVIDIA RTX 2070 Super (8 GB) AMD Radeon RX 6700 XT (12 GB)
Storage: 60 GB available space
Fix #2 Update Graphics Card
Having outdated GPU drivers is one of the possible reasons why Returnal may fail to launch on your PC. To address this issue, it's recommended to check and ensure that you have the latest GPU drivers installed. The updated drivers usually come with performance and bug fixes that enhance the gaming experience.
Updating Graphics Driver
Step 1: Simply type Device Manager in the search bar on your desktop and then click the Device Manager icon that appears in the results. This will open the device manager.
Step 2: Click the Display adapters icon. The list of display adapters will be expanded.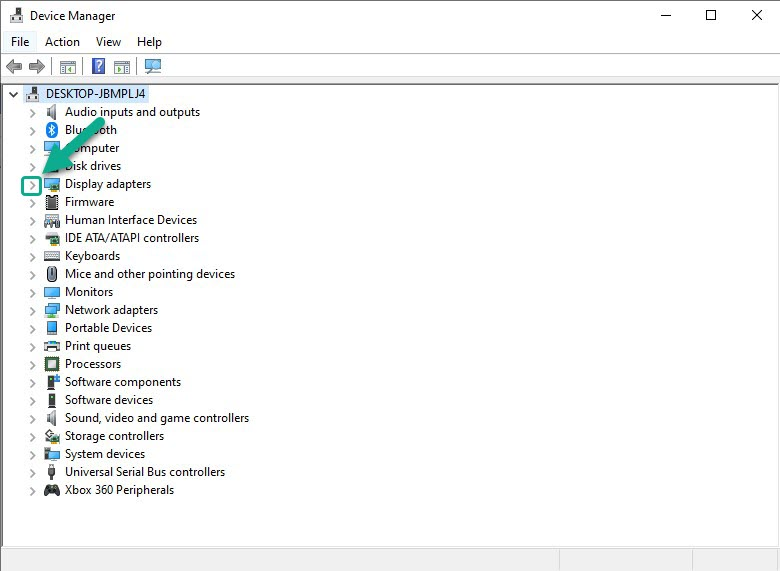 Step 3: Right-click the dedicated graphics card you are using to play the game and then select Update driver. This will allow you to update your driver.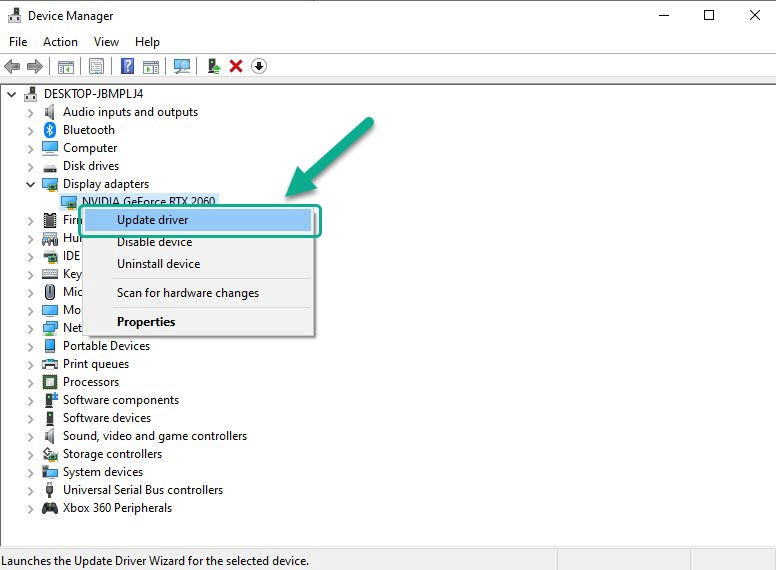 Step 4: Choose Search automatically for drivers. This will search online for any new drivers and install it on your computer.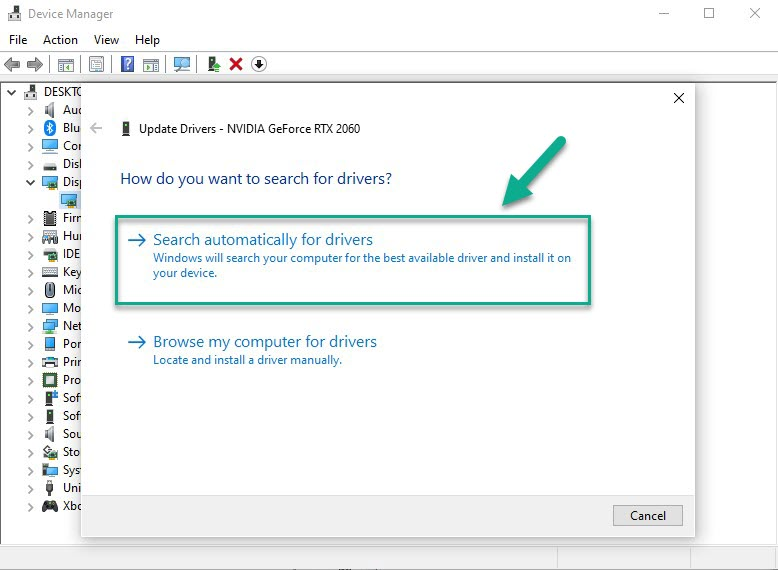 For Nvidia GPU users, it is possible to download the latest GPU driver through the Nvidia GeForce Experience app. On the other hand, Radeon GPU users can download the newest driver via the Radeon Software. Once the latest driver has been downloaded, it is important to restart your computer. After that, check to see if the issue with Returnal not launching has been resolved.
To ensure the dedicated graphics card is being used by your laptop when playing Returnal, it is recommended to check the Nvidia control panel settings. The control panel allows users to select their preferred GPU.
Step 1: Open the NVIDIA control panel.
Step 2: Navigate to 3D settings > Manage 3D settings.
Step 3: Open the Program settings tab and select your game from the dropdown menu.
Step 4: Select Preferred graphics processor for this program from the second dropdown menu. Your NVIDIA GPU should appear as "High-performance NVIDIA processor"
Step 5: Save your changes.
Fix #3 Run Returnal as an Administrator
In some cases, Returnal may fail to launch if it doesn't have the necessary access to certain Windows components due to restrictions. To address this issue, running the game as an administrator can be helpful as it grants the game access to those components.
Running as an Administrator
Step 1: Right-click on the game executable file from the installation folder.
Step 2: Select Properties.
Step 3: Click on the Compatibility tab.
Step 4: Make sure to place a checkmark on the Run this program as an administrator.
Step 5: Click on Apply then Ok.
Fix #4 Update Windows
To optimize your gameplay experience and address potential issues, it is important to keep your Windows operating system up to date. The latest updates typically include performance improvements, bug fixes, and security enhancements, all of which can contribute to better gameplay.
Updating Windows
Step 1: Press Windows logo key on your keyboard.
Step 2: Select Settings.
Step 3: Select Update & Security.
Step 4: Select Windows Update tab.
Step 5: Select Check for updates.
Fix #5 Disable Fullscreen Optimizations
The purpose of Fullscreen Optimization is to provide the benefits of both borderless windowed mode and Fullscreen Exclusive (FSE) mode. It enables Returnal to use the entire screen, support overlays, and switch between tabs quickly. However, in some cases, the game may encounter technical issues due to compatibility problems with Fullscreen Optimizations. Therefore, disabling Fullscreen Optimizations could help resolve such issues.
Disabling Fullscreen Optimizations
Step 1: Launch Steam.
Step 2: On your Steam launcher, click the Library tab.
Step 3: All your games are listed in Steam Library, find the game and right-click it then select Manage and click Browse Local Files to open file location.
Step 4: In the pop-up window, select the game icon, right-click it, and click Properties.
Step 5: Click on the Compatibility Tab and checkmark the checkbox beside Disable Full Screen Optimizations.
Step 6: Click Apply and OK.
Fix #6 Disable Antivirus software and Windows Firewall
At times, an aggressive firewall or antivirus program may interfere with the Returnal process, preventing the game from launching. To address this issue, you can try disabling your antivirus software and firewall temporarily, and then attempt to launch the game. If the game launches successfully, you may need to add Returnal to your antivirus program's exemption list or allow it through your firewall to prevent the issue from recurring.
Fix #7 Verify Integrity of Game Files
If there are corrupted or missing game files, Returnal may fail to launch. To resolve this issue, you can verify the integrity of the game files through the Steam client. This process will check the game files for any missing or corrupted files, and replace them with new ones downloaded from the servers, if necessary. By doing so, you can ensure that the game files are complete and functioning properly, allowing you to launch the game without any issues.
Fix #8 Reinstall Returnal Game
If you have tried all the above solutions and still cannot launch Returnal, the game may be corrupted. In this case, the best solution is to uninstall the game and then reinstall it. This will ensure that you have a clean installation of the game and that all the game files are intact and functioning properly. After reinstalling the game, try launching it again to see if the issue has been resolved.