Do you want to know how to play with a controller on PC in Fall Guys? You may want to use a controller because you find them more comfortable to use than a keyboard. In this article, we will be showing you how to play with a controller such as an Xbox controller, Switch pro controller, PlayStation controller, or any other third-party controller in Fall Guys.
Fall Guys formerly known as Fall Guys: Ultimate Knockout is a free platform Battle Royale game developed by Mediatonic that is exclusively available for Epic Games Store on the PC. Up to 60 players can participate in the game, which pits them against one another in a variety of minigames like tag or obstacle courses. The participants control jellybean-like creatures. Move across a three-dimensional playing surface with the addition of gameplay-enhancing maneuvers like jumping, grabbing/climbing, or diving. The objective is to complete each of the randomly chosen mini-games to advance to the next round. Some mini-games have participants playing tag as they rush towards a finish line at the end of the map, while others have elements of collaboration. Obstacles pop up all across the map for each mini-game to increase complexity. Players are eliminated if they move too slowly, get sucked by pink slime, or don't meet the requirements for a mini-game. The last round features a final match with a randomized mini-game created for a reduced player size between the remaining few participants. As the rounds go on, players are removed until ultimately the last person standing is declared the winner. The game is influenced by playground games like tag and British Bulldog as well as game shows like Takeshi's Castle, It's a Knockout, and Wipeout.
Play Fall Guys With A Controller On PC in 2023 With Epic Games Store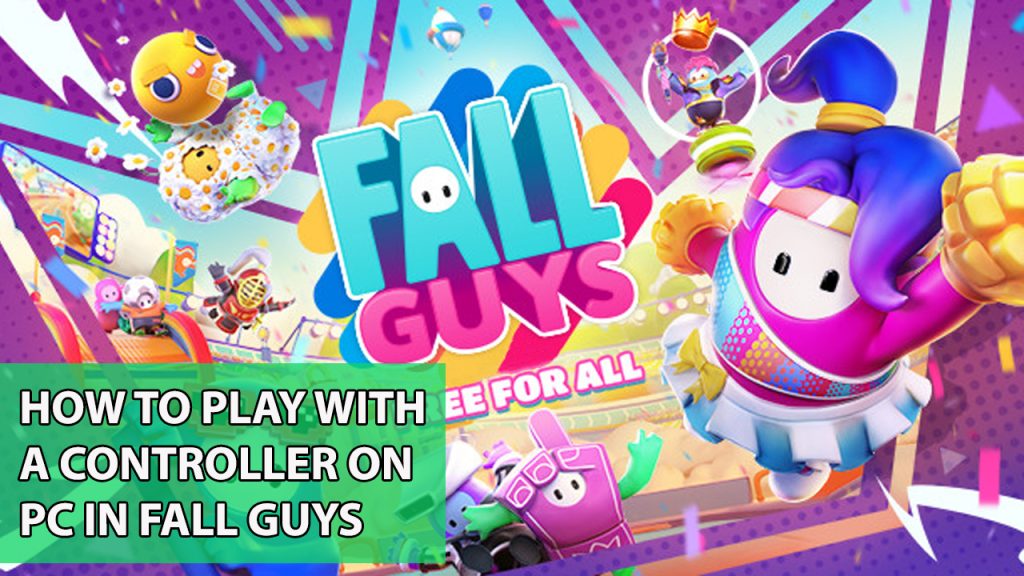 Fall Guys is not available in Steam anymore as it is now exclusively available for the Epic Store, the good news is it now free. You can add Fall Guys as a non Steam game then in Steam you can setup it in general controller settings to use a controller when playing Fall Guys on PC.
Adding Fall Guys as a non Steam game
There are a few things you should be aware of before adding a third-party video game from the Epic Store to your Steam. Non-Steam games don't have achievements, hours played, or any other data tallied by Steam. Additionally, the libraries page will not contain the game's title image, description, or any related information. Make sure you are aware of the location of Fall Guys you wish to download and install on your PC.
Adding Fall Guys
Step 1: Open Steam.
Step 2: In your Steam launcher, click Library.
Step 3: At the lower left of the tab, select ADD A Game + icon.
Step 4: Select Add a Non-Steam Game.
Step 5: On the popup window, select Fall Guys, then check the box beside it. If it is not in the list you can click the browse button and find the exe file.
Step 6: Click Add selected programs button.
Step 7: Fall Guys will be displayed in your Steam.
Enable Steam input for controllers
You can now enable controller support for Fall Guys on PC after you have added it on Steam. Here's how you add the controllers:
Step 1: Right click Fall Guys in the Steam Library then Select Properties. This will allow you to go to Properties window.
Step 2: Select controllers tab then under override click the drop down menu under the word use default settings then select enable steam input.
Step 3: Click the general controller settings in the controllers tab to enable PlayStation configuration support, Xbox configuration support or other controllers support.
Step 4: Check mark the box of type of controllers you have so you can use it.
Removing Fall Guys from Steam
If you want to remove it from your steam. you can follow these methods below.
Step 1: Launch Steam.
Step 2: On Steam main menu, Go to your libraries.
Step 3: In the sidebar list, find the program(s) you want to delete.
Step 4: Right-click it and select Manage > Remove non-Steam games from the menu that appears.