Orcs Must Die! 3's Steam crashing issue can be brought on by several factors. The crash could have been caused by a software bug, an out-of-date graphics driver, corrupted game files, or compatibility problems like your computer not meeting the minimum requirements. To resolve the crashing issue on a Windows PC, numerous troubleshooting procedures are required.
Orcs Must Die! 3 is an action-tower defense video game that is available on Steam and was developed and published by Robot Entertainment. It is the fourth installment in the Orcs Must Die! series, and the direct sequel to Orcs Must Die! 2. Orcs Must Die! 3 brings orc-slaying mayhem to previously unfathomable proportions. Arm yourself with a large array of traps and weaponry in solo or two-player co-op mode. In this long-awaited sequel to the award-winning series, slice, burn, toss, and zap hordes of repulsive orcs. War Scenarios, a new addition to the series, pits players against the greatest orc armies ever amassed. Mountable War Machines provide the necessary firepower for gamers to heave, stab, carbonize, and disarticulate the detestable intruders.
Orcs must die! 3 keeps crashing? Here's how to fix it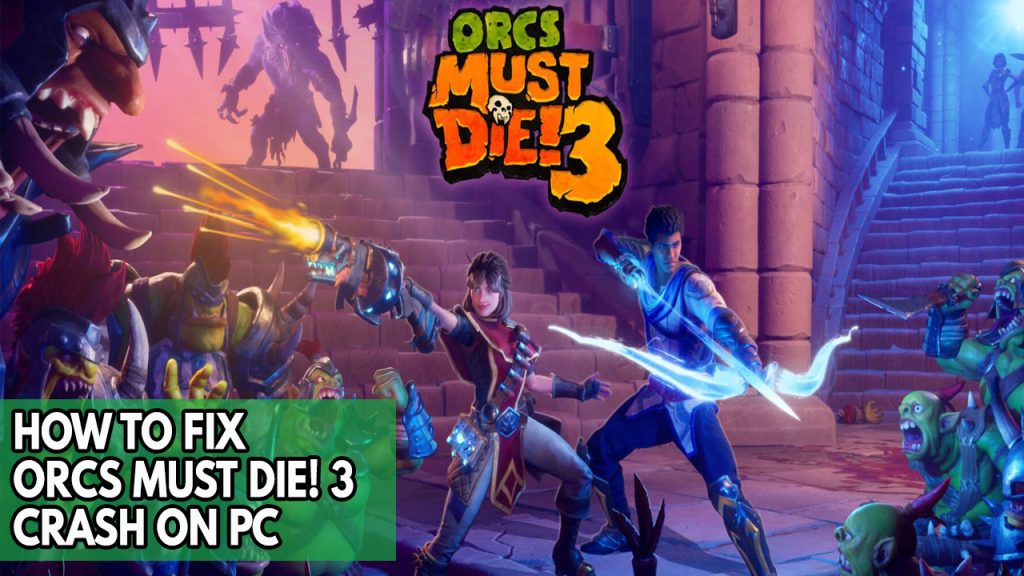 Whenever you play Orcs Must Die! 3. There is a chance of game crashes. Some gamers experience this when there is a lot of screen activity while they are playing. You must determine the cause of the issue because there are many potential causes for this problem. Make also sure you install only the final version of the game and not the beta version.
The best ways to fix Orcs Must Die! 3 crashing issues are listed below.
Fix #1 Check Orcs must die! 3 minimum system requirements

The first step to do is to check whether Orcs Must Die! 3 is compatible with your PC. The minimum and recommended system requirements for Orcs Must Die! 3 On the game's Steam store page is listed. To play the game properly, make sure your PC meets the system requirements.
Looking for the 1,000th Subscriber!
**we're 60% there, thanks for the support!!**
If you find our information helpful, please consider subscribing to our Youtube channel, where we post useful gaming troubleshooting tips!
We are trying to hit our modest goal of 1,0000 subscribers. Let's Go!

Minimum system requirements
OS: Windows 7
Processor: Intel Core i5-2300 | AMD Ryzen 3 1200
Memory: 6 GB RAM
Graphics: Nvidia GeForce GTX 660, 2 GB | AMD Radeon HD 7870, 2 GB
Storage: 12 GB available space
Recommended system requirements
OS: Windows 10
Processor: Intel Core i5-9600K | AMD Ryzen 5 3600X
Memory: 8 GB RAM
Graphics: Nvidia GeForce GTX 1060, 3 GB | AMD Radeon RX Vega 64
Storage: 12 GB available space
Fix #2 Update GPU driver
An outdated graphics driver is most likely to blame for game crashes. Keeping your graphics drivers up to date will enhance performance and resolve Orcs Must Die! 3 bugs and difficulties with the game. You can also manually download the latest version of drivers on your graphics card or video card from the website of the manufacturer of your graphics card.
Time Needed : 3 minutes
Updating GPU driver
Simply type Device Manager in the search bar on your desktop and then click the Device Manager icon that appears in the results.

This will open the device manager.


Click the Display adapters icon.

The list of display adapters will be expanded.


Right-click the dedicated graphics card you are using to play the game and then select Update driver.

This will allow you to update your driver.


Choose Search automatically for drivers.

This will search online for any new graphics drivers and automatically download it then it will install on your computer.

After you have installed the new drivers of your video card, try to play the game and see if it crashes.
Fix #3 Verify integrity of game files in local files tab
Whenever a game file is corrupted or missing in Orcs Must Die! 3 installation folder, it will crash. To determine whether game files need to be fixed, verify the integrity of the game using Steam. The servers will immediately download new files to repair the game files and fix Orcs Must Die 3! crashes.
Verify game files
Step 1: Open Steam client.
Step 2: In your Steam launcher, click Steam Library tab.
Step 3: Find the game then right-click the game in your Library and select Properties.
Step 4: Browse Local Files tab and click Verify integrity of game files.
Fix #4 Reinstall Orcs must die! 3
Orcs Must Die! 3 may need to be uninstalled and then installed again if none of the other troubleshooting steps above have resolved the issue. It will also fix other issues you might encounter with the game.
Reinstalling
Step 1: Run Steam launcher.
Step 2: Go to the Library
Step 3: Right click the game then click on Manage then uninstall.
Step 4: Click Uninstall.
Step 5: Right click the game then click on install.
Step 6: Click next to proceed with the installation