Why is Bitcoin dropping today again?  With all the hysteria in recent weeks, any negative news will easily spook cryptocurrency investors.  The latest FUD news came out of India yesterday, when their finance minister, Arun Jaitley, said in his speech that cryptocurrencies in its current form will not be a legal tender and Indian government intends on cracking down on illicit activities using cryptocurrency.  That actually sounds fairly harmless, there's nothing new in that statement.  No first world country accepts cryptocurrency as legal tender, and governments worldwide are already aware of the black markets using crypto, this is just another reminder from the India finance minister.
Problem is the main stream media is so desperate for clicks, started creating FUD headlines to draw attention.  Check out these click baits from the media, spreading false news.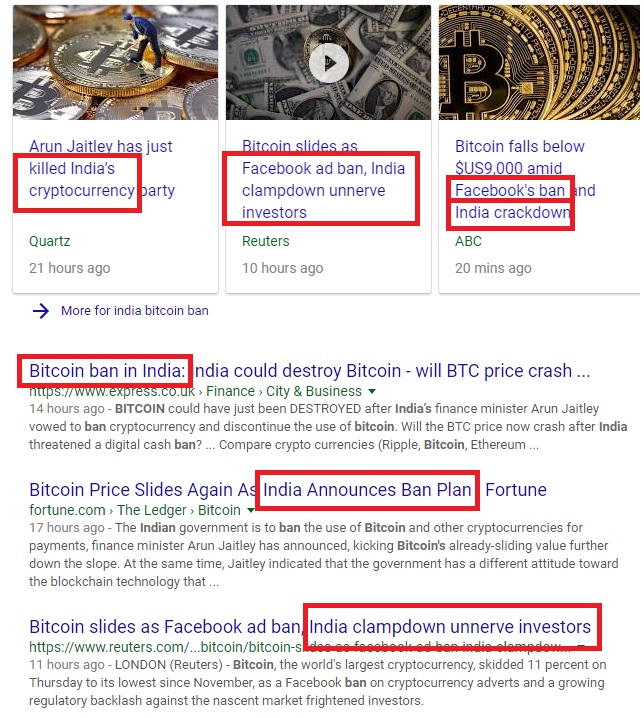 And these tweets…
Bitcoin to be banned. Crypto currency illegal in India says @arunjaitley
#Bitcoin #DigitalCurrency #budget2018

— Anjana Om Kashyap (@anjanaomkashyap) February 1, 2018
Cryptocurrencies are illegal. Since they can't be traced.

Does this apply to currencies like:
– Bitcoin.
– Old Rs. 500 note.
– Electoral Bonds?#Budget2018

— Sorabh Pant (@hankypanty) February 1, 2018
To give you a better sense of what the India finance minister said, you should read the full speech in full.  To be clear, here is NO ban on cryptocurrency in India.
In what universe does this look like a ban? Indian finance minister said it will eliminate usage of cryptocurrencies like bitcoin in "criminal use cases."

Mainstream media took it as "it will eliminate usage of cryptocurrencies" and forgot the rest. pic.twitter.com/IXRwHSqZTo

— Joseph Young (@iamjosephyoung) February 1, 2018

Of course it was too late to clarify the truth with the false rumor spreading like wildfire. Price of Bitcoin crashed from $10,300 to about $8,500. The downward pressure doesn't seem to be subsiding anytime soon. Hang on tight Bitcoin bulls, godspeed. See you on the other side!