In the market for a new Chromebook, but not sure whether to get the new Google Pixelbook or the much cheaper Samsung Chromebook Pro? It can be a difficult decision, especially when the Samsung Chromebook Pro just barely costs a third of that of the Pixelbook. Still, the Google Pixelbook is the most luxury Chromebook you can get on the market, featuring a premium hardware package, a slick design and a beautiful media experience. The Samsung Chromebook Pro, on the other hand, isn't nearly as fast and might even look a little plain when sat next to the Google Pixelbook.
---
At A Glance:

Google Pixelbook Vs Samsung Chromebook Pro Best Chromebook 2020
---
* If you buy through links on our site, we may earn an affiliate commission. For more details, please visit our Privacy policy page.
So, what do you buy? Ultimately, it depends on your budget. The problem with Chromebooks is that they're essentially Internet-only devices, meaning you can't use them for anything other than Internet applications; that means no Excel, no AutoCAD, no gaming, etc. Some might look at the Google Pixelbook for an expensive, and come to the conclusion that a MacBook Air or refurbished MacBook Pro would be better value for money. For that money, you could even get a beefed up gaming PC!
Still, if you're looking for lightweight and a fast experience, you can't get much better than what the Chromebook has to offer. And if you use the Internet for the majority of your PC use, you won't run into any problems with the Chromebook. But, which Chromebook to buy? Both the Google Pixelbook and Samsung Chromebook Pro are great devices, after all. Follow along below and we'll help you decide!
Google Pixelbook Vs Samsung Chromebook Pro Best Chromebook Compariso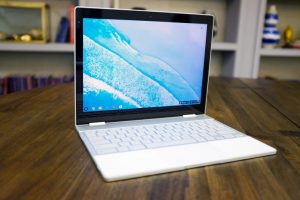 The Google Pixelbook can be looked at as the best Chromebook in the market. That's not being dramatic either. With the Google Pixelbook, you can get a beefy Intel Core i5 or i7, along with up to 16GB of RAM. Not only that, but the Google Pixelbook can hold the most amount of flash storage — you have options all the way up to 512GB, whereas most Chromebooks will top out at around 64GB of space. Overall, it's an excellent performance package.
You also get a sleek-looking minimalist design. It's similar to the MacBook in a lot of ways; the only real difference would be the color and the keyboard layout, as it fills out the full width of the Pixelbook inside of having a bezel/border around it. Without a doubt, it is a nice looking Chromebook.
It's Google's own hardware, and they're going all-out on it to make sure you have a high-end experience with it, from as low as the hardware to as high as excellent customer support.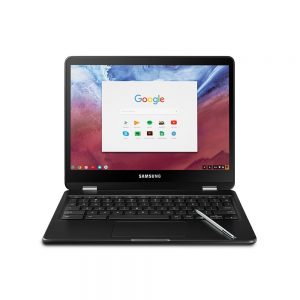 But, what about the Samsung Chromebook Pro? At a cheaper price, you're not going to be able to get the package that the Google Pixelbook is offering. You get a much slower Intel Core M3 processor, 4GB of RAM and 32GB of flash storage.
Design-wise, things look a little chin-sy. You get a black enclosure that looks and feels similar to Dell's low-end Windows 10 laptops. And those are cheap feeling laptops. But, not all is bad with the Samsung Chromebook Pro. One area where it excels extremely is with the display. You get a 12.6-inch that boasts a high resolution of 2,400 x 1,600. Watching movies, TV shows or just enjoying everyday YouTube videos will look phenomenal. Not only that, but it's a touchscreen, and with a 360-degree hinge, you'll be able to fold it back to use it in tablet-mode. Samsung even includes a built-in stylus here if you don't want to use your hands — even if you do, the stylus makes it easier to sketch things up, take notes and etc.
And keep in mind that, much like the Google Pixelbook, the Samsung Chromebook Pro is able to run Android apps to add just a little bit more functionality to the Chrome OS experience. There's nothing like being able to catch up on a good ol' game of Clash of Clans on your break!
Google Pixelbook Vs Samsung Chromebook Pro Best Chromebook Comparison Verdict
So, which one do you buy? The choice is pretty obvious. If you have the cash, pick up the Google Pixelbook — you can't go wrong with it's hardware package. With an Intel Core i5 or Intel Core i7, you'll be flying through tasks like nobody's business. Not only that, but the gorgeous display will keep you coming back to watch all of your favorite movies, TV shows and video. The Samsung Chromebook Pro is still a great Chromebook, but if you're not on a budget, the Google Pixelbook is obviously the better choice of the two.

* If you buy through links on our site, we may earn an affiliate commission. For more details, please visit our Privacy policy page.