Are you experiencing Genshin Impact white screen issue on android? Several factors can cause this issue such as an issue with your internet connection, your device does not meet the recommended settings, or corrupted game data. To fix Genshin impact white screen issue on android, you will need to perform several troubleshooting steps.
Genshin Impact is an Action role-playing Online game for the android that was developed and released by miHoYo. Released already in several platforms, the game is also in development for the Nintendo Switch. The game has an open world with an anime-style landscape and an action-based battle system that uses elemental magic and character switching. Gamers can obtain additional characters and weapons using the game's gacha systems, which allow for in-game revenue generation. The setting of Genshin Impact is the fantasy continent of Teyvat, which is made up of seven different nations, each of which is associated with a different element and ruled by a different god. The Traveler, who has journeyed to innumerable worlds with their twin sibling before becoming separated in Teyvat, is the main character of the novel. Paimon, who travels with The Traveler in pursuit of the missing sibling, also gets embroiled in the politics of Teyvat's nations.
Genshin Impact white screen at launch for mobile devices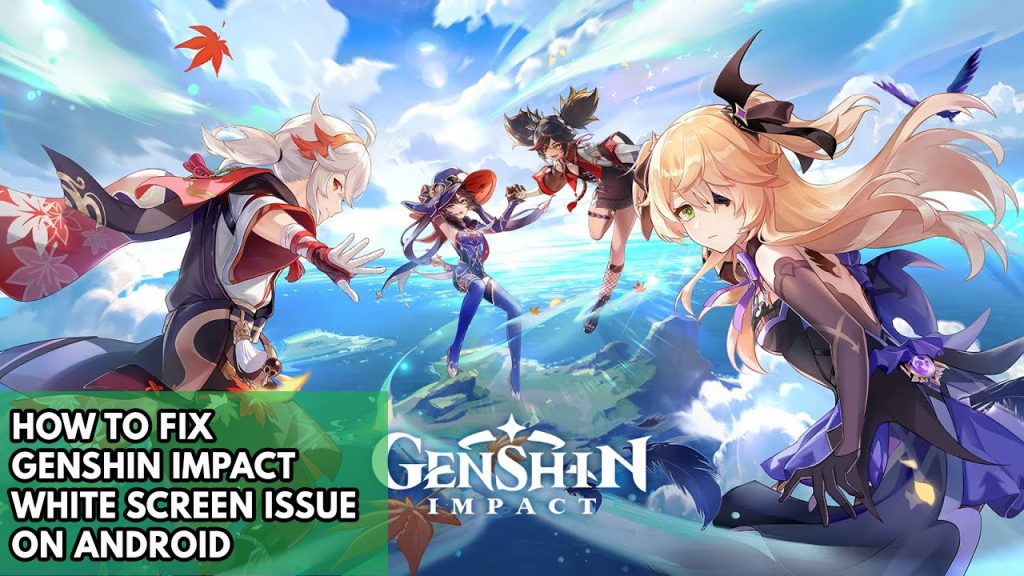 For mobile users who are playing Genshin Impact, one of the issues that they will encounter whn playing the game on their mobile devices is the Genshin impact white screen at launch or black screen issue. This can be a frustrating experience especially if you want to play the game.
Here's how to fix Genshin Impact white screen at launch issue or white screen problem.
Fix #1 Make sure your phone system meets recommended settings
The first thing to check is to make sure that your phone can handle Genshin Impact. Genshin Impact developer miHoYo has listed recommended system settings to play Genshin Impact without problems.
Minimum Requirements
CPU: Arm v8a 64-bit device
RAM: 3 GB equivalent ram and above
Operating System: Android 7.0 and above
Storage: 8 GB of Free Storage Space
Recommended requirements
CPU: Qualcomm Snapdragon 845, Kirin 810 and above
RAM: 4 GB and above
Operating System: Android 8.1 and above
Storage: 8 GB of Free Storage Space or higher
Fix #2 Check internet connection
When playing the Genshin Impact you need to make sure that your internet connection is good. If your internet quality is poor then there's a possibility that you will keep on getting a white screen at launch since it is stuck on loading.
Checking internet connection
Step 1: Open your browser on your smartphone. Choose any preferred internet browser you want.
Step 2: Type speedtest.net to have your internet speed check. Speed test site is one of the most popular web tools to check your connection speed.
Step 3: Press the Go button. Pressing Go button will start the speed test.
Step 4: Wait for the results of the speed test to be completed. Find out how fast is your download and upload speed.
If your connection is not stable you can restart your network devices and see if it fixes the issue with your connection:
Step 1: Restart your mobile device.
Step 2: Unplug the power cords from your Modem and Router.
Step 3: Reconnect your modem and router to the power supply after a minute and turn on the devices.
Step 4: Wait for the lights to come on again.
If you are using mobile data as your connection then you can connect to a Wi-Fi connection to avoid the white screen loading issue.
Fix #3 Clear cache game files
Corrupted cache files on your game can be cause of this issue if not installed correctly. To resolve this problem, you must delete the corrupted data and clear the cache and data on your game.
Clearing cache of the Game
Step 1: Open Settings icon.
Step 2: Select Apps.
Step 3: Choose the app.
Step 4: Select Storage.
Step 5: Tap the Cache and Clear Data option.