The Galaxy S22 series mobile phones are considered to be one of the most reliable Android devices in the market nowadays. Although it is packed and loaded with great features, it does not have a headphone jack. This means that if you want to listen to your favorite music tracks or make phone calls, you might need to use earbuds for Galaxy S22 instead. There are wide variety of earbuds options that you can pair with your Samsung S22 series and we are going to talk about it in this article.
* If you buy through links on our site, we may earn an affiliate commission. For more details, please visit our Privacy policy page.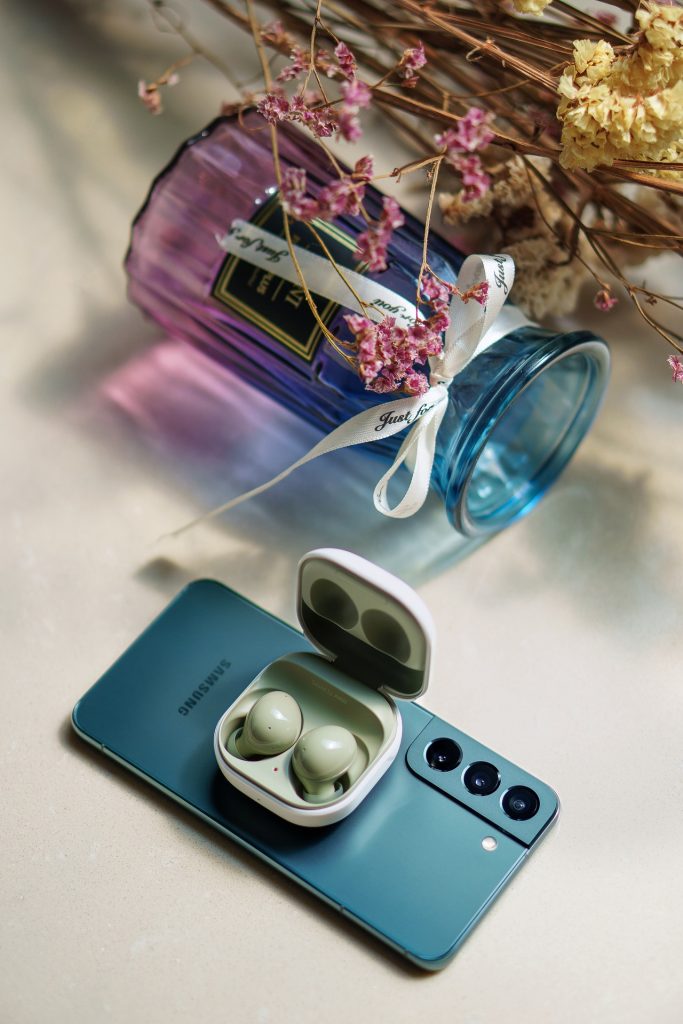 Samsung Galaxy S22 Wireless Earbuds
Samsung also make the best wireless earbuds that can also be paired with other Android devices. But also included in this post are other great options aside from Samsung galaxy buds that also works well with Samsung S22 series: Samsung Galaxy S22, Samsung Galaxy S22 Plus, Samsung Galaxy S22 Ultra. And since the Galaxy S22 series do not have an earphone jack, you can connect the wireless earbuds via Bluetooth. Check out the list of great finds of earbuds great for your Galaxy S22 below.
The very first on our list one from Samsung itself and our top choice is the Samsung Galaxy buds 2 Pro. This truly wireless earbuds features an active noise cancellation (ANC) to reduce outside noise. Although the galaxy buds 2 pro is designed to securely fit, however, make sure that the size of the earbuds tip should fit into the ear canals in order to achieved the active noise cancellation feature.
When it comes to sound and quality, the Galaxy buds 2 pro features a Hi-Fi sound quality and a 360 degree audio making sure you are getting the perfect tones and surround sound quality from the earbuds.
Aside from the active noise cancellation feature, another gret feature of the galaxy buds 2 pro is the HD voice technology for a crystal clear voice calls.
When the galaxy buds 2 pro is not in use, there is no need to remove it from your earbuds. It will automatically disable Active noise cancellation and activates Intelligent conversation mode. This means that the volume of the earbuds is reduced thereby earbuds will be in Ambient mode. The Battery capacity of the Samsung galaxy buds 2 pro is 61mAh while the battery capacity of its case if 500mAh.
Playtime is 5 hours when ANC is on, and 8 hours playtime when ANC is turned off.
The galaxy buds 2 pro is water resistant as it is IPX7 certified. You will never have to worry with splashes of water. In fact, with a IPX7 certified device, it can be submerged for up to 1 meter for 30 minutes.
Buy it now on Amazon
---
Next we have the Sony WF-1000XM4. Another leading product when it comes to noise cancelling feature with its Integrated Processor V1, aside from its extraordinary quality of its sound that supports LDAC, SBC and AAC Codecs.
The WF-1000XM4 has a very long battery life of 8 hours playback time and 24 hours standby time inside the earbuds case. Connect with Bluetooth 5.2 connectivity.
The bluetooth earbuds has an IP rating of IPX4. This means the earbuds is only water resistant but not waterproof.
Charging uses USB-C and also supports wireless charging.
Buy it now on Amazon
---
The Jabra Elite 3 is next on our list of the best wireless earbuds for Galaxy S22. Loaded with great benefits when it comes to sound quality, noise control and battery life.
Features 6mm speakers and 4 built-in microphones to deliver rich bass and clear sound quality. It also features intelligent noise control feature that isolated background and irritating noise at the background.
It when its come battery, the Jabra Elite 3 wireless earbuds have a 7 hours battery life and at least 28 hours when inside the case.
This wireless earbuds also supports Alexa, Google Fast Pair and Spotify Tap playback that works well wth the built-in microphones on the earbuds.
It has an IP55 rating of rain protection. The product also comes with a 2 yr warranty against water and dust. Just make sure to register the product on Jabra application (Jabra Sound +)
Buy it now on Amazon
---
Now we have one of Google's great product, the Google Pixel Buds Pro. Great features includes a long battery life, Active Noise cancellation (ANC) feature and good sound quality.
The battery life of the Pro version varies with Active noise cancellation and without Active noise cancelling feature. With ANC off, battery life is up to 11 hours while with ANC off the buds pro lasts up to 7 hours. When inside the case, or on standy mode, the buds pro battery life is up to 31 hours. The Buds pro supports wireless charging using a pixel and or QI wireless charging.
The Googe Pixel Buds Pro comes with 11 mm drivers along with Volume EQ for that clear, quality and rich bass.
Another great feature of this Buds pro is its transparency mode. This means that even if the earbuds are placed on your ears, you can still hear surrounding area especially when you are crossing or walking down the street.
With a rating of IPX4, bluetooth earbuds is water resistant. One more thing, with its Swift pair feature, you can conveniently switch on the buds compatible devices such as from listening your favorite tracks to answering a phone call.
Buy it now on Amazon
---
Next on our list is another True wireless earbuds, the Tozo T6. This earbud connects via Bluetooth 5.3 connectivity. This is different from the rest of the earbuds mentioned since this one has an IPX8 rating, it means that this earbud is waterproof of at least 1 m. deep for 30 minutes.
The battery life can last up to 10 hours in a single charge and up to 45 hours with its charging case. Supports fast charging too, it can fully charged for only 55 minutes using the charging cable or fully charged for 2 hours using a wireless charger.
The earbuds comes in different colors to choose from that best suits your mood and pairs it with your Galaxy s22 phone.
Buy it now on Amazon
---
OnePlus Nords wireless earbuds is another truly wireless earbuds that will cost you less than other wireless earbuds mentioned here. When you are on a budget and wants to get an earbud for your Samsung galaxy buds, try the OnePlus Nord Buds for a best value wireless earbuds.
Being a budget friendly wireless earbuds, it still has a lot of great features to offer: long battery life and faster charging, and larger drivers for clear sound performance.
Features 12.4 titanium audio drivers for that deep bass and clear sound while listening to your favorite music tracks.
When it comes to battery life, the OnePlus Nord Buds lasts up to 7 hours of playback time and whooping 30 hours standby time (when inside the charging case). Not to mention its IP rating of IP55, this means the wireless earbuds is water resistance and dust resistant ensuring listening to music get uninterrupted even sweating.
Buy it now on Amazon
---
Bose is popularly known for its high quality and reliable audio equipment, and this time Bose has never failed to deliver yet another quality audio device known as the QuietComfort Earbuds II. Athough the quietcomfort Earbuds II from Bose is smaller than the other earbuds version, still has the same quality and good features to offer.
The Bose QuietComfort Earbuds II comes with Bose Fit Kit. The kit includes 3 pairs of ear tips and another 3 pairs of stability bands to make sure the earbuds securely fits well to your ear canal.
In terms of battery life, the Bose QuietComfort earbuds II can last up to 6 hours. It is also a fast charging earbud, with just 20 minutes of charging time you can enjoy 2 hours of playback time.
Bose QuietComfort is considered to be one of the world's best noise cancellation earbuds. You can use Bose Music app that you can download to set up the device and access other features such as bluetooth, noise cancellation and a lot more.
Buy it now on Amazon
---
Then we have another True wireless earbuds, the Sennheiser momentum. An in-ear wireless bluetooth earphone with a 28 hour battery life.
Sound quality of Sennheiser momentum is exceptional because it is powered by TrueResponse Transducer and the AptX adaptive audio resolution. Also supports Active Noise cancellation feature when listeng to music or taking a phone call.
The package of the Sennheiser momentum comes with XS to L ear adapters made of silicone and S-L fins, this is to ensure that earbuds is securely fit to your ears.
With an IPX4 rating, earbud is resistant to water splashes.
Buy it now on Amazon
---
Last but definitely not the least is the noise cancelling earbuds for your Samsung Galaxy S22 device is the Soundcore by Anker Life P3. Powered by 11 mm drivers for that superb audio quality. With great bass and clarity sound, and yet another great deal and value for money earbuds for your samsung galaxy S22.
The battery life of Anker Life P3 lasts up to 10 hours on a single charge and when on its charging case can lasts up to 50 hours. Fast charging capacity, with just 10 minute of charge gives you at least 4 hours of playtime.
The noise cancellation feature on this earphones have 6 built in microphones that blocks noise from the background, thereby you can clearly hear the music, the calls, and video chats.
Buy it now on Amazon
---
Final Thoughts
That's it, there you have it the best wireless earbuds available in the market today. Choosing the best wireless earbuds for your Samsug Galaxy S22 series can be challenging as there are a lot of options to choose from. You can choose from the list we have gathered and mentioned above are all best earbuds. All can be paired with via Bluetooth on your galaxy devices.
Things to keep in mind when choosing the right earbuds for your samsung devices includes the sound quality, design, durability and battery life.
* If you buy through links on our site, we may earn an affiliate commission. For more details, please visit our Privacy policy page.