If you are new to using Fitbit and don't know its capabilities yet, just like what kind of fitness tracker it supports on the Fitbit app, then you should be guided by reading this article further.
Fitbit Cycling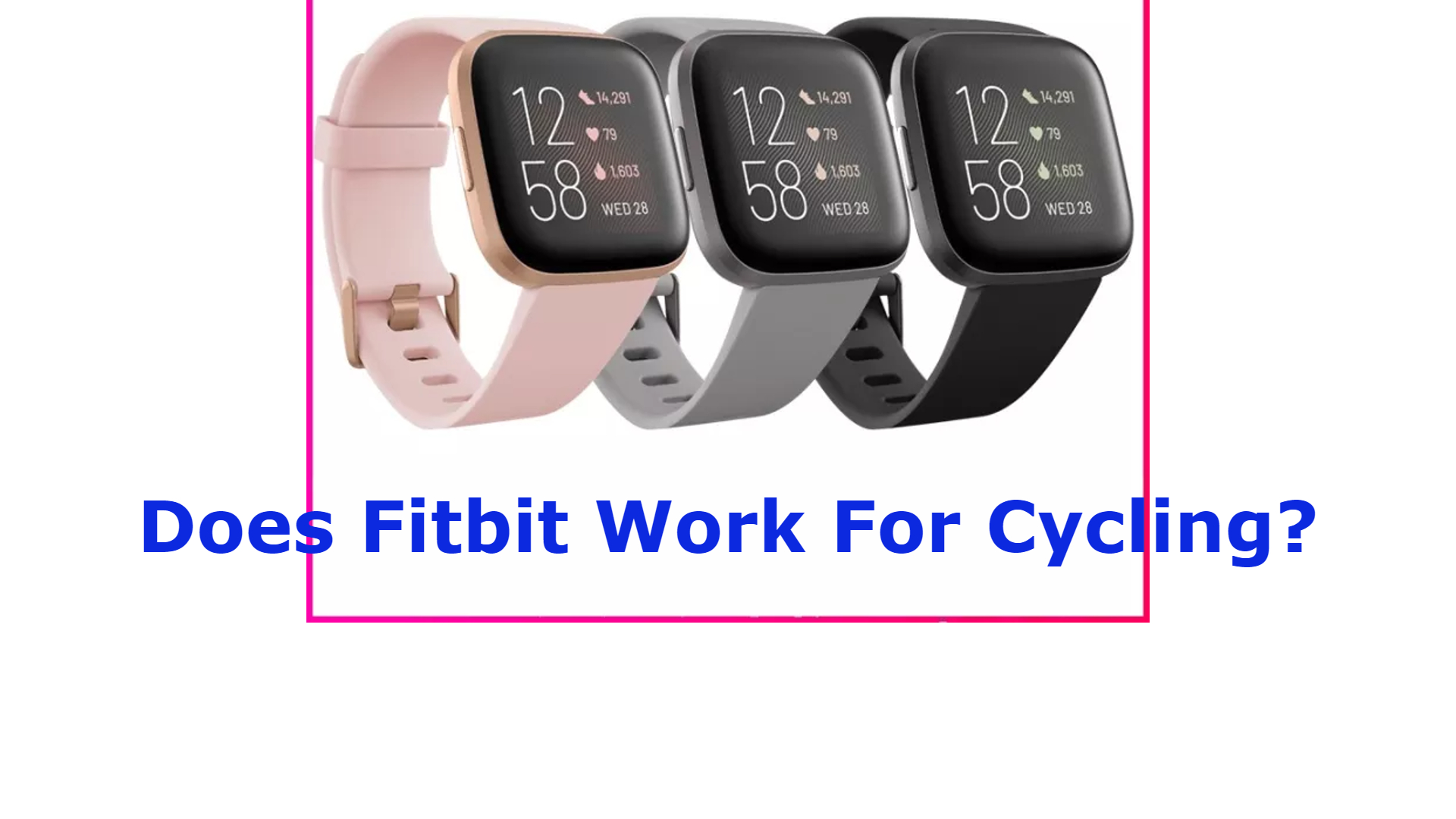 What Is Fitbit?
Before we head to the main concern about Fitbit cycling, let us know first what it is and what it does. A Fitbit device is mainly used to track your everyday lifestyle, which includes activities and fitness trackers.
It doubles as a watch that is worn on your wrist and you can find the information through the Fitbit app that is compatible with more than 200 Apple iOS, Android, and Windows 10 mobile devices.
Some say that it is similar to a smartwatch, but they are also different in their own ways. A fitness tracker is designed to keep track of your health and exercise. Though a smartwatch can also be used to track your health and lifestyle, it features a connectivity service that allows you to receive notifications and updates on your wrist, something that a Fitbit device is not able to deliver.
---
Does Fitbit Track Your Cycling?
Fitbit devices are actually excellent if you are into cycling as they have excellent integrated GPS in their wearables. As long as your Fitbit app is in good condition, which means the connected GPS is working fine, then you can track indoor cycling or outdoor cycling.
Cycling is one of the major activities supported by Fitbit and it offers a recording of different metrics such as distance covered, average speed, calories burnt, and many more. These things are very useful to cyclists, even if they are only doing some indoor cycling, and they are integrated into the Fitbit app.
---
FAQs
Which Fitbit is Best for Tracking Cycling?
Whether you want to track indoor cycling or outdoor cycling, the most recommended among the Fitbit devices is the Fitbit Charge 4. Aside from being one of the best fitness trackers, Fitbit Versa 4 has great GPS integration functionality.
It is actually the first non-smartwatch Fitbit tracker to feature the technology and allows the user to leave their phones at home while still being able to do some health tracking. Cyclists or bikers would love this feature as they can leave their phones at home if they want to take the Charge for a bike ride.
Aside from its built-in GPS, the Fitbit Versa 4 also features workout intensity map, Active Zone Minutes, all-day activity tracking and 24/7 heart rate, 40+ exercise modes and automatic exercise shortcuts tracking. Its sleep tracking has a personalized Sleep Profile, daily sleep stages & Sleep Score, smart wake alarm and do not disturb mode. These tools will help measure and improve sleep quality.
You can also maintain a healthy body and mind with its daily Stress Management Score, reflection logging, SpO2, health metrics dashboard, guided breathing sessions, menstrual health tracking and mindfulness content. It also has some customizable clock faces and always-on display mode, Fitbit Pay, and Amazon Alexa built-in. Google Wallet & Maps are also said to be supported soon on Fitbit Versa 4.
You won't also miss your texts and phone notifications as the Fitbit Versa 4 has this functionality, truly designed for fitness & beyond. The upcoming on-wrist Bluetooth calls is one to look forward to. Worrying about short battery life is something you can disregard as it has 6+ day battery life, plus it has a fast charge support.
To make sure that you are looking for an authentic Fitbit Versa 4 device, click on this link for more information about this excellent fitness tracker.
How to Add Indoor Cycling to Fitbit?
Your Fitbit device can help track your steps, your sleep, and your daily morning run. But how will it track indoor cycling information? Technically, Fitbit cannot automatically track indoor cycling.
For most Fitbit models, you will need to first add spinning in your exercise shortcuts by logging into your dashboard or app and editing your shortcuts. It will start tracking indoor cycling and once those procedures are done, you can manually start and stop tracking your activity using your Fitbit device.
You can also manually log the details of your indoor cycling/spinning on your Fitbit app or through the Fitbit Dashboard as an alternate. Fitbit devices can automatically detect high-movement activities that you do like running and walking and the reason why indoor cycling is not tracked automatically is that your hands usually rest on the handlebars of your bike with your Fitbit is placed on your wrist.
There are several ways to track exercise information of your indoor cycling. Called 'Spinning' on FitBit, your device will automatically track your heart rate, speed, time, and calories burned once you start your indoor ride. But you will need to manually sync it and the Fitbit automatically detects your indoor cycling workouts and log activities.
Record your indoor cycling via the Fitbit.com Dashboard:
Log into your fitbit.com dashboard and go to Log > Activities.
Type in spinning using the search field.
Enter the start time and the duration of your activity.
The app will automatically track and calculate the calories burnt during your workout and instantly fill it in.
Click Log to finish. You can now view and edit your activity in the Activity History.
Record your indoor cycling via the iOS app:
Open your Fitbit app on your iPhone and on the dashboard, tap the Exercise tile to open your exercise history.
At the top right corner, tap on the stopwatch icon and tap on Log.
On the search field input Spinning. Once you select Spinning on the results, enter the start time and duration of your activity.
Tap Add to record your activity.
Record your indoor cycling via the Android app:
Open your Fitbit app on your Android phone and on the dashboard, tap the Exercise tile to open your exercise history.
At the top right corner, tap on the stopwatch icon and tap on Log Previous.
On the search field input Spinning and then the start time and duration of your activity.
You don't need to manually log the information as the app will calculate the calories and fill it in for you.
Tap Log It to record your activity.
Record your indoor cycling via Windows 10 devices:
On your Windows 10 device, open the Fitbit app and tap the Exercise tile on the dashboard.
Tap the + (plus) icon.
Search spinning and enter the activity details, then confirm.
---
Will Fitbit Still Track Steps If I Wear It On My Ankle When Cycling?
It is still possible for Fitbit to track the calories burnt, heart rate data, and other useful information if being put inside your socks or belt bag while cycling indoors, but don't expect that it will provide accurate data.
Most Fitbit devices are designed to be worn on your wrist as that's where they get the useful data, such as heart rate. While the new models may have a new fitness metric, they might not be able to provide correct calculations if you use it some other way.
The best way is to ensure you manually track the information using the steps provided to record your indoor cycling and other activities that are not step-based.
---
Why Does My Fitbit Not Showing Miles Even If I Manually Track It?
If you are doing stationary activities, such as indoor cycling, the current technology of Fitbit models cannot calculate the distance. But for it to show the information on the Miles field, you can manually input distance through the Fitbit App using the procedures given above.
Some indoor bike trainers would also have a virtual training app while biking or a built-on odometer that will also let you know how far you have "traveled". You can use that data and enter that information on your app when you manually log your activities.