Do you experience Evil West crashing issue on your PC? Several factors can cause this issue such as a corrupted game files, outdated dedicated graphics card drivers, or your computer does not meet the minimum requirements to run the game. To fix Evil West crashing issue, you will need to perform several troubleshooting steps.
Evil West is a third person shooter game that was developed by Flying Wild Hog and published by Focus Entertainment. It is a single player game but it can also be played by co-op with up to two players. In this game, you are a hunter armed with weapons in hunting vampires. As you explore and battle in a story-driven campaign, you can also improve your guns and hunting equipment. Create your own playstyle by unlocking additional perks to advance your monster-slaying prowess and vanquish the hordes of the supernatural.
Fixing Evil West Crashing Issue on PC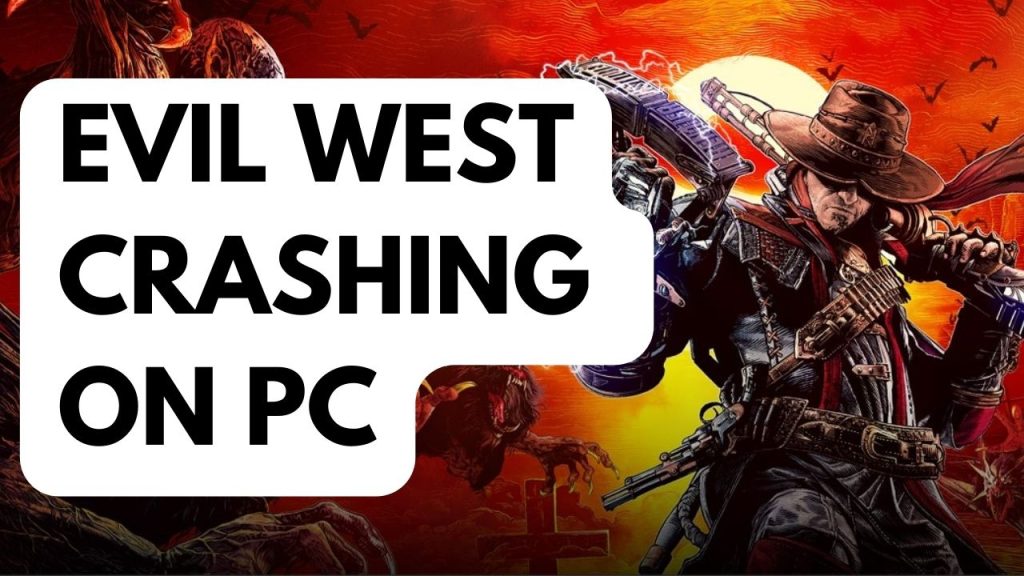 One of the issues you will encounter when playing Evil West game is the crashing issues. This can be a frustrating experience especially if the game crashes occasionally and you won't be able to enjoy the game.
Here's how to fix Evil West game crashing issue.
Fix #1 Check Evil West Game Minimum Requirements

The first thing you should check when you experience Evil West crash is to check if your computer can handle Evil West game. If your computer does not meet at least the minimum system requirements then that is the reason you are getting crashing issue, black screen, or launch issue with the game.
Minimum Requirements
OS: Windows 10 (64 bits)
Processor: Intel Core i5-2500K (3.3 GHz) / AMD FX-6300 X6 (3.5 GHz)
Memory: 8 GB RAM
Graphics: 4 GB VRAM, GeForce GTX 750 Ti / Radeon RX 460
Storage: 40 GB available space
Additional Notes: 30 FPS, 1920×1080 in medium
Recommended System Requirements
OS: Windows 10 (64 bits)
Processor: Intel Core i5-10505 (3.2 GHz) / AMD Ryzen 5 1600 (3.2 GHz)
Memory: 16 GB RAM
Graphics: GeForce GTX 1060 / Radeon RX 590
Storage: 40 GB available space
Additional Notes: 60 FPS, 1920×1080 in epic
Fix #2 Update GPU Drivers
Evil West is a recently release game from Flying Wild Hog, if you occasionally experience crashes and if you are using outdated GPU drivers then it is recommended that you update to the latest drivers of graphics card for your display adapters since it will contain optimizations for the game. Aside from the optimizations of the updated drivers, the latest drivers also include performance improvements, graphical issues fixes and bug fixes for PC users.
Time Needed : 3 minutes
Updating graphics driver
Simply type Device Manager in the search bar on your desktop and then click the icon that appears in the results.


This will open the device manager.


Click the Display adapters icon.


The list of display adapter will be expanded.



Right-click the dedicated graphics card you are using to play the game and then select Update driver.


This will allow you to update your driver.


Choose Search automatically for drivers.


This will search online for any new drivers and install it on your computer.


You should also make sure that the video card is your preferred graphic processor when playing the game. Users of NVIDIA can change to their preferred GPU through NVIDIA control panel.
Changing preferred graphic processor
Open the NVIDIA control panel.
Navigate to 3D settings > Manage 3D settings.
Open the Program settings tab and select your game from the dropdown menu.
Select Preferred graphics processor for this program from the second dropdown menu. Your NVIDIA GPU should appear as "High-performance NVIDIA processor"
Save your changes.
After you have done the steps, try to check if you are still getting performance issues when you run the game.
Fix #3 Change Graphics Settings
If you are still getting crashing issue, then the next thing you have to do is to change the graphics settings. Your computer may not be able to run it in normal settings and you need to adjust it to avoid any crashes.
Nvidia Users
Right-click on desktop
Click Nvidia control panel
Click Manage 3D Settings
Click Program Settings
Find "Evil West", you can manually add the games if it's not in the list, then make the following changes.
Monitor Tech: G-Sync (If available)
Maximum Pre-rendered frames: 2
Threaded optimization: On
Power Management: Prefer Maximum Performance
Texture Filtering – Quality: Performance
Low Latency Mode: Low
AMD Users
Open the AMD Software then make the following graphics changes.
Anti-Aliasing Mode: Use Application settings
Anti-aliasing Method: Multisampling
Morphological Filtering: Off
Anisotropic Filtering Mode: Use application settings
Texture Filtering Quality: Performance
Surface Format Optimization: On
Wait for V-sync: Off
OpenGL Triple Buffering: Off
Shader Cache: AMD optimized
Tessellation Mode: Override application settings
Maximum Tessellation Level: Off
GPU Workload: Graphics
Chill: Off
Frame Rate Target Control: Disabled
Fix #4 Disable Antivirus Software
Another reason for the crashing issue with Evil West is because of an antivirus software that constantly scans the folder for viruses then making it as potential threats and blocking the Evil West. You can try to temporarily disable antivirus and try to play Evil West and see if it still crashes. If Evil West does not crash then you can add it to the exclusion list of your antivirus. Turn back on the antivirus after you have added Evil West to the exclusion list.
Turning off antivirus software
Step 1: Press Windows Start menu key.
Step 2: Click Windows Settings.
Step 3: Click update & security.
Step 4: Click Windows Security.
Step 5: Click Virus and Threat protection.
Step 6: Click Manage settings.
Step 7: Turn off real-time protection.
Turning off Avast
Step 1: On the taskbar, look for the Avast icon.
Step 2: Right-click Avast icon.
Step 3: Select Settings.
Step 4: Select disable option from Avast Shields.
Turning off AVG
Step 1: Right-click the AVG symbol in the system tray.
Step 2: Select Disable AVG Protection temporarily.
Turning off McAfee
Step 1: In the system tray, double-click the McAfee antivirus icon.
Step 2: In the upper right corner, click the Navigation link.
Step 3: Select Real-Time Scanning and then turn it off.
Adding to the antivirus exclusion list
Step 1: Press the Windows key.
Step 2: Click Settings.
Step 3: Click Update & Security.
Step 4: Click Windows Security.
Step 5: Click Virus & threat protection.
Step 6: Click Manage setting.
Step 7: Click Add or remove exclusions.
Step 8: Click Add an exclusion.
Step 9: Click Folder.
Step 10: Locate and select the folder.
Fix #5 Repair Game Files
If Evil West files in the installation folder is corrupted or have missing files then this can be the cause of the crashes. You can use the repair tool from the Steam client to verify integrity game file and see if any files need to be fixed. Steam will immediately download, install, and replace the corrupted and missing files found.
Verifying Evil West
Step 1: Open Steam client.
Step 2: In your Steam launcher, click Library.
Step 3: Find Evil West then right-click and select Properties.
Step 4: Choose the Local Files tab.
Step 5: In the local files tab, click Verify integrity of game files.