Washer and dryers are something that we hate using, but is still pretty essential in our daily lives. However, did you know that there are smart washer and dryers as well? What are these? Well, these are washers/dryers that come with WiFi and smartphone apps to know what's happening with your clothes.
| Product | Brand | Name | Price |
| --- | --- | --- | --- |
| | SAMSUNG | SAMSUNG 2.2 Cu Ft Compact Front Load Washer, Stackable for Small Spaces, 40 Minute Super Speed Washing Machine, Steam Wash Clothes, Self Cleaning, Energy Star Certified, WW22K6800AW/A2, White | Check Price on Amazon |
| | SAMSUNG | Samsung 5.5 Cu. Ft. Black Stainless Steel FlexWash Washer | Check Price on Amazon |
| | Whirlpool | Whirlpool WTW7000DW 4.8 cu. ft. Cabrio HE Top Load Washer w/Exclusive ColorLast Option | Check Price on Amazon |
| | LG | LG WM3998HBA 4.5 cu.ft. Front Load Washer & Dryer Combo | Check Price on Amazon |
* If you buy through links on our site, we may earn an affiliate commission. For more details, please visit our Privacy policy page.
We're going to take a look at some of the best smart washer and dryer sets that you can buy. Bear in mind that we'll only talk about the smart washers in this list, with dryers sold separately by manufacturers. If you already have a dryer at your home, you might as well get the washer to take full use of the smart features that come by default.
Best Smart Washer and Dryer Sets
This comes with 26 preprogrammed cycles, allowing deep customization. What's even better is that you can preload cycles from the app to offer more customizable wash cycles on board.
Using Whirlpool's dedicated laundry app, customers can keep an eye on their wash cycles even when they're not at home. You also This in addition to the rest of the smart features make this a comprehensive washing machine, while the dryer (sold separately) complements this pretty well.
The Whirlpool Cabrio 26 is also compatible with Nest Thermostat, which is pretty amazing when you think about it. In terms of the design, the Cabrio 26 uses a rather minimal approach, so going by its looks alone, one wouldn't be able to tell if this is a smart washer.
However, that's the best part about these washers. The minimalistic design combined with a slew of smart features is the perfect combination for any home appliance. It's available in a solitary Chrome Shadow color variant right now.
Buy it now: here
2. GE Top Loading Washer
This is a washer dryer combo that's uniquely designed to save up on space in your home or apartment. The top part accommodates the dryer, while the bottom consists of the standard washer. It comes with eleven wash cycles, letting you customize your wash down to the last detail.
Using GE's ConnectPlus adapter, you can control this washer dryer combo with IFTTT, Google Assistant, as well as Amazon Alexa, turning it into a full blown smart washer/dryer. Nothing can beat the convenience of using your voice to activate your washer.
There are different cleaning modes to help you ascertain how much temperature and energy needs to be used for some kind of clothes. The process of washing is pretty convenient, and there are absolutely no complaints in this regard. The customers just have to be careful about the settings they're going to use and the kind of clothes they'll have in the washer.
Buy it now: here
3. LG 12-cycle Front Loading Washer
This consists only of a washer, which can offer you a comprehensive cleanup of your clothes. What's more is that it offers wrinkle free washing, saving you the trouble of having to iron all your clothes after washing. The dryer, which is sold separately, comes with the company's proprietary TrueSteam technology, utilizing steam instead of plain heat to dry your clothes. This also helps remove any odor stuck with the clothes after the initial wash.
Naturally, LG also makes an app available for the washer, allowing you to control every aspect of the cycles. The presence of NFC on both the washer and dryer allows you to wirelessly pair smartphones and other compatible devices. It's a pretty detailed setup, and will surely get rid of your laundry woes thanks to the convenience it brings to the table.
The 4.5 cubic foot washer allows for a lot of clothes to be washed at once, and the same applies to the dryer as well. In addition to being a front loading washing machine, this unit also comes with reversible doors, allowing you to be the judge of how you want to handle it the way you want. The company is also touting the presence of vibration reduction technology, which allows for a quiet wash every single time.
Buy it now: here
4. LG Top Loading Washer
Yet another LG washer on this list, but this one's slightly different as it's a top loading unit. The best part about this is that it's relatively larger (5.0 cubic feet) and ideally suited for large loads. The company's anti-vibration feature ensures the top loading washer functions smoothly without too much noise.
There are 12 washing cycles to choose from. Thanks to Wi-Fi connectivity on board, the washer, and dryer (sold separately) can be controlled using just your smartphone. The addition of these features, coupled with the fact that it's easier to use, makes this one of our favorite picks on this list.
Buy it now: here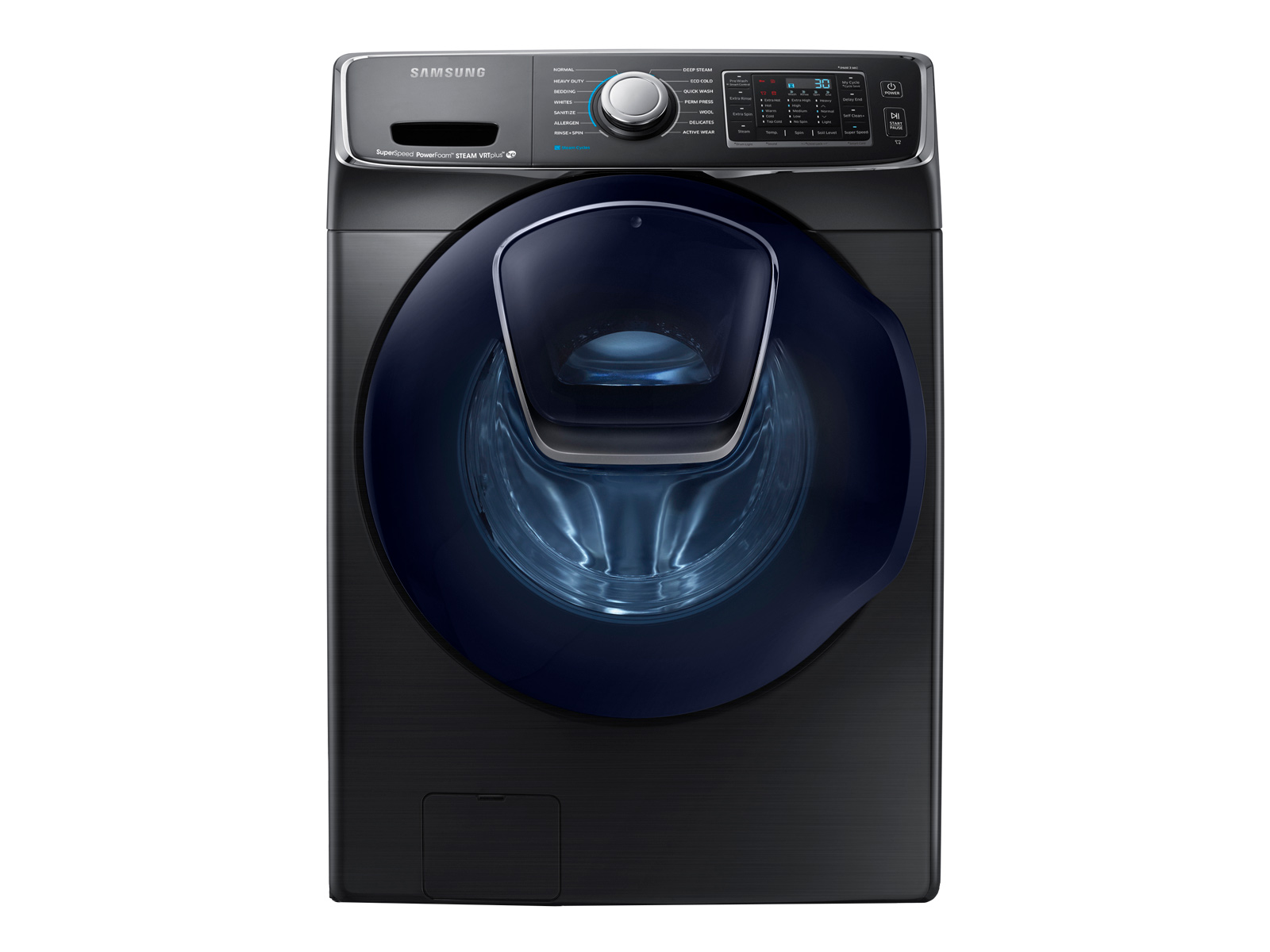 Samsung is one of the top washing machine and dryer manufacturers out there. The Addwash washer (dryer sold separately) comes with a big list of features, making it stand out from the rest of the competition. This is yet another front loading washing machine, with a diverse set of controls on board.
But that's not a problem as the accompanying mobile app can alleviate most of those concerns. There are a total of five temperature settings and five spin speeds, and a total of 14 wash cycles. What I like about this particular dryer is the presence of an Addwash door, letting you put in clothes even when the cycle has begun.
The dryer comes with the same set of smart features, including the ability to be notified when there's excess lint in the filters, reminding you to clean them up. This ensures that your clothes dry without any lint residue. Users need to get Samsung's Smart Care app to control the washer or the dryer.