To start vlogging, you don't necessarily need to have an expensive camera, powerful computer and premium video editor. If you have a smartphone that's capable of recording full HD or 4K videos, that will be enough for you to begin your production.
As for the computer, if you have an old mid-range gaming PC, then you should stick to it and see if it's still capable of running free video editors you can download from the Internet. We all know that vlogging doesn't pay you if you're still starting out, especially if you haven't built your following on social media yet. But don't let that stop you in visualizing your ideas that you want to share with the world.
Continue reading below as we will list down the best free vlog editing software for Windows. Choose the one that best suits your needs.
Best Free Vlog Editing Software for Windows
The first on our list is the VideoProc Vlogger, a very powerful video editing tool that takes advantage of full GPU hardware acceleration on a computer to ensure smooth video editing and rendering, even when it comes to 4K resolution.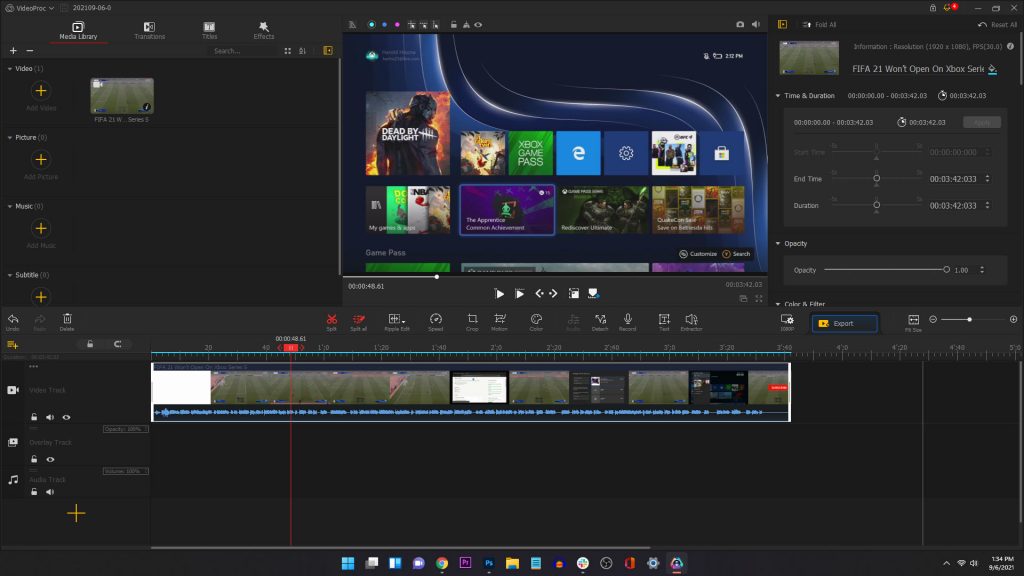 The software's user interface is simple and you can easily learn how to use it even if you don't have a background in video editing. The videos, pictures, music and subtitles are properly categorized and appear on the left panel, while the timeline appears at the bottom just like any other video editing software.
You can easily manipulate the quality of your videos by adjusting their opacity, color and audio volume. Flipping your videos can also be done quickly by using the flip commands under Transform, which also allows you to change the width and height of the video.
Unlike other software where you need to render the timeline first to be able to edit your videos without the lags, VideoProc Vlogger did a good job in not requiring that. Playing the timeline on the preview window is smooth. 
VideoProc Vlogger is built-in with 28 preset motion effect for you to make cinematic camera movements, like Zoom, Pan, Tilt, Dolly, Truck, Pedestal, etc. The motion effect is perfect to elevate your clips about surfing, diving, snowboarding, traveling, slideshows or just daily vlogs. To add more fun, you can apply sound effects and edit video to the beat with the audio editor.
Overally speaking, VideoProc Vlogger nets you the power to create and recreate amazing videos in the easiest way, crucially, it's watermark-free! You can dive into the details either from their step-by-step text guide or tutorials on their YouTube channel.
Download it Now: VideoProc Vlogger
2. Lightworks
Lightworks is probably one of the most popular video editing software. The good thing about it is that the developers offer the software for free. You can immediately use it and produce your contents without watermark. The limitation is that you can only export up to 720p, which is pretty decent if you're starting out. Aside from that, you can export your videos to all formats that the software offers.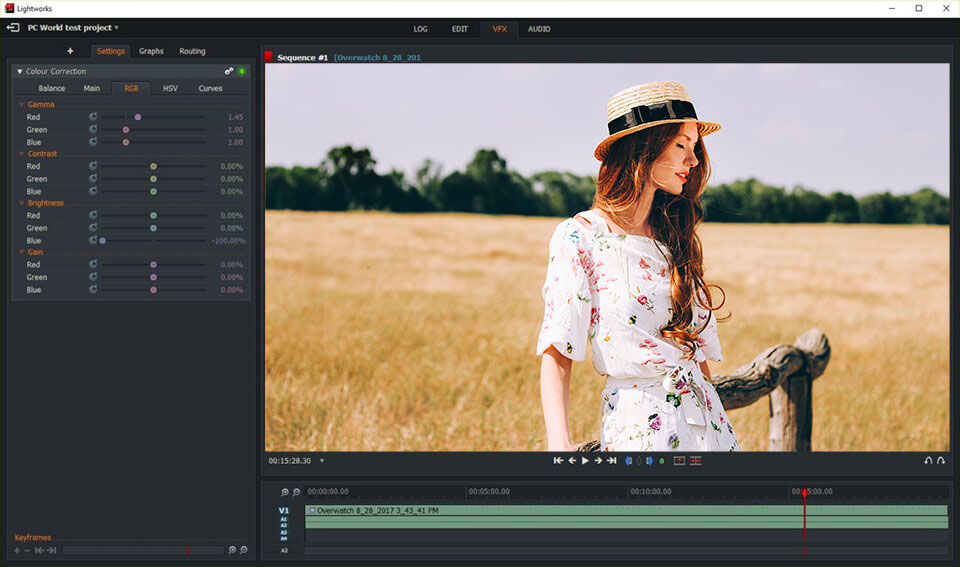 So if you have a decent Windows computer and want to start vlogging without spending a dime on the video editing software, then you should try Lightworks. We know that after some time, you feel like there's a need for you to upgrade or improve your content, then that's the time that you decide to try on other software or to purchase a plan if you want to stick with Lightworks.
Download it Now: Lightworks
3. Shotcut
If you're looking for a free, open source, cross-platform video editor, then Shotcut is for you. It supports hundreds of audio and video formats and codecs and does not require you to import, which means native editing, plus multi-format timelines, resolutions and frame-rates within a project.
Aside from that, it has multiple dockable and undockable panels, including detailed media properties, recent files with search, playlist with thumbnail view, filter panel, history view, encoding panel, jobs queue, and melted server and playlist.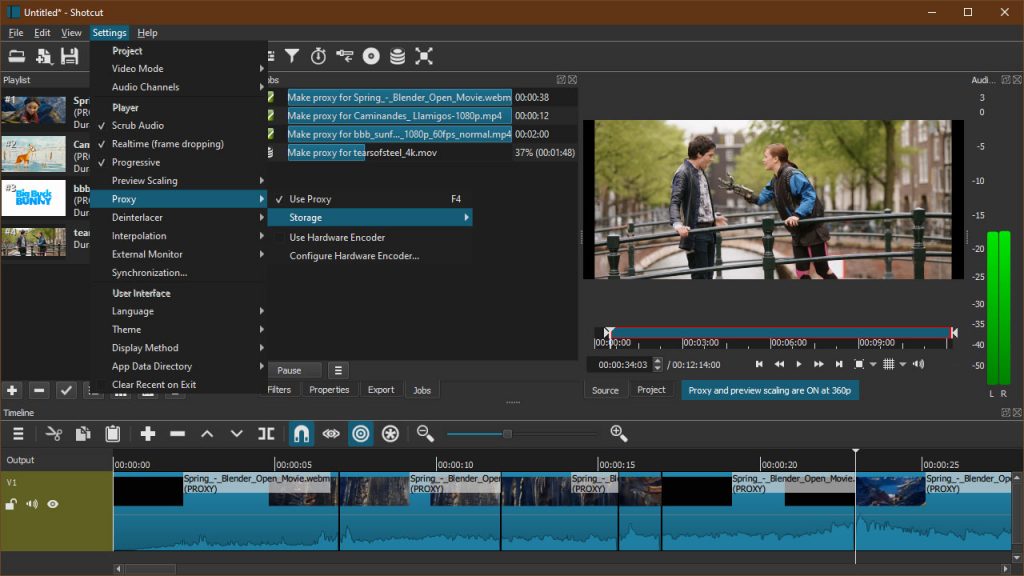 It runs on a mid-range computer so you don't need to buy or build a high-end PC to be able to use this software. If you already have a desktop Windows computer, try downloading and installing it, and create a short video to be able to know how your machine works with it.
Download it Now: Shotcut
When it comes to video editing, DaVinci Resolve boasts of its intuitive, easy to learn edit page that will surely be appreciated by beginners but powerful enough that professional editors will be able to admire the tools and controls. But editing is just one of the many capabilities of the software. It excels the most when it comes to color correction and visual effects.
So if your content is more on cinematic motion pictures, you will be able to appreciate DaVinci Resolve and its controls even more, although it might take more advanced editing knowledge to be able to use the software to its full potential. Of course, practice makes perfect and that will be true if you want to use this because it's free and there are tons of tutorials about color grading and application of different visual effects on YouTube.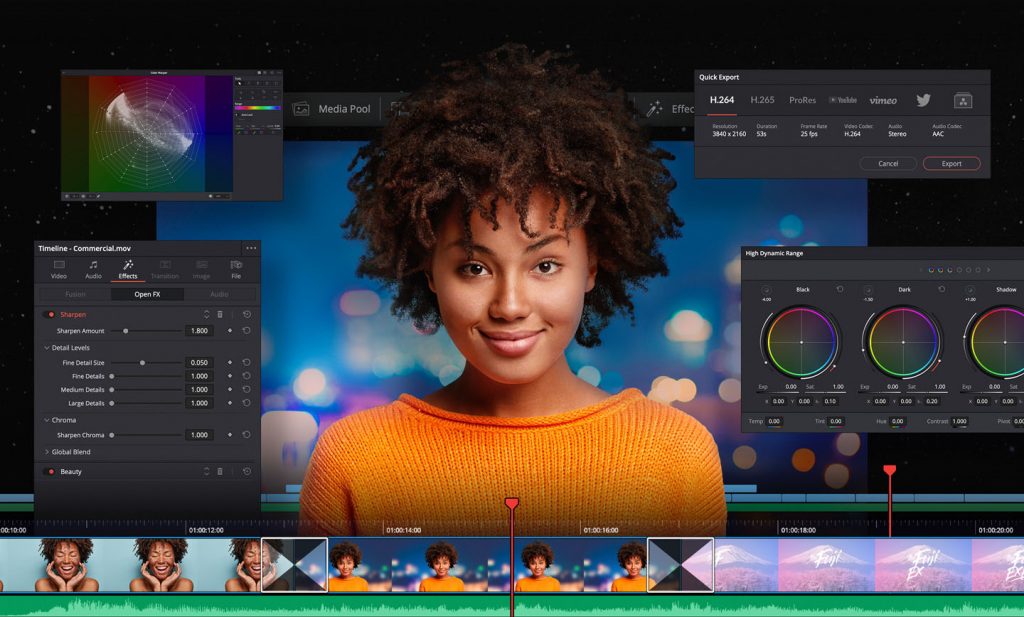 DaVinci Resolve's new cut page has many new innovations that make editing much faster than before. That's critical when editing long form episodic television programming, documentaries and corporate videos or fast turn music videos and television commercials.
Download it Now: DaVinci Resolve
5. VSDC
Another free suite for audio-visual editing is VSDC. It gives you all the basic set of tools for editing video, improving audio, recording voice overs, capturing desktop screen, and more. It's a good option if you're on a budget and don't have a high-end desktop computer. Having a mid-range gaming PC with 4GB graphics card and at least 8GB RAM should be able to run this software without lags. The rendering might take a little more time but it's always like that even with premium video editing software running on powerful computers.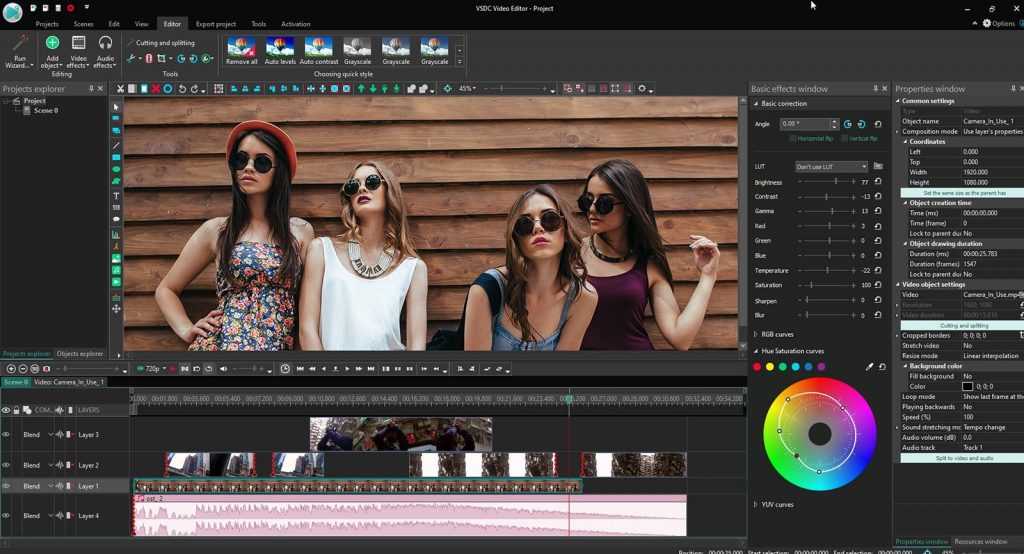 It supports all popular video and audio formats and comes with a powerful chroma key tool to remove green background. It also comes packed with a large set of trendy effects, transitions and filters, as well as tools like charts, zoom, 360 video editing, and color correction. So basically, it has all necessary tools to help you start out with your vlogs.
Download it Now: VSDC
If you are looking for a software to fit your vlogging needs, then try the free vlog editing software for Windows above and see which one works best for you.