School is back in session, and now is the time where students are looking to get the best bang for their buck when it comes to laptops. However, students might want to try a different type of laptop this year–the Chromebook. Its battery life, portability, and performance are unmatched in a small yet affordable package.

* If you buy through links on our site, we may earn an affiliate commission. For more details, please visit our Privacy policy page.
The only drawback is that Chromebooks require an Internet connection to operate. But, with the Internet so prevalent these days, especially in schools, that shouldn't be a problem. After all, there are still options for downloading papers and assignment instructions for offline viewing. Even papers can be written without an Internet connection.
Follow along below, and we'll point you in the right direction for picking up a powerful Chromebook that won't blow your budget.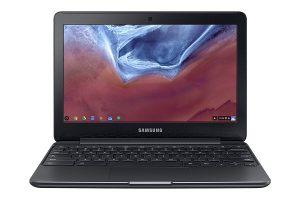 Students on a budget will love the Samsung Chromebook 3. There aren't too many bells and whistles here, as this really is a budget laptop; however, don't let that scare you away. It still sports some decent hardware–you get an Intel Celeron N3060 processor, 4GB of memory, and a 16GB SSD for storage. Of course, you don't get all 16GB of that space, as some are reserved for the operating system (OS), though the OS doesn't take much space, as it's exceptionally lightweight. I will note here that, since it is an SSD (flash storage) boot up is insanely fast.
It has an 11.6-inch high-definition anti-reflective display. Given this, the screen does feel like plastic and can make the laptop feel cheap, but it's still sturdy. It really is a convenient choice, and as such, won't break the bank.
Buy it now: Amazon
If you're looking for even more value out of a laptop, the Acer CB3-532 is an excellent option. When it comes to hardware, you get a lot of the same in the Samsung Chromebook 3– an Intel Celeron N3060 processor, a smaller 2GB of RAM, and a 16GB SSD. Once again, bootup times are insanely fast, and general use, going from app-to-app, is fast as well.
The distinct difference here that students will love is the larger screen. You get a large 15.6-inch high-definition anti-glare screen. Due to that anti-glare feature, there is a plastic layer over the display, which–similar to the Samsung Chromebook 3–makes things feel cheap. Still, Acer is offering these models as Certified Refurbished (with an extra 90-day warranty), allowing you to get bargain basement prices on this model.
Buy it now: Amazon
We're now on the Google Pixelbook 2, but the original Pixelbook is still a formidable device, and a budget-option since it's "last year's hardware." This laptop comes in a variety of hardware options, such as Intel Core's i5 or i7. You can get it with 8 or 16GB of RAM, and it comes equipped with a 12.3-inch Quad HD 2,400 x 1,600 touchscreen display. You can get a ton of storage with this Chromebook — all the way up to 512GB if you so choose.
Google's Pixelbook is fast and efficient. It'll run all Android and Chrome OS applications without a hitch, giving you a variety of software applications to meet your needs.
Buy it now: Amazon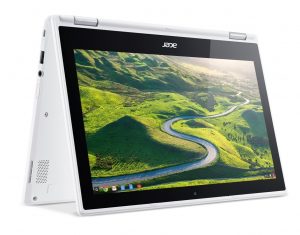 The Acer Chromebook R11 Convertible is a little more expensive than the Samsung Chromebook 3, but comes with some powerful differences. Hardware-wise, you get an Intel Celeron N3150 processor, 4GB of RAM, and a 32GB SSD (double of what the previous options have had). You also get a small 11.6-inch high-definition display, but its clarity is one of the best on the market. Besides, it doubles as a touchscreen, which can make the Chromebook easier to use during regular laptop use. Or, you can flip it into tablet mode while chilling out on the couch.
The neat thing about this Chromebook is that Acer, in partnership with Google, has made it compatible with the Google Play Store. In other words, not only do you have access to the Chrome Web Store, but you have access to the hundreds of thousands of Android apps found on the Google Play Store as well. This gives you a whole lot more possibilities for tools and apps that'll help you with the school.
Buy it now: Amazon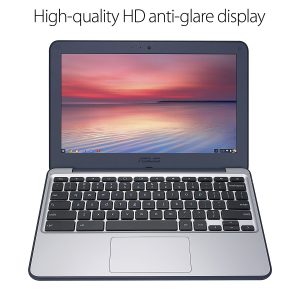 The ASUS Chromebook C202SA-YS02 might not have any neat bells and whistles like touchscreen capabilities, but it's a rugged Chromebook that allows you to take it anywhere without worry of breaking it. Reinforced rubber wrapped frames keep the Chromebook protected and even absorb shock in the event of a drop.
Also, it has a spill-proof keyboard, so if you spill any sort of fluid on it, you don't have to worry about destroying your Chromebook. All of this together makes this Chromebook an ideal candidate for working on essays outside, taking to coffee shops for study, etc.
Hardware-wise, you get an Intel Celeron N3060 processor, 4GB of RAM, a 16GB SSD, and an 11-6-inch HD anti-glare display. Android apps through the Google Play Store are available on the Chrome OS beta channel and will become a fully-fledged public feature. You can pick up the Chromebook on Amazon.
Buy it now: Amazon
Next up, we're looking at the HP Chromebook 14. It's packed with some more mid-range hardware, allowing you to choose different configurations with the Intel Celeron N2840 or N2940. It has Intel HD Graphics, between 2 and 4GB of RAM and up to 32GB of flash storage.
The better part about the HP Chromebook 14 is that it has a larger screen — a 14-inch High Definition BrightView display. It's not the flashiest or highest-end display, but you still get plenty more real estate than most. This really is another excellent one for those on a budget.
Buy it now: Amazon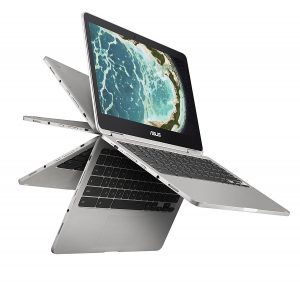 The ASUS Chromebook Flip C302 has a lot of great features with it. Not only does it have a 360-degree flexible 12.5-inch HD touchscreen, but it's also one of the few Chromebooks that can install Android apps through the Google Play Store as on official–not beta–feature.
There's a lot of hardware packed into this Chromebook as well. It has an Intel Core M3 processor, 4GB of RAM, and a large by Chromebook standards 64GB SSD. It's fast and will do anything you need it to do.
Buy it now: Amazon
Verdict
So, which one do you buy? Obviously, it all depends on your budget, but if you're looking to get a bare-bones Chromebook on the cheap, the Samsung Chromebook 3 is something you can rely on, especially with a well-known brand backing it.
If you have the money to spend, the ASUS Chromebook Flip C302 is a great investment, as it'll last you for years to come–well past graduation, even. If you don't have the money to spend on that, a good middle-ground would be the Acer Chromebook R11, which still gives you a touchscreen and access to Android apps.
When it comes down to it, no matter what you pick off this list, you're not going to regret the purchase.

* If you buy through links on our site, we may earn an affiliate commission. For more details, please visit our Privacy policy page.