Want to get Android Auto in your vehicle, but don't want to spend tens of thousands of dollars on a brand new vehicle with the equipment already built-in? Good news! You don't have to do that, as manufacturers also sell individual Android Auto Console Displays for vehicles. They might require a little finagling to fit in your car's console, but they work very well and don't cost an insane amount of money.
---
At A Glance:

5 Best Android Console Displays For Your Car
---
* If you buy through links on our site, we may earn an affiliate commission. For more details, please visit our Privacy policy page.
Follow along below, and we'll show you some of the best Android Auto Display options for your vehicle!
Best Android Console Displays For Your Car
The Pioneer AVHX5800BHS is the best of the best. It has similar features to the Pioneer AVIC-8200NEX, but doesn't have Android Auto specifically built into the set itself. It does still work with your Android device, giving you features like hands-free calling and audio over a Bluetooth connection. It has a DVD/CD receiver, and can support two phones at once. If you also have an Apple device hooked up to it, you'll need a special adapter (not included).
While this Display Console does not have native Android Auto support, it does still have a handful of its own apps you can use (such as radio, music streaming, etc) as well as navigational features.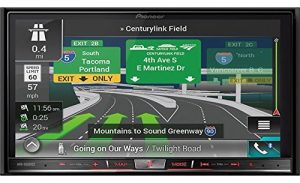 The Pioneer AVIC-8200NEX is one of the better options on the market. It not only supports Android Auto, but Apple's own CarPlay as well. Its strongest elements are the built-in mapping technology, giving you options for finding your route, seeking out points of interest, and general map information.
As you might expect, the Pioneer AVIC-8200NEX uses hands-free technology, so with things like Bluetooth, you'll be able to make calls without ever picking up your phone. This unit also has a DVD/CD receiver for playing your favorite pieces of music; you could even hook it up to a display in your car so that passengers can watch movies on a road trip.
This Display Console is rather interesting. For the most part, it's much of the same of what you'd expect out of an Android Auto device–hands-free features for calling and audio streaming, turn-by-turn navigational features (i.e. Google Maps), a DVD/CD receiver, and support for 3G and Wi-Fi.
The unique aspect of the Hieha Android Car Stereo it is compatible with Apple CarPlay and Android Auto. This Android console is equipped with a 7-inch HD touch screen display. IT supports 1080P video playback. Compatible with most brands of cars.
4. LESHP Double 2DIN
The LESHP Double 2DIN is a multi-function Android Car Player. It has a ton of excellent built-in features, such as steering wheel control, subwoofer & EQ settings, and it even comes with a free backup camera. This can be handy for seeing what's behind you when you put your car in reverse, such as backing out of a parking lot.
It has built-in Bluetooth for hands-free calling, built-in GPS, AM/FM options, and more. This is one of the better options, as it comes with an installation kit. In other words, you'll be able to look like this came out of the factory with the DIY kit.
5. Joying 7
Last up, we have the Joying 7 Display Console. This runs off of Android 6.0 Marshmallow, giving you native Android Auto support. It has a large 32GB of internal storage for any extra Android Auto apps you might want to install, or to simply house your music collection. It comes with the usual features, such as hands-free use, navigational features, steering wheel control and more. The unique thing is that it has a Wi-Fi module and Mobile Hotspot for connecting to the Internet on the go.
Best Android Console Displays For Your Car Verdict
So, which Android Display Console should you pick up? We recommend one that offers Android Auto natively, such so the LESHP Double 2DIN and the Pioneer AVHX5800BHS are our first recommendations. If you've got cash to spend, definitely go with the AVHX5800BHS. If you don't, the LESHP Double 2DIN does fine. The Joying 7 and Pumpkin Android 6.0 Car Stereo are both excellent options, too.
* If you buy through links on our site, we may earn an affiliate commission. For more details, please visit our Privacy policy page.