Apple has announced its latest software update, iOS 17, at the WWDC 2023 conference. This update brings a refined Control Center, finely-tuned apps, and new customization options for iPhones. Among these new features, one specifically targets users' eye health by helping to avoid eye strain and fatigue.
The opt-in feature, called "Screen Distance," enables better visual comfort by recommending an optimal distance between the device's screen and the user's eyes.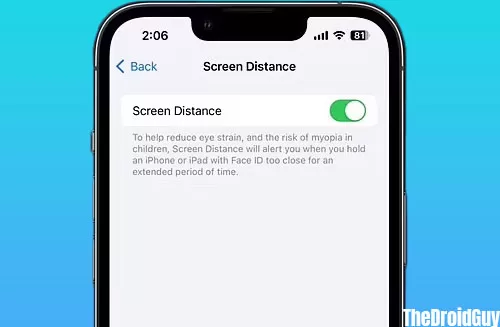 New Screen Distance Feature
As people become more attached to their smartphones and tablets, it is easy to fall into holding the devices too close to one's face for prolonged periods while playing games, watching videos, or browsing content. Screen Distance on iOS 17 aims to tackle this issue and promote healthier habits related to device usage.
Utilizing the TrueDepth Camera found in iPhones (the same sensor responsible for Face ID), Screen Distance detects the distance between your eyes and the screen of your device. When it determines that you are holding your device less than 12 inches away from your eyes for several minutes, an alert will be triggered that recommends moving it further away.
How the Screen Distance Feature Works
A distance of 16 to 18 inches (40-45 cm) between your device and your eyes is considered optimal for reducing eye strain and maintaining good eye health. With iOS 17's Screen Distance feature in place on compatible devices, users will be prompted if they hold their screen too close (less than 12 inches) for an extended period of time.
Once the device is moved to a safer distance, a checkmark will appear on the screen and users can tap the "Continue" button to resume their activities. The feature will also display a reminder stating: "Keeping your phone at arm's length can protect your eyesight."
To enable the Screen Distance feature, go to Settings > Screen Time > Screen Distance, and toggle it on by tapping the button on the right side.
Compatibility and Availability
Apple has confirmed that this opt-in feature will be available for the iPhone XS and newer models. Furthermore, Screen Distance will also be supported on iPadOS 17 for 11-inch and 12.9-inch iPad Pro models from 2018 or later.
The iOS 17 software update, as well as iPadOS 17, are both currently being tested through a developer beta phase. The full release is expected to launch later this year.
By introducing innovative features such as Screen Distance in its latest software updates, Apple continues to demonstrate its commitment toward improving users' digital well-being and overall technology experience.