Many may not be fully away, but some of the higher end drones are equipped with advanced facial recognition technology. With this technology, a drone can do neat things like follow you, orbit around you or even focusing on your smile to capture an excellent selfie with the on-board camera. Facial recognition brings a whole lot more features than this, especially when paired with artificial intelligence. Generally, these two technologies are what make or break high end drones.
* If you buy through links on our site, we may earn an affiliate commission. For more details, please visit our Privacy policy page.
If you're wanting to get a drone, but with facial recognition and artificial intelligence, below are some of the best choices on the market are listed below.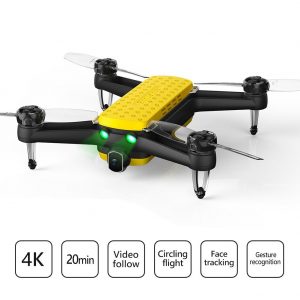 The best aspect of the GeniusIdea Follow is its facial recognition and artificial intelligence, allowing you to use features that let the drone orbit around you and follow you. It can even take excellent selfies by recognizing facial patterns and structure.
Aside from facial recognition and artificial intelligence, the GeniusIdea Follow has a handful of other great features, such as an on-board camera capable of capturing 4K video, GPS and a fully functioning Android app. You can pick this drone up off of Amazon for $320.
Buy it now: Amazon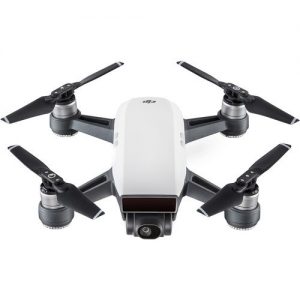 You can't go wrong with the DJI Spark. With facial recognition and artificial intelligence, this drone has features like Orbit (i.e. it orbits around you), Follow Me, Return To Home and a few other intelligent flight modes.
This drone comes with a 4K camera with Optical Image Stabilization (OIS) built-in, allowing you to take shake-free shots in mid-air. You'll be able to capture the perfect still because of this. With this package, you'll get a lot of extras, too. This includes a charger, propeller replacements, a controller and more. You can pick this up off of Amazon for $646; Amazon does offer financing on this particular product.
Buy it now: Amazon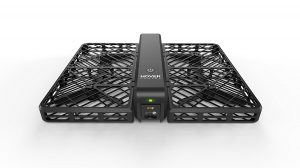 The Hover Camera isn't nearly as well known as products from DJI, but it is packed with great technology that makes it interesting, and possibly even more attractive than some other offerings from DJI. For example, it weighs a meager 242 grams, meaning you don't actually have to register this drone in some regions.
It still has all of the great features you'd expect out of a high-end drone: facial recognition and artificial intelligence for intelligent flight modes. Another neat feature is that the propellers are caged in a carbon fiber casing, allowing you grab this drone in mid-air. It costs $480 on Amazon.
Buy it now: Amazon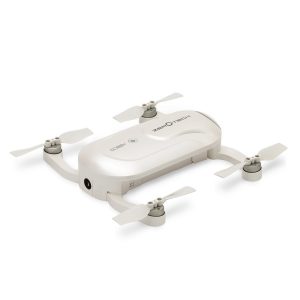 The Zerotech Dobby is another excellent option with facial recognition and artificial intelligence; however, it packages all of this in a low profile design, giving you easy portability with this particular drone. You can even put it in your pocket after taking off the propellers!
The downside of this low profile design is that you don't get a high-end 4K camera. The camera with this drone is only capable of 13-megapixel photo and video because of this. However, you can pick it up off of Amazon for just $230.
Buy it now: Amazon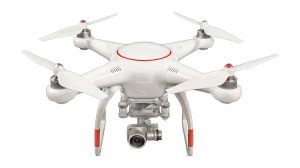 Last up on our list is the X-Star by Autel. It has facial recognition for improved selfies and different flight modes, but its artificial intelligence is where the X-Star really shines, such as knowing when to Return to Home when the battery gets low so you don't lose it mid-flight. It does have a 4K Ultra HD camera, and thanks to some other internal software, it'll let you watch the live video on your smartphone up to 1.2 miles away.
It also has something called SecureFly magnetic interference protection, which keeps your drone's radio signals protected from interference by stronger signals. That way, you'll never have to worry about losing your drone to connection loss.
You can pick this drone up on Amazon for $800, although sales are occasionally offered, allowing you to get it anywhere from 3% to 10% off. It's available in White and Orange, and a combo package is also offered to get you an extra battery on the cheap.
Buy it now: Amazon
DJI Mavic Pro
Coming up next, we have yet another choice from DJI — the Mavic Pro. The Mavic Pro comes with its own recognition technology for an improved user experience. One of the unique things about this one is that it has a whole 4.3 miles of range. And with a high-end battery, you can fly this thing about 40 miles per hour for a straight 27 minutes. It even comes with an extra battery to fly even longer!
Buy it now: Amazon
DJI Phantom 4
DJI's Phantom serious of drones previously didn't have facial recognition technology inside of it, but now DJI has packed it in this fourth rendition. With the recognition technology, the Phantom 4 will be able to hover and follow you everywhere…automatically! It has auto take off, as well as GPS Return To Home technology, too. This one can even capture 4K video at a whopping 30 frames per second — you can adjust the resolution down if you want to save storage space.
Buy it now: Amazon
Verdict
So which one should you buy? We definitely recommend the DJI Spark, as it's backed by the DJI brand–they're arguably one of the best drone makers in the market, with a history of offering high quality drones with warranties that prioritize the interests of consumers. After using drones by DJI, it's hard to use any other brand, but any of the others on this list do have similar features and will meet your needs just fine.
* If you buy through links on our site, we may earn an affiliate commission. For more details, please visit our Privacy policy page.