China is infamous for Internet censorship and online activity tracking. Thousands of websites are blocked under the country's current policy of Internet censorship, including Google, Facebook, YouTube, Twitter, Instagram, Pinterest, GitHub, The Pirate Bay, and even The New York Times.
* If you buy through links on our site, we may earn an affiliate commission. For more details, please visit our Privacy policy page.
While certainly inconvenient for Chinese citizens, the inability to access some of the most popular websites in the world is even more problematic for expats and tourists whose stay in China is limited in duration.
The good news is that there is a way how to beat the Great Firewall of China. In this article, we recommend 5 best VPN services that you can use to access your favorite websites during your stay in China so you can remain productive and connected.
What Is the Great Firewall of China?
Fearing that the Internet, which arrived in China in 1994, could undermine the control of the Communist Party of China, the party elites decided to greenlight the Great Firewall of China project in 1998 to create means for regulating the Internet domestically.
The first part of the Great Firewall of China was completed in 2006, and it is estimated that the project now employs around 50,000 members of Chinese cyber police, who monitor the Internet activity of Chinese citizens and employ a variety of blocking methods for censoring.
Although the exact inner workings of the Great Firewall of China are kept secret, we know that the blocking methods include packet filtering, URL filtering, DNS filtering and redirection, IP blocking, and even SSL man-in-the-middle-attacks.
Because of the highly sophisticated nature of the Great Firewall of China, many popular censorship circumvention strategies don't work, which forces people who visit the country to look for alternative solutions.
What Is a VPN?
VPN stands for "virtual private network," which is a type of network that extends a private network across a public network, effectively creating a tunnel through which data can flow encrypted and hidden from prying eyes.
A VPN network is typically created using a VPN service. A user installs special software on their computer and uses it to easily create a private tunnel between their computer and the servers of the VPN service provider. Because the servers of the VPN provider are located in a country unaffected by Chinese censorship, the user can access the Internet as if they were physically located outside China.
The Chinese government is aware of the fact that millions of Chinese citizens and foreigners living in the country circumvent China's censorship system using VPN services, and it has recently ordered China's three telecommunications companies to completely block access to VPNs by February 2018.
This move will instantly render many VPN services useless—but not all. The providers of some of the best VPNs for China have developed advanced countermeasures and incorporated them into their services. Described below are 5 VPN services that are guaranteed to help you get past the Great Firewall of China and allow you to access your favorite websites without the Chinese government knowing about it.

NordVPN is considered to be one of the best premium VPN services out there. As a premium VPN service, NordVPN offers 24/7 customer support, high-speed unlimited bandwidth, and a 30-day money-back guarantee.
The downside to these perks is NordVPN's steep price of $11.95 when billed on a monthly basis. The price goes down considerably if you purchase either the 1-year or the 2-year plan (to as low as $2.75 per month), but such a long commitment doesn't make sense for tourists or seasonal workers who visit China only for a short while.
NordVPN has developed its own censorship-circumvention technology, which allows its customers to bypass the Great Firewall of China with ease. To protect the privacy of its users even further, NordVPN's technology monitors every connection and automatically triggers a kill switch to prevent accidental exposure of sensitive data.
Pros:
Cons:
✔ Fast speeds

✔ Unlimited traffic

✔ Supports multiple platforms

✔ 30-day money-back guarantee

✔ Blocks ads and malicious websites

✔ Excellent geographic coverage

✖ More expensive 1-month plan

ExpressVPN is a user-friendly VPN service that has proven over and over again that it cares deeply about its customers and their satisfaction, offering a 30-day money-back guarantee and around the clock live support.
ExpressVPN has fast servers in Hong Kong for the sole purpose of allowing its customers to circumvent the Great Firewall of China and access all websites blocked by the Chinese government as fast as possible. The company itself is based in the British Virgin Islands, so its protected against government intrusion and spying, and it doesn't keep any activity or connection logs at all.
Just like NordVPN, ExpressVPN is considerably more expensive than IPVanish, our favorite VPN service. It starts at $8.32 a month when billed annually, but the price grows to $12.95 when billed monthly. We appreciate that ExpressVPN offers a 6-month subscription plan, which is a great choice for those who don't intend to stay in China for more than 180 days, which is how long one can work in China without being subject to income tax.
Pros:
Cons:
✔ Fast speeds

✔ Unlimited traffic

✔ Supports multiple platforms

✔ 30-day money-back guarantee

✔ Servers in nearly 100 countries

✔ Accessible via Tor

✖ More expensive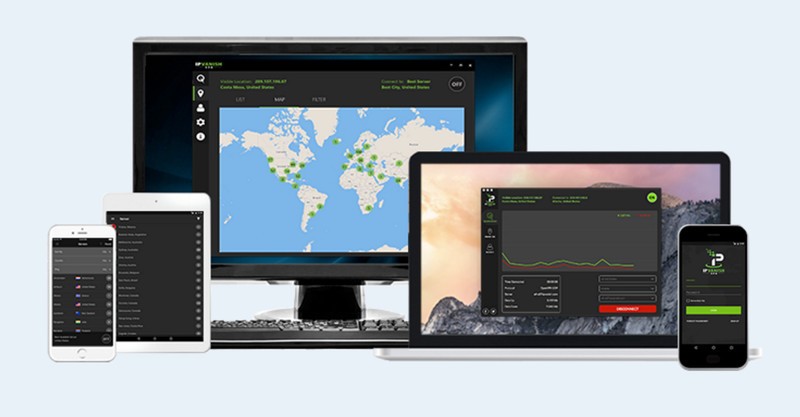 IPVanish is a wildly popular VPN provider known for its reliability, excellent customer support, great prices, and fast speeds. The company has servers in more than 60 countries around the world, and owns in excess of 40,000 shared IP addresses, giving its customers many options how to circumvent censorship.
Supported payment methods include Visa, MasterCard, Discover, American Express, PayPal, Giropay, and several others. IPVanish customers can choose from three payment plans. When billed on a monthly basis, IPVanish costs $10.00 a month. The price goes down to $8.99 a month when billed every three months, and it goes down even further, to just $6.49 a month, when billed annually.
Unlike many other VPN providers, IPVanish doesn't keep any traffic logs, so your online activity is guaranteed to remain anonymous even if someone seized IPVanish's servers. Packet sniffing would also be ineffective because IPVanish protects its customers using 256-bit AES encryption, which is approved by the National Security Agency (NSA) for top secret information.
Get it now: Here
Pros:
Cons:
✔ Fast speeds

✔ Unlimited traffic

✔ Supports multiple platforms

✔ Starts at just $6.49 a month

✔ Doesn't keep any traffic logs

✔ Servers in more than 60 countries

✔ OpenVPN, PPTP, and L2TP/IPsec protocols

✖ Doesn't work with Netflix

4.    VyprVPN
VyprVPN offers extremely competitive pricing with its basic annual plan, which costs only $5 a month and allows for 3 simultaneous connections. VyprVPN Premium costs $6.67 a month when billed annually or $12.95 when billed monthly, and it allows for up to 5 simultaneous connections and enables support for VyprVPN Cloud and the Chameleon protocol.
The Chameleon protocol is one of the biggest selling points of VyprVPN. Using the unmodified OpenVPN 256-bit protocol for the underlying data encryption, "Chameleon scrambles OpenVPN packet metadata to ensure it's not recognizable via deep packet inspection (DPI), while still keeping it fast and lightweight," according to its official website.
Besides Chameleon, VyprVPN offers 24×7 support, one-click connect and server selection, unlimited server switching, more than 200,000 IP addresses to choose from, and convenient mobile apps for iOS and Android devices.
Pros:
Cons:
✔ Fast speeds

✔ Unlimited traffic

✔ Supports multiple platforms

✔ Chameleon protocol

✔ Affordable

✖ Doesn't support torrents

✖ Limited geographic coverage

5.    BulletVPN
BulletVPN offers reliability and competitive features at a decent price. Because the service doesn't enjoy the same popularity as IPVanish or other well-known VPN services, BulletVPN tries just a bit harder to please its customers in ways all those large VPN providers can't.
BulletVPN offers helpful and friendly customer support via chat or email, and BulletVPN's customer support staff always respond quickly and never fails to give the right answer to any problem. BulletVPN has developed modern smartphone apps to allow its customers to easily circumvent censorship even when on the go. Up to three devices can share one BulletVPN subscription, and all traffic is encrypted using top-grade encryption standards such as AES.
If you purchase BulletVPN's 12-month plan, you will pay only $7.5 a month and save 32 percent compared to the 1-month plan, which costs $10.98. There is also a 6-month plan, which costs $9.16 a month.
Pros:
Cons:
✔ Fast speeds

✔ Unlimited traffic

✔ Supports multiple platforms

✔ 30-day money-back guarantee

✖ Limited geographic coverage
* If you buy through links on our site, we may earn an affiliate commission. For more details, please visit our Privacy policy page.