If you're looking for a Smart Speaker with screen display to outfit your home with, you probably already know just how many on the market, and therefore, just how difficult it would be to choose just one. It gets even more difficult when you need to choose between Amazon Alexa and Google Assistant smart speakers. That's why we've gone ahead and taken the liberty of picking out five of the best options on the market for you.

* If you buy through links on our site, we may earn an affiliate commission. For more details, please visit our Privacy policy page.
If you follow along below, we'll show you the pros and cons of five of our favorite smart speakers and show you which one is our top pick.
First up, we're looking at the JBL Link View. This is slightly different from many of the other Smart Speakers with Screen Display that we'll be going over, as it actually has Google Assistant on-board over the much more prominent Amazon Alexa. You still get plenty of commands that you can give the JBL Link View with Google Assistant, and it actually works really well if you already have and are invested in Google's ecosystem.
The JBL Link View comes equipped with a fairly decent screen, though there isn't a whole lot of sharpness or clarity inside of it. You can still make video calls, watch media, and more with it; however, where the JBL Link View really shines is in its speaker. JBL is known for making quality speakers and sound products, and they hit the ball out of the park with it here, too. That said, movies, music, and other media will sound excellent on this smart speaker.
Buy it now: Amazon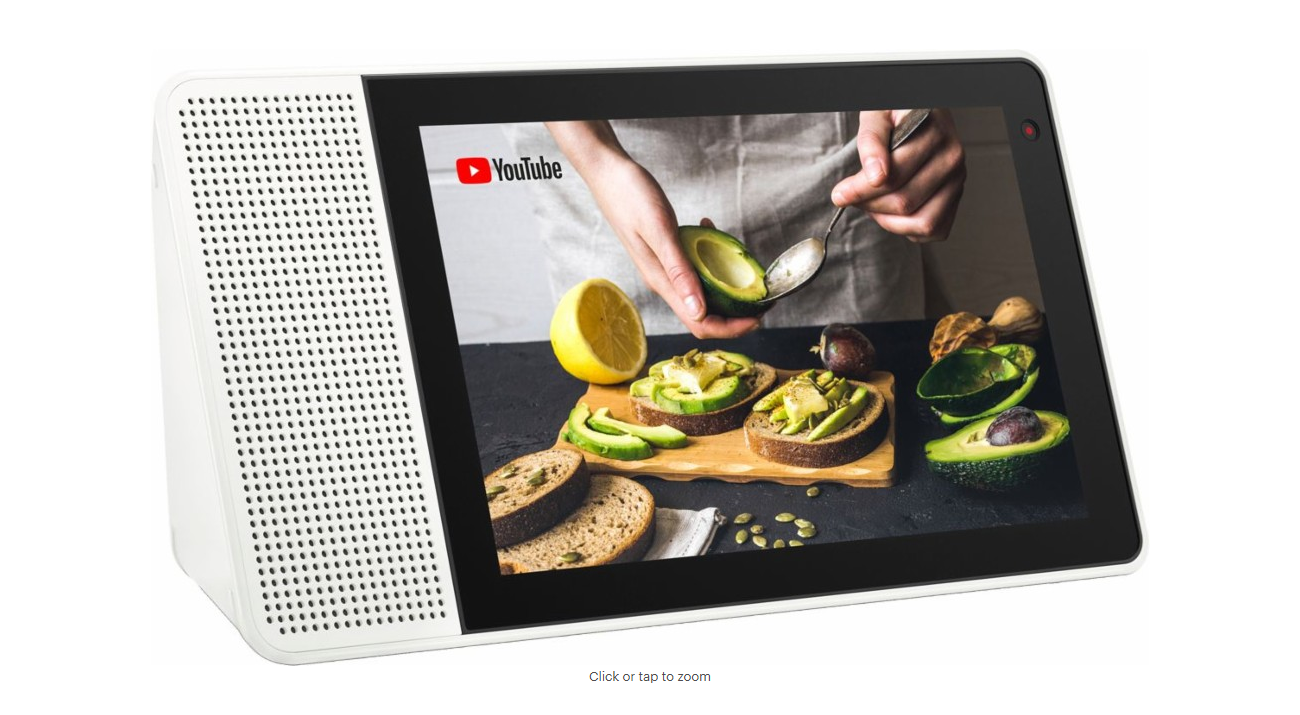 The Lenovo Smart Display is a nice Smart Speaker with Screen Display; however, this one uses Google's Assistant software instead of Amazon Alexa. You can still pretty much tell it all the same things that Alexa can do, except you don't have as good smart home inter-connectivity or thousands of Alexa commands that you can add from third-party developers. However, Google Assistant is still very smart, and actually works quite seamlessly if you're already within Google's ecosystem.
The Lenovo Smart Display does have a fairly large screen and pretty good speakers, so watching movies, YouTube, and making video calls isn't an issue here.
The Amazon Echo Show is next up on our list, and is actually one of our favorite Smart Speakers with Screen Display. This one has a pretty large screen on it, and then a fairly robust speaker as the bottom half. All of that put together and you should not only be able to take video calls and watch media with clarity, but hear it with crisp and clear sound quality, too.
The Echo Show has Amazon's Alexa voice assistant on it, so you can give it almost any command you want. Tell the Echo Show (or Alexa) to play your favorite song, pull up a TV show, set a timer, create an event on your calendar, and etc.
Buy it now: Amazon

We really like the Amazon Echo Spot because of its low profile. This is a tiny piece of Smart Speaker hardware that you can fit almost anywhere — in a corner in the kitchen, on the night stand, etc. It has a small display, so you can still make video calls with it and view media. And as you can imagine, the Amazon Echo Spot has Amazon's own Alexa voice assistant built-in, so you can tell it to do things like any other voice assistant. You could set a timer, ask it the weather, tell it to pull up some security feed in your home, play a movie, etc. Even though it's tiny, it's extremely versatile.
Buy it now: Amazon

If you want the latest and greatest in a smart speaker with screen display, then the Facebook Portal will be right up your alley. The Portal is a fairly new Smart Speaker, but it actually comes with Amazon's Alexa voice assistant built in. One of the neat things about the Facebook Portal is that it has a large screen — a whole 10.1-inch screen, actually. That means you can watch content really easily on it, whereas many Smart Speakers with screen display are often small and difficult to view.
The Facebook Portal actually has a wide angle lens, so you could set this up in your kitchen and walk around everywhere while on a video call. The other neat thing about Portal is that, when you're not in a call or watching some sort of media, Portal can run through a slideshow of your favorite photos and videos from your Facebook profile.
Buy it now: Amazon
Verdict
As you can see, there are a lot of excellent Smart Speaker with Screen Display out on the market; however, we have to say that the best of the best is easily the Facebook Portal. You won't find an option with a better a screen than that, as well as the wide angle camera being able to allow you freedom of movement while on a video call.

* If you buy through links on our site, we may earn an affiliate commission. For more details, please visit our Privacy policy page.