On your Xbox Series X or Xbox Series S, you may choose a variety of good horror genre games. Xbox has a big range of high-quality horror games, and no two horror game are alike. There are a variety of horror games to select from, whether you want a fun arcade game, a first-person horror game, something realistic to scare you, or a game where you can play with others online and get spooked together.
* If you buy through links on our site, we may earn an affiliate commission. For more details, please visit our Privacy policy page.
The Xbox Series X and Xbox Series S are Microsoft's fourth-generation home video game consoles, replacing the Xbox One. They were introduced in 2023 as the Xbox console family's fourth generation, replacing the Xbox One. Larger display resolutions (up to 8K), quicker frame rates, and real-time ray tracing are all possible with the Xbox Series X, which also has a high-speed solid-state drive (SSD) to reduce loading times. The Xbox Series S is less expensive, but it has a slower CPU, less RAM and internal storage, and no optical drive.
The Xbox Series X and Xbox Series S consoles are designed to function with virtually all Xbox One games, controllers, and accessories, including backwards compatibility titles from earlier Xbox platforms. To help with the transition between generations, Microsoft made some first-party and third-party games available for both the Xbox Series X/S and Xbox One at launch, using the "Smart Delivery" distribution system to flexibly optimize Xbox One games for either the Xbox Series X or Series S. The consoles can also use Xbox Game Pass library, a gaming subscription service, and Xbox Cloud Gaming, a cloud game-streaming platform.
Why play the best Xbox horror games?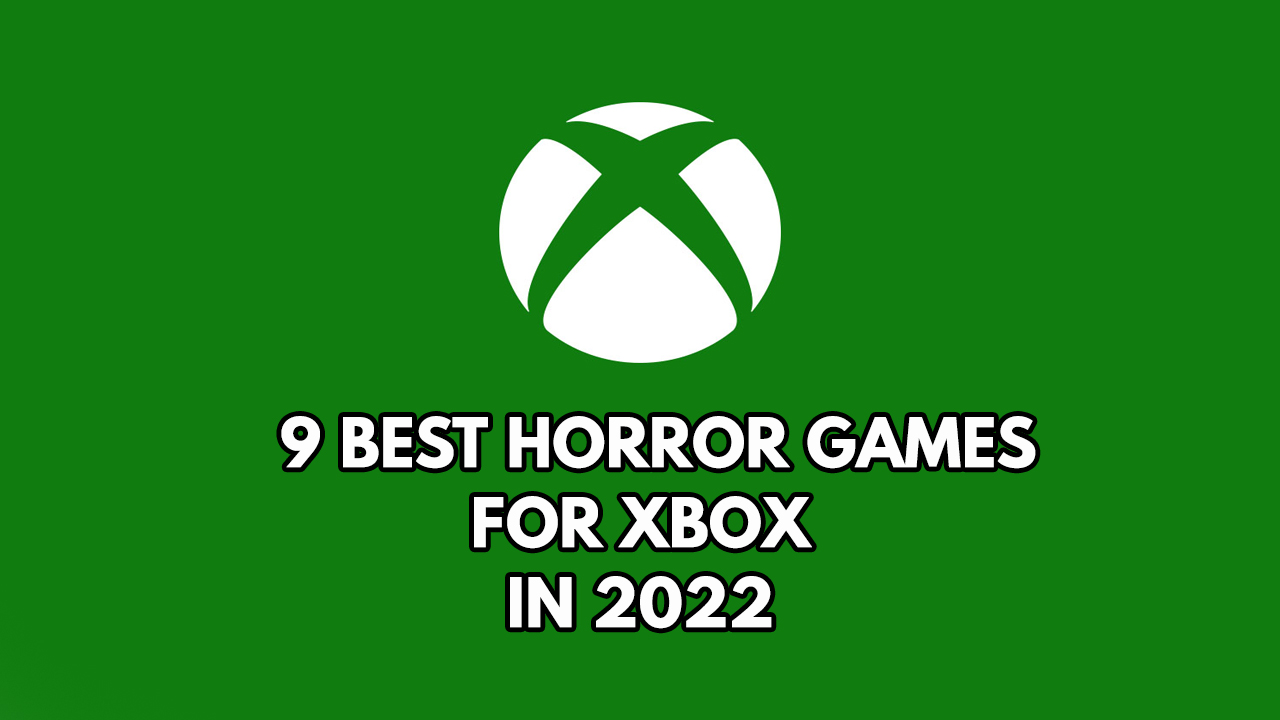 Because it offers actual 4K resolution and up to 120 frames per second, the new Xbox Series X console is great for playing horror genre games. The new Xbox Series S can only handle 1440p gaming resolution and up to 120 frames per second. Horror fans will be able to play horror game at a higher frame rate at 4K resolution if you have a 50-inch 4K TV with HDMI 2.1 capabilities.
You may either purchase the physical disc or digital download games, or subscribe to Xbox Game Pass library, which provides you access to hundreds of games, including horror titles.
The following are a handful of the best Xbox horror games.
Game Description
Resident Evil Village will use the power of the Xbox Series X|S to heighten each desperate fight for survival by displaying the most realistic and horrific graphics to date, allowing players to experience survival horror like no before. The brand-new game is the eighth main edition in the renowned Resident Evil franchise, which helped to popularize the survival horror genre nearly two decades ago. The dread has never seemed more real and inescapable thanks to hyper-detailed graphics, furious first-person combat, and brilliant storyline.
The all-new storyline opens with Ethan Winters and his wife Mia living quietly in a new place, free from their old nightmares, a few years after the horrible events in the highly acclaimed Resident Evil 7 biohazard. Tragic events strike them just as they begin to build their new life together. Chris Redfield, the Resident Evil series' renowned hero, re-acquaints himself with the couple and severely disturbs their lives, throwing Ethan into turmoil. After being thrust into a totally new nightmare, Ethan finds himself in a lonely snow-capped village in search of answers.
Why buy Resident Evil Village?
Resident evil fans will enjoy next-generation RE Engine, along with the Xbox Series X|S's unparalleled technological capacity, will provide hyper-detailed graphics, bringing the mysterious village and its eerie people to life. The most realistic survival horror experience to date will be found in Resident Evil Village.
Players will take on the role of Ethan Winters and experience every close-up battle and frightening pursuit from the first-person perspective.
A vibrant, breathing village. The village is more than just a strange backdrop for the game's tragic events; it is a character in its own right, with secrets to solve and terrors to avoid.
---
Game Description
While the Dead Space reboot from Motive Studios is in the works, you may game with Dead Space 3, which sends Isaac Clarke and cruel soldier John Carver on a trip across space to find the origins of the Necromorph outbreak. Isaac has crash-landed on the freezing planet of Tau Volantis and must scour the hostile environment for raw materials and scavenged pieces. He will then put his engineering talents to the ultimate test by designing and customizing weapons and survival equipment. The ice planet contains the key to putting an end to the Necromorph scourge, but Isaac must first survive avalanches, dangerous ice climbs, and the brutal wilderness. When confronted with advanced adversaries and the harsh weather, Isaac might choose to collaborate not only for his own survival, but also for the survival of mankind. Use the seamless drop in, drop out co-op functionality to game with a friend or by yourself as Isaac Clarke in Dead Space 3. In single player or co-op, use Kinect to amp up the action and add voice to your arsenal.
Why buy Dead space 3?
Take down the terror as a team – Dead Space game has online co-op or solo player with convenient drop-in and drop-out gameplay.
Travel to the other side of the globe to encounter a hazardous new environment – explore underground cities and accept side missions. Investigate the icy landscape for abandoned encampments.
Discover the source of the Necromorph terror and battle to prevent the annihilation of the human race by delving into the past and embarking on an exciting adventure to preserve mankind.
---
Game Description
Dying Light 2 Stay Human is an action role-playing survival horror video game set in a post-apocalyptic world with zombies. You are a traveller with the ability to alter The City's fate. However, your extraordinary powers come at a cost. You go out to discover the truth, haunted by recollections you can't explain. It is set 22 years after Dying Light and stars Aiden Caldwell, a new protagonist with a variety of parkour skills. To fast travel the city, players can do activities like as scaling ledges, sliding, leaping off of edges, and wall running. The game is primarily melee-based, with melee weapons being used in the majority of fights. Melee weapons have a finite lifespan and will deteriorate as the player utilizes them in battle.
Discover the dark mysteries of power wielders, pick sides, and choose your fate. But, no matter where your actions lead you, remember to stay human. The game takes place in Villedor, a vast open-world city in Europe that players can freely explore. The map is divided into seven unique zones, each with its own landmarks and locations, and is four times larger than in the first game. Players can scavenge for scrap and resources while exploring the city, which they can use to make new goods and weapons.
Why buy Dying Light 2 Stay Human?
Immerse yourself in the lives of a metropolis enveloped in a new era of darkness. Explore the game's numerous levels and locales to find new passageways and hidden tunnels.
Use your parkour abilities to tip the scales in even the most brutal of fights. Your best friends will be clever thinking, traps, and inventive weapons.
Your actions will shape the future of The City, so keep an eye on it. Make choices in an escalating conflict to determine the balance of power and create your own experience.
This game is compatible with Smart Delivery and may be played on both the Xbox One and the Xbox Series X.
---
Game Description
On Amazon, you can get Dead by Daylight, a survival horror game. Behaviour Interactive has developed and released a online multiplayer game with survival horror elements. You can play as either an unstoppable Killer or one of four Survivors attempting to avoid a terrible death. Each character has their own comprehensive growth system and a number of unlockables that you can customize to fit your own style.
Collaborate to escape, or stalk and sacrifice each Survivor individually. The survivors want to get away from the killer by repairing a machine that opens the gate, while the murderer wants to find the survivor and stop them from repairing the machinery and leaving the map.
Why buy Dead by Daylight?
Survivors can choose to work together or to be selfish. Your chances of surviving are determined by your choices.
What am I doing here? You'll never know what to expect because each level is procedurally produced. You'll never feel safe with random spawn points!
Dead by Daylight attracts fans from all throughout the horror genre. Play as everything from a creepy paranormal entity to a powerful Slasher. Master each Killer's special ability to hunt, catch, and sacrifice your prey.
Each Killer and Survivor has its own complex growth system and a variety of unlockables that may be tailored to meet your unique approach.
Ambience, music, and eerie settings come together to create a scary experience. You might even find out what's hidden in the fog if you give yourself enough time.
---
Game Description
A Plague Tale: Innocence is a critically acclaimed video game developed by Asobo Studio and distributed by Focus Home Interactive. It follows little Amicia and her younger brother Hugo on a heartbreaking journey through history's worst hours. Amicia and Hugo will grow to know and trust each other in 14th century Aquitaine, France, during the Hundred Years' War, while they are pursued by Inquisition soldiers and surrounded by relentless swarms of rats. They will try to find meaning in this terrible, unforgiving world as they struggle to survive despite overwhelming odds.
The game is made up of a series of survival puzzles, the majority of which require the player to employ certain tactics to scare or confuse swarms of hungry rats in order to gain entry to new locations or direct them towards adversaries. Fire is the most effective way to keep rats away, as they will rarely visit the vicinity of torches and braziers that are burning. Amicia can create unique weapons and supplies, such as fire-starting sulfur stones that light braziers, stink bombs that attract rats, and fire suppressants that put out enemy torches. Hugo, Amicia's younger brother, can be led to certain duties when she is busy and has access to regions that she does not. However, this is problematic because if Hugo is left alone, he will panic and draw unwelcome attention. Later in the game, the player can control Hugo, who is unable to make goods but can manipulate rats and slip through tight locations.
Why buy A Plague Tale: Innocence?
Guide orphans Amicia and Hugo through medieval villages while avoiding dangerous human and rodent opponents in this dark horror third-person adventure set in plague-stricken France.
To keep the little orphans alive, avoid the massive swarms of rats, yet managing the horde may provide bloody help on your trip.
Collaborate with other orphans to evade the Inquisition and solve the mystery of the Plague, which has ravaged medieval France.
Darkness is both your ally and your adversary, protecting you from the Inquisition while also exposing you to the rats; you must decide how to best employ it, as well as your trusty slingshot, to stay alive.
A terrifying depiction of the Middle Ages is brought to life by breath-taking visuals and a captivating score by industry veteran Olivier Deriviere.
---
Game Description
The Evil Within 2 is the newest generation of survival horror, developed by Tango Gameworks and distributed by Bethesda Softworks. Detective Sebastian Castellanos has lost everything he owns. When he is granted a second chance to save his daughter, he must once again enter the terrifying world of STEM. As the universe twists and warps around him, terrifying threats arise from every corner.
Evil Within player must descend into the world of Union to rescue his daughter, Lily, in this third-person perspective game. In The Evil Within 2, there are three difficulty modes: Casual, Survival, and Nightmare. The areas are larger, and there are various methods for players to continue through a level. The player is also given an item called "The Communicator," which serves to highlight the game's objectives, resources, and adversaries. It also reveals Resonance spots, which reveal information about what happened in Union's universe. Players are free to roam the map region, completing side quests and scouting for valuable resources. Players can engage in direct combat with foes using weapons such as guns, or they can employ stealth mechanics to avoid detection or slip behind enemies to kill them discreetly.
Evil Within Players can acquire resources to make new items such as ammo in the game's crafting system. Players can make goods at any moment during the game, however using a workbench uses fewer materials. There is also a customization system. Sebastian's talents can be customized with the Green Gel, which was introduced in the previous game and is divided into five different trees: health, stealth, combat, recovery, and athletics. Players can customize their weapons by collecting weapon parts while exploring Union.
Why buy The Evil Within 2?
Redemption story. Sebastian must plunge into the nightmare to reclaim his life and family in Evil Within 2.
Discover terrifying domains. Travel as far or as swiftly as you dare across a world where nothing is as it appears, but be sure to plan ahead.
Choose how to survive. Use the crossbow to attack from the shadows, run like crazy, or charge in guns blazing with very little ammo.
Survive confrontations with vicious foes and meet personalities that may or may not guide – or mislead – you on your route to salvation.
Visceral horror and suspense game. Enter a twisted world full of nerve-wracking thrills and terrifying horrors around every corner.
---
Game Description
Resident Evil 2 is a game created by Capcom and released in 2019. Resident Evil 2: Remake is a remake of one of the best resident evil games Resident Evil 2. Players take control of rookie cop Leon S. Kennedy and college student Claire Redfield as they try to flee Raccoon City after a viral epidemic that turns residents into zombies and other monsters. Unlike the original, which used tank controls and fixed camera angles, the remake uses an over-the-shoulder third-person shooter style similar to Resident Evil 4 and more current games in the franchise, allowing players to walk while utilizing their weapons, similar to Resident Evil 6.
Autosaves are included in the assisted and standard difficulty modes, allowing players to save as many times as they choose inside safe rooms. If the player chooses the Hardcore mode, players will be needed to acquire and use a limited number of ink ribbons to save the game's progress, similar to the original game.
The difficulty of the overall conflict varies. Aim assist and health recovery are available on Assisted difficulty, which features lesser adversaries and scarce ammo for players to find, whereas Hardcore difficulty has stronger foes and limited ammo. Combat will change based on who the players are up against. Enemies will usually pursue players once they have been detected, and they can be killed or disabled to slow them down.
Why buy Resident Evil 2?
Based on the original PlayStation console release Resident Evil 2 in 1998, the new game has been fully redesigned from the ground up for a more immersive story experience and tight gameplay.
A fresh perspective. A new over-the-shoulder camera option and updated control system give players a fresh take on the survival game while still allowing them to revisit the classic gameplay modes from the 1998 release.
Built on Capcom's proprietary RE Engine, Resident Evil 2 has beautiful photorealistic visuals in 4K, as well as magnificent lighting that creates an up-close, visceral, and atmospheric experience as players traverse the halls of the Raccoon City Police Department (RPD).
Fight the hordes of the undead – Zombies are brought back to life with a terrifyingly realistic wet gore effect, reacting in real time and taking visible damage, making every bullet count.
In a scary constant fight for survival, engage in frantic combat with adversaries, explore dark menacing passageways, solve complex puzzles to gain access to regions, and gather and use things uncovered around the environment.
---
Game Description
Alien: Isolation is a Sega-published survival horror stealth game developed by Creative Assembly. Isolation is based on the Alien film franchise and follows engineer Amanda Ripley, daughter of Alien protagonist Ellen Ripley, as she investigates her mother's abduction 15 years after the events of the original 1979 film Alien.
Alien: Isolation was made to look like the first Alien film rather than the more action-oriented 1986 sequel Aliens, and it has a similar lo-fi, 1970s vision of the future. It's powered by an engine designed to handle the Alien's behavior as well as technical factors like ambient and lighting effects.
Alien: Isolation is a single action-adventure game with a focus on stealth mechanics and survival horror. From a first-person perspective, the player controls Amanda Ripley as she explores a space station and completes goals while evading, outsmarting, and defeating opponents. Running, climbing ladders, sneaking inside vents, crouching behind items to interrupt attackers' line of sight, and peeking over or leaning around for a safe view are all options available to the player. To hide from adversaries, the player can even go under tables or into vacant lockers.
Why buy Alien: Isolation?
In Alien: Isolation, a survival horror set in an atmosphere of constant dread and grave danger, you'll discover the true meaning of fear
As Amanda, you'll have to traverse an increasingly dangerous environment as you're surrounded on all sides by a terrified, desperate populace and an unpredictable, merciless Alien.
As a genuinely dynamic and reactive Alien utilizes its senses to track you down and respond to your every move, you'll be terrified.
To deal with each circumstance, you'll need to hack systems, scavenge for crucial resources, and build equipment. Will you elude, distract, or confront your foes?
---
Game Description
Alan Wake, a disturbed author, begins on a desperate quest for his missing wife, Alice, in this award-winning cinematic action thriller. He discovers pages of a horror story he claims he wrote but has no memory of when she mysteriously vanishes from the Pacific Northwest village of Bright Falls.
Wake is quickly forced to question his sanity as the story unfolds in front of him, page by page: a hostile spirit of otherworldly darkness is consuming everyone it encounters and turning them against him. He has no choice but to face the powers of darkness, armed only with his flashlight, a revolver, and the shattered remnants of his consciousness. His terrifying quest for answers to the mind-boggling riddle he faces will take him into the darkest hours of the night.
Why buy Alan Wake Remastered?
Intense fight, when more than bullets are required to dispel the darkness.
Before you finish 'The Taken,' use light to weaken them.
In a world when darkness is deadly, use lights in the surroundings as safe havens.
Find passages from a novel that Wake doesn't recall writing.
Travel through a visually spectacular and horrifying rendition of the Pacific Northwest, bringing a classic game to new platforms and gamers with completely upgraded graphic fidelity.
---
I hope you enjoy reading the best Xbox Horror titles in 2023 and the amazon links in where to buy the games are also included in the article.
Feel free to visit our YouTube channel for additional support video and troubleshooting guides on various devices.
* If you buy through links on our site, we may earn an affiliate commission. For more details, please visit our Privacy policy page.